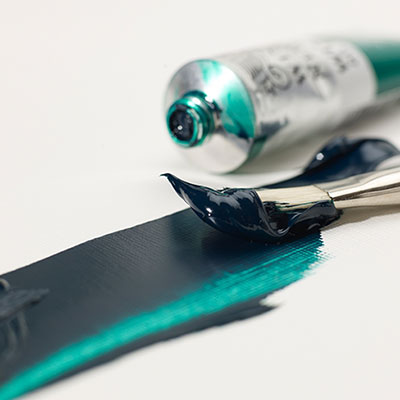 Bright and beautiful, Winton Oil Colour is a traditional range of of 47 oil colours, made from moderately priced pigments, perfect for artists who need large quantities of colour. All of the tones have been carefully made to bring out the best of each pigment, so you can create bold and vibrant artworks. The application of traditional skills and modern colour chemistry techniques has resulted in a range of carefully selected Winton Oil Colours. This has been achieved by replacing more costly traditional pigments with excellent modern alternatives, giving excellent quality at an economical price.

The full range of colours are available in 37ml tubes and 200ml tubes.
---
Formulation
As with Artists' Oil Colour, every colour in the Winton range is individually formulated to take advantage of the natural characteristics of each pigment and to ensure the stability of the colour.
Colour Range
Winton Oil Colours has been made from pigments, which offer as broad a palette as possible whilst retaining a moderate price. The spectrum has been selected to ensure that the largest number of colours can be mixed from the range. In addition, the Winton spectrum relates specifically to Artists' Oil Colours, providing clean colour mixing and helping artists to upgrade to the superior range of Artists' Oils when ready.
Pigment loading/tinting strength
A high level of pigmentation provides good covering power and tinting strength. While it can't match the superior pigment load of Artists' Oil Colour, the Winton range is much stronger than many other artists' quality ranges.

The economical cost has been achieved through the use of moderately priced pigments rather than lessening the pigment content to an unacceptable level. Winsor & Newton formulation, manufacture and quality control ensure a product of absolute excellence.
Single Pigments
Winsor & Newton use single pigments wherever possible to create individual colours. Combined with strength of colour, single pigments provide a wide colour range in themselves and offer cleaner, brighter mixtures with infinite hues.

This is particularly important for violets, greens and oranges. Single pigment 'secondaries' considerably broaden the artist's available spectrum.
Viscosity/consistency
The Winton range has a more uniform consistency than Artists' and is a slightly stiffer colour. It offers excellent retention of brush and palette knife strokes.
Transparency & Opacity
Pigments vary in their transparency by nature. On the Winsor & Newton Winton Oil Colour chart and individual colour pages of this site, the transparent colours are marked with

or T, the semi-transparent colours are marked
or ST. The relatively semiopaque colours are marked with
or SO and the opaque colours are marked with

or O.
Remember that the level of transparency of a colour is relative to other colours. Transparent colours are used for glazing and tinting, providing optical colour mixtures and depth of colour to the painting surface. Opaque colours cover well, give flat areas of colour and obscure/mask the underlayers of the painting.
Winton Oil Colour is formulated to reflect the characteristics of each of the various pigments, ensuring that synthetic organics such as Phthalocyanines and Quinacridones [ie. "Winsor" or "Permanent colours"] deliver maximum transparency, whilst Cadmiums and Earth colours offer excellent opacity.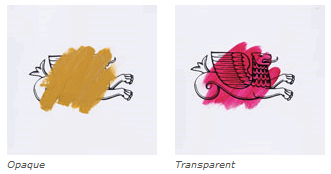 Surface sheen
As with the Artists' Oil Colour range, the surface sheen of Winton is largely due to the pigment used. The level of gloss will therefore vary, although Winton is more uniform across the range.
Permanence
Wherever possible, the most permanent pigments have been selected for use with the Winton range. The formulation and manufacturing process ensure that the product will remain stable within the tube as well as offer the most permanent paint film possible (when applied appropriately).
Drying time
All colours will become touch dry in 2-12 days. The different drying rates are due to the different reaction of each pigment when mixed with oil.
Winsor & Newton formulate colours to optimise drying rates, helping artists to avoid the problems of slow drying underlayers. However, the following list is a guide to the likely variations:
Fast drying (around 2 days):
Medium Drying (around 5 days):
Slow Drying (more than 5 days):
Prussian Blue
Raw Sienna
Umbers
Phthalo Blue and Viridian Hue (phthalocyanines)
Burnt Sienna
Ultramarine Blues
Synthetic Iron Oxides
Ochres
Titanium White
Zinc White
Lamp Black
Ivory Black
Cadmium Hues (arylmamides)
Permanent Rose (Quinacridone)
Alizarin Crimson Hue
As with all oil paintings, to avoid yellowing of the oil, paintings should not be allowed to dry in continuous darkness or with high humidity.
Whites in the Range
The choice of whites in Winton Oil Colour ensure that artists have the widest possible selection, as in every other part of the spectrum. White is the most used colour. The four whites in Winton Oil Colour offer different working characteristics to the painter.
Titanium White
The most popular modern white. It is the whitest, most opaque white.
Flake White Hue
A less hazardous alternative to the traditional lead based white. This colour has been formulated to match the tinting strength and consistency of the original Flake White.
Zinc White
The least opaque white, making it ideal for tints and glazing.
Soft Mixing White
A titanium based white with the softest consistency. It has lower tinting strength than Titanium White.
---
Upgrading to Artists' Oil Colour
Oil colour relies upon the variable characteristics of the pigments used in each colour in order to achieve results. Therefore, being able to choose from the widest possible range of pigments means that you have greater choice and flexibility to develop your work and technique.
Upgrading to our Artists' Oil Colour range means that you will have a much wider and balanced spectrum of colours to choose from, giving you the widest choice of pigments as well as unparalleled brilliance of colour and transparency. Find out more about Artists' Oil Colour