Earn up to £5 in reward points every time you introduce a friend to Ken Bromley Art Supplies!
Here at Ken Bromley Art Supplies, we pride ourselves on providing excellent service. As a result, many of our customers recommend us to their friends who are looking to buy art materials. As a way to say "thank you" for your support, we have launched a referral program which rewards both you and the person you refer.
In brief, whenever you refer someone to our website and that person places an order, we'll reward you with up to £5 of reward points, and we'll also give the person you referred 5 times the usual amount of reward points for their first order!
To participate, you'll need to have registered an account with this website. Once logged in you can see your personal referral link in your account: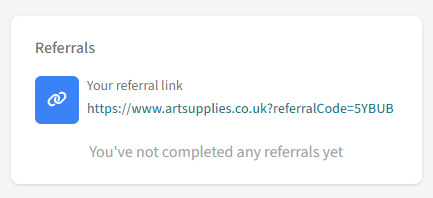 Referral Program Rules
​The following conditions apply to participation in our referral program:
The customer who introduces a friend or relative ("Referring Customer") to the Ken Bromley Art Supplies website (the "Website") must have an account with us and must have ordered in the past. They do not have to have placed an order on the website, but would need to make a new account on the Website with their full details including address filled out.

The Referring Customer does not have to have made a purchase through the Website before referring others.

The friend or relative being introduced to the Website ("Referred Customer") must not have an existing account on the Website and must not have made any purchases through the Website in the past in order to qualify for the referral program.

The Referred Customer may not be a member of the Referring Customer's household or be delivering goods to the referring customers address.

You may share your referral code by email or text message, on your own website or social media.

You may not share your referral code on any third party discount code or voucher code sites.

The extra reward points awarded as a result of participation in the referral program ("Bonus Points") will be applied to the accounts of the Referring Customer and the Referred Customer after the Referred Customer has placed his or her first order, using the valid referral code, and the transaction has been reviewed and approved by us.

Bonus Points are non-transferable and may not be exchanged for cash.

Ken Bromley Art Supplies reserves the right to disapprove any referral if it is deemed to breach the terms laid out here.

If a referral is disapproved, the Referred Customer is still entitled to the reward points already earned on the order placed, but will not receive any Bonus Points. The Referring Customer will likewise not receive and Bonus Points on the transaction.

Referral codes found being used in breach of our Terms and Conditions will be removed from our referral programme.