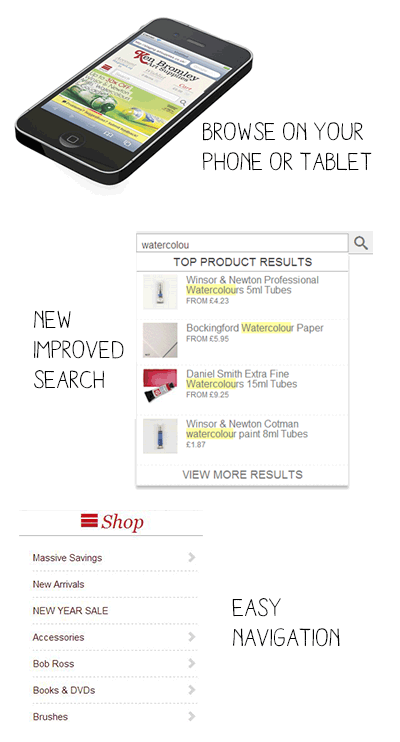 Welcome to our website. We hope you find it an easy-to-use and enjoyable experience!
Features of our website:
The website is mobile-friendly. That means it will adapt to your device and display a special layout for smaller screens such as tablets and mobile phones. It is also geared to work well with touch-screen devices.
The website has a very intuitive search. The auto-suggest box will now display more relevant results including images, to help you get to the products you want, faster. The search results can also be filtered by category, again speeding up a search through a large set of results.
The shop navigation bar is available from anywhere on the site, instantly. This means less clicking around to get where you want to go.
As well as these great features, our website also offers the following:
Easy to use wish list - add things you want to save for later and share you list with your friends and family.
Lots of videos - we are adding more and more videos to the website to enable you to get a really good feel for the products before you buy them - and also help you use them once you have bought them! Our great easel videos make it easy to set up your easels once they have arrived, and the videos of our paint sets let you really see what the set is like.
Reward points - remember, you get 1 point for evey £1 you spend on the website and these points can be collected and redeemed against future orders. It is equivalent to a 1% cash back on everything you buy!

Extra colour information

- see each colours code, series number and properties when you click on the 'i click' on the bottom of the colour swatches on paint pages. Some paints even have videos of the colour being painted out so you can get a really good idea of what the colour looks like.
Live help - if you ever have any problems with the website, want any additional product information or just have a general question you can use our live chat system during office hours and there will be someone there to help and you don't have to sit around waiting for a reply to an email! You can access the live chat system at any time by clicking on the button at the top of all web pages.
Useful reviews - we have managed to collect many very helpful product and service reviews which can help you choose between products by reading what other people think of them. You will be given the opportunity to review any items you have bought from us as well as our service. These reviews also enable us to spot any problems there may be with products, or our service so we can quickly correct them.
We hope you enjoy using the site. Any feedback is very welcome - just email us at sales@artsupplies.co.uk with any comments or suggestions.