Reward points are our way of acknowledging our most loyal customers.
Every time you place an order on this website, you are given reward points for all the itmes that you buy. Generally, you receive one point for every pound that you spend. However, many products are special in that they grant you two or more points for every pound of their value. These special bonus products are identified by a small red star icon.

After you have placed an order and received some reward points, you can use them against your next order and receive a discount. When redeeming your reward points, each point is the equivalent of one penny. So two hundred points would give you a two pound discount on your order.
You can check your current reward point balance at any time by logging onto your account. On the 'My Account' page you will be able to see how many reward points you have collected and how much that is worth.

Using Your Points
When logged in, you can check how many points you have collected by going to the "My Account" area. A reminder is also given on the shopping cart page.
You must be logged in to use your reward points.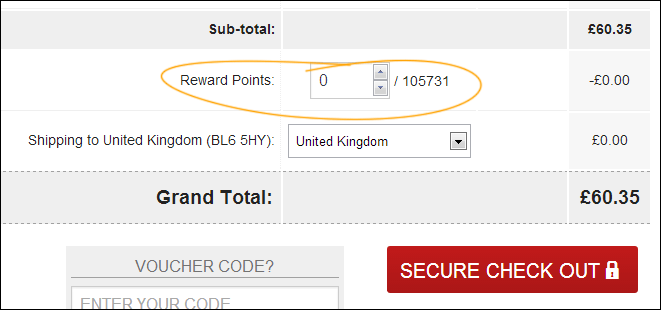 To use your points, simply enter a number in the box at the bottom of the shopping cart, above the "grand total" row, the red 'Secure Check Out' button will turn to a blue "Update Cart" button. Click on this and the points will be deducted from your order. The value of your shopping cart will be automatically adjusted. In the example below we have used enough points to pay for the whole order making the Grand Total £0.00.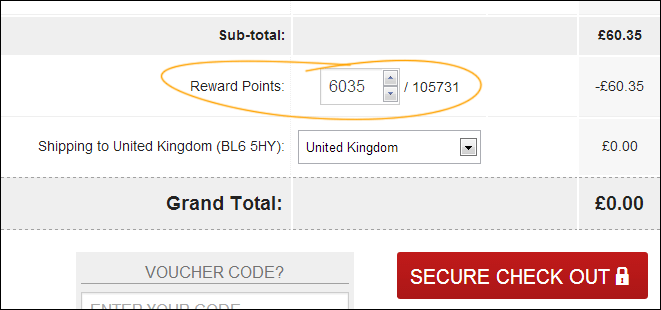 Of course, you are not obliged to use your rewad points every time you place an order. If you wish, you can let your points accrue over several orders, and then claim a larger discount on a subsequent order.
If you are having any problems using your points, please email us, or try our live help service.