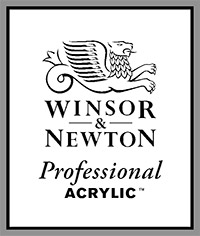 Formally known as Artists' Acrylic, Winsor & Newton Professional Acrylic is the brightest ever range of acrylic. By combining their world-beating colour making experience with the latest developments in resin technology, Winsor & Newton have taken 'brilliance' to a new level. Winsor & Newton Professional Acrylic colours are unrivalled in their richness, intensity and depth of colour. And that's not all. Not only are their colours brilliant when wet but they remain as bright when dry – so no colour shift or darkening of tone. What you see is what you get. Working with artists around the world confirmed that above all else, acrylic artists want the brightest, most vivid colours that do not change as they dry. This new range represents a significant breakthrough in achieving this and much more.
The range offers:
Unrivalled brilliance and depth of colour
No colour shift from wet colour to dry colour
The introduction of new unique pigments to professional acrylics
Longer open time (working time)

Popular and practical
Extremely versatile, water-mixable and fast drying, acrylics have grown in popularity ever since they were introduced in the 1950's. Their quality has steadily improved and they can be used easily and with confidence by all levels of artist.
A good acrylic range should offer:
Clean, bright and strong colours
Individual formulations for each colour, to bring out the best in each pigment
Permanence
Winsor & Newton Professional Acrylic more than meets all these criteria, delivering brilliant, clean colours. This results from high pigmentation levels within the colour, the high proportion of single pigment colours within the range and the in-depth study of resin technology by their chemists to ensure no colour shift from wet to dry.
Add to this a wide and balanced spectrum of 80 colours using unique pigments, a luxuriously thick and buttery consistency, excellent permanence and longer working time and it becomes clear why Professional Acrylic represents the most significant breakthrough for acrylic painters.
Unrivalled Brilliance & Depth of Colour
Brilliance can be defined as the richness, intensity and depth of the colour. Winsor & Newton's research showed that this is the most important characteristic to an acrylic artist. Consequently, in the development of Professional Acrylics, they have used their world-beating colour making experience to ensure an unrivalled brilliance and depth of colour in the range.
Brilliance does not mean the colours are garish. It is about clarity and purity of colour and this should be evident when the colour is applied straight from the tube as well as in the thinnest of films. Even the earths, blacks and whites should be clean and not dull.
While Winsor & Newton's previous range of Professional Acrylic Colour led the way in brilliance, their new Professional Acrylics are unrivalled in their brilliance thanks to a combination of the following:
A new revolutionary transparent binder
Single, highest quality pigments
High pigment strength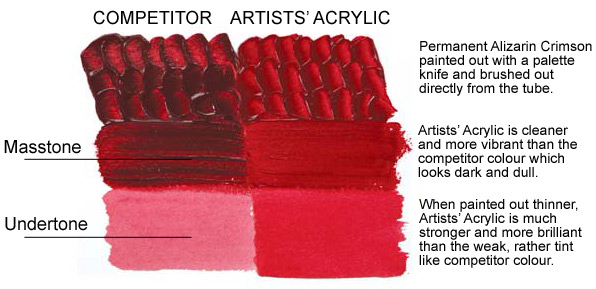 No Colour Shift
Until now acrylic paints have darkened in tone as they dry, making colour matching difficult, so artists have to remember to allow for this when mixing wet colours. However with the new range, acrylic painters no longer have to cope with colour shift. With Winsor & Newton Professional Acrylic, more than any other brand, what you see is what you get.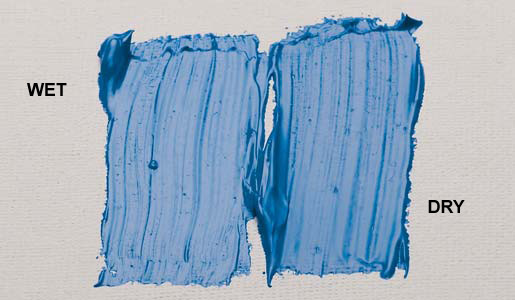 Colour shift is due to the binder changing from white to transparent as it dries. Winsor & Newton were the first to introduce minimal colour shift to acrylics. Thanks to their expertise in colour making and resin technology, they've now gone further in creating a range with virtually no colour shift at all - any change in colour between wet and dry is equal or less than the equivalent colours in Artists' Oil Colour.
The result is a range that allows artists to match colours more easily from palette to canvas and see a painting as it will actually look when finished.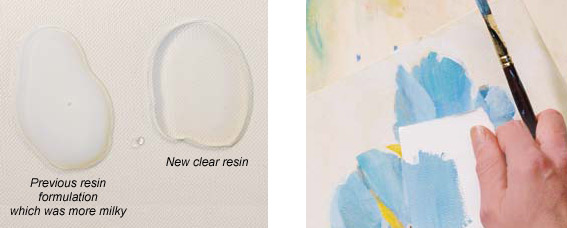 Longer Working Time
One of the major advantages of acrylic colour is that it dries quickly, allowing artists to overpaint within minutes and build up multiple layers during one painting session.
However artists have said that acrylics can dry a little too quickly, especially when compared to oil colour, and this can restrict some painting techniques. Having listened to this, Winsor & Newton have formulated Professional Acrylic to have a longer working time on the palette without compromising the convenient drying time of acrylics.
The working time of Winsor & Newton Professional Acrylics is now 20% more than their previous range of Finity Artists' Acrylics which equates to approximately 20-30 minutes. This longer open time makes Professional Acrylic ideally suited for artists who want plenty of time to work and blend their paints on the palette and canvas.
In tests with artists, Winsor's have found that this is just the right amount of time for working with all acrylic painting techniques.
Unique New Pigments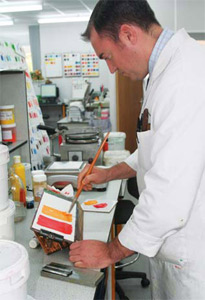 Winsor & Newton have spent over 175 years developing the widest, brightest and most permanent colours for artists. Professional Acrylic is no exception. This range has 80 colours spread across the widest palette, using single artists' pigments wherever possible. Other acrylic ranges exist with a larger number of colours but these include many mixtures of pigments which could be mixed by the artist.
Winsors's colours are chosen according to masstone (colour from tube), undertone (bias of colour when in a thin film), strength and relative opacity. The resultant colour spectrum ensures that artists can obtain the palette which best suits their work.
All 80 colours in Professional Acrylic are new formulations, giving the brightest and strongest colours. The range also includes 17 exciting new colours, further increasing the number of unique pigments available to acrylic painters. Winsor & Newton's research chemists have spent the last few years investigating everypossible pigment and its potential for acrylic painters. No other range has this number of unique pigments.

17 New Colours
New Cobalt Colours
Cobalts are traditional semi-opaque pigments with moderate tinting strength, making them easy to control over a wide spectrum. They are well-loved by painters wishing to represent images in a natural light or realistic colouring. Our new cobalt colours are Cerulean Blue Chromium, Cobalt Turquoise Light and Cobalt Green.
Other new Inorganic Colours
Inorganics include all the traditional pigments; cadmiums, cobalts, titanium, ultramarine and are generally based on metals. It is unusual for new inorganic pigments to become available as most of the raw materials have already been discovered. We have introduced Potter's Pink - a semi-opaque, low tinting strength, single pigment colour - and Ultramarine Violet - a blue-shade violet - to Professional Acrylic.
New Earth Colours
Umbers, Siennas and Ochres are the oldest pigments known to man. Cleaner and brighter than mixtures made from primaries, earths are excellent for toning in shadows and underpainting. Among our new earths: Light Red, Raw Umber Light, Violet Iron Oxide and Yellow Iron Oxide.
New Perylene Colours
This family group has been expanded and we are delighted to be able to introduce three totally unique colours: Perylene Green, Perylene Maroon and Perylene Violet.
Other new synthetic organic colours
Modern organic pigments offer lightfast colours of relative transparency over a broad area of the spectrum. Organics are excellent for bright, clean colour mixtures and are favoured by painters for bright flowers and abstract images. We have further expanded the spectrum available by introducing the following: Green Gold, Pyrrole Orange, Azo Yellow Deep and Nickel Azo Yellow.
New Metallics
Professional Acrylic metallics outshine all others, quite literally. Dense, opaque and highly metallic with a beautiful lustre, these colours do not tarnish. Silver No. 2 is a new darker silver which is even more metallic than any mica pigments we've seen before. It is brighter and more opaque which gives it excellent covering power.
More Pigment Information
Pigment purity
Winsor's only use the purest and highest grades of pigments, formulated individually to ensure the cleanest, most brilliant colours, which produce the best colour mixes.
Single pigments
Professional Acrylic has 69 single pigment colours; at 86% of the range, no other acrylic range has ever had a higher percentage of single pigment colours. The use of single pigments is key to the principle of making good colour. The benefits ensure the cleanest, brightest and strongest colours which give a wider choice and better colour mixing capabilities.
Mixed pigments
The remaining 11 colours in Professional Acrylic which are mixed are done so with good reason. In some cases, mixtures match original fugitive (non-lightfast) colours, eg; Permanent Sap Green, Olive Green and Hooker's Green. In other cases, mixtures are more stable eg; Buff Titanium. Some colours are also mixed to match original colours, eg. Cadmium Yellow Deep and Raw Sienna.
Highest pigmentation levels
The quantity of pigment used is one of the most important indicators of the quality of an artists' acrylic. Each individual formulation uses the maximum amount of pigment possible – without extenders, to produce a colour with the broadest handling properties.
Other Characteristics and Benefits
The Experience of Colour Making
World beating colour making is not just about finding good quality ingredients. At Winsor & Newton, that is only the beginning. Acrylic paint formulation is one of the most complicated of colour technologies and involves the careful selection and combination of exactly the right raw materials, in exactly the right proportions.
The best raw materials and the best formulations are still nothing without our tailor-made mills and equipment which, together with our absolute control through the colour-making process, ensures each ingredient is developed to its full potential. No colour passes our quality control testing unless it's perfect.
There is no substitute for experience in colour making. Winsor & Newton use thousands of raw materials across our colour ranges, and knowing how best to combine them to meet the needs of the most demanding artists in the world requires the combined knowledge of chemists who have spent their working lives making colour worthy of our name.
Permanence and Lightfastness
The Winsor & Newton classification of permanence is the most stringent in the art materials industry, measuring not only lightfastness, but also film stability of the finished colour and chemical stability. All 80 colours within the Professional Acrylic range are classified as permanent for artists' use, earning an AA or A rating. Using permanent colours will ensure that your artwork will remain as you intended for generations.
Durability of Paint Film
Professional Acrylic is formulated to ensure it can not only provide the most brilliant colour but will also dry to a water resistant film which is non-tacky. The latter will prevent dust and dirt embedding in the acrylic over time and will stop finished paintings sticking to each other.
Opacity & Covering Power
Winsor & Newton Professional Acrylic includes a good mix of transparent and opaque colours offering good levels of opacity and covering power. Transparent colours give clean colour mixing, while opaque colours offer the greatest covering power – the ability to cover previous layers or how far it spreads on the canvas. Professional Acrylic will cover surfaces much quicker than other acrylics, usually with only one coat.
Luxuriously Thick and Buttery Consistency
Professional Acrylic offers the smooth, thick, short, buttery consistency preferred by most acrylic artists, with no stringiness. Colours will retain brush strokes and palette knife marks for excellent impasto effects and flow out smoothly with soft brushes if you prefer a smooth surface. They also dilute gradually as water or medium is added, giving artists the maximum control over their paint.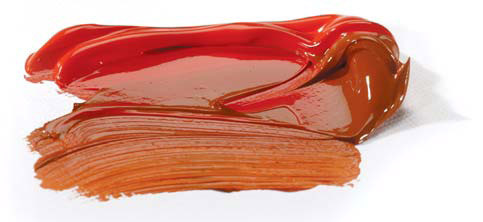 Satin Finish with Variable Sheen
Overall, Professional Acrylic gives an even satin finish, identified by artists as a vital consideration. This makes colour matching easier, maintains the brilliance of colours and provides a more even sheen across the finished painting. Unlike other ranges on the market, Professional Acrylic does not contain any extenders to modify the gloss. Therefore the natural properties of the pigments are allowed to show; for example cadmiums, cobalts and earths have a slightly lower sheen, as is traditionally the case with oils.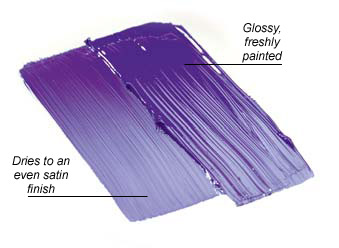 Using Professional Acrylic
Acrylics are an extraordinarily versatile medium. They adhere to the widest range of substrates, can be used with or without primers, and applied in the most dilute water colour washes and transparent glazes to the thickest of impastos.
Helpful hints & tips when using Acrylics
Surfaces
Acrylics can be applied to almost any surface but do make sure it is neither greasy nor too smooth.
Primers
Try Clear Gesso Base with added colour for a tinted ground – you'll need less colour when painting later.
Brushes
A variety of brushes are suitable for use with acrylics. Traditionally hog brushes have been the most popular. However, more recently synthetic brushes such as Galeria, Artisan and Professional Acrylic brush have become more commonly favoured as they offer strength, resilience, spring and control which is ideal for use with acrylics. Synthetic brushes are also good for longer painting sessions as they won't become soggy like hog brushes. They also rinse more easily in water.
Using water
If using heavily diluted washes of acrylic colour on canvas, use medium as well as water to ensure the colour remains properly bound when dry. Acrylic Gloss and Acrylic Matt Medium are the most common for this and will help to increase the flow and transparency of the colours.
Adding texture
Investigate the endless mediums and textures available to take your art where other media can't go!
Impasto
If working in heavy impasto, build it up in layers. Try Heavy Carvable Modelling Paste for carvable impasto or Heavy Structure Gel for great brushstroke retention.
Varnishes
Don't forget to protect your finished works with our uniquely removable varnishes.
Collage and Montage
Use Gloss Gel Medium as an archival adhesive, giving longer life to your work.
New colours
Treat yourself to some new colours – you'll be surprised how it can freshen your outlook and bring new life to your work.
Transparent colours
Use transparent colours for brighter, cleaner colour mixing on the palette. Layer transparent colours on the canvas for great optical mixtures, like layers of tissue.
Opaque colours
Choose opaque colours for covering previous work on the canvas, for flat expanses of colour or for final highlights.
Washing equipment
Do not let colour or mediums dry on brushes and make it a good habit to rinse as you go.
Clean Caps
Wipe the tube neck and caps free from colour to maintain a perfect seal and keep your colour in top condition.
Recommended basic and primary palette
In addition to the spread across the spectrum, a general palette should also have a mixture of stronger and weaker colours and variations in opacity. Here is our recommended basic palette for Professional Acrylic: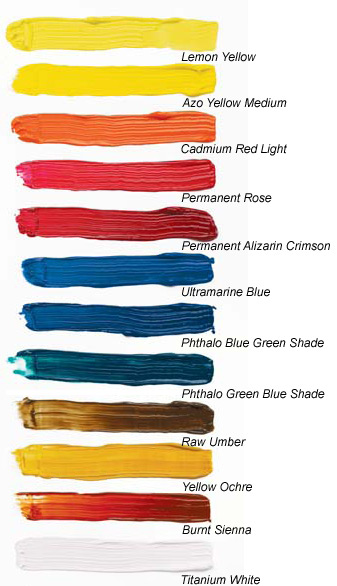 If you want to use just three primary colours, we suggest:
Azo Yellow Medium
Phthalo Blue Red Shade
Permanent Rose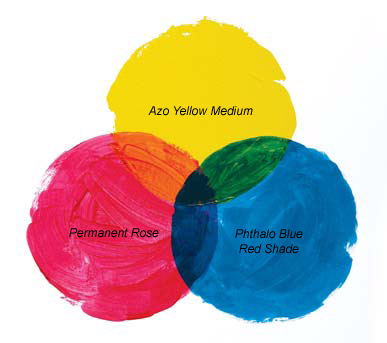 Cadmium Alternatives
Cadmiums are the most opaque reds and yellows available and are some of the most popular colours. In normal use they do not present a health hazard to the user and for the environment we use only insoluble Cadmiums. However some artists may prefer to avoid Cadmiums and Professional Acrylic contains alternatives which are closer than other acrylic colours.
GENUINE CADMIUM
ALTERNATIVE COLOUR MASSTONE
HUE UNDERTONE
HUE
OPACITY
STRENGTH
Cadmium Lemon
Bismuth yellow
Slt. redder
Slt. redder
<
<
Cadmium Orange
Pyrrole Orange
Redder
Redder
<
<
Cadmium Red Deep
Pyrrole Red + Violet Oxide
=
=
=
=
Cadmium Red Light
Pyrrole Red Light
Slt. bluer
Slt. bluer
=
<
Cadmium Red Medium
Pyrrole Red
Bluer
Bluer
=
=
Cadmium Yellow Deep
Azo Yellow Deep
Redder
Redder
<
=
Cadmium Yellow Light
Azo Yellow Medium
Redder
Redder
<
=
Cadmium Yellow Medium
Azo Yellow Medium
Greener
Greener
<
<
KEY: < LESS THAN THE GENUINE = EQUAL TO THE GENUINE
Clear Label information
Providing good information for artists remains as important today as it was in 1892. Our label clearly shows what you need.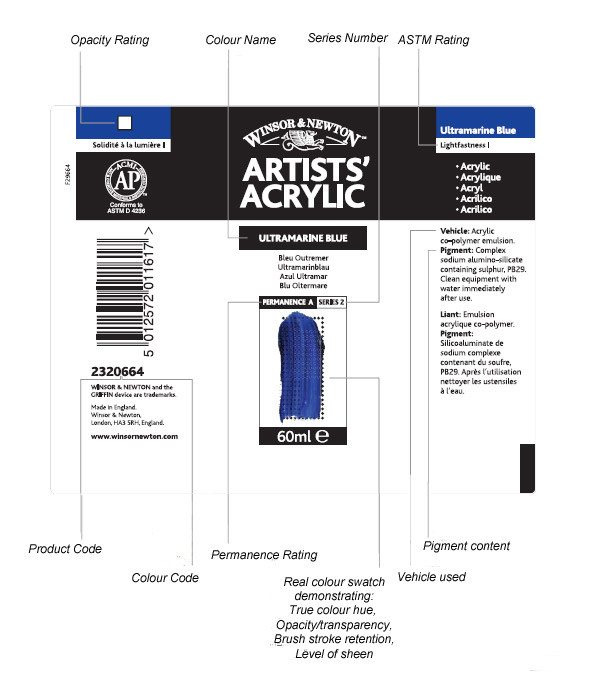 New Colours
COLOUR CODE
NEW COLOURS
BENEFIT
039
AZO YELLOW DEEP
Semi-opaque colour with excellent lightfastness.
Makes a good alternative to Cadmium Yellow Deep.
130
CERULEAN BLUE CHROMIUM
Another composition of Cerulean pigment. A stronger, CHROMIUM deeper masstone and higher tinting strength, complementing our ever popular Cerulean Blue.
184
COBALT GREEN
Absolutely lightfast with good opacity. An improved version of the traditional Cobalt Zinc. Unique.
191
COBALT TURQUOIS LIGHT
Super bright turquoise, semi opaque.
294
GREEN GOLD
Bright yellow shade green – a useful, strong mixing colour.
362
LIGHT RED
A natural, single pigment earth with bright undertone. Unique.
439
NICKEL AZO YELLOW
A transparent, red shade yellow – similar to original Gamboge resin. Wonderful for mixing – particularly greens, browns and glazing techniques.
460
PERYLENE GREEN
An exciting semi-transparent, single pigment blackgreen. Excellent in mixes without muddying. Unique.
507
PERYLENE MAROON
A dense, transparent, strong, single pigment maroon for wider mixing capability. Marvellous for darks and shadows. Unique.
470
PERYLENE VIOLET
A single permanent pigment, deep violet replacing traditional pigments such as Purple Madder. A popular colour position amongst modern pigments. Unique.
537
POTTER'S PINK
A semi-opaque pink which cannot be mixed from red or white. Popular for portrait painting. Unique.
519
PYRROLE ORANGE
A very bright, clean orange with a red undertone. A good alternative to Cadmium Orange.
557
RAW UMBER LIGHT
A pale natural umber, which supports good natural strength mixtures. Unique.
624
SILVER No.2
Brighter, improved metallic sheen and greater opacity. Unique.
672
ULTRAMARINE VIOLET
A highly lightfast blue shade violet, lower in cost than Dioxazine.
691
VIOLET IRON OXIDE
An opaque, higher tinting strength synthetic earth
737
YELLOW IRON OXIDE
An opaque, higher tinting strength synthetic earth.