Winsor & Newton Galeria Acrylic Colour is a high quality acrylic which delivers professional results and is ideal for artists who want good quality colour at an affordable price.
All of the 60 colours in the Galeria Acrylic range offer a wide spectrum of pigment characteristics to choose from as well as excellent brilliance of colour, high levels of pigment strength, opacity & permanence, strong brush stroke retention, clean colour and a smooth, satin finish.

Packaging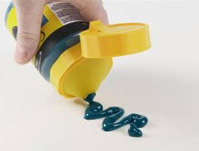 Some years ago Winsor & Newton completely re-designed the Galeria cap, and improved the Galeria 250ml and 500ml pots.

Stackable, flip-top cap: The cap has a flat top so you can stack the pots in your studio, making them more space efficient. They are also more economical as when you are reaching the end of your colour you can store the pots on their caps upside down so the colour drains on the cap.
Nozzle: The cap has a flip top, so once you open the lid, the nozzle is revealed - this allows precise and measured application, either to your palette or directly to your painting surface depending on your style.
Wider necked pots: The necks of the 250ml and 500ml pots have been made wider so that you can get at the colour if you want to use a palette knife for example. The wide necks also make it much easier to access every last drop of colour when you reach the end of the pot.
Steeper shouldered pots: The angle size of the shoulder of both pots has been reduced. This means that colour no longer gets stuck in an inaccessible corner and combined with the wider neck of the pots, this means you can easily reach any colour held in the corners with your brush or palette knife!
Pigment Strength and Purity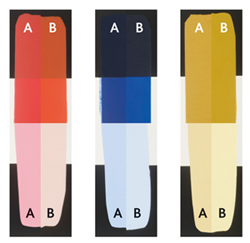 Galeria enjoys a good to high level of pigmentation, which gives artists from beginner to professional a good correlation to artists' acrylics, making it easier in the transition to artists' grade when a wider choice and even higher pigment strength is needed.
Although Galeria is sometimes referred to as 'student grade' the high levels of pigment deliver professional results with significantly better covering power than many similarly priced brands. (See our section below on Opacity and Covering Power to understand more.)
During the process of searching for new pigments, suggested colours are made by our chemists and these Leneta cards are just one way we look at the proposals.
These examples show how Galeria is a stronger colour when mixed to a tint 1:10 with Titanium White, vs. the competitor acrylic
A= Galeria | B= Competitor
Improved Colours
Galeria also benefits from the improvements we have made to 20 colours, from increased opacity to stronger colour with no change in hue. (See the table below).
| | | |
| --- | --- | --- |
| Colour Code | Modified Colours | Reason for Modification |
| 076 | Burnt Umber | Pigment level increased, now stronger with a richer chocolate masstone. |
| 090 | Cadmium Oragne Hue | Pigment level increased, now more opaque and stronger. Slightly Redder. |
| 095 | Cadmium Red Hue | Pigment level increased, now more opaque and stronger. |
| 120 | Cadmium Yellow Medium Hue | Pigment level increased, now more opaque and stronger. |
| 138 | Cerulean Blue Hue | Pigment level increased, now stronger. |
| 179 | Cobalt Blue Hue | Pigment level increased, now more opaque and stronger. |
| 283 | Gold | Pigment level increased to give a smoother finish and greater sheen. |
| 346 | Lemon Yellow | Pigment level increased, now more opaque, brighter, cleaner and stronger. |
| 386 | Mars Black | Pigment level increased, now stronger. |
| 415 | Mixing White | Removal of zinc oxide from formulation, now no health labelling needed. Clean white for mixing. |
| 483 | Permanent Green Light | Pigment level increased significantly, now mouch stronger and more opaque. |
| 488 | Permanent Magenta | Pigment level increased, now more opaque, stronger, brighter and less chalky. |
| 522 | Phthalo Green | Pigment level increased, now stronger. |
| 533 | Process Magenta | Pigment level increased, now stronger. |
| 541 | Prussian Blue Hue | Pigment level increased significantly, now mouch stronger and more opaque. |
| 599 | Sap Green | Pigment level increased, now stronger. |
| 644 | Titanium White | Pigment level increased, now stronger, more opaque and cleaner, brighter white. |
| 660 | Ultramarine | Pigment level increased, now stronger. |
| 706 | Winsor Blue | Pigment level increased, now stronger. |
| 744 | Yellow Ochre | Pigment level increased, now stronger. |
Spectrum
Galeria Acrylic Colours have been chosen to offer a wide and balanced spectrum of bright and vibrant colours, giving the artist excellent choice and the ability to select a palette that best suits their work. Each colour has been specially selected by looking at individual pigment characteristics in both mass and undertone such as hue, colour bias, purity, brightness, transparency, tinting strength and stability.
The advantage of Galeria is that the range covers every requirement - from the essential colours for your basic palette, to unique colours not achievable through mixtures, to colours formulated from professional artist grade pigments.
Winsor & Newton's objective is to offer the best possible choice of colours to the artist at an affordable price, providing exceptional value for money.
The spectrum also includes a number of tints (colour plus white). These ready mixed colours enable the artist to select and apply the colour quickly and easily, without having to worry about consistent colour mixing.
Opacity and Covering Power
Covering power is the ability of a pigment to a) go a long way or b) cover previous layers. This characteristic is a combination of the natural strength of the pigment, the quantity used and its degree of inherent opacity.

On the Winsor & Newton Colour chart, the transparent colours are marked with
or T, the semi-transparent colours are marked
or ST. The relatively semiopaque colours are marked with
or SO and the opaque colours are marked with

or O.Transparency however is relative and the ratings are provided as a guide only.
In Galeria there are different degrees of covering power from different colours, as some pigments are naturally more transparent, for example Raw Sienna. This is only right - a range which concentrates on one characteristic above all others would prevent it from being used in other techniques. In this way Galeria is extremely versatile since it offers a sophisticated degree of variation.
However Winsor & Newton understands the needs of artists and aims to offer the greatest choice. Therefore Galeria now offers opaque versions of some naturally transparent pigments. Such as Raw Sienna Opaque and Burnt Sienna Opaque.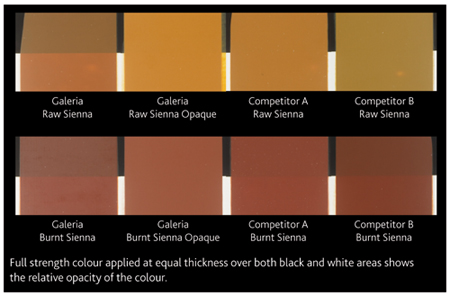 Despite the opacity or transparency of the pigments, the following colours have great covering power:
Pale Lemon
Cadmium Yellow Medium
Cadmium Red Medium
Burgundy
Pale Violet
Winsor Violet
Poweder Blue
Cobalt Blue Hue
Winsor Blue
Prussian Blue Hue
Cerulean Blue Hue
Pale Olive
Sap Green
Olive Green
Hooker's Green
Permanent Green Deep
Phthalo Green
Deep Turquoise

Buff Titanium
Naples Yellow
Yellow Ochre
Raw Sienna Opaque
Raw Sienna
Burn Sienna Opaque
Pale Teracotta
Burnt Umber
Pale Umber
Raw Umber
Vandyke Brown
Paynes Gray
Ivory Black
Lamp Black
Mars Black
Titanium White
Process Cyan
Permanence and Lightfastness
*Opera Rose is a B rating; however it has the highest lightfastness rating within its own pigment category. The unique brightness of this pigment is important despite its B rating.As permanence is especially important in acrylic colour, we ensure all Galeria acrylic colours are rated AA or A (except Opera Rose*), ensuring the whole range is recommended as 'Permanent for artists' use'.
The lightfastness of a paint colour or pigment is how resistant to fading it is, or how unaffected by how light it is. Many 'student' or low cost acrylics will often use less permanent pigments, which will fade, sometimes within months. This is particularly notable in the red, yellow and violet area. Galeria does not use any of these less permanent pigments – Galeria uses pure pigments that don't fade so that your artworks maintain their original colour for decades.
Benefits of Galeria
Versatility
Acrylic colour is becoming increasingly popular because it is so versatile. It can be used on the widest variety of surfaces, (providing they are grease free and properly prepared); paper, canvas, hardboard, timber, sculpture, brickwork and plaster - so you can use it whatever your painting style.
It can be applied both thinly and thickly and at any dilution in between and is easy to use and clean up. Galeria ensures the artist has an acrylic with the best all round handling characteristics and performance at an affordable price.
Galeria, can be used straight from the tube/ pot or thinned or thickened with a medium or water. This variety in consistency makes Galeria suitable for both oil and water colour techniques.
Brush Stroke Retention
In comparison to oil, acrylics generally have less 'body'. We've worked hard to achieve a good buttery consistency for quick and easy coverage with Galeria but we've made sure that the brush marks you make stay there. If you start with a very fluid low cost acrylic and you want any brush marks you'll need to buy a medium and spend time mixing it in.
Some other brands of acrylic have a thick consistency out of the pot or tube, yet level off on the canvas.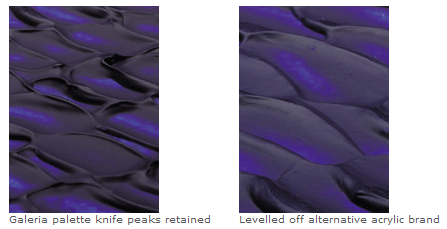 Easy Dilution
During the last decade we've been able to build upon the wider choice of raw materials and produce for Galeria a buttery consistency that will continue to reduce generally as water is added.
You can easily experience this by diluting Galeria with a soft brush rather than a bristle brush.
Satin Finish
Winsor & newton research has found that most acrylic artists prefer an even satin finish and the improved formulations provide this with excellent depth of colour, makeing colour matching easier from wet to dry. Matt or gloss finsihes can easily be obtained by adding the appropriate Galeria medium.
Drying Times
Thin films of colour will dry in 10-20 minutes, thicker films can take an hour or more.
Upgrading to Professional Acrylic Colour
Acrylic colour relies upon the variable characteristics of the pigments used in each colour in order to achieve results. Therefore, being able to choose from the widest possible range of pigments means that you have greater choice and flexibility to develop your work and technique.
Upgrading to Winsor & Newton Professional Acrylic Colour range means that you will have a much wider and balanced spectrum of colours to choose from, giving you the widest choice of pigments as well as unparalleled brilliance of colour.
Galeria for Fine Art
Acrylic paints can produce wonderfully colour-rich artwork as well as stunning texture and bring unrivalled depth to a piece.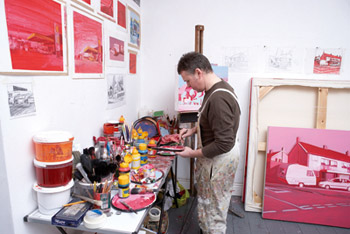 Artist Paul Crook using Galeria
Galeria is such a comprehensive range that it is ideal for all your fine art requirements. The spectrum, pigment choice, pigment strength and opacity of the range will ensure you succeed, and get the results you want. This means there is no restriction to your talent, whatever your style.

As Galeria is an economical medium it is ideal for use on large-scale works such as scenery, theatre sets or murals. With its fast drying time, Galeria is suitable for works indoors and outdoors.
Application to walls
Preparation - Unless new, the wall is best stripped back to plaster and must not be dusty, have a broken surface or damp. Oil based paint layers should be removed. If new, plaster should be allowed to dry, sized with wallpaper paste and then primed with Acrylic Gesso Primer or Galeria White Gesso Primer. If stripped and the wall proves dusty or to be friable, a suitable stabilising primer should be used, before applying the Winsor & Newton primer.


A panoramic mural with Galeria
Drying time & Protection - Colours will be touch dry in approximately 20 minutes. Allow the completed work to dry for 48 hours before varnishing. For interior murals, which are thought of as fine art, Galeria Gloss or Matt Varnish is recommended. For exterior work, an exterior quality polyurethane varnish provides greater protection.
Galeria Acrylics for Home Decoration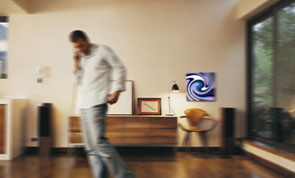 With the ability to use colour straight from the tube and with the benefits that acrylic offers in terms of fast drying properties, this makes painting with acrylic quick and easy and ideal for creating home interior ideas to suit your needs. Why not add an individual and personal touch to your rooms by creating something that you will be proud of.
Sometimes the simplest creations are often the most effective. You could try painting three 30 x 30cm canvases a solid colour, each a slightly different shade of one colour or the colours to match your room setting. Hang the three canvases horizontally on a wall about 10cm apart to produce an abstract triptych.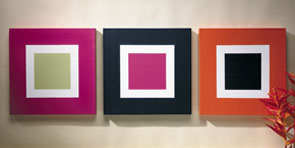 Galeria for Decorative Art
Acrylics can be used for craft creations to suit any home interior and offer unlimited creative possibilities.

Galeria offers a bright spectrum of colours and with their quick drying properties your craft activities will not take you long. Try adding dried flowers, dried pasta or simply add some of the Galeria texture gels to produce a 3 – dimensional masterpiece.
For other ideas, why not try making home made greetings cards or simply take a piece of canvas and add colour and accessories as you desire. Get creative and bring your ideas to life!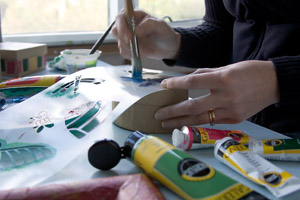 Creating Texture and Feel
Painting is often as much about texture and "feel" as it is about the "look" of the image and that's why we have developed a complementary range of Galeria Acrylic Mediums that are perfectly suited for Winsor & Newton acrylic colour.
Designed to offer you fresh options, these allow the artist to explore the full range of the tactile as well as visual properties of acrylics. Acrylics allow you to explore virtually any application you can imagine. The possibilities range from controlling the finish (be it gloss, matt, satin or iridescent) to altering the consistency of the colour (thick for textured works, thin for flat paint films).
Using the proper medium allows for staining, printmaking, mixed media, aggregate textures and even carving. Visit our Acrylic Mediums section for more information on all the different mediums offered.
Recommended Colour Palette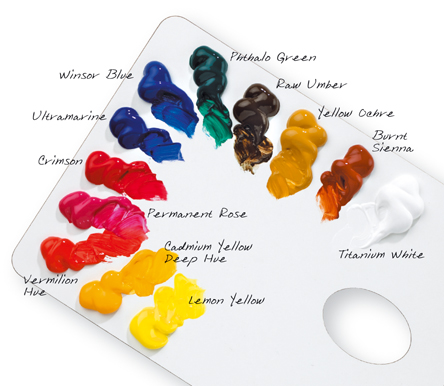 Your initial palette should provide a wide colour spectrum and should have a good balance between strong tinting and weaker tinting colours. The common practice is to maintain a broad palette of about twelve colours and add to it for specific requirements.
We recommend the following colour palette as a starting point for beginners:
Lemon Yellow
Cadmium Yellow Deep Hue
Vermilion Hue, Permanent Rose
Crimson
Ultramarine
Winsor Blue
Phthalo Green
Raw Umber
Yellow Ochre
Burnt Sienna
Titanium White