Cotman Water Colours are a range of water colours that are made to Winsor & Newtons normal high quality standards but costs are kept to an economical level by replacing some of the more costly pigments with less expensive alternatives. The range consists of 40 colours in tubes and pans which possess good transparency, excellent tinting strength and good working properties. There are also a number of excellent water colour sets available in the Cotman range.
Sizes Available
The range offers a balanced spectrum of 40 colours which are available in Half Pans, 8ml tubes and 21ml tubes.

Pigments
Costs are kept to an economical level by replacing some of the more costly pigments with less expensive alternatives. Pigments derive from a number of sources: Some are natural products, notably the earths, eg. umbers, ochres; others come from metal compounds and are sometimes termed 'traditional' or 'genuine', eg. ultramarine.
The distillation of petroleum yields an ever widening range of organic pigments which are often termed as 'modern'. Many of the pigments used in Cotman are organic.
Colour Range
The range of 40 colours are chosen according to mass tone (colour from tube), undertone (bias of colour when in a thin film), colour strength, relative opacity and the character of the pigment itself. The resultant colour spectrum ensures the largest number of colours can be mixed.
The Cotman Water Colour range has a more uniform consistency than the Professional Water Colour range and this benefits beginners as there is less to learn about each individual pigment. The Cotman Water Colour range also relates to the Winsor & Newton Professional Water Colour range, e.g. Burnt Sienna in both ranges has the same hue. This enables artists to use colours from both ranges with minimal adjustment to their technique.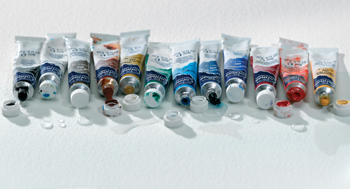 Transparency
As water colour films are so thin all colours appear more or less transparent when painted onto paper. The pigments used in Cotman are also predominantly transparent.
Granulation
As a general statement the traditional pigments granulate, e.g. earths, ultramarine. The modern organic pigments do not, e.g. Cotman hue colours. If you wish to avoid granulation in your painting, the use of distilled water can reduce it, particularly in very hard water areas.
Staining
The modern organic pigments, e.g. Cotman hue colours, are made of very fine particles which cause them to stain the paper. The traditional colours e.g. earths, tend to lift from the paper more easily.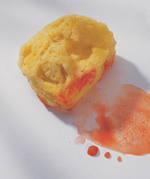 Permanence
In Cotman Water Colour, AA and A are regarded as permanent for artists' use. To be sure of the permanence of any colour, please refer to the ratings on the colour chart or Cotman tube/pan labels.
Hues
"Hue" means colour and indicates that a modern pigment has been used instead of the traditional one. For example, 'Cadmium Red Pale Hue' in Cotman Water Colour is a 'colour of cadmium red pale'. A hue colour is not necessarily inferior.
Mixing Colours
Both Cotman and Artists' Water Colours can be freely intermixed. If long term permanence is required with Cotman, use only colours rated AA or A which are recommended as permanent for artists' use. The three primary colours in Cotman Water Colour are Lemon Yellow Hue, Ultramarine and Permanent Rose. If using a six colour mixing system we would recommend Lemon Yellow Hue, Cadmium Yellow Pale Hue, Ultramarine, Intense Blue, Permanent Rose and Cadmium Red Hue.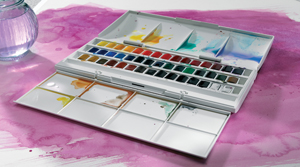 Whites in the Range
Traditionally the white of the paper provides the brilliance to water colour and can be used as highlights. However, some artists utilise Chinese White for highlights at the end of their painting or in dulling some colour mixtures down.
Upgrading to Artists' Watercolour
Water colour more than any other medium relies upon the variable characteristics of the pigments used in each colour in order to achieve results. Therefore, being able to choose from the widest possible range of pigments means that you have greater choice and flexibility to develop your work and technique.
Upgrading to our Artists' Water Colour range means that you will have a much wider and balanced spectrum of colours to choose from, giving you the widest choice of pigments as well as unparalleled brilliance of colour and transparency. Find out more about Artists' Water Colour.