Using Ink in Sketching, Drawing & Painting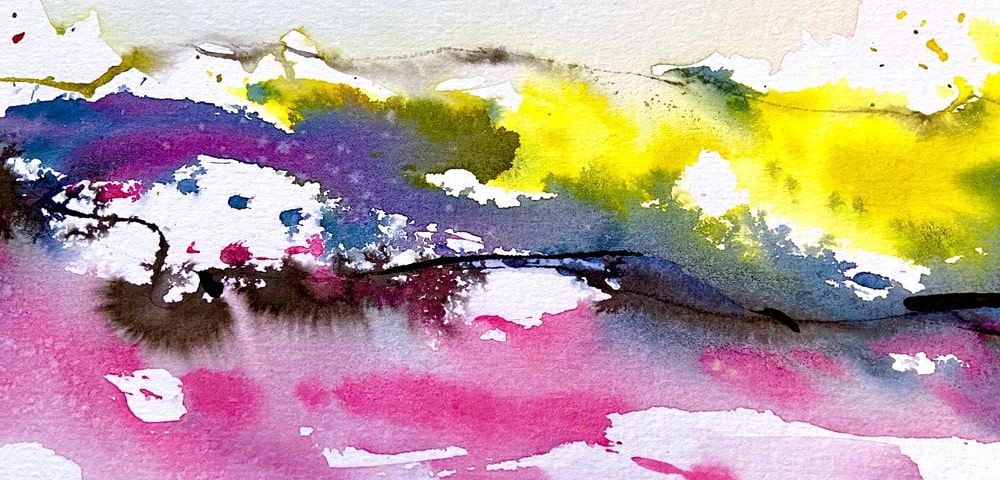 Ink can be an exciting addition to your drawing and painting practice. It's easy to use and offers many options for experimenting with colours, shapes and textures. Here we will look at:
Choosing inks
Tools
Ink and watercolours
Ink and acrylic paint
Coloured inks
Urban sketching
Tonal studies
Creating texture
Choosing Inks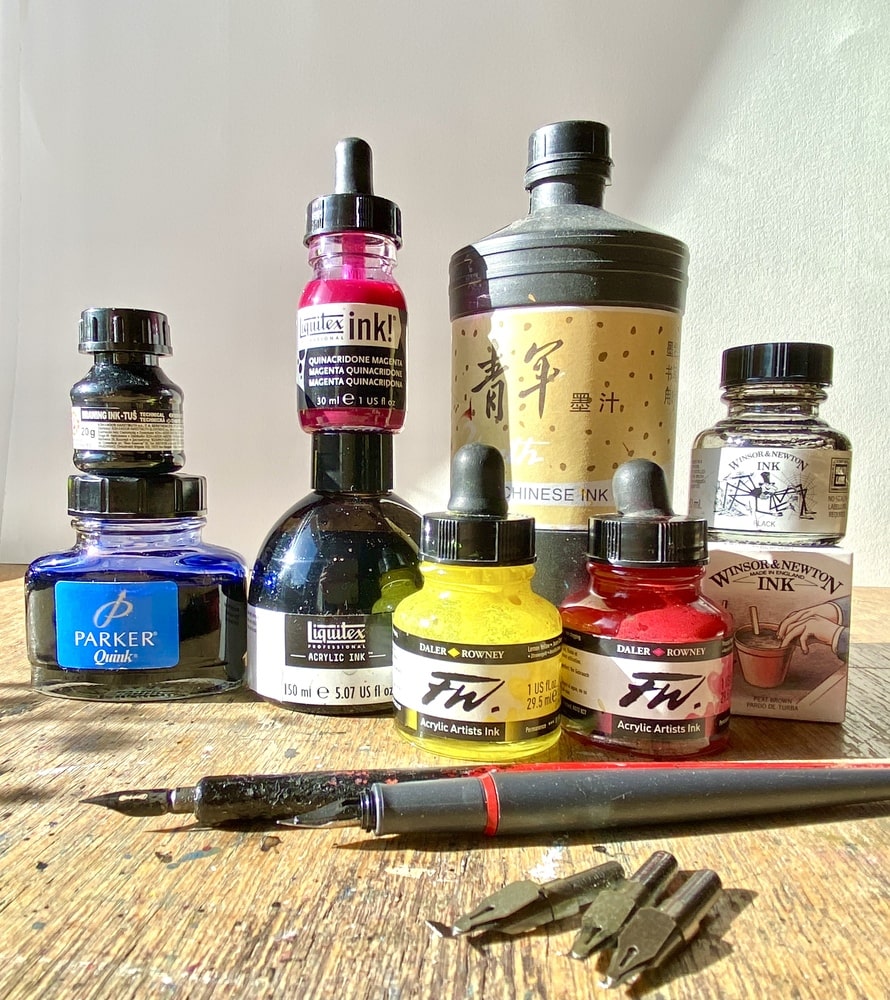 Inks come in many different forms depending on how you want to use it.
Pens holding ink, such as fine liners, fude pens and fountain pens are normally used for drawing and sketching. The main choices to make here are what pens you like to work with, and if the ink is waterproof or not.
For painting and artwork there is a vast assortment of black and coloured inks on the market. The base for making inks can be oil, alcohol, gum arabic or acrylic.
Oil based inks are usually used for printmaking.
Acrylic based inks are basically a very fluid paint, and is mixed with pigments. It is permanent and lightfast.
Alcohol based inks are mixed with dye and can be diluted or reawakened with alcohol. They have strong colours but are less lightfast and do not mix well with other inks.
Water based inks use binders such as gum arabic or shellac and do not always dry fully waterproof. Some artists make their own inks with local and found materials, often using gum arabic as a binder.  
Colours in inks are either made from dyes or pigments. Dye based inks have good colours but are less permanent, and the pigmented acrylic inks are more lightfast.
For painting I prefer to use acrylic based inks. They are easy to use, pigment based and thus lightfast, and dries permanent. All acrylic inks are intermixable regardless of brand name.
Tools
Brushes, bamboo pens, twigs, spatulas and dip pens all work well with ink, as well as any other tools you might like to try.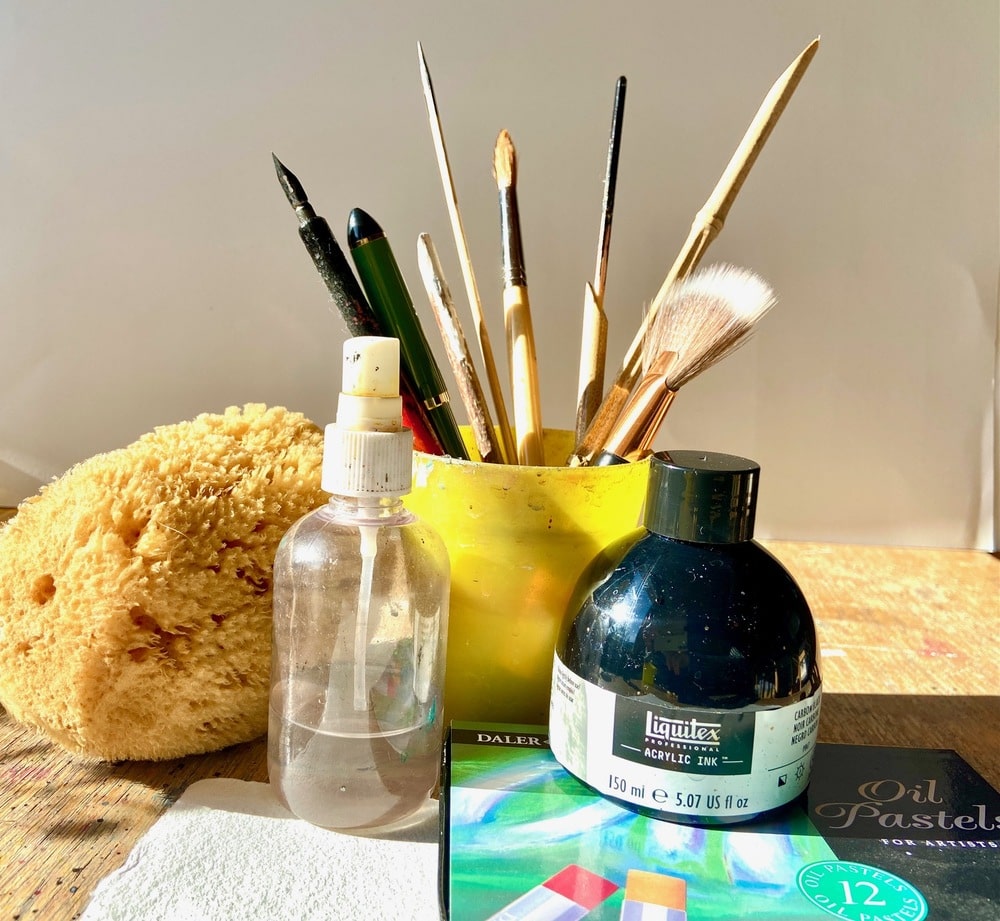 Mixing Ink and Watercolours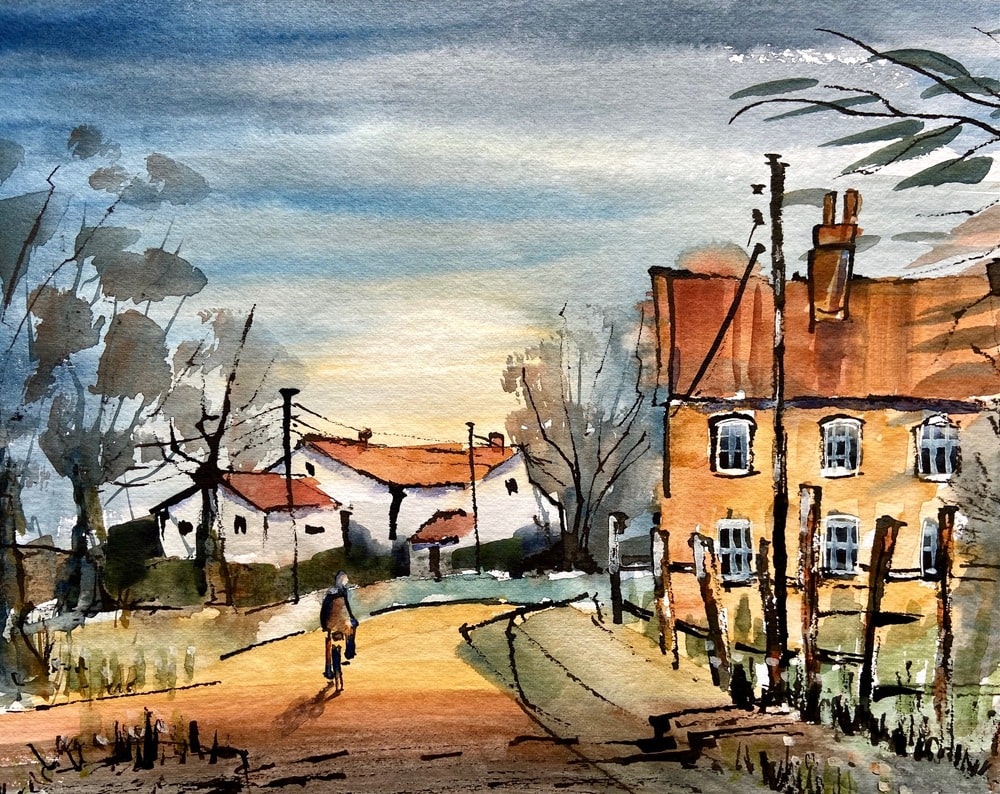 Combining ink and watercolours can be a very creative process.
Traditionally ink and watercolour describe a combination of drawing with a pen and then painting with watercolour, sometimes in a loose style. However, if you like stronger lines, try using a bamboo stick or twig and a bottle of fluid ink to draw with, and combine this with watercolours in any number of ways:
Draw with ink and immediately paint with watercolours, wet in wet style. This can create an unpredictable and interesting combination of colours and texture as they react with each other.
Draw an image with ink and wait until it's dry before painting, resulting in strong lines.
Paint your watercolour image first and draw with ink to sharpen your marks and your focus.
If you spray the ink while it's still wet, the line separates into lovely marks depending on the texture of paper you use.
Once your image is dry, you can build layers to this process by adding more ink or more watercolours until you are happy. You can also go in with fine liners or dip pens, in order to add more details.
Mixing Ink and Acrylic Paint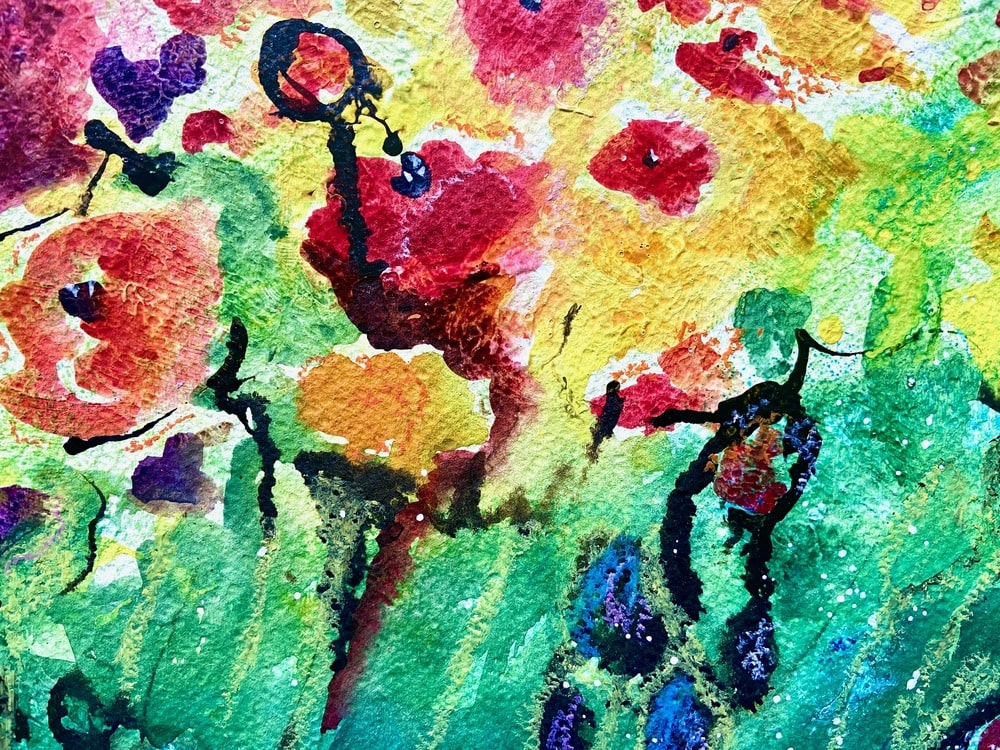 Ink works well with acrylics, especially if you choose an acrylic based ink. The acrylic paint is thicker in consistency but both ink and paint can be diluted with water and mixed or used in a layering effect.
Coloured Inks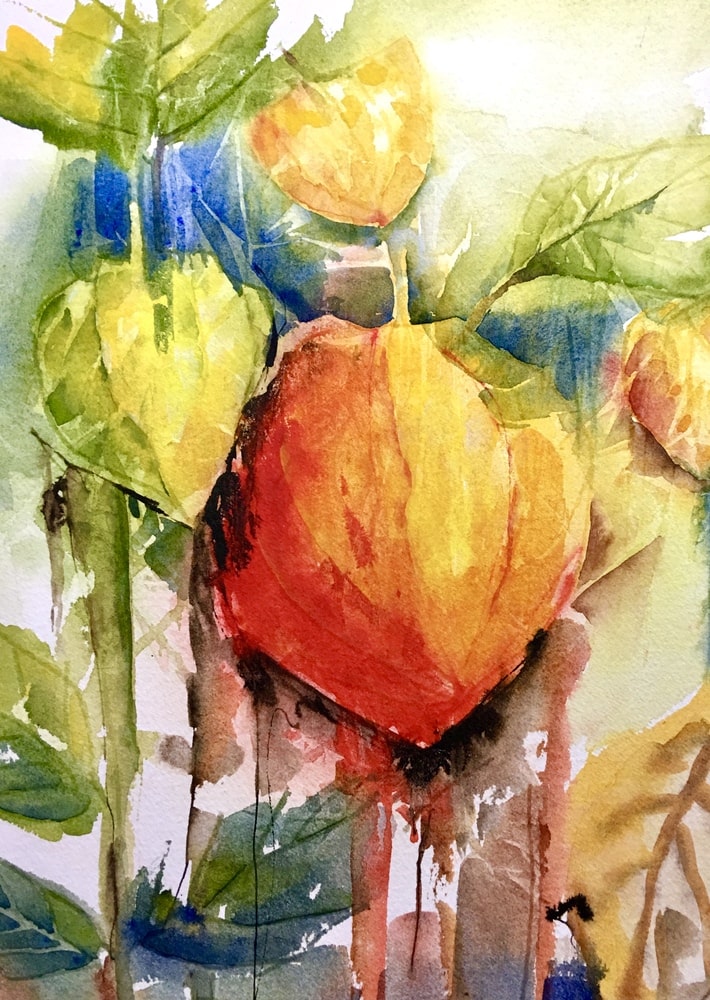 Good quality coloured inks have a consistency and strength of colour that's unique. Painting with pure ink colours is in some ways similar to painting with watercolours. Using dip pens, sticks and brushes, we can work with layers of ink in much the same way as with watercolours. However, unlike watercolours once an acrylic based ink is dry, it's permanent.
Urban Sketching
Sketching on location is becoming increasingly popular. As well as your usual pens and watercolours, try bringing a bottle of ink, a bamboo stick or sharpened twig and a little spray bottle along for some interesting lines and strong marks.
Tonal Studies
Ink can be a great medium for working out tonal studies as a preparation for larger artwork. In this example I have used black ink and a bamboo stick for drawing my composition. I then take a brush and dilute some ink with water to achieve a mid tone, which I paint, making sure I reserve some white. Once dry, I paint the darker areas.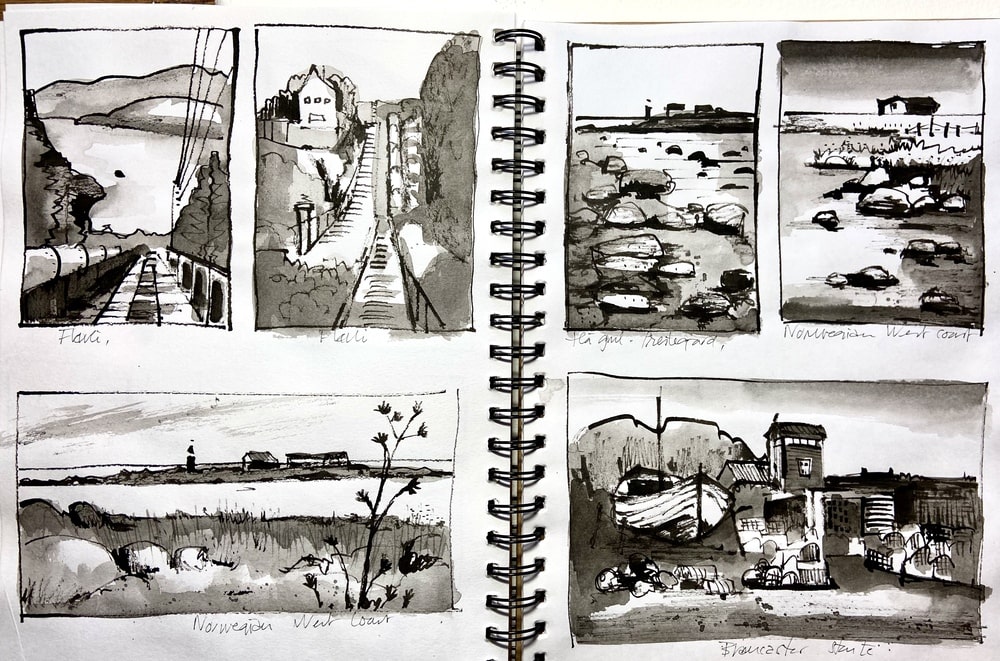 Left with only three tones helps me decide on my light and dark areas before committing to larger work.
Creating Texture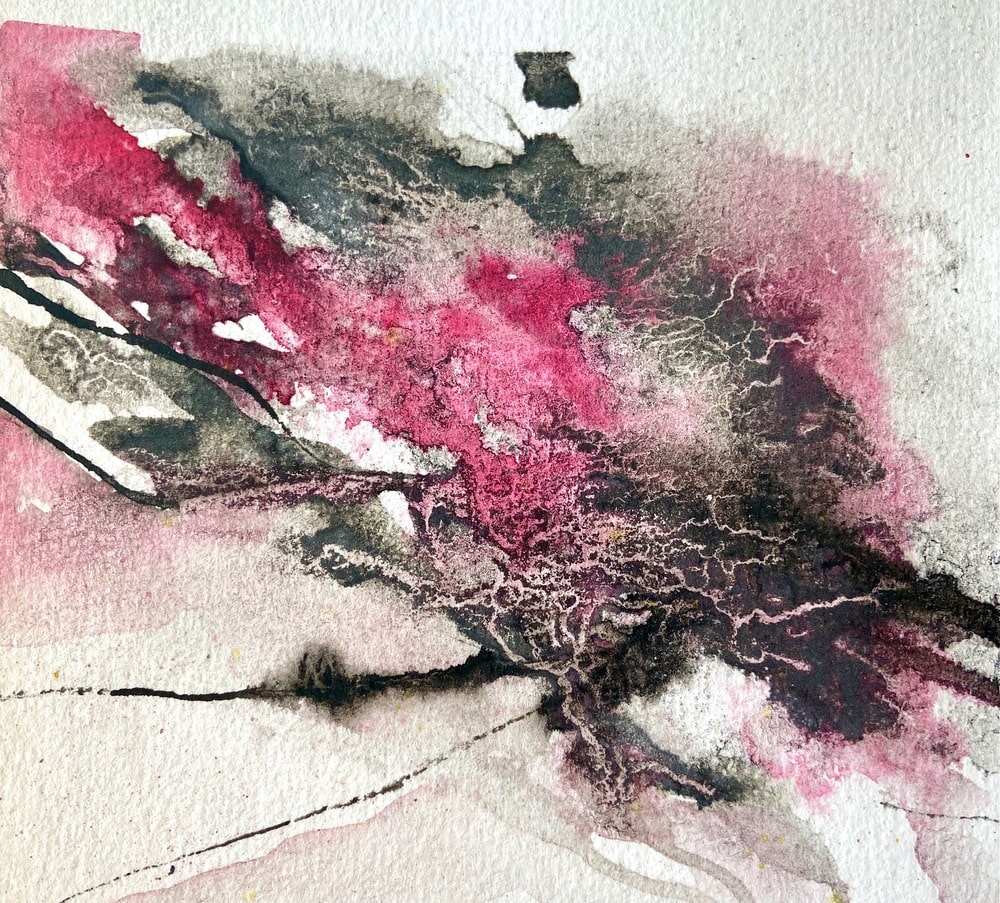 Playing and experimenting with ink and mark making can be great fun. Sprinkle some salt on, dab with a sponge, paint on gesso or other surfaces to achieve texture, or use in mixed media with pastels, crayons or collage. And spraying into the mix can be both scary and give surprising results. Basically, play and see what happens…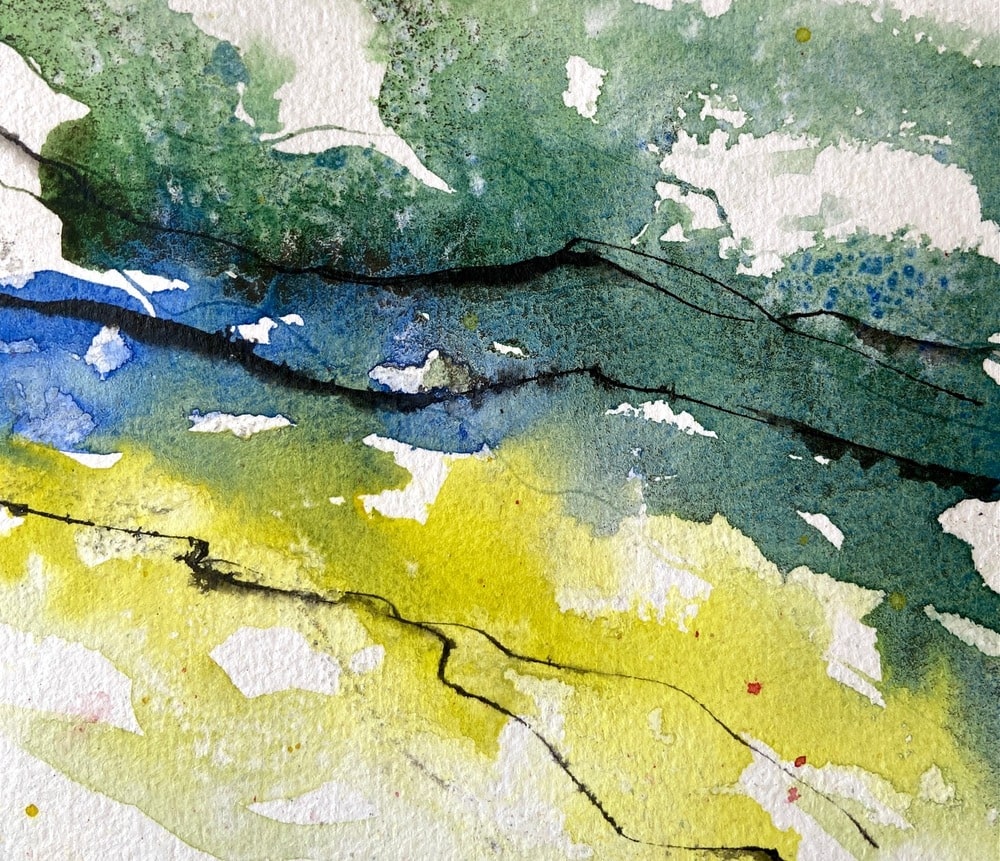 ---
Karin Christensen is a UK based artist and a member of the Lincolnshire Artist Society. You can find out more about Karin and her work on her website: www.karinchristensen.com