How to Photograph your Artwork
You have spent countless hours on your work of art and now you need to market it. The internet and social media has made getting your work "out there" a lot easier but if you don't get a good image of it your buyer might not get what he is expecting or worst yet, no one will want it because it doesn't look as good as it should.
Photographing your artwork may sound simple but don't be fooled. As an artist, I have spent countless frustrating hours trying to get the perfect photo that truly represents my work only to discover the image is blurry or the colours look nothing like my painting.
I am Michelle Gibbs, artist and director of Art2Arts online art gallery. In this article, I want to show you how to photograph your artwork to highlight it in a way that truly represents your artwork. Whether you are photographing to present to galleries or to sell, with a few simple tips you can take a high quality photograph without having to hire an expensive professional.
What you Will Need
It can take a bit of time to set up the shoot which you might find is a lot of effort just for one piece. You may find it better to have a few pieces of artwork to photograph at a time.
You will need:
Good digital camera
Good Lighting
Tripod
Photo editing software
Invest in a good digital camera. One where you can shoot in manual and change the settings or shoot in RAW. Phone cameras have come a long way but they still are not really sufficient for this sort of thing. Make sure you clean the lens using a soft cloth to be sure there are no smears or hairs which will compromise the image.
Any camera shake will cause a blurry photograph. It is not enough to rely on a steady hand. You can use a flat surface like a table but for real adaptability, you will need a tripod.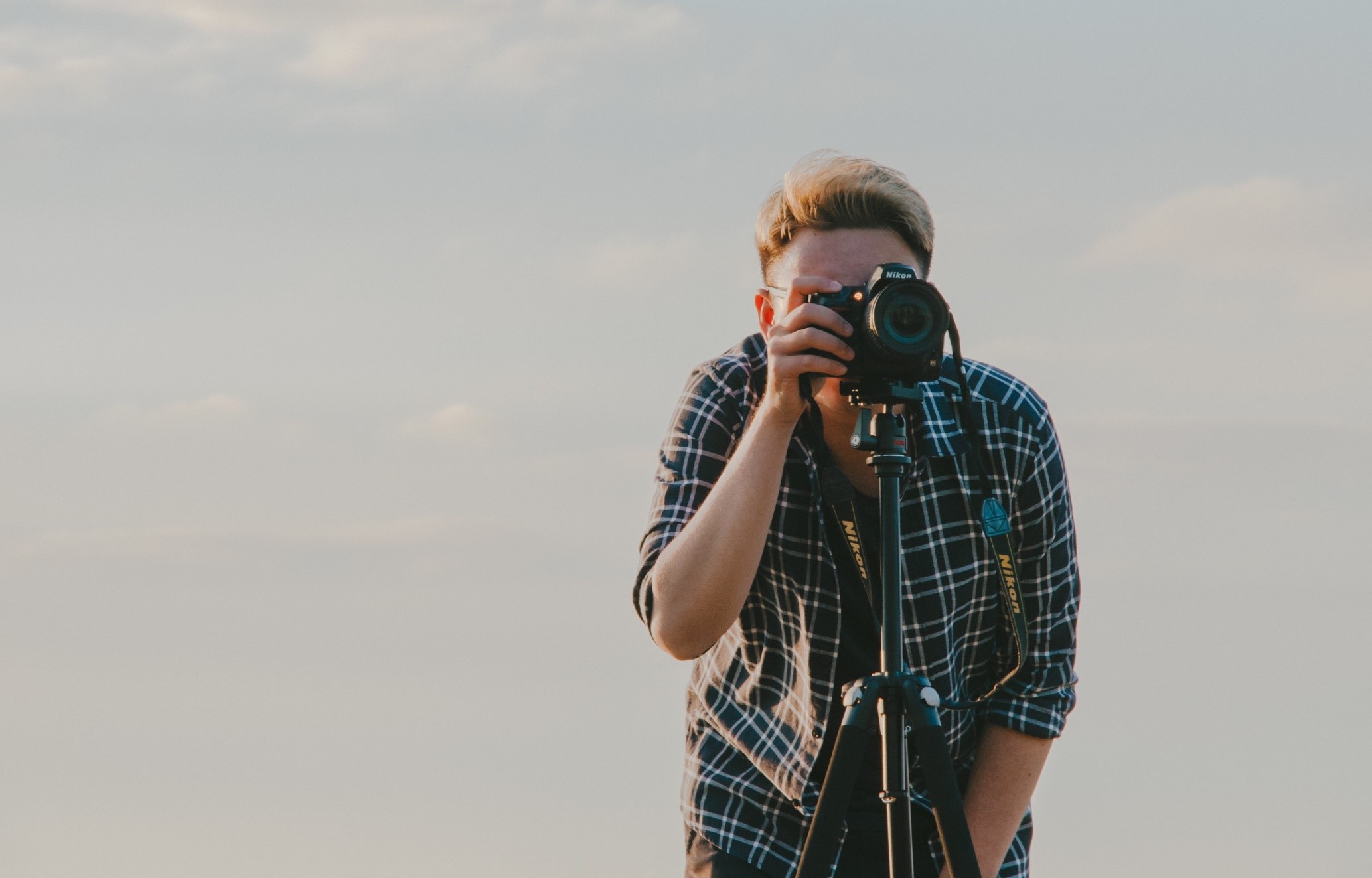 Lighting
Lighting is vital to the success of your photograph as poor lighting or shadows will misrepresent your work.
Natural light is always best for true colours. If you are shooting indoors, try to get some soft, natural, indirect light by a window. If this is not possible, you will need diffused fluorescent bulbs that can be positioned at a 45-degree angle either side of your artwork. You will need one on either side to avoid shadows. If you are shooting indoors, it is essential you turn off all other artificial lights as they can create incorrect tones and shadows in your work.
If shooting outside (my preferred method) wait for an overcast day. A sunny day will wash out your colours. Equally, you need to turn the flash off your camera as this will also wash out your colours.
Camera Settings
There are two main options for your camera settings:
Shoot in Manual
If you shoot in manual set your ISO to the lowest setting you can (between 100-200 ISO is recommended) the higher the ISO the grainer the image will appear.
Adjust the white balance as different light settings may produce white light creating different colour tints. You can either play around with the balance to get it just right or "cheat" and use the auto option.
Shoot in RAW
Personally, I have become more of a fan in shooting in RAW, this option means that all the information is saved in a very high-quality format allowing you to make individual adjustments to your image later in your photo editing software. I will talk more about this option later.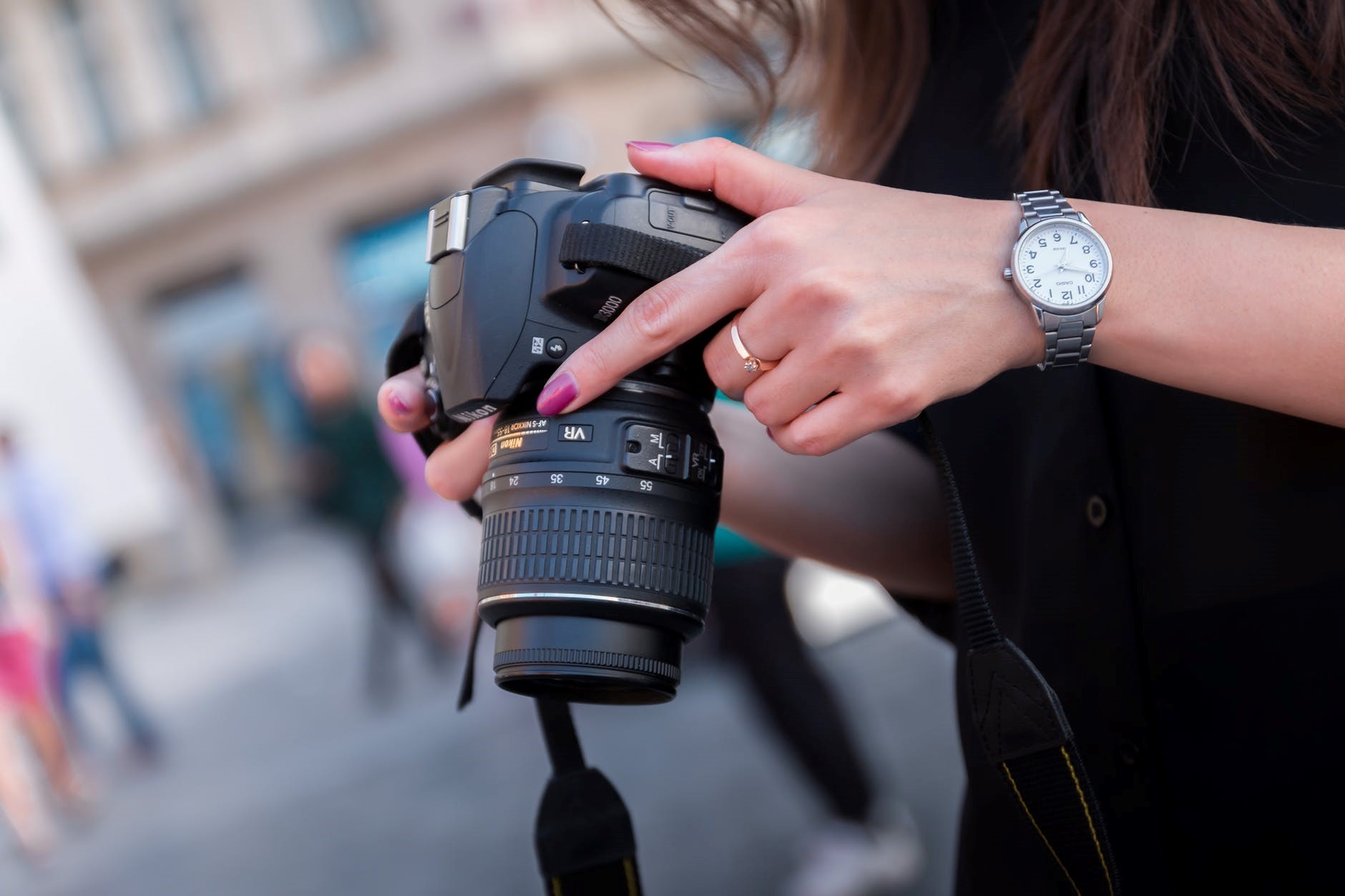 Taking your Photograph
Prop your artwork against a wall ensuring it is a straight as you can get it or use an easel. If your artwork is framed behind glass I would advise you remove the glass as this can cause a glare.
Set your tripod up so that when you look through the lens it is parallel to your work, having it at a slant will make it impossible to crop later. If the artwork is at a slant be sure to tilt your camera angle too.
Once you're ready to go, zoom slightly onto the artwork to crop as much of the background out as you can, zooming will help the camera to focus better. Set a timer delay of around 5 seconds otherwise you are likely to cause a shake when you press the shutter.
I would normally take around three or four photos of each angle. You can't always guarantee the first one is going to be successful and it's hard to tell on a small screen. This will save a lot of time later should the photo not be successful.
If you are selling your work online than I would recommend you take a front image for your main image, 2-3 close up's and a side image to show how the sides have been painted. If your work is framed I would also take a photo with and without the frame. If your work is 3-Dimentional then different angles around the work is advisable.
Editing your Images
There are several photo editing software programmes out there. I use Photoshop, but if you have not used it before it can be confusing at first. If you have shot your image in RAW, as discussed earlier, the file will open up where you can play around with the colours, contrasts, shadows, light etc. I would strongly advise you have your artwork next to you at this stage so you can compare, it can be tricky as one incorrect adjustment can make it look like a completely different piece which you really want to avoid.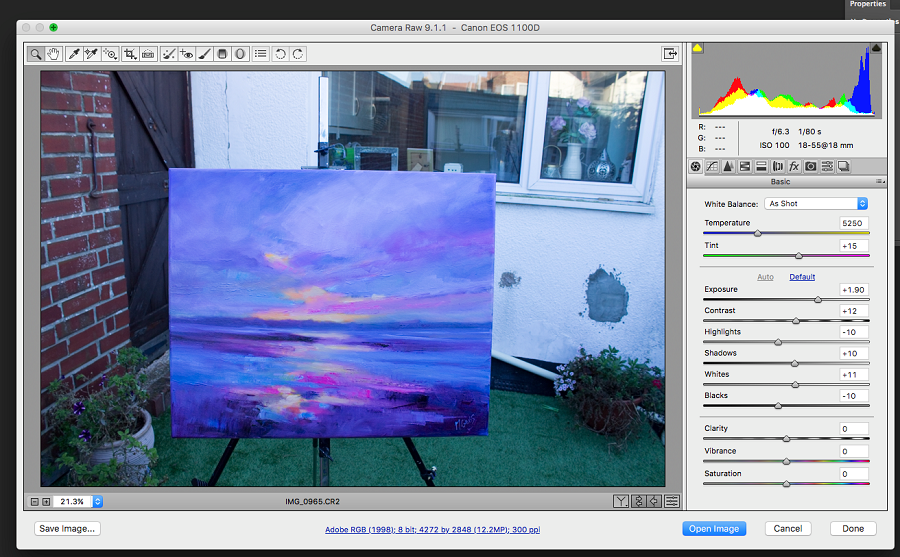 Once you are happy with the image you will then need to crop it. Zoom in to make sure there are is no background showing around the edges.
If you are showing your work to potential customers some artists will also drop their artwork into room settings to help the customer visualise how it will look in a room.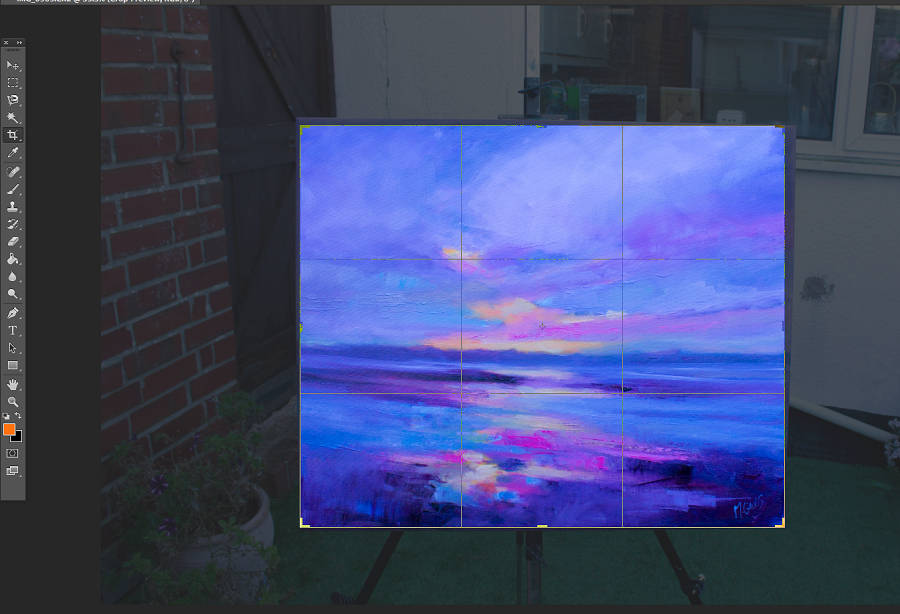 When you are ready to save your work, save as a jpeg file using the highest resolution. If you are uploading to a website you may wish to reduce the file size (for example from 8mb to 2mb) as large files can slow a page down. If you have shot in RAW the file size will be huge.
And that's it! You have now taken professional photographs of your artwork. Once you get the hang of it, it will be become second nature and you'll get to know the best spots to take your photos.
Taking a good quality photograph is paramount. Running a gallery you'd be surprised the amount of submissions I get with poor quality images. There's no point taking all the time to produce beautiful works of art if you're not prepared to spend the time showing it in the best possible way.
Hopefully this has been useful and I wish you all the success with photographing your artwork.