Liquitex Soft Body Acrylic Relaunch

The relaunch Liquitex Soft Body range sees the return of the popular Liquitex bottle but with added versatility. This new and improved bottle design allows for ease of application, and even has a nozzle for interesting painting techniques. Inside is the same professional quality acrylic paint you are used to, with a low viscosity formula to give excellent coverage.
Liquitex Professional Soft Body was the world's first water-based artists acrylic paint, invented in 1955. This revolutionary painting medium changed the game for artists all over the world. It was much more versatile compared to other paints that had come before it and could be used with a wealth of new and exciting painting techniques. Soft Body can be used for everything from fine detail paintings to large scale murals and everything in between – use it to paint, glaze, pour or print on almost any surface.
Don't be fooled into thinking that this is simply a watered down Heavy Body colour! Far from it – this paint is highly pigmented and offers excellent coverage with a soft, flowing consistency.
A Brand New Design
Previously available in a 59ml tube, these paints have been relaunched in a new ergonomically designed bottle. Not only does this new bottle more functional making the paint easier to apply, it also makes sure that not a drop of your paint will go to waste!
History and Evolution of Liquitex Soft Body Acrylic Paint
Since they were founded Liquitex have made it their job to challenge the established way of doing things in the art world. Prior to the creation of their water-based acrylic paints, the only mediums available to artists were oils, watercolours and solvent-based acrylics which did not offer the same versatility. This new medium offered exciting new working properties that were valued by artists – they were quick drying, could be cleaned with water and were workable in a range of viscosities. The name of the brand actually stems from the paint's unique consistency which was first referred to as 'Liquid Texture' – hence the Liquitex name!
So what is the difference between Soft and Heavy Body?
You'd be highly mistaken to think that Soft Body is just a watered down version of Heavy Body paint! This low viscosity paint was actually created before its thicker bodied cousin. Both consistencies are created with compatible binders and pack the same high pigment load. If you chose to thin down your Heavy Body colours with water or an acrylic medium you would notice that the more you thin the weaker the colour strength becomes. The film integrity of your colours would also reduce significantly if they are over thinned – this will effect the paint feel, film stability and performance. It's therefore very important that you select the right consistency for the job as the quality of your final work can be affected if you make the wrong choice. If it is a soft, flowing consistency that you require then avoid thinning Heavy Body and go for Soft Body!
What are the Qualities of Soft Body Acrylic Colour?
Liquitex Soft Body Acrylic Colours offer a professional quality paint loved by artists worldwide. The high-quality ingredients used in its manufacture and its working properties on painting surfaces make it a popular choice.
Pure pigments – The pigments used in Liquitex Soft Body are ground until they are ultra-fine. This results in a paint with an excellent colour payoff. Each colour is carefully formulated to bring out the best in the pigment. Soft Body has equal pigment per volume to Heavy Body which guarantees consistent clarity, vibrancy and minimal colour shift across the two consistencies.
Safe to use – All Liquitex colours are independently certified and tested by the Art and Creative Materials Institute at Duke University. They each hold the 'Approved Product' (AP) seal to certify that they are safe for studio and educational use.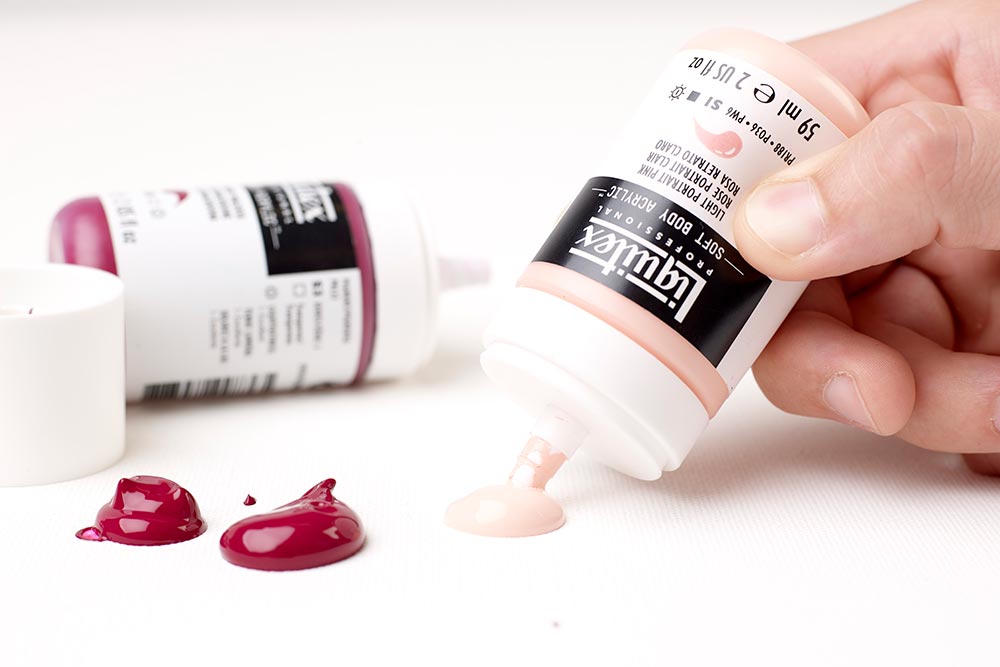 Soft and flowing colour – When painting you will need to choose a consistency of paint that is perfect to use straight from the bottle. If you are looking for a low viscosity paint then look no further than Soft Body. It's flowing formula means that it is never too sticky or slippery and has just the right amount of body.
Retains Subtle Brush Strokes – This soft body paint levels evenly and leaves soft, subtle, flat brush strokes.
Great surface coverage – Soft Body is easily applied so it is great for covering large areas or creating big blocks of colour. It will cover approximately 400 sq ft per gallon.
Archival Quality – As with all other Liquitex products, Soft Body are archival quality as a professional standard. Each pigment has passed extensive lightfastness tests and is rated by the American Society for Testing & Materials (ASTM) – Liquitex only use colours rated with brilliant lightfastness (I or II). These qualities give your work the highest possible archival permanence of at least 50+ years under gallery conditions, so your work will show no colour shift or fading and they will stay as vibrant as they day they were applied. Metallic and fluorescent colours differ in that they are naturally not lightfast.
Techniques and Application
Liquitex Professional Soft Body Acrylic and Liquitex Professional String Gel Medium
If you had to settle on just one acrylic paint consistency you would probably find that Liquitex Soft Body offers the most versatility. Soft Body is compatible with a wide range of acrylic painting techniques and applications. It offers incredible flexibility for easy layering and masking and can be applied to almost any surface. If you're looking to alter its working properties to explore new techniques then it can be easily modified with all Liquitex Professional Acrylic Mediums.
Infinite Intermixability
Liquitex Soft Body paints can be mixed seamlessly with all other products in the Liquitex Professional Acrylics range. This includes Heavy Body, Acrylic Ink, Paint Markers, Acrylic Gouache and Acrylic Mediums. This extremely versatile system allows you to work with all kinds of techniques and even allows you to combine products in any way you like to discover new painting methods. Every Liquitex product is made with a compatible acrylic binder so you can seamlessly layer, blend and mix to your heart's content and be guaranteed stable, archival results every time. Why not try mixing Soft Body Colour with –
Liquitex Professional Heavy Body Acrylics
Available in 105 colours
This paint has a high viscosity which is ideal for thick, impasto techniques or for creating texture. Heavy Body will retain crisp brush strokes and palette knife marks.
> View our range of Liquitex Professional Heavy Body Acrylic Colours
Liquitex Professional Acrylic Gouache
Available in 50 colours
This paint offers exceptionally high pigmentation – even higher than other Liquitex paints. It offers a solid, flat matt finish which retains no brush strokes. It will not crack and there is no need to dilute.
> View our range of Liquitex Professional Acrylic Gouache
Liquitex Professional Acrylic Paint Markers
Available in 50 colours
These markers combine the vibrance of the Liquitex Acrylic range with the ease of precision of a marker pen. They allow ultimate control over the application of colour.
> View our range of Liquitex Professional Acrylic Paint Markers
Liquitex Professional Acrylic Ink
Available in 35 colours
This ultra-fluid acrylic paint is made from lightfast fine art pigments suspended in a state-of-the-art acrylic emulsion. They will not fade and are water-resistant when dry.
> View our range of Liquitex Professional Acrylic Ink
Liquitex Professional Acrylic Mediums
38 mediums available
These mediums can be used to alter the working properties of your acrylic paint. Use them for pouring, glazing, fabric painting and much more! They can also be combined to achieve experimental finishes.
> View our range of Liquitex Professional Acrylic Mediums
Liquitex Professional Painting Tools
Assorted shapes and sizes of brush and painting knives available
Ergonomically designed for comfort and ease of use, these professional artists' tools were made with artists in mind and are designed to last.
> View our range of Liquitex Professional Palette Knives