Introducing NEW Liquitex Acrylic Gouache
Acrylic Gouache is the newest addition to the Liquitex Professional Acrylic range. Offering the highest pigment concentration of any Liquitx Paint, this range is guaranteed to bring you unbeatable colour and – as it is made with an acrylic binder – it has all the properties of a traditional gouache but with added flexibility and water-resistance.
Liquitex have recently expanded their Professional Acrylics range to include their NEW Acrylic Gouache colour in a spectrum of 50 intermixable colours. This new paint is perfect for all kinds of applications – use it for fine art painting, design, illustration, layering, solid colour and mixed media artwork. Acrylic gouache are the most highly pigmented paints produced by Liquitex which results in the most intense colour. Specially formulated to have a flat, matt finish, these paints are excellent if you are looking for stroke-free and crack-free acrylic colour. They have superb fluidity straight from the bottle so there is no need to dilute, and once dry your colours will be water-resistant and permanent.
History and Evolution of Acrylic Gouache
Liquitex have consistently challenged the accepted way of doing things since the company was first founded. Their Soft Body colours were the fist water-based acrylic paint on the market in 1955, and since then their range has expanded greatly to include many new, innovative products. This range now includes the exciting addition of their NEW Acrylic Gouache – a reimagined traditional gouache. This new product comes in the same versatile bottle as the relaunched Soft Body acrylic range. It even comes with a nozzle for easy application!
What is Acrylic Gouache?
Acrylic Gouache has many of the properties of a traditional gouache – it is opaque and has a similar creamy texture and a matt finish. Instead of being bound with gum arabic like a regular gouache paint, acrylic gouache is bound with an acrylic binder – compatible with the binder used in the rest of the Liquitex acrylic range. Gouache bound with gum arabic is re-soluble in water which can mean that colour can smudge or bleed if the paint is reactivated by subsequent layers. Using Acrylic Gouache will negate this problem altogether – an acrylic binder results in a water-proof paint film that will not reactivate as it is layered. Similarly to other paints in the Liquitex Professional range, it also has excellent adhesion on many surfaces.
What are the Qualities of Liquitex Acrylic Gouache?
Liquitex Professional Acrylic Gouache is made with the highest quality ingredients which results in a superior quality paint with excellent working properties.
This paint offers extreme, highly saturated colour with brilliant intensity that really packs a punch. It took two years to develop and perfect the formulation of these paints in order to give the best colour payout. Liquitex's innovative formula includes pure and super concentrated, ultra-fine artists pigments that are dispersed in a flexible acrylic vehicle. They have the highest pigmentation of any Liquitex acrylic paint which results in intense, opaque colour with superior coverage.
Every colour has been specially formulated to push the opacity of the pigments to the maximum.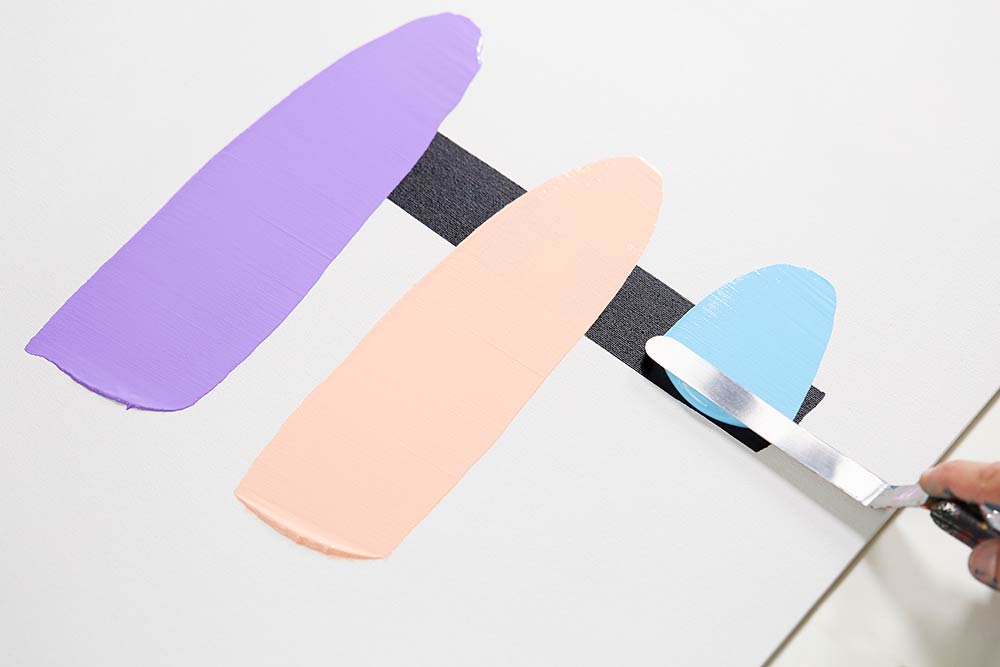 Each colour has been carefully developed in the Liquitex lab to calculate the perfect balance between the amount of pigment used, their particle size and the distribution of pigment in the binder. A perfectly balanced formula results in a paint with excellent flexibility and opacity with minimum show through, even on black and patterned backgrounds.
Their flat and matte finish makes them a great choice for illustration and design work. Gouache is traditionally the go-to medium for these specialties, but with Acrylic Gouache you get the added benefits of an acrylic binder. The next-generation formula of these paints results in solid, matte colour without reflections and that will not retain brush strokes. These qualities mean that your scanned artwork will be blemish and reflection free – ready for reproduction.
Acrylic Gouache has a water resistance not seen in traditional gouache. Because they made with an acrylic binder, these paints are quick drying and no not move once once dry. The acrylic creates a water-resistant paint film that can be layered without re-activating layers beneath – so you don't have to worry about smudging! This quality is great for multi-layered effects. It's perfect surface tension means that it is also usable on any acrylic-friendly substrate, unlike traditional gouache.
These paints offer excellent fluidity without the need for dilution with water. Traditional gouache will sometimes need to be thinned slightly to ease their use during painting. Liquitex Acrylic Gouache is usable straight from the bottle – it has a creamy, fluid texture that is easy to brush out allowing for effortless application. As it has no drag, these paints are great is you are looking to cover large areas with ease or to add fine detail into your work. As you do not need to add water your colours will retain their vibrancy!
Liquitex Acrylic Gouache has a long lasting, crack free finish. As Gouache paints are so highly pigmented many can crack as they dry. Acrylic Gouache sets a new benchmark. Because the acrylic binder used in these paints is so flexible, all colours in the range have a reliable, crack-free finish.
They are also made to the same professional and archival standard as all other Liquitex Professional Acrylic paints, mediums and tools. Wheher your work is hanging on a client's wall, in a gallery or in a studio setting Liquitex understand that your work needs to stay as intended. The pigments used in Acrylic Gouache have passed the same extensive tests as other Liquitex colour. As with other paints, each colour is rated according to the American Society for Testing & Materials (ASTM), and Liquitex are comitted to using pigments with only the best ratings – either ASTM I or II. This is with the exception of Fluorescent and Metallic colours which are naturally less lightfast. Using only the most stringently tested materials means your work will have the greatest archival permanence possible – at least 50+ years in gallery conditions. In this time your work will show no colour shift or fading and will stay vibrant and true.
Techniques and Application
As they are acrylic-based rather than water-based, these Acrylic Gouache paints can be used with many of the same techniques as other acrylic paints. Like a traditional gouache, they can be used for illustration and design applications. It's incredible flexibility means that colour can be layered without cracking and it's acrylic binder means that layers below will not bleed or smudge. As it is suitably fluid straight from the bottle and has little resistance against your painting surface, Acrylic Gouache is great for solid colour blocking. It can also be used with other Liquitex Acrylic Paints and Mediums in mixed media and collage techniques.
Infinite Intermixability
Because Acrylic Gouache is made with an acrylic binder compatible with the rest of the Liquitex Professional Acrylic range, you will be able to mix and match with all other Liquitex products. This includes Heavy Body, Soft Body, Acrylic Ink, Paint Markers and Acrylic Mediums. This intermixability results in an extremely versatile acrylic system that is compatible with all kinds of painting techniques. You can even combine your paints and mediums in new and interesting ways to create your own innovative painting techniques! With the Liquitex Professional Acrylic system you can seamlessly layer, blend and mix paints and mediums to your heart's content and be guaranteed stable, archival results every time. Why not try mixing Liquitex Acrylic Gouache with –
Liquitex Professional Heavy Body Acrylics
Available in 105 colours
This paint has a high viscosity which is ideal for thick, impasto techniques or for creating texture. Heavy Body will retain crisp brush strokes and palette knife marks.
> View our range of Liquitex Professional Heavy Body Acrylic Colours
Liquitex Professional Soft Body Acrylics
Available in 100 colours
This low viscosity paint is excellent for various painting techniques and offers great coverage. It's smooth, flowing texture will retain the subtle texture of brush strokes.
> View our range of Liquitex Professional Soft Body Acrylic Colours
Liquitex Professional Acrylic Paint Markers
Available in 50 colours
These markers combine the vibrance of the Liquitex Acrylic range with the ease of precision of a marker pen. They allow ultimate control over the application of colour.
> View our range of Liquitex Professional Acrylic Paint Markers
Liquitex Professional Acrylic Ink
Available in 35 colours
This ultra-fluid acrylic paint is made from lightfast fine art pigments suspended in a state-of-the-art acrylic emulsion. They will not fade and are water-resistant when dry.
> View our range of Liquitex Professional Acrylic Ink
Liquitex Professional Acrylic Mediums
38 mediums available
These mediums can be used to alter the working properties of your acrylic paint. Use them for pouring, glazing, fabric painting and much more! They can also be combined to achieve experimental finishes.
> View our range of Liquitex Professional Acrylic Mediums
Liquitex Professional Painting Tools
Assorted shapes and sizes of brush and painting knives available
Ergonomically designed for comfort and ease of use, these professional artists' tools were made with artists in mind and are designed to last.
> View our range of Liquitex Professional Palette Knives
> View our range of Liquitex Professional Brushes
Frequently Asked Questions
Is the colour vibrant when dry?
As Acrylic Gouache uses a high concentration of professional quality pigments you are guaranteed extreme colour vibrancy across the whole range. Regular acrylics are less densley pigmented so you may not have the most uniformly vibrant result.
Will the colour be affected by your background?
Each colour has been specially formulated to get the most out of each pigment's opacity. Getting the right balance between pigment and binder results in a range with excellent opacity and a good balance between opaque and semi-opaque colours. Standard acrylic paints can vary in their opacity, from very transparent to completely opaque, depending on the individual character of the pigment used.
How glossy is Acrylic Gouache?
All colours in the Liquitex Acrylic Gouache range have a uniform, matt finish. A regular acrylic paint range will have varying finishes – gloss, satin or matt – depending on the pigments used in each colour.
How flat does Acrylic Gouache dry?
Acrylic Gouache does not retain any brush strokes so it has an extremely flat and uniform surface when dry. It dries much more smoothly than even Liquitex Soft Body colour, which will retain a subtle texture from brush strokes.
How permanent is it when it's dry?
As these gouache paints are made with an acrylic binder colour will not bleed or smudge when overpainted – meaning it can be applied and layered in many different ways. A traditional gum arabic based gouache is not water resistant and colours are prone to bleeding or smudging as more layers are applied.
Does it become brittle or crack when dry?
The acrylic binder used in their formula makes Acrylic Gouache incredibly flexible. This means that it will stay crack-free even when built up in layers. A traditional gouache paint will crack in some applications when drying or through age.
How does it feel to use straight from the bottle?
Acrylic Gouache has a flowing consistency straight from the bottle, so there is no need to add water. With most other gouaches, water is needed to increase fluiity, which can result in pigment dilution and a decrease in colour intensity.
How long does it last in gallery conditions?
As with all other Liquitex Professional products, only the finest artists pigments are used. This means that Acrylic Gouache will not fade or reduce in intensity for up to 100 years. This exludes Fluorescent and Metallic colours which are naturally less lightfast.
How does it work with other Liquitex Products?
A compatible binder means that Acrylic Gouache can be used with all other Liquitex Professional products and you will be guaranteed stable and archival results. The compatible binder means that, unlike other paint ranges, mixed Liquitex products will not crack, yellow or peel.