Introducing NEW Karin Brushmarker PRO Pens
Karin Brushmarker PRO pens are the latest addition to our brush marker range! Ideal for calligraphy and hand lettering, these pens are filled with vibrant, fluid ink and have a wonderfully responsive nylon brush tip. Colour can easily be applied smooth, solid strokes or blended in a variety of ways. We put them to the test to see how they perform!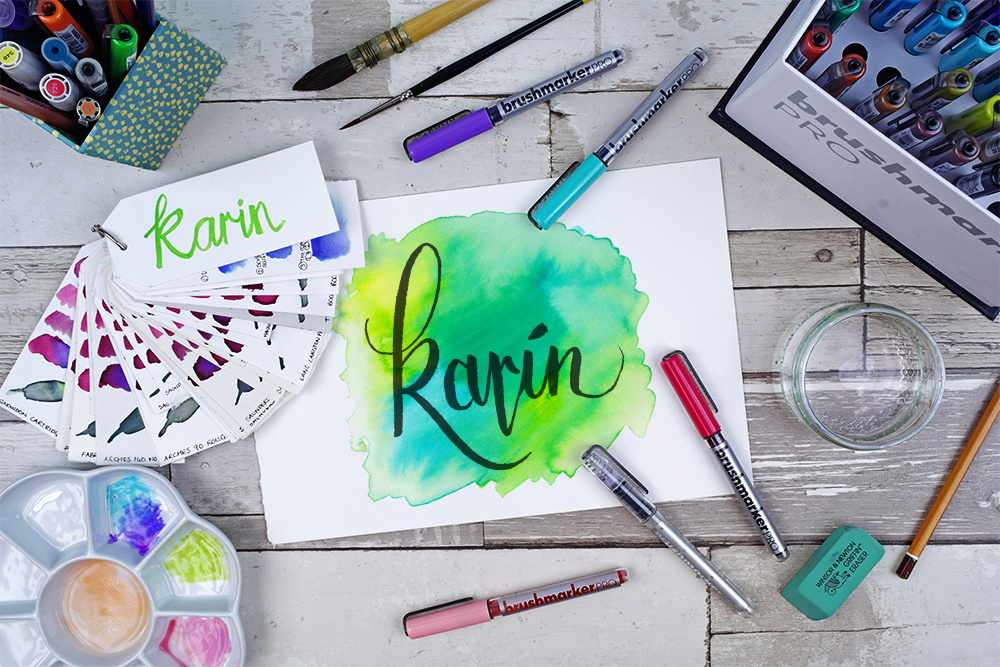 Karin are a Polish artists stationery company who began manufacturing their range of pens in 1989. Since then they have created new, innovative drawing and sketching tools with the modern day artist firmly in mind. Their range allows artists to add a creative flourish to everyday tasks like writing and doodling while creating a product that also allows free reign on creativity.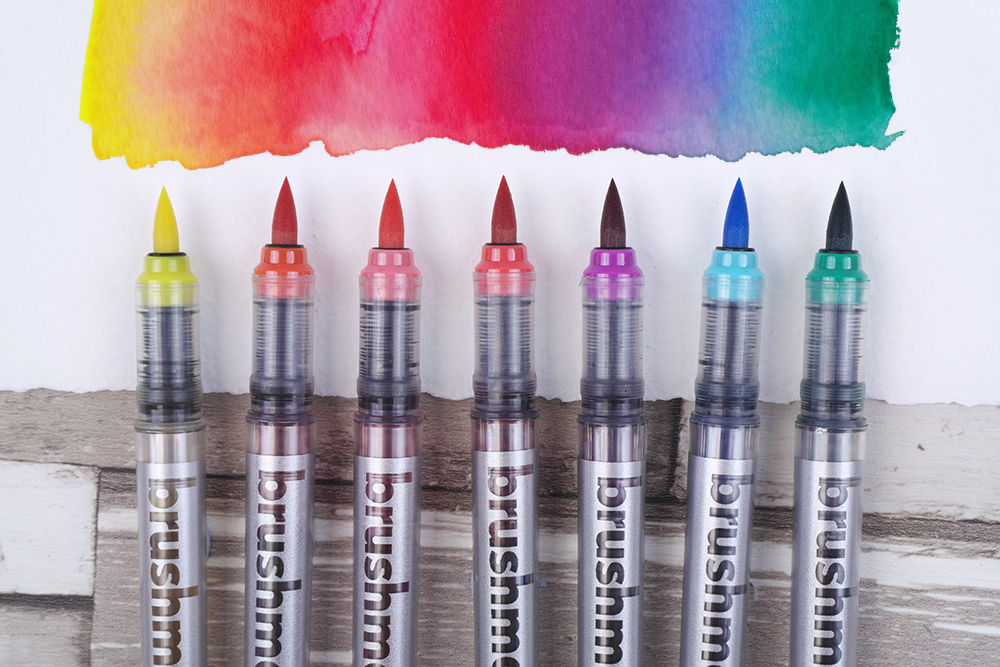 Karin Brushmarker PRO pens are ideal for calligraphy and hand lettering, as well as illustration and watercolour-like techniques. They are available in 60 vibrant colours which are fully intermixable, putting a whole spectrum of colour at your fingertips!
What are the specifications of the Karin Brushmarker PRO?
Each Karin Brushmarker PRO pen contains 2.4ml of extremely fluid, water-based paint made with dye. The ink is also non toxic. Their 'Liquid Ink Technology' means that your marker will maintain the colour intensity up until the very last drop of ink has been used. These pens are also twice more efficient than traditional filter markers.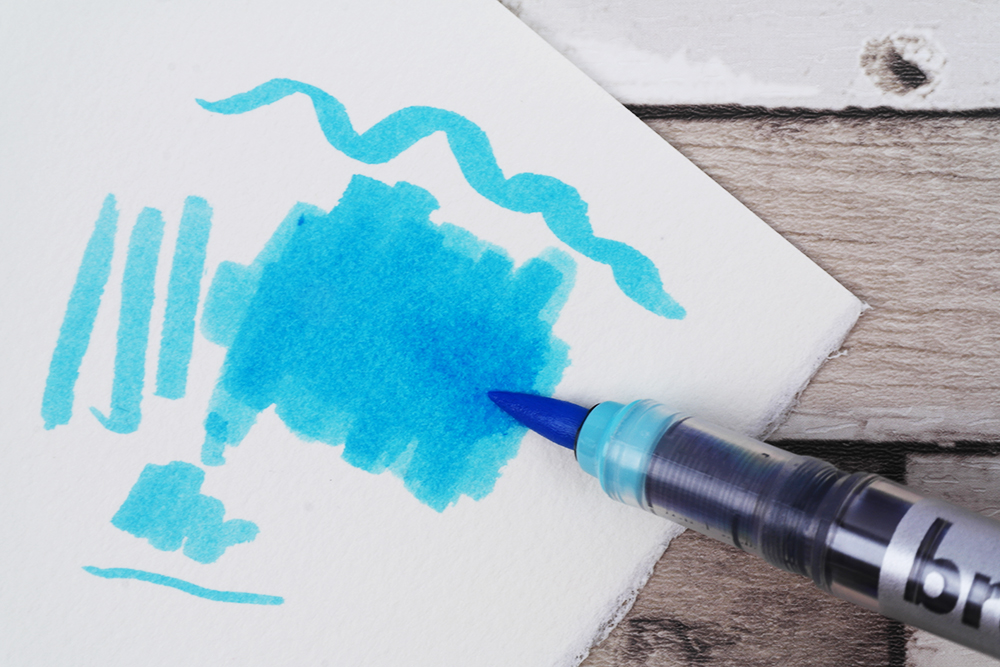 The Japanese nylon tip of the Brushmarker PRO is exceptionally durable and is brilliantly responsive to changes in pressure and direction. This quality in particular makes them well suited to calligraphy or hand lettering techniques!
The barrel of the pen is similar to that of a standard pen, being only slightly wider. In comparison to the Ecoline Brush Pen and Winsor & Newton Brush Marker they have a much thinner barrel size. They are a comfortable weight and size in the hand, which makes creating smooth even strokes much easier.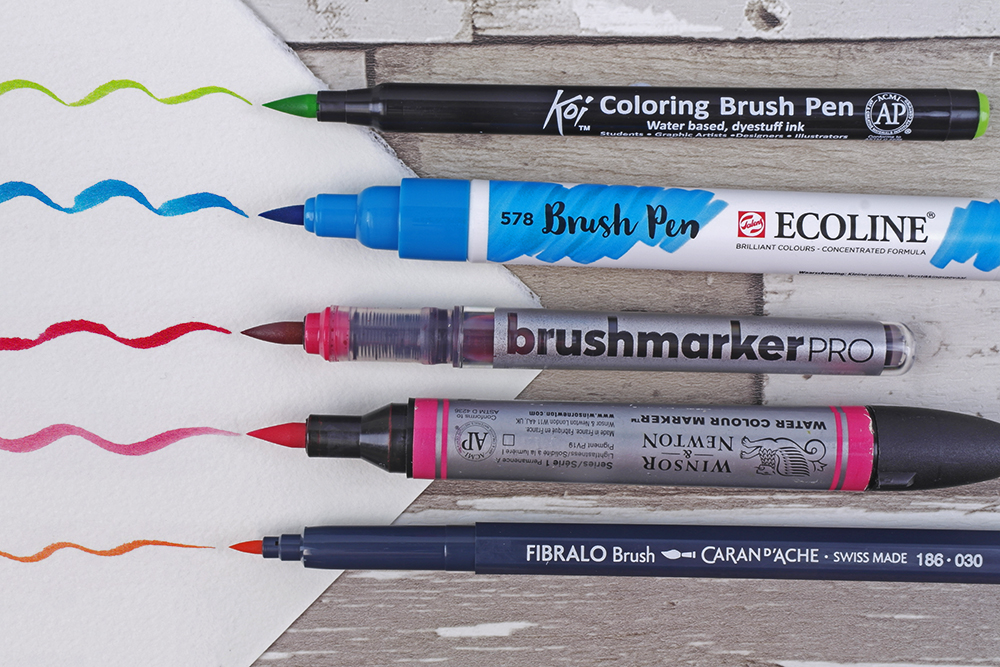 Each pen also features a clear barrel, allowing you to keep track of the amount of ink remaining in the marker. Colour selection is made quick and easy as the pen cap is colour matched to the ink. The cap also has a handy pen clip to hold your pen in your sketchbook or in a pocket.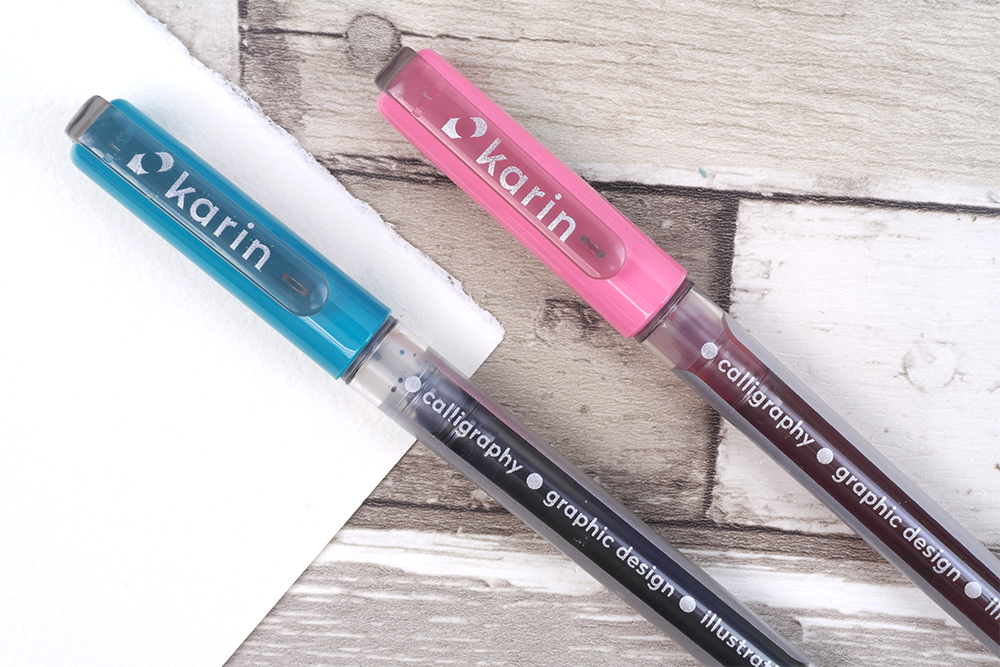 The range comprises of 60 vibrant colours, all of which are available to buy individually. We also stock a range of sets.
How does the Karin Brushmarker Pro Pen perform?
One of the most notable qualities of these pens is how juicy the tip is compared to other brush marker brands. The ink is free flowing and can easily be applied evenly. The drying time can differ depending on the surface used – as the inks are so juicy you are best waiting for the ink to dry thoroughly once you are finished to avoid making any accidental smudges! The fluid ink also facilitates easy blending in a variety of ways – there is a little more information about blending colours below this section!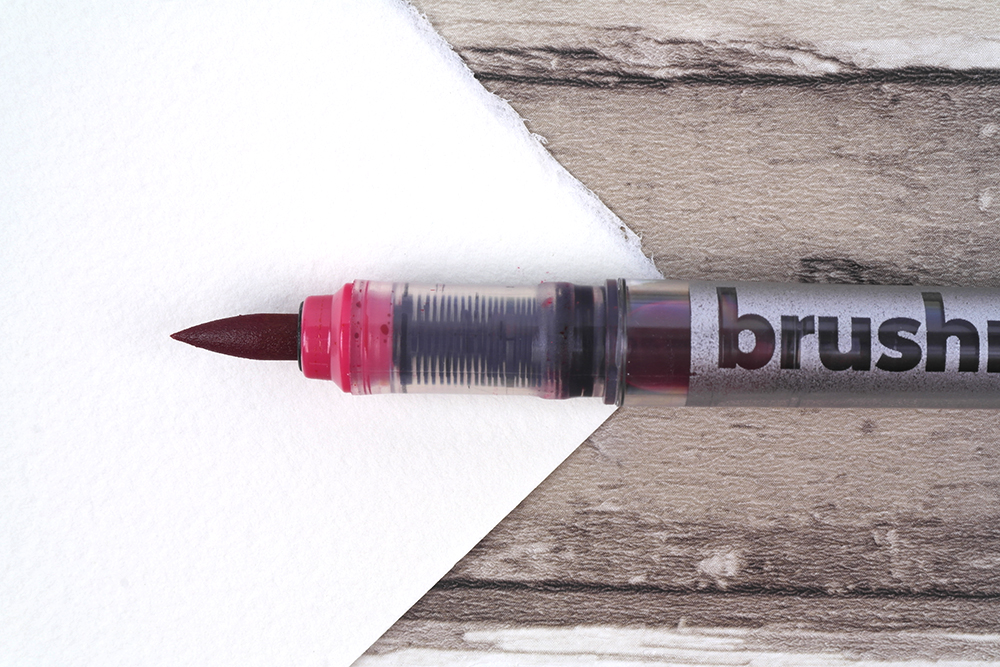 As mentioned before, these pens are a comfortable size and weight in the hand, which makes it much easier to create free flowing lines that are skip and smudge free. The pen also gives even application of ink at various pressures which results in consistent colour throughout your artwork. If you are working on a hand lettering project this means that your down strokes will be a consistent solid colour rather than having an 'ombre' or gradient effect as you lessen the pressure.

Using your Karin Brushmarker Pro Pen
Karin Brushmarker Pro pens are ideal for calligraphy and lettering projects, but can also be used for a whole wealth of other techniques. These pens are watersoluble, so they can be mixed and manipulated in similar ways to watercolour. This is great for creating gradient washes and colourful backgrounds for your lettering. Brushmarkers are also fantastic for general colouring and design projects. We experimented and found a couple of techniques that would be great for painting, mixed media work, scrapbooking and card making.
Printing a Watercolour Style Background – You can create some really interesting printed effects by applying your Brushmarker PRO pens to a non-absorbent surface like plastic. Colour can be added and mixed on the surface and then lifted using a piece of paper. Simply press the paper down onto the plastic and it will pick up the colour from the surface. We got some brilliant effects by spritzing the deposited ink with a Derwent Spritzer or Colour Spray Bottle filled with water before lifting the colour. This technique creates some great backgrounds for sketches, scrapbooks or cards!

Printing using Bubble Wrap – This technique works similarly to the one above. Firstly colour is scribbled onto a non-absorbent surface. It can be spritzed, moved and mixed to create a gradient or marbled effect. Instead of lifting the colour with watercolour paper, press a piece of bubble wrap against it. The ink will transfer to the wrap which can then be pressed onto your paper. Beautiful patterns can be created using this method, and they are particularly useful for making backgrounds for sketches. Try out this technique with cling film to make even more effects.

Creativity is limitless with these pens as they can be used in so many different ways. Experiment and you can discover some great ways to incorporate them into mixed media work.
How do I blend and mix colour with my Karin Brushmarker Pro Pen?
Karin Brushmarker Pro Pens can be blended together using various methods. The techniques outlined below will guide you in both mixing two colours together and also using the blender pen to create tonal transitions of a single colour.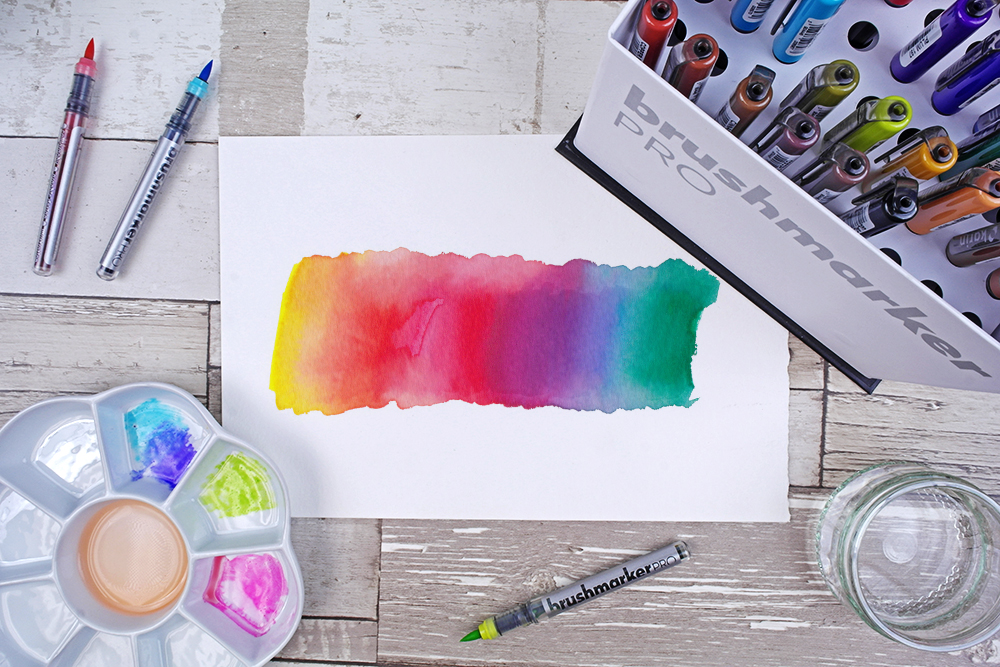 Mixing Colours with the Karin Brushmarker Pro Pen
Touching Tips – Select the two colours that you wish to use to create a gradated effect. Touch the tips of the two markers together and hold them upright for between 5 and 30 seconds. This action will cause the bottom marker to temporarily absorb the colour of the upper marker. The length of time the markers are touched will affect the type of transition you create. Apply the marker to your drawing surface to create a smooth transition between the two colours!

Mixing on a Palette – Use your pen to apply two or more colours onto a non-absorbent surface. This could be a palette or even a sheet of plastic. The blender pen can then be used to mix the colours together until the correct colour is achieved. The new colour can then be applied using the blender pen. You could also use a brush to mix and apply the colour.

Using a Wet Brush – Colours can be applied directly to your paper or card with the pen then mixed using a wet brush. Add the water as soon as possible after the colour has been applied as it will be harder to mix them as the ink dries. The blender pen can also be used to achieve a similar effect.

Creating Tonal Transitions with the Karin Brushmarker Pro Pen
Touching Tips – Select the colour you wish to lighten and touch its tip against the nib of the colourless blender pen. Hold both pens upright together for between 5 and 30 seconds. The length of time they are held in this position will determine the gradient you achieve. If you wish to go from full colour to the lightened colour then keep the blender at the bottom. If you want to go from lightened colour to full colour then keep the blender at the top.

Mixing on a Palette – Apply your chosen colour to a non absorbent surface. This could be a palette or plastic sheeting. Pick up the colour from your palette using the blender pen and then apply it directly to your paper or card. The blender will give out the colour from the palette while making the colour lighter the longer it is applied.

Using a Wet Brush – Once your colour is applied to your paper or card you can create a 'gradient' like effect using a wet brush. Simply apply your wet brush to the colour while the ink is still wet and draw out the colour with the water. This will create a gradient from full colour to the diluted colour. The blender pen can also be used to achieve a similar effect.

Which Paper should I use my Karin Brushmarker PRO Pens with?
We tested the Brushmarker PRO range on a variety of papers that we stock and achieved varying results. Some surfaces were quite absorbent, which meant the ink almost absorbed into them and dried very quickly.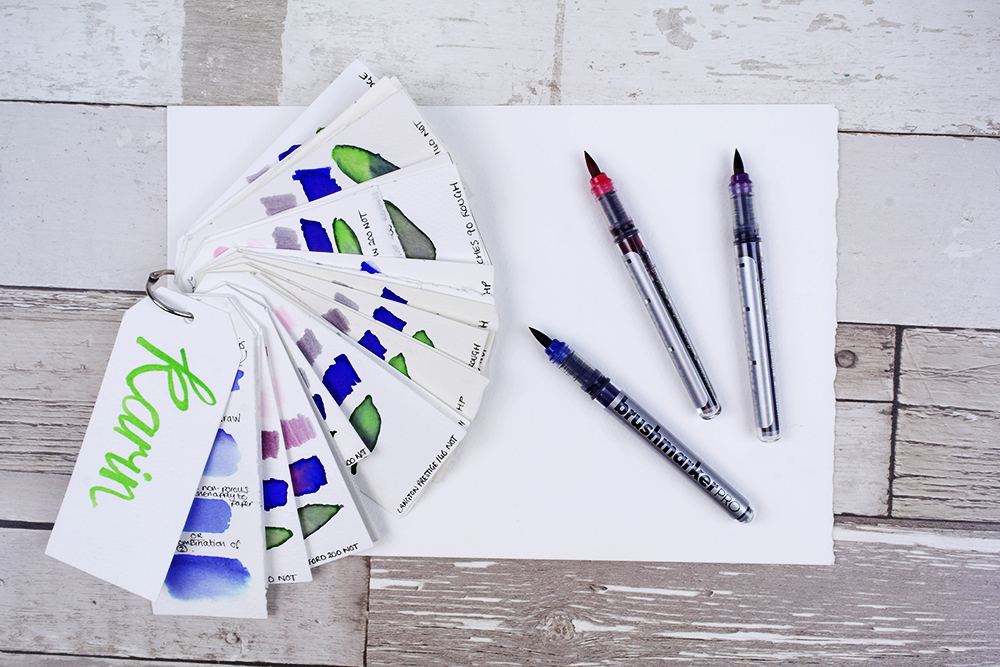 Other surfaces that we stock allow the colour to sit on the surface without drying quite so quickly. This leaves enough time for you to blend and mix colours as you desire. The ink also retains its vibrant qualities as the colour dries on the surface rather than sinking into the paper.

From our tests we found that the best paper to use was either Bockingford or Millford watercolour paper. Calligraphy and Hand Lettering techniques also performed better on Hot Pressed surfaces rather that NOT (Cold Pressed) or Rough. Although most of our papers performed well with these pens we did notice that Saunders Waterford paper was not compatible as it was too absorbent. You can download a PDF copy of our Karin Brushmarker PRO paper tests.

How to Store your Karin Brushmarker PRO Pen
Karin Brushmarker PRO Pens should be stored vertically with the tip facing upwards. You should also ensure that the cap is fixed firmly on the pen to prevent the tip from drying out. If the tip does dry out attach the cap and store facing downwards for about an hour. The pens should not been exposed to intense sunlight or excessive temperatures.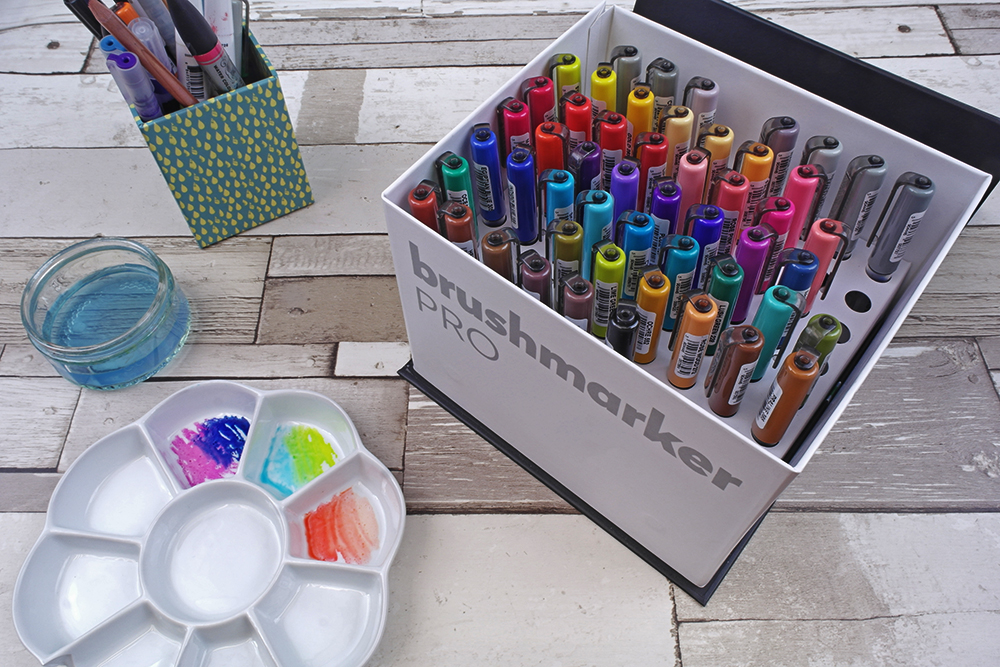 More information, including recommended storage advice, can be found in the Karin Brushmarker PRO Information Leaflet.
Our full range of Karin Brushmarker PRO pens are now available online both individually and in a variety of sets. We also stock a Karin Decobrush Metallic Markers 10 Piece Set which can be used alongside the Brushmarker PRO range. These metallic pens are permanent and lightfast and can be used on many surfaces including paper, card, glass, metal, plastic and ceramic. Unlike the Brushmarker PRO they must be stored horizontally. You can find out more about how to use these pens in this Karin Decobrush Information Leaflet.
---
WIN A KARIN MARKER MEGA BOX
To celebrate the launch of Karin Markers on our website, we are giving you the chance to win yourself a Mega Box Set which contains all 60 colours plus 3 blender pens. You can enter either on Facebook, Instagram, or on our Blog if you do not have a social media account. Giveaway ends on Monday 16th September.