What are Water Mixable Oil Paints?
With water mixable oil paints you can enjoy all the beauty of traditional oil colour, but without of the use of potentially hazardous solvents.

 Ideal for those who wish to avoid damaging chemicals or for artists that share a school or studio space, water mixable oils are a great alternative that can be quickly cleaned up using only soap and warm water!
What are Water Mixable Oil Paints?
Water Mixable Oils (sometimes known as water-miscible or water-soluble) have marked a new generation in oil painting. These revolutionary paints are made to behave like your favourite traditional oil paints, but without the hassle of solvents and other dangerous chemicals. Water mixable oils are genuine oil paints, formulated with the base of a drying oil. Unlike a traditional oil paint, this drying oil base will have been modified so that it can be mixed with water. An additive is introduced to the oil and works as an emulsifier, allowing small droplets of oil to blend into water to form a stable solution.
You can work with Water Mixable Oils in the same way you would use regular oils; each of the ranges we stock has its own selection of water mixable oil mediums which allow you to work seamlessly with your favourite traditional oil techniques. These paints can also be used straight from the tube, and have the same thick, buttery colour as traditional oils; excellent for retaining brush strokes and creating impasto paintings. While Water Mixable Oils can be thinned with water, there are brand specific thinners that can be used to thin in place of traditional solvents.
The quick and easy clear-up is also one of the great features of a Water Mixable Oil Paint. There's no need for harsh solvents to clean your used brushes; just use soap and warm water to quickly remove the paint! As there are no solvents involved, just water, these paints are an excellent choice for Acrylic artists who may be looking to try out oil painting.
Water Mixable Oil Paint Ranges
We currently stock two ranges of Water Mixable oil colours – Cobra Artists and Winsor & Newton Artisan. The main difference between the two is the overall quality of the paint; Cobra are Artist quality and Artisan are student quality.
Cobra Artists' Water Mixable Oils
Cobra water mixable oils are an artists' quality oil colour. Each pigment is expertly ground to a fine consistency through a triple roller. This results in a paint with exceptionally high pigmentation. The range is comprised of a selection of 40ml and 150ml tubes, as well as a variety of sets. With an extensive spectrum of 70 beautiful colours (30 of which are available in large 150 ml tubes), there are a good selection of hues and a great balance between transparent, semi-transparent and opaque colours. Unusually for an artists' quality paint, there is uniformity in each colours' drying time and gloss finish. This adds some predictability to the painting process and allows more control over your painting technique.
> Find out more about Cobra Artists' Water Mixable Oils
Artisan Water Mixable Oils
Winsor & Newton Artisan Water Mixable Oils offer thick, buttery colour at an affordable price. Given their lower price tag, they are a great option for students or those who are just trying out this medium. Specifically formulated to behave like Winsor & Newton's traditional oil colour, Artisan offers rich colour straight from the tube.
> Find out more about Artisan Water Mixable Oils
Comparing the two ranges
We took a sample of colours from each of these ranges and put them to the test.
Cobra Artists' Water Mixable Oils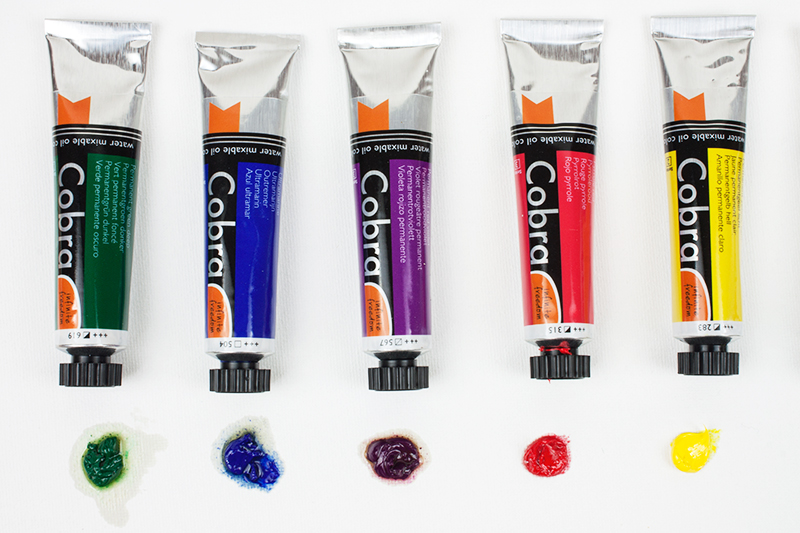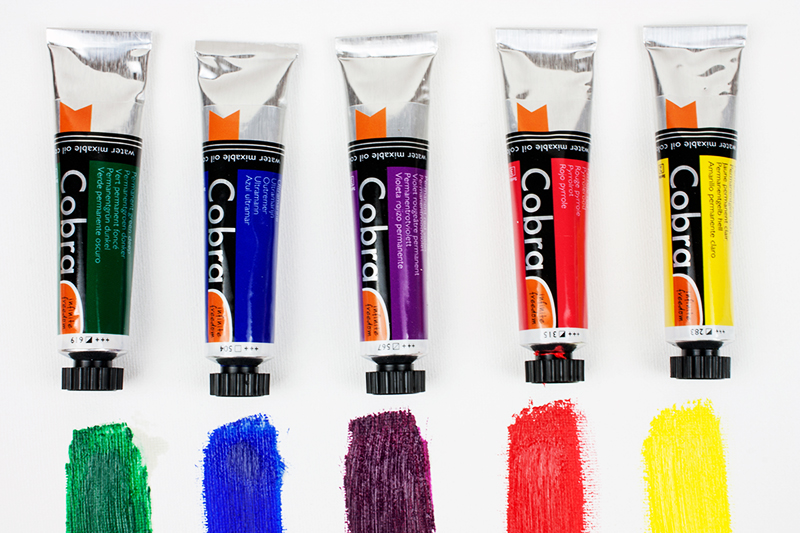 Colours used:
Titanium White
Permanent Yellow Light
Pyrrole Red
Permanent Red Violet
Ultramarine
Permanent Green Deep
| | | |
| --- | --- | --- |
| | | |
| Ultramarine mixed with water | Mix of Permanent Yellow Light & Ultramarine | Thick application of Permanent Yellow Light & Permanent Red Violet |
Straight from the tube, Cobra Artists' water mixable oils are thick but easily workable. There was a bit of oil sitting at the top of the tube of some colours, but it could be mixed into the rest of the paint easily. These paints also have remarkably little of the smell of a traditional oil paint. Although not as thick as Artisan oils, Cobra retains brush stroke details remarkably well, but is soft enough that it can be used straight from the tube for fine detail work.
These paints are highly pigmented so a little goes a long way. If you are thinning the paint with water or a thinner a small amount of paint can be transformed into a vibrant wash. If you are thinning these paints with water you may notice that as the water evaporates the paint on your palette becomes tacky or sticky. You can avoid this problem by using mediums to alter the consistency and fat content of your paints. The mixes created using Cobra were clean and vibrant.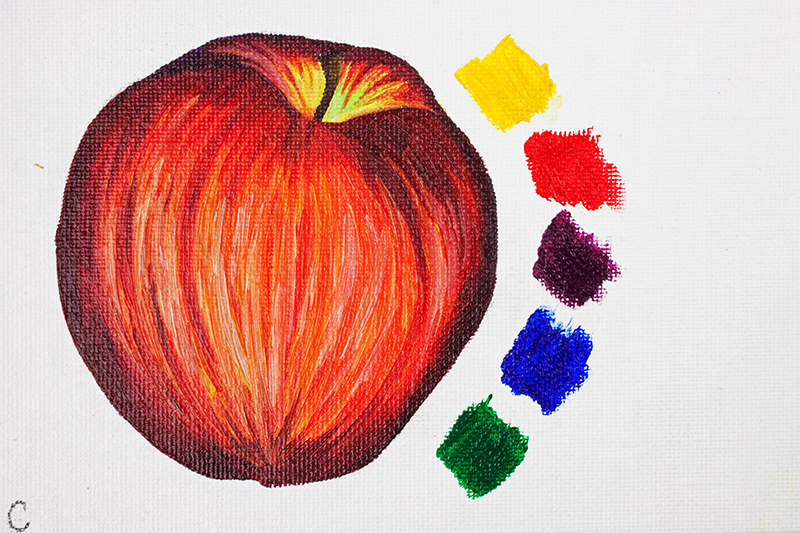 With regards to drying, Cobra paints have a drier added to all colours in the range, which is unusual for an Artists' quality paint. Most colours tested on our canvases were touch dry in a few days, although the samples of Titanium White did take a little longer.
Artisan Water Mixable Oils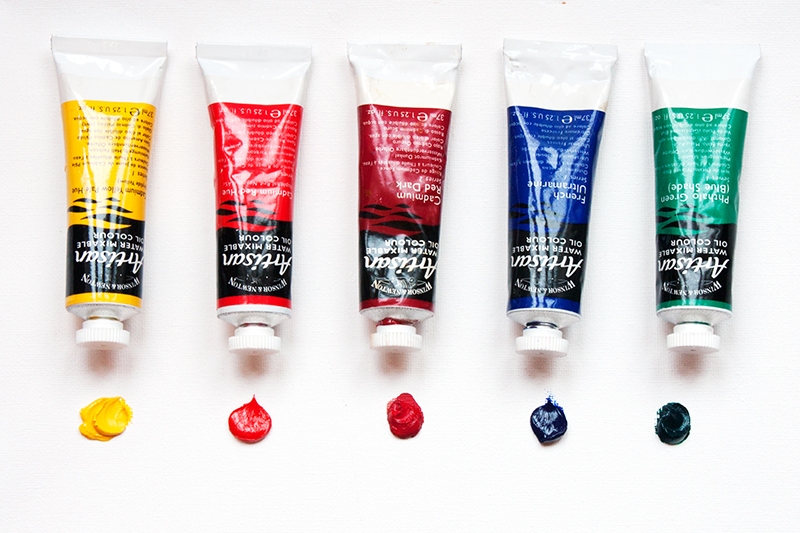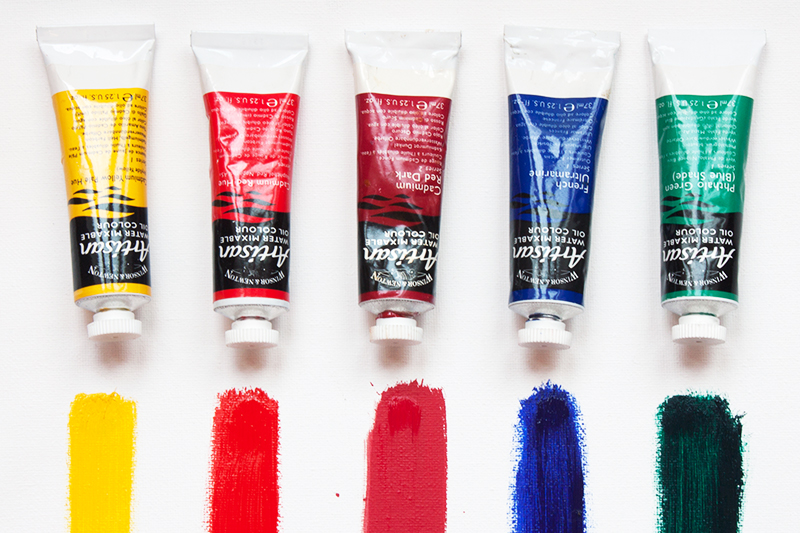 Colours used:
Titanium White
Cadmium Yellow Pale Hue
Cadmium Red Hue
Cadmium Red Dark
French Ultramarine
Phthalo Green (Blue Shade)
| | | |
| --- | --- | --- |
| | | |
| French Ultramarine mixed with water | Mix of French Ultramarine & Cad Yellow Pale Hue | Thick application of Cad Yellow Pale Hue & Phthalo Green (B/S) |
Artisans' consistency straight from the tube is quite thick, so much so that it requires a bit of effort to get it to a workable thickness. Just squeezing the colours onto the canvas you will notice that the paints do have a faint smell, similar to traditional oils, but not so much that it is overpowering. The thickness of these paints means that they have excellent brush stroke retention in thick applications. Although Artisan paints are not as highly pigmented as Cobra, they still offer great vibrant colours for their price and a small amount of paint does go a long way.
By using water to thin your paints you can create vast washes with an almost watercolour effect. Although if you are using water in large amounts you may notice that small bubbles or foam begins to develop on the paint film; use Artisan Thinner to avoid this. You may also notice that the colours you mix with water on your palette slowly become tacky as the water evaporates; using mediums and thinners to modify the consistency and fat content of your paints will negate this problem. This problem was much more pronounced in the Artisan range than it was with Cobra. Once the paint has been worked a little the colours are easy to mix, although in some cases they did become a little muddy compared to Cobra mixes.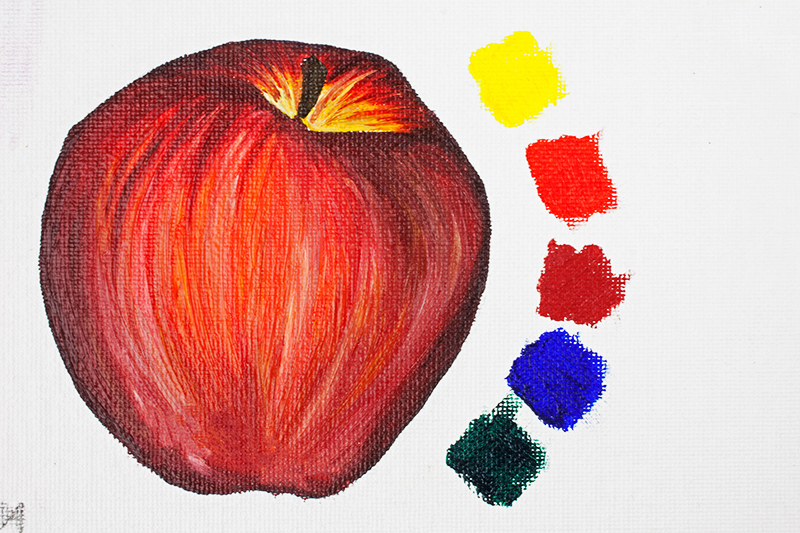 Unlike Cobra Artists' oils, the drying times for Artisan oils vary from colour to colour, usually taking between 2 and 5 days. Most of the colours we used in our test were touch dry in around 2 to 3 days, but the Cadmium colours and Titanium White did take longer to dry.
Mixing Cobra and Artisan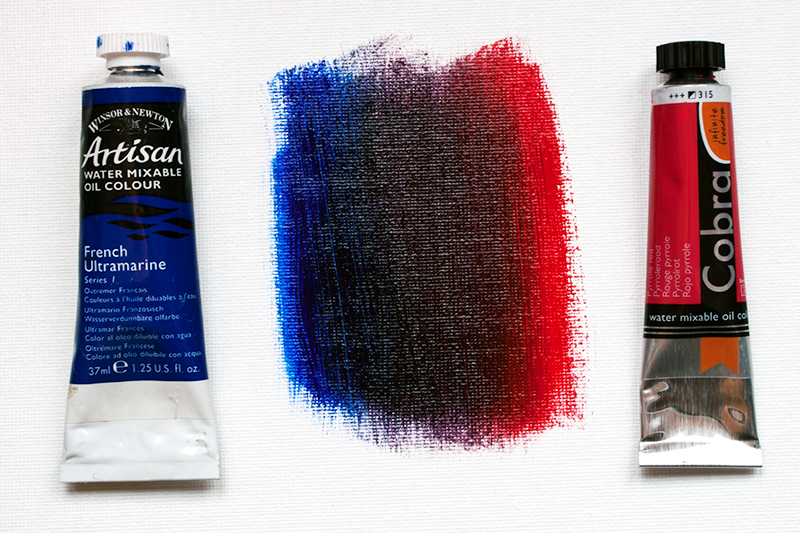 For those that want to try out or already own both Artisan and Cobra Water Mixable Oils, it is handy to know that both ranges can be mixed together. In the above example Artisan French Ultramarine and Cobra Pyrrole Red have been mixed; other mixtures were also tried and the mixes were successful.
Which Mediums can I use with Water Mixable Oils?
Water Mixable Oils have their own ranges of painting mediums that can be used in place of traditional oil mediums. When painting with water mixable oils, the usual oil painting rules apply (eg: fat over lean); using these mediums can help you modify the fat content of your paint, as well as changing drying time, improving flow and so much more.
> Cobra Artists' Water Mixable Oil Mediums
> Artisan Water Mixable Oil Mediums
> Find out more about Artisan Water Mixable Oil Mediums
Painting Surfaces for Water Mixable Oils
Water Mixable Oils can be used on a number of primed surfaces; all grounds that are free of grease and are somewhat absorbent can be used, providing they have been primed with a universal primer. Untreated surfaces such as paper, cardboard, wood, cotton and linen can be prepared with Gesso so that they are ready to accept water mixable oil paint.
Brushes for Water Mixable Oils
Water Mixable Oils can be used with a variety of brushes, but the ones you choose will partially be determined by personal preference and also the painting techniques you wish to employ. If you choose to work with thick paint, then hog bristles may be more suitable. For thinned paint, fine details or glazing a softer hair may be preferred. If you use solely water to thin your Water Mixable Oils you may find that the bristles of a Hog Brush become soft over time, after prolonged exposure to water. Brushes such as those in the Winsor & Newton Artisan range have been specifically developed to perform like a traditional hog bristle brush. If you are using Water Mixable Oils you should avoid Bob Ross painting knives and brushes which only be used and cleaned with Bob Ross Odourless thinner; using them with water will cause them to deteriorate.
Cobra Masterclasses
Just starting out in water mixable oils? This brilliant video series offers a great crash course in water mixable oils. Through these masterclasses you will learn about the basics, how these paints are made, drying times, painting techniques and more! Learn how to get the most from your Water Mixable Oils! Watch the videos below.