Revealed: Britain's favourite stress-relieving activities, and how employers could be doing more to help
Today is "Inspire your Heart with Art" day, so we decided to find out the public's perception of using art as a way to improve wellbeing and mental health and to find out what the nation's most popular stress-relieving activity is.
Meditation and yoga may be having a moment, but to our surprise, when asked which three activities do people think are the best for reducing stress, the simple act of going for a walk was voted the nation's favourite (in a poll of 2,000 UK adults).
We all have different ways of dealing with stress, but as a nation, our go-to activities also include listening to music, having a bath, reading, and turning on the TV.
Britain's top 10 stress-reducing activities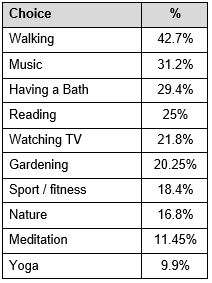 Outside the top ten, the next five most popular choices were cooking (8.45%), cleaning/tidying (6.95%), art and craft (6.55%), gaming (5.85%) and driving (3.85%). Dancing, hot showers, and making love were also suggested by some respondents.
Women (13.3%) were more than twice as likely as men (6.29%) to choose yoga, whilst men (8.35%) leaned more towards gaming than women (3.5%).
Whilst Google searches for 'yoga' and 'meditation' have increased significantly over the last five years, searches for 'art' and 'craft' are fairly static, suggesting many people are overlooking the potential benefits of getting creative (source: Google Trends).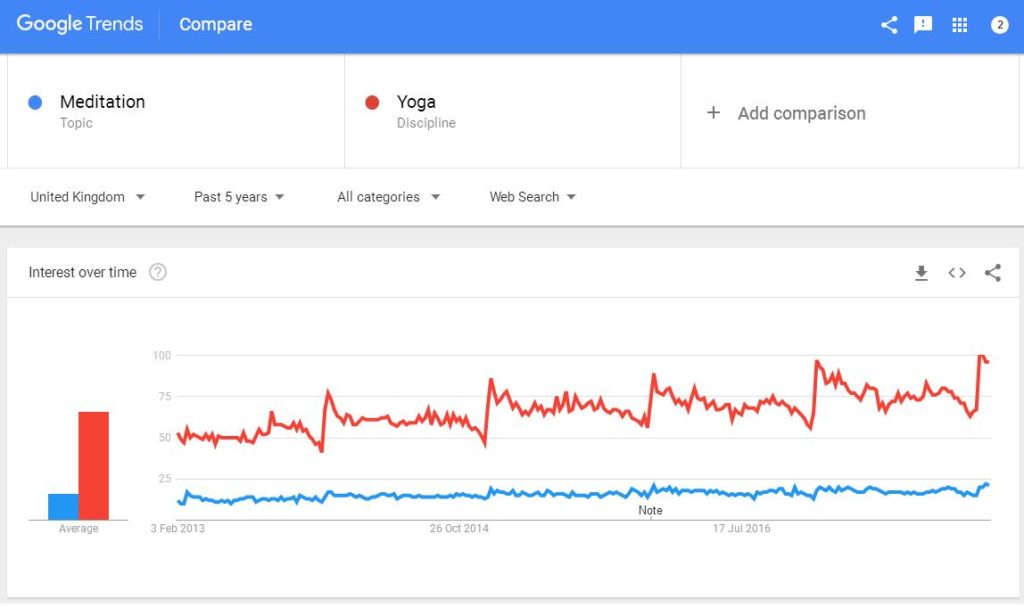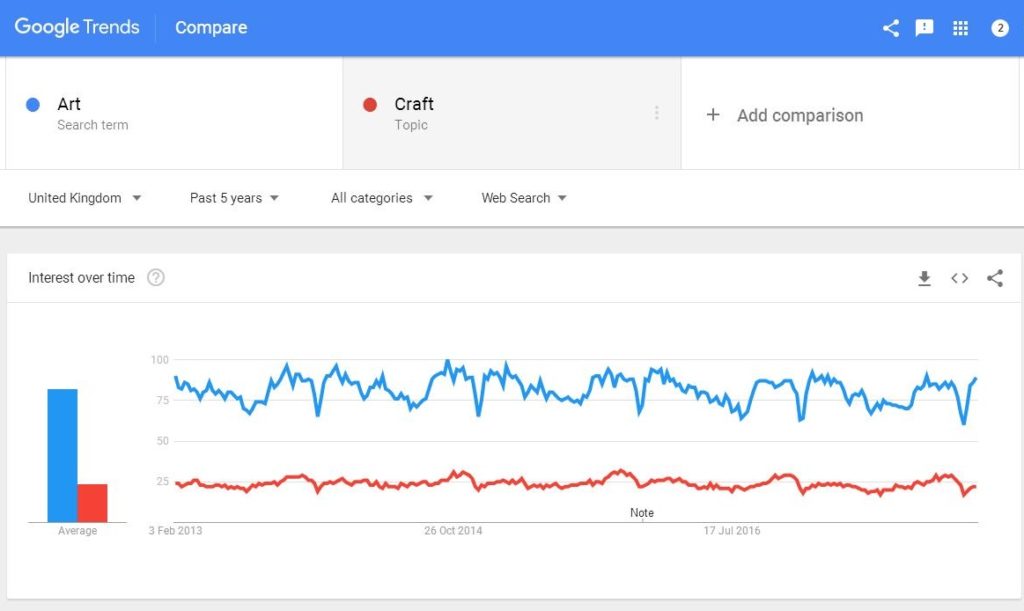 Art and craft activities were particularly unpopular with men (3.61%), whilst 9.32% of women said this was one of the best ways of reducing stress.
The fact that relatively low numbers of people overall choose to engage in arts and crafts to help with stress reduction is interesting, given that it has been proven to be effective; the Drexel University study published in Art Therapy: Journal of the American Art Therapy Association, titled "Reduction of Cortisol Levels and Participants' Responses Following Art Making," found that 45 minutes of creative activity significantly lessens stress in the body, regardless of artistic experience or talent. (Source: ScienceDaily.com)
Stress levels in workplace: The wider picture
In the workplace, one third of UK workers are experiencing anxiety, depression or stress (source: Independent.co.uk), and there were 12.5 million working days lost due to work-related stress, depression or anxiety in 2016/17 (source: HSE.gov.uk).
Are employers in Britain doing enough?
As part of our research we also asked people about stress-reducing activities provided by their employers.
7.35% said their employers provided or set time aside for meditation.
Arts and crafts were the next most popular option, with 6.56% of employers making such activities available (almost the exact same proportion of people who rated this as a good way to reduce stress).
And 6.09% said yoga was offered where they work.
84% of respondents, however, reported having access to none of these activities.
By contrast, around a quarter of major employers in the US offer some form of mediation or yoga (source: Independent.co.uk). Figures for art and craft are harder to find, but the business case for companies making such provisions is clear.
The raw data from the survey, segmented by age, gender and location, is available on request.