Introduction to Alcohol Inks
Jacquard Piñata Alcohol Inks are a highly saturated, fast-drying ink with an alcohol base. They are fantastic for creating poured, fluid art and create artwork with almost instant gratification! Use them on all kinds of surfaces including YUPO, glass, ceramic, clay, resin and so much more. Get your inspiration flowing!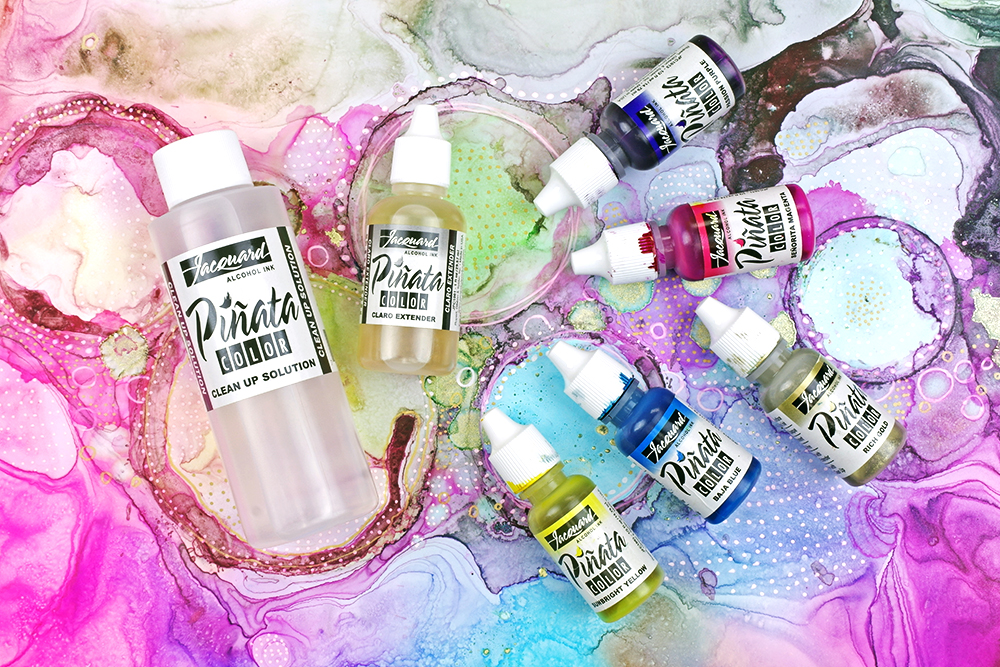 Alcohol Inks have well and truly taken the art world by storm – it's likely that you may have come across them before without realising! Their fluid characteristics and strikingly vibrant colours make them an exciting medium for all kinds of artists. Whether you're interested in abstract or realism techniques – or even having a go at cardmaking or scrapbooking – alcohol inks are sure to bring an element of excitement to your work.
These inks are great fun, and new users will find that they are able to create striking artwork even on their first attempt. Beginners may find that it is best to work in a loose or abstract style to begin with – this will help get you get to grips with alcohol inks' unique characteristics! As your confidence grows it will be easier to build up to working with a realist technique.
We currently stock Jacquard Piñata Alcohol Inks which are available in a variety of colours and can be used on all kinds of surfaces. Find out more about how to use them below. The sky really is the limit!
Alcohol Inks are a highly fluid colour that are vibrant and fast drying. They are also moisture-resistant and permanent once dry, and will work perfectly on almost any clean, oil-free surface. Use them for stamping, scrapbooking, textile and fine arts – the creative opportunities are endless! They can be used on a variety of porous and non-porous surfaces.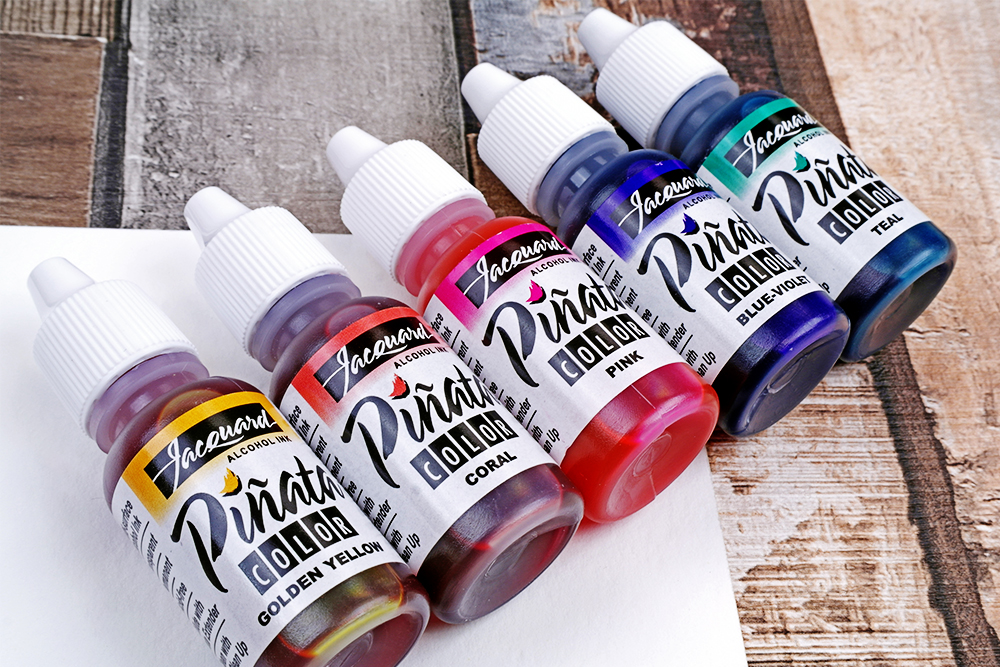 Jacquard Piñata Alcohol Inks are made with vibrant dyes that deliver the most brilliant colour. The colour is carried in an ethanol base – this sets them apart from many other alcohol ink brands that use isopropyl alcohol. Using ethanol makes these inks 'artist' grade, as it allows a higher concentration of dye to be used in the ink.
Alcohol Inks have some unique properties that can be difficult to get the hang of if you have never used them before. In some ways it is useful to think about them as an alcohol-based watercolour. Diluting colour and creating washes works with the same principles but uses alcohol-based mediums instead of water.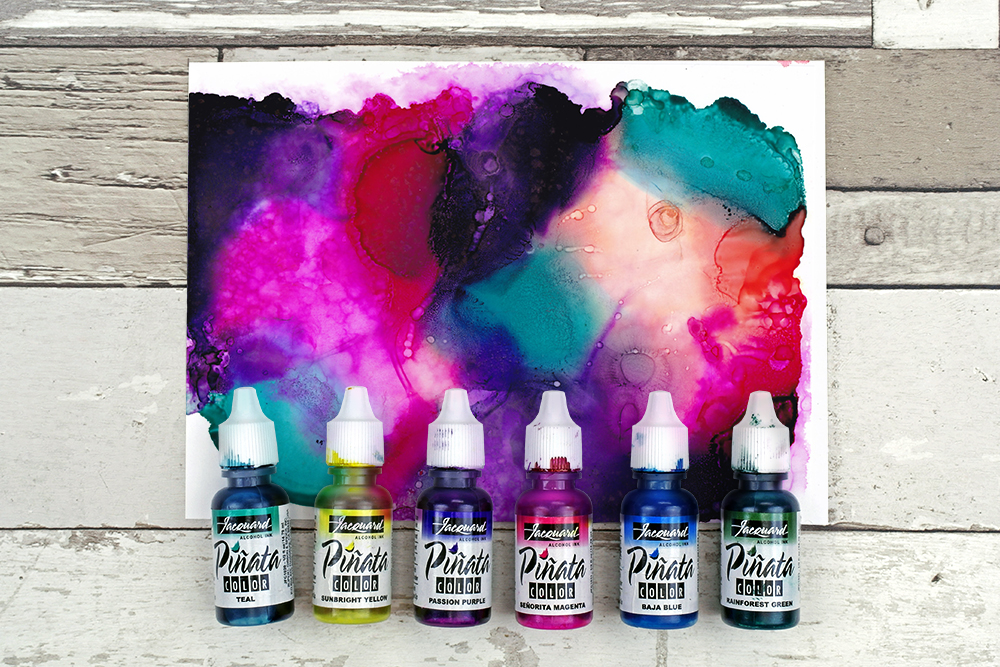 Pinata Inks reactivate with alcohol, which is something that can take some getting used to. Although this is great for lifting or removing colour it can be annoying to have a drop of ink accidentally splash onto your finished artwork.
It is also important to remember that the ink expands once applied – so bear this in mind when you want to lay down colour without reactivating an area of dried ink!
Mixing and Blending Alcohol Inks
Alcohol inks are fast drying so you may find it more difficult to achieve the precise blending created with other inks or watercolours. Part of their charm is the unique way they interact and reactivate with alcohol to create painterly marks that almost look like marble.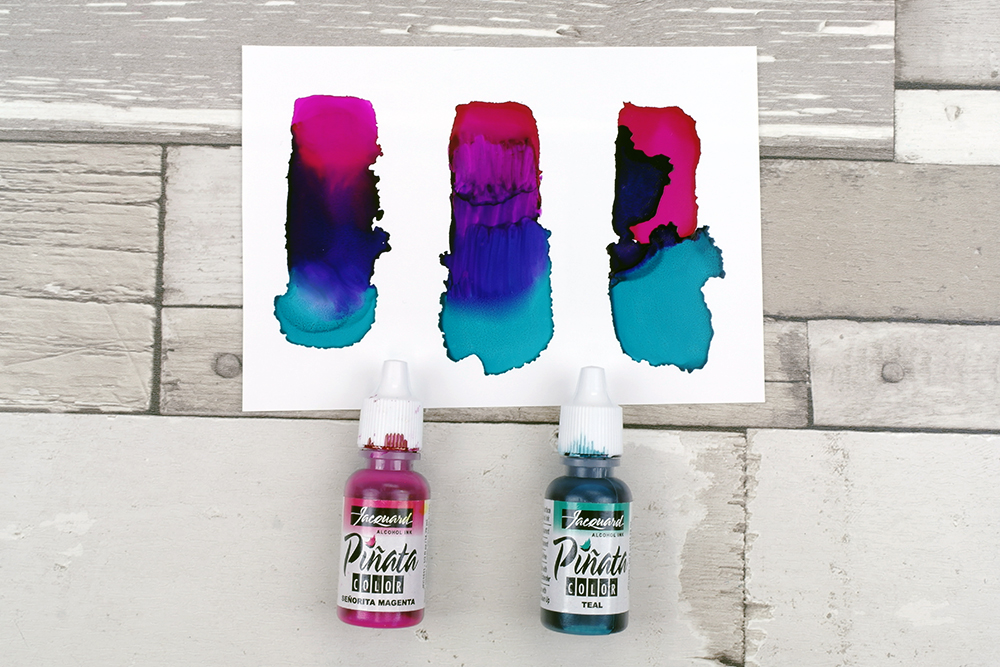 The samples above show how different mixing techniques produce different results. The first swatch shows two colours mixed while wet. This is perhaps the best way to get a smooth transition between two colours. The second sample shows a blended gradient created by reactivating a dry patch of colour with a wet colour and brushing back and forth to achieve a smoother effect. The third sample demonstrates the 'hard-edge' that develops when wet ink comes into contact with dry ink. This is a recognisable quality of alcohol inks that gives them their unique look. Use hard edges to your advantage when capturing natural textures like wood or water!
Painting Techniques
Piñata alcohol inks can be used with many different painting techniques on a variety of surfaces to achieve all kinds of wonderful effects. They can be used with a brush, like a traditional ink, but it is very rewarding experimenting with them using the techniques below!
Dripping and Pouring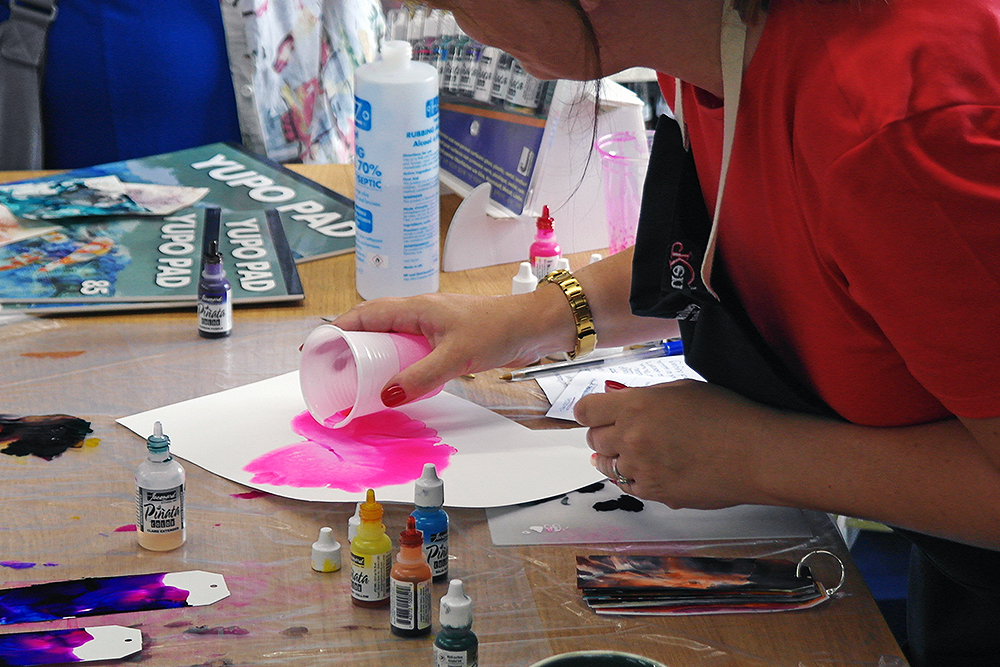 Creating dripped and poured artworks with Alcohol inks is easy because they are so fluid. You can easily drop ink straight onto your painting surface thanks to the fine nozzle on the bottle. You can also dilute ink in a cup with Isopropyl alcohol and pour onto your surface. Leave your poured ink to interact on the surface or manipulate it by blowing through a straw for some great effects.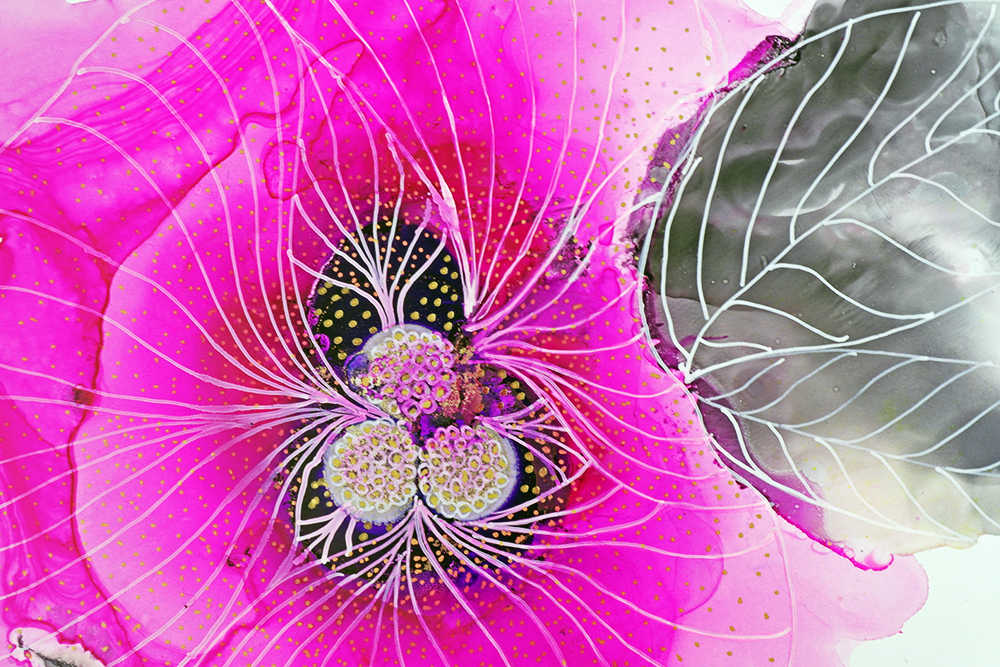 If you have mixed your own custom colours it would be useful to have some Paint Pipettes on hand. They are great for dropping colour with precision and having a pipette for each colour will prevent any cross contamination.
Spritzing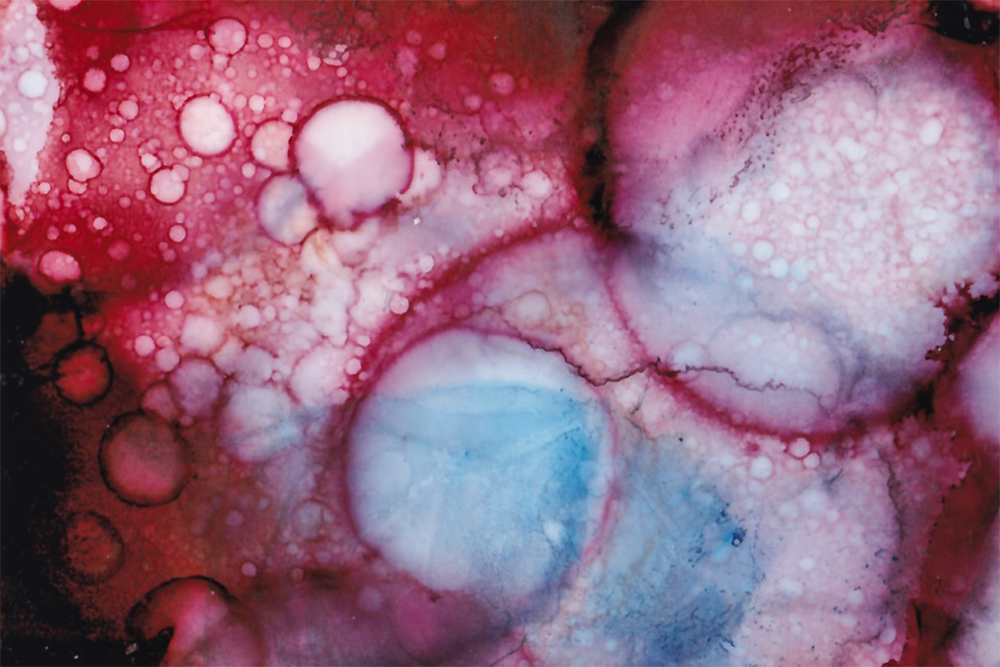 Use a Colour Spray Bottle or Derwent Spritzer filled with IPA or Piñata Mediums to create interesting textures on dry alcohol ink. The fine mist of alcohol will reactivate the dried ink and will dry to form paler, cell-like circular shapes. Creating uniform circular patterns can be great if you're painting the night sky or filtered light. Splashing or flicking IPA with a brush gives a more irregular pattern.
Pastel Colours with Blanco Blanco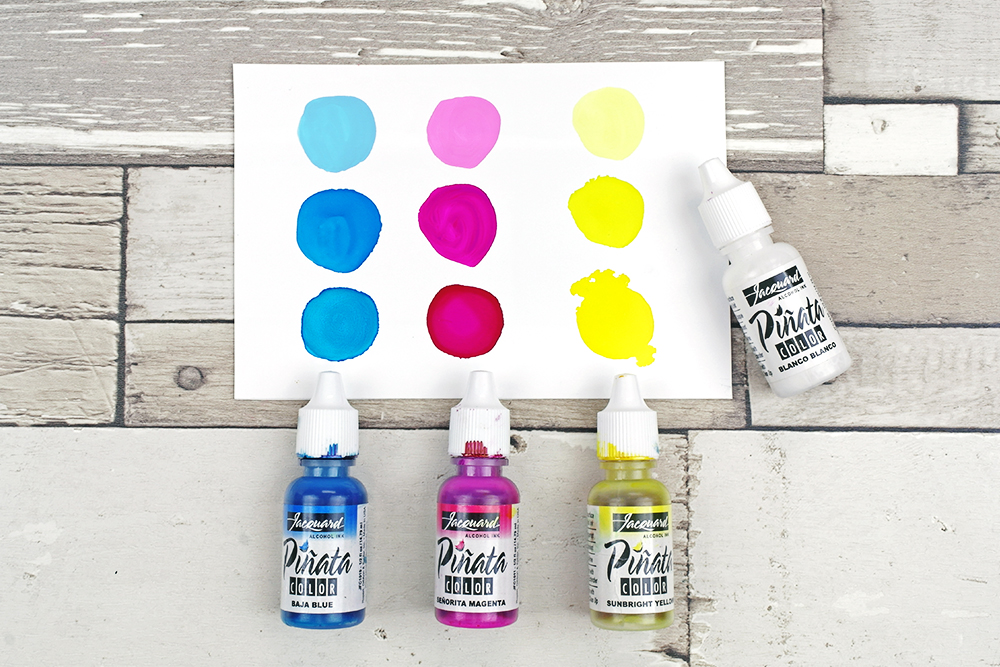 White is a great ink to use if you are looking to create pastel hues of other colours. Blanco Blanco is a very opaque white ink so transforms the usually vibrant and transparent inks into a more soft, subtle and opaque colour. Experiment with the amounts of white in your mix to get different effects.
Masking with Masking Fluid and Masking Tape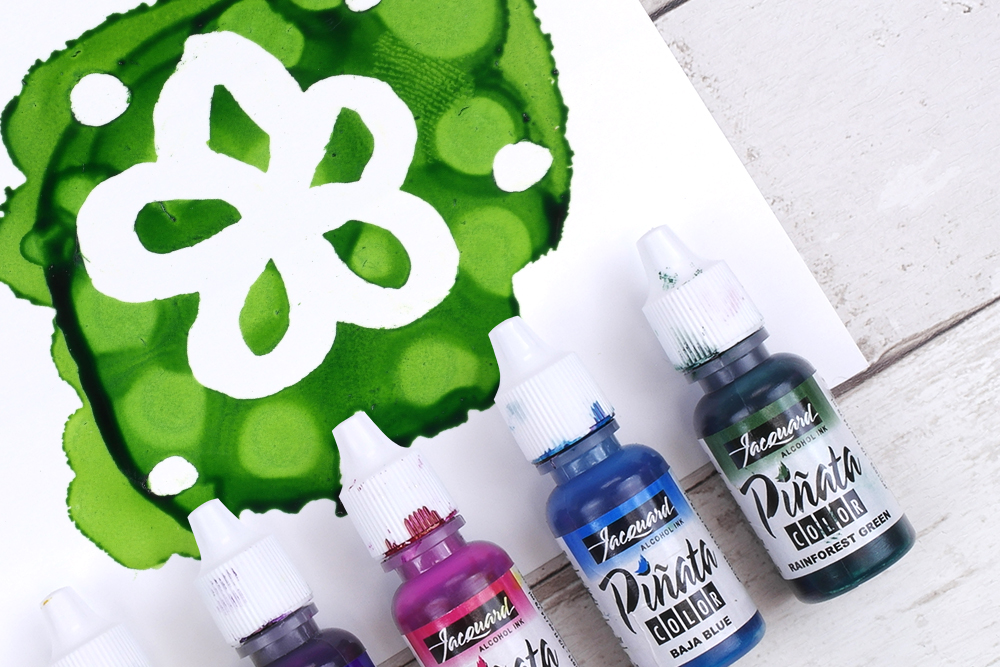 You can also use Piñata Alcohol Inks with masking fluids traditionally used with watercolour. These will work better on non-porous surfaces rather than traditional papers. Many people opt to use an old brush or rubber tipped Colour Shaper to apply the fluid, to avoid damaging their brushes. You could opt for a masking fluid with a nozzle (such as the Daniel Smith Watercolour Masking Fluid, Frisk Blue Masking Fluid Fineliner or Masquepen) which will allow you to apply with more precision without the use of a brush. If you do end up with dry masking fluid in your brush you can always remove it using Zest-It Masking Fluid Remover. Allow your masking fluid to dry thoroughly before applying colour and remove it as soon as possible after your ink has dried.
Use Masking Tape to section off areas where you want there to be a straight, hard line. If you are struggling to achieve straight lines with Masking Tape then Washi Tape can also be used.
Using Alcohol Inks in Mixed Media Artwork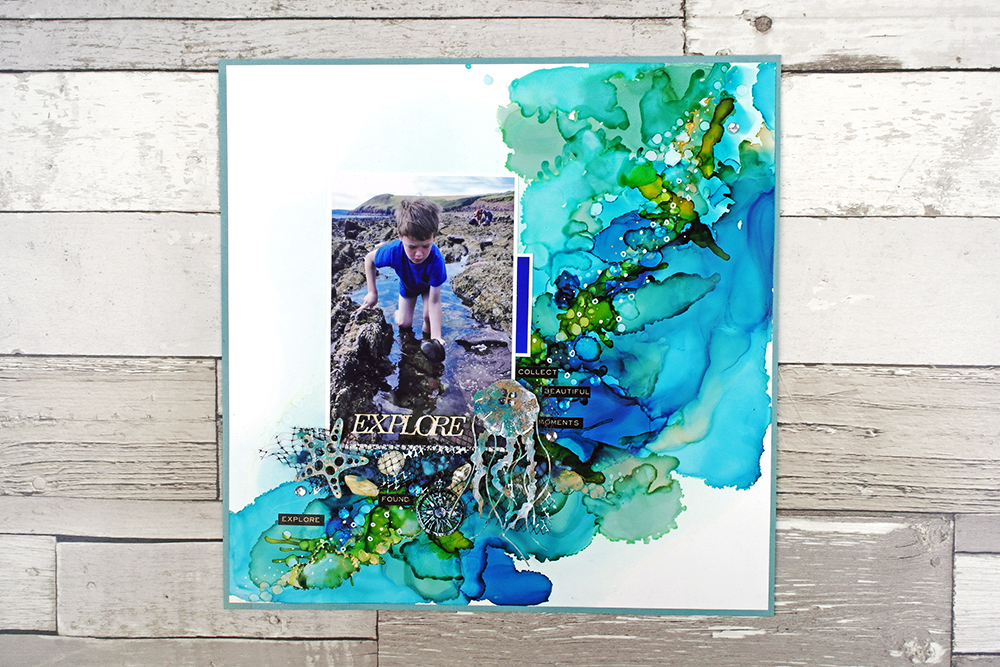 Piñata Alcohol Inks are a brilliant choice for mixed media work because they are so versatile. Their ability to stain materials like plastic, wood, ceramics and glass make them particularly popular with card makers and scrapbookers who use them to colour the embellishments in their work. To find out more about the surfaces that Alcohol Inks can be used on read below!
Use a pen to create linework and drawings over the top of dried alcohol ink. Uni POSCA Paint Marker Pens and fineliner pens are perfect for adding those final details or creative flourishes. If you are using pale colours directly over the top of your inks you may find that they discolour over time.
You can also incorporate alcohol inks into acrylic artwork. However you must always apply them on top of acrylic paints rather than under them. Acrylic paints can remain tacky if alcohol inks are used in an underpainting.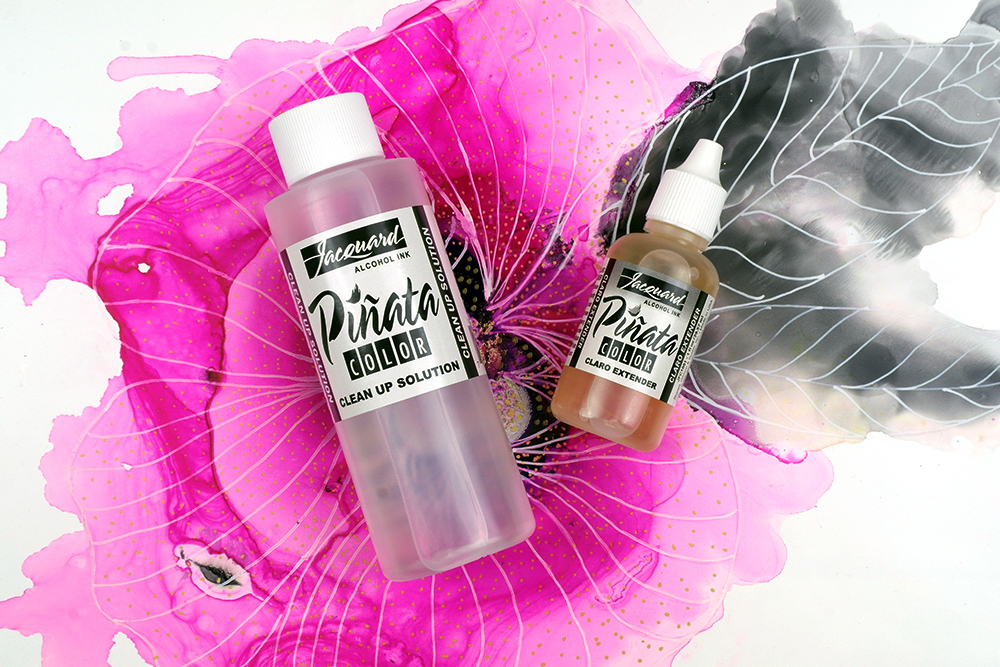 Piñata Clean Up Solution is the perfect medium for cleaning any excess ink or spillages and maintaining your brushes. Clean Up Solution can also be used as a dilutant for your inks allowing you to create lighter variants of colours. It will also give a more matte finish to your dried inks. Your painting surface can also be prepared using this medium, and will create a washy watercolour-like look.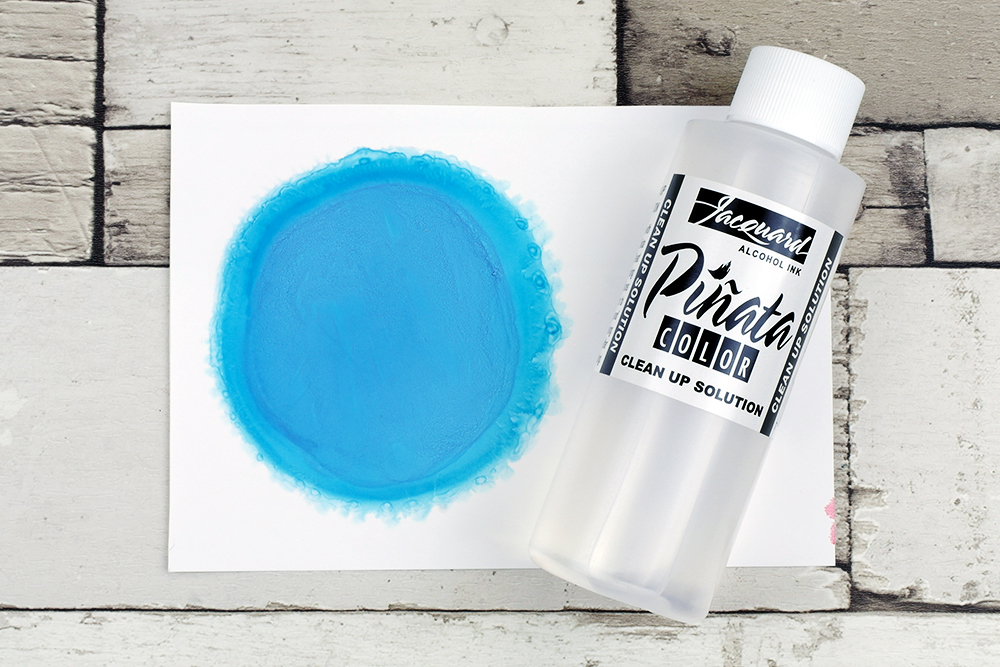 Use Piñata Claro Extender to slow down the drying of your inks. This is fantastic if you want a little more time to blend colours. Using this medium with your inks will give them a more glossy finish, and will help your ink spread smoothly. You can also use it to create marble like textures.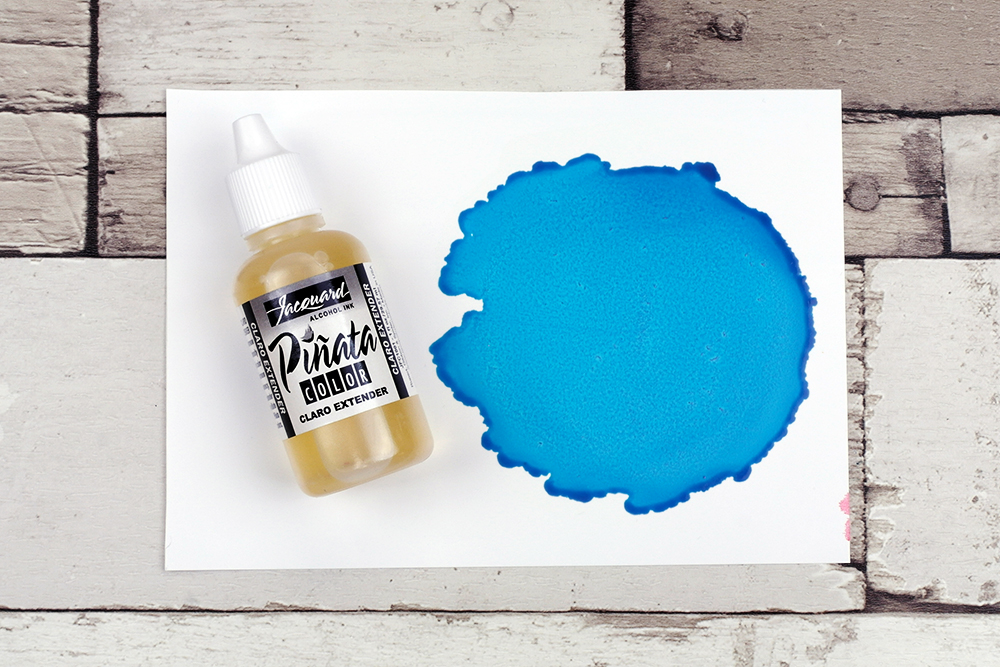 Isopropyl Alcohol (IPA) can also be used as a painting and cleaning medium, however it should be noted that it will not work as seamlessly as Piñata mediums. Blanco Blanco Ink in particular can coagulate if excessive amounts of IPA are used. IPA is great for cleaning up excess ink and spillages, however Clean Up solution or ethanol will do a much more thorough job. IPA can be used as an initial rinse for your brushes but a final wash should be done with Clean Up Solution as it contains moisturisers that will keep your brushes in the best condition.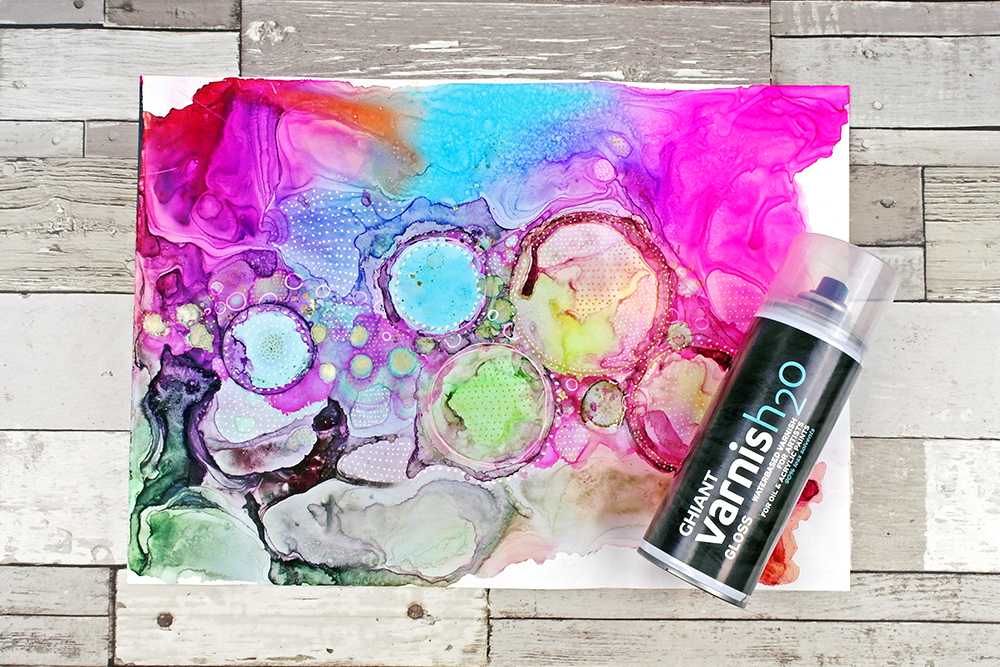 How to varnish alcohol inks is perhaps one of the most common questions that we are asked! Sealing alcohol ink artwork is notoriously difficult as a lot of varnishes can cause the inks to bleed and move. Some colours – like Señorita Magenta, Sunbright Yellow and Passion Purple – are more susceptible to this. The very best sealant is epoxy resin as it will cover the inks without smearing or bleeding. It's hard coating also prevents scuffing, scratching and other damage. However, varnishing with resin can be quite time consuming.
After putting our varnishes to the test we have found that our Ghiant Varnish H2O (available in Gloss and Matt finishes) provided a durable final coat that did not disturb the colour beneath. As it is an aerosol varnish your final coat can be applied quickly as easily.
Alcohol inks can be used on all kinds of surfaces from glass and metal to ceramic, stone and leather and they partner perfectly with YUPO Paper. Find out more about the vast number of surfaces they can be used on below.
YUPO Synthetic Paper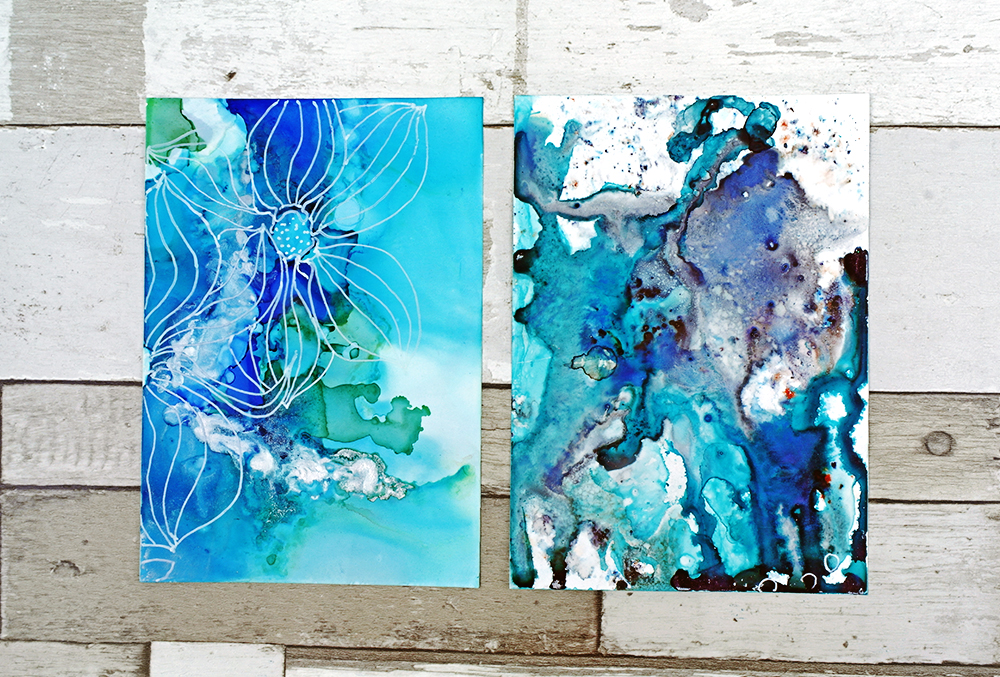 YUPO Synthetic Paper is a unique painting surface that is perfect for use with many mediums, including alcohol inks. Created in Japan, this surface is PH neutral, acid-free, non porous and is completely tree-free. It is also fully recyclable as it is made using 100% polypropylene pellets. One of its most recognisable traits is its smooth, blemish free surface. Not only does this paper not cockle and warp with the application of ink, it can also be wiped clean of ink or scratched to reveal the white surface beneath.
Pinata Alcohol Inks can be dropped, dripped, brushed, stamped or applied to its surface in all kinds of wonderful ways. Drip ink directly from the bottle onto this surface and you will see a beautiful interaction with the surface as the vibrant colour moves and pools. Introduce other colours into the mix and watch the colours dance and interact with each other in unusual ways.
Ampersand Claybord Artist Painting Panels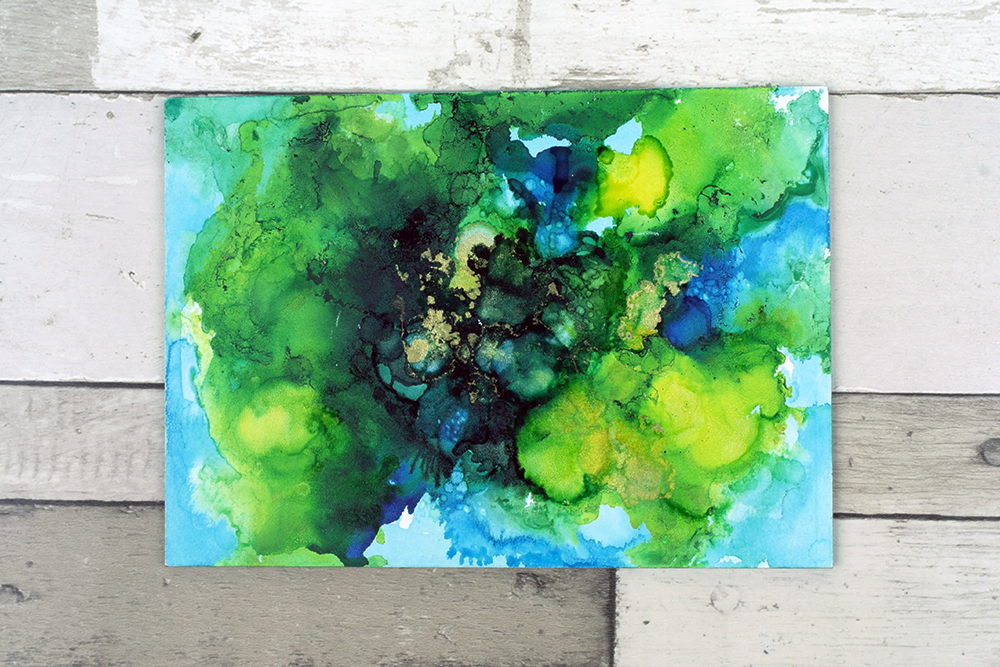 Ampersand Claybord Artist Painting Panels are a rigid hardboard painting surface finished with kaolin clay ground. The surface is sanded down to a very smooth finish that is highly absorbent. These properties are perfect for use with alcohol inks. These panels have a matte finish, which adds a reflective quality to the dried inks and deepens their colour. It is also easier to control inks on the Claybord than on YUPO. It does not have a tendency to pool and expand like on YUPO.
Add contrast by scraping away colour to reveal the white of the clay below. Their sturdy surface makes them more durable than a YUPO sheet and gives a great contemporary finish to your work.
Art Epoxy Resin
Alcohol Inks are perfect for use in epoxy resins. Epoxy resins are bought in a fluid form. When mixed with a catalyst they set into a clear and transparent solid block. Resin can be mixed and poured into moulds or used as a final finishing coat to seal your artwork.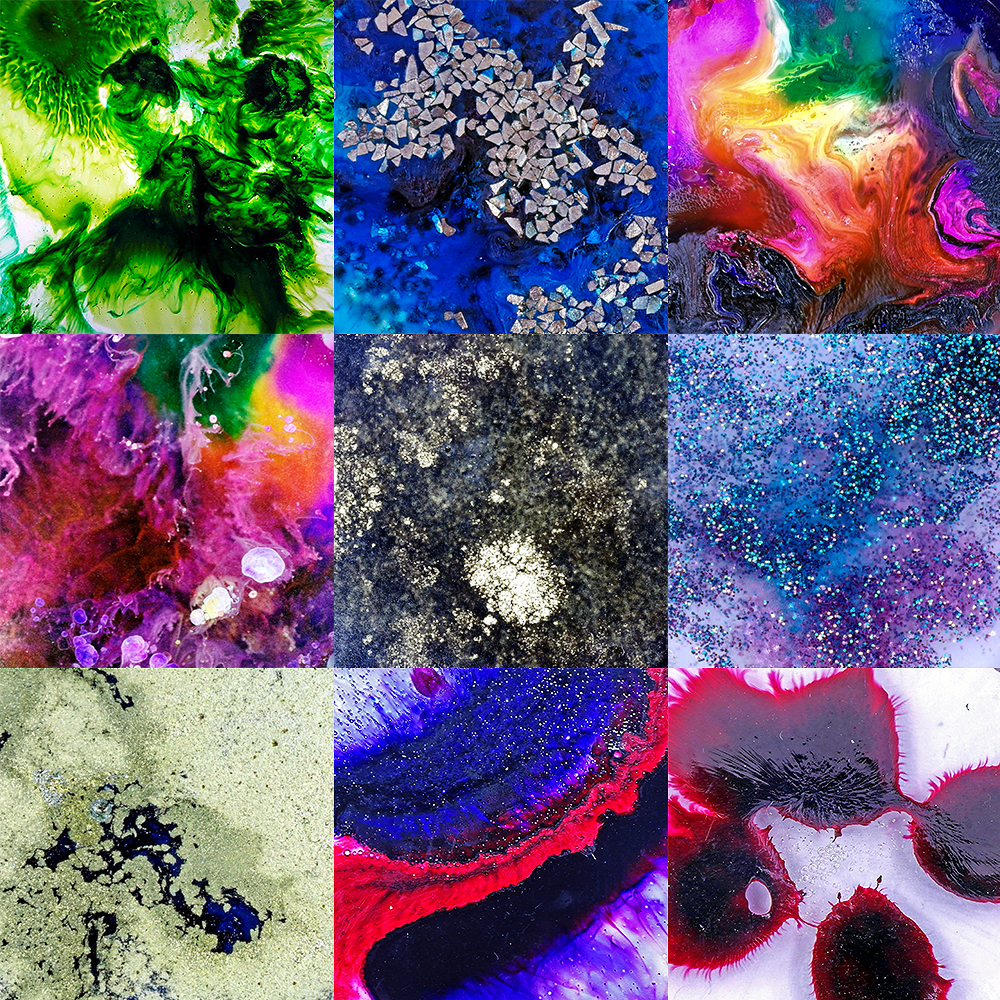 Objects and inks can be frozen in time when they are dropped into drying resin. Dripping alcohol inks into resin can create some beautiful marble-like effects. It can be added at any point during the drying and curing process, but you will find that the colours interact differently depending on the viscosity of the resin.
Alcohol Ink colours vary in their weight, so you will find that some colours sink while others remain on the surface. Blanco Blanco is the heaviest ink. Try dropping a few different colours into your resin, then add the Blanco Blanco in on top. The white ink will push down the other colours and helps to create a 'petrified rainbow' effect.
Some resins are limited in their pouring depth, but you should be able to add successive layers once each layer is allowed to dry. Applying resin in layers is great for creating 3D effects. Paint in between your resin layers or add collage elements.
Glass and Ceramics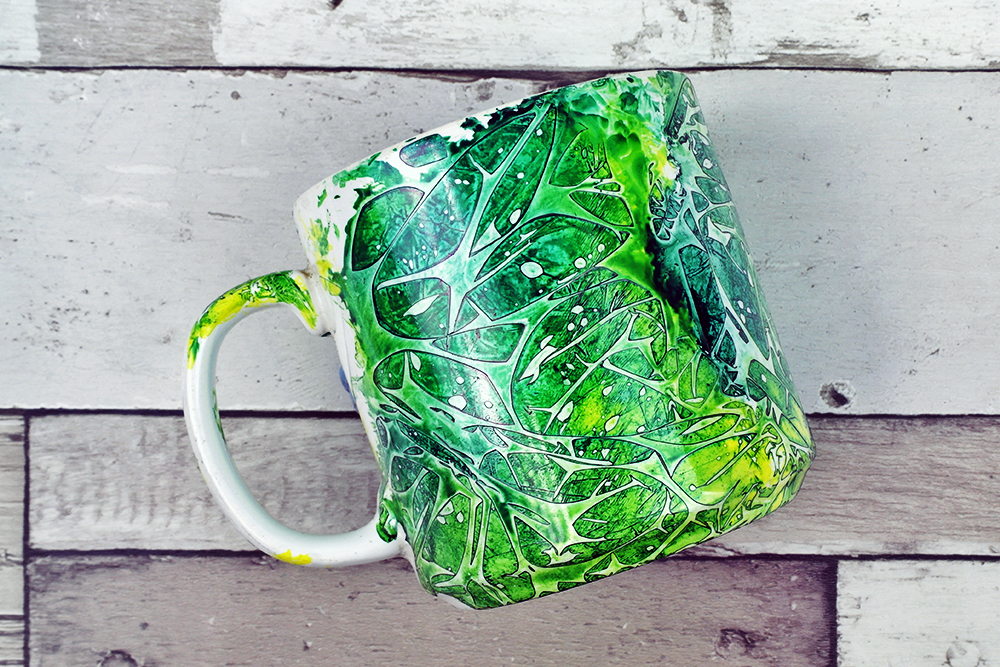 Alcohol inks are perfect for adding a splash of colour to glass and ceramic. The glossy finish and zero-absorbance of both glass and ceramic allows the inks to form a layer of brilliant colour. These inks are impervious to water when dry, so anything that you dye them with will stand up to a light hand-washing. We wouldn't recommend putting any finished projects through the dishwasher.
As Pinata Alcohol Inks are not food safe it is advisable not to use them on any surface that may come into contact with food or drink. They can however be used to add a colourful splash to coasters, the outside of mugs and glasses or any plain ornamental glassware or ceramics.
Polymer Clay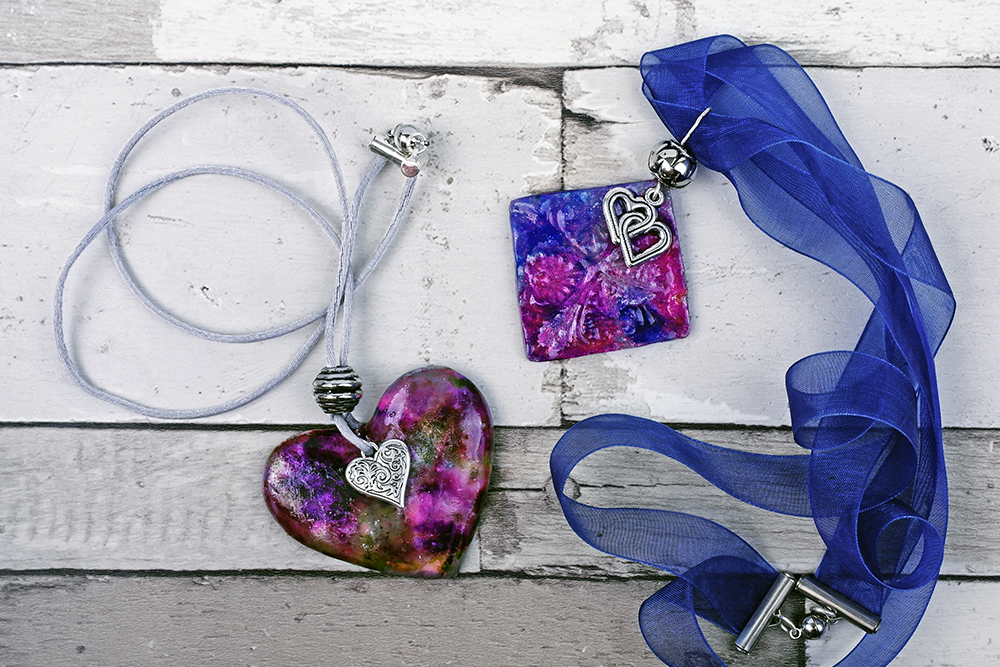 Alcohol inks are great for colouring polymer clay as they allow you to create rich, vibrant colours not commonly available straight off the shelf. Bear in mind that your clay will only absorb so much ink before it becomes sticky and impossible to work with. The saturation can vary from colour to colour, so it is best to gradually add in drops of ink to avoid your clay becoming unusable. Colour can be added by rolling out a flat section of clay and dropping a few drops onto it. You can then use a palette knife to create an even, flat layer of colour on the clay's surface. Once dry, your clay can then be mixed and rolled until an even, solid colour is achieved.
If you are sculpting with different coloured clays then the colour can bleed between them when they are stuck together. Baking your clay as soon as possible will lessen the chance of bleeding occurring. If you are working with only one solid colour then bleeding will not be a problem.
The colour of your clay will influence the way the ink appears. They can change quite considerably from the way they appear on paper!
Experiment with different surfaces!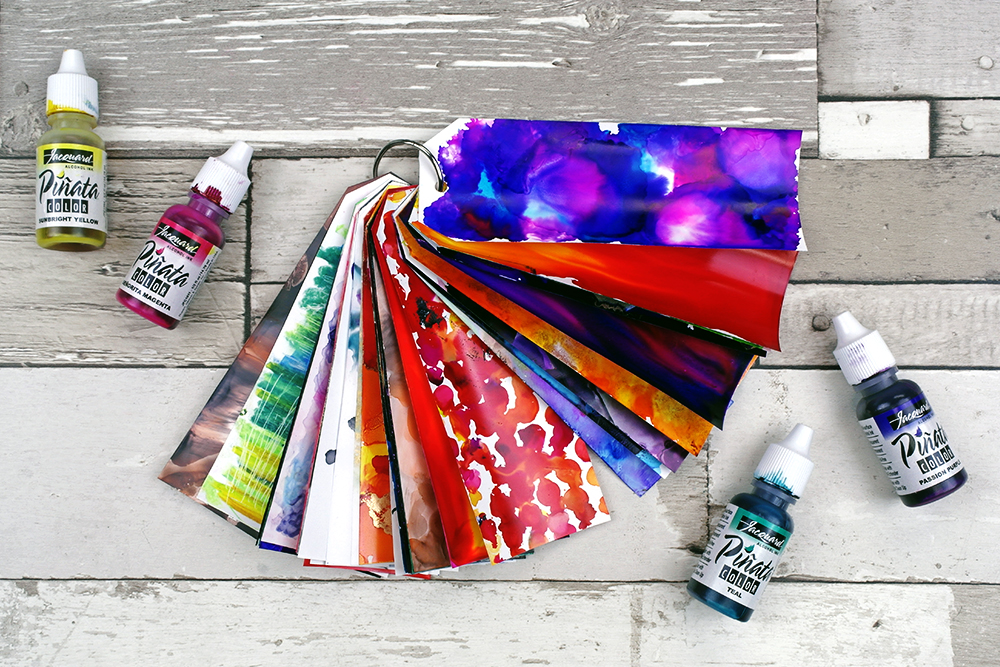 There really are no hard and fast rules when it comes to using alcohol inks. Experimenting on different surfaces can create all kinds of beautiful results. Try using these inks on wood, wax, paper or card, leather, fabric and more! They are fantastic for use in mixed media projects as they are so versatile. Bear in mind that they will colour almost any surface that they come into contact with. Be sure to cover and protect any surfaces or fabrics you wish to keep clean!
Using Alcohol Inks Safely
As with many art materials, it is important to bare in mind your safety and the safety of those around you. First and foremost, these inks are highly flammable – so you must never use them near a naked or open flame.
Some people do find the smell of Alcohol Inks unpleasant. When used in large amounts they can have a strong chemical smell. It is important to use your inks in a well ventilated environment. This should prevent a build up of fumes which could otherwise create headaches or other adverse health effects. If a well ventilated room is not available it would be advisable to invest in a respirator mask. This will be useful if you plan on using these inks for any length of time. These should be available from most hardware or DIY shops. The more ventilation in the room you are in, the better.
Alcohol Inks will stain. Use Clean Up Solution or Isopropyl Alcohol to clean up your inks. Some discolouration may remain even after cleaning, so it is important to protect the surface of any furniture or clothing that you will use when painting. Alcohol Inks can also stain skin. Wearing rubber gloves is advisable if you wish to avoid trying to remove it from your fingers!
You can find our full range of Jacquard Pinata Alcohol Inks online, including individual bottles, sets and mediums.