Using the Derwent Line and Wash Paint Pan Set – Our Top Tips
The Derwent Line and Wash Paint Pan Set is full of some of the brand's best selling products. With a variety of sketching and drawing materials, it includes everything you'll need to enjoy painting on the go. Choose from Inktense, Graphitint and Pastel Shades – plus Line Maker Pens – to create beautiful Line and Wash paintings.
Our range of Derwent Paint Pan Sets have proven particularly popular – especially with urban sketchers and artists painting on the go. The Derwent Line and Wash Paint Pan Set includes a broad selection of paints and accessories from some of their most popular ranges. This collection is ideal for creating your own expressive Line and Wash paintings! The set includes the following:
6 Inktense Paint Pans – Sun Yellow, Mango, Poppy Red, Bright Blue, Payne's Grey, Natural Brown
4 Graphitint Paint Pans – Autumn Brown, Port, Ocean Blue, Meadow
2 Pastel Shade Paint Pans – Artichoke, Storm Grey
Black Line Maker Pens in 0.3mm and 0.8mm
A small waterbrush
A small sponge
All these paints and accessories come presented in a versatile plastic carry case that also includes plenty of space for mixing. With such a fantastic and diverse mixture of products, you might be left wondering how to get the very best performance out of your set. Read below for some of our top tips!
Control the translucency of your washes with water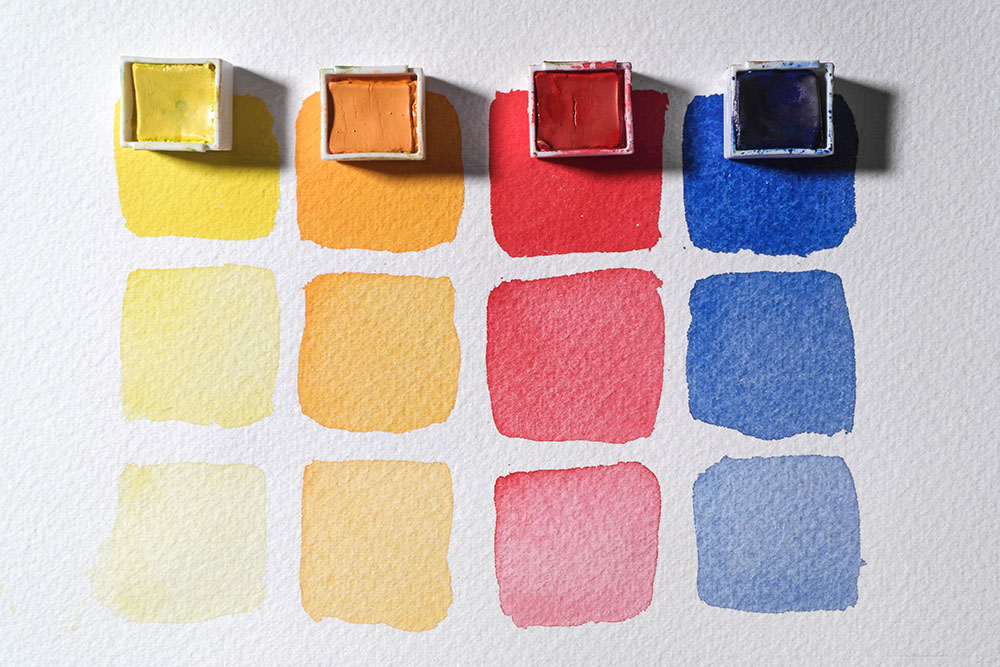 You can use Inktense Paint Pans in much the same way as a traditional watercolour pan. Just take a wet brush, sweep over the pan to lift the colour then apply to your favourite painting surface. Similarly, you can also control the translucency and vibrancy of the colour by varying the amount of water in your mixes. Wet your Inktense pan and dab a little of the colour onto the palette. Try diluting it with varying amounts of water to see how it changes the colour's translucency.
Paint layers of colour without reactivating the layers below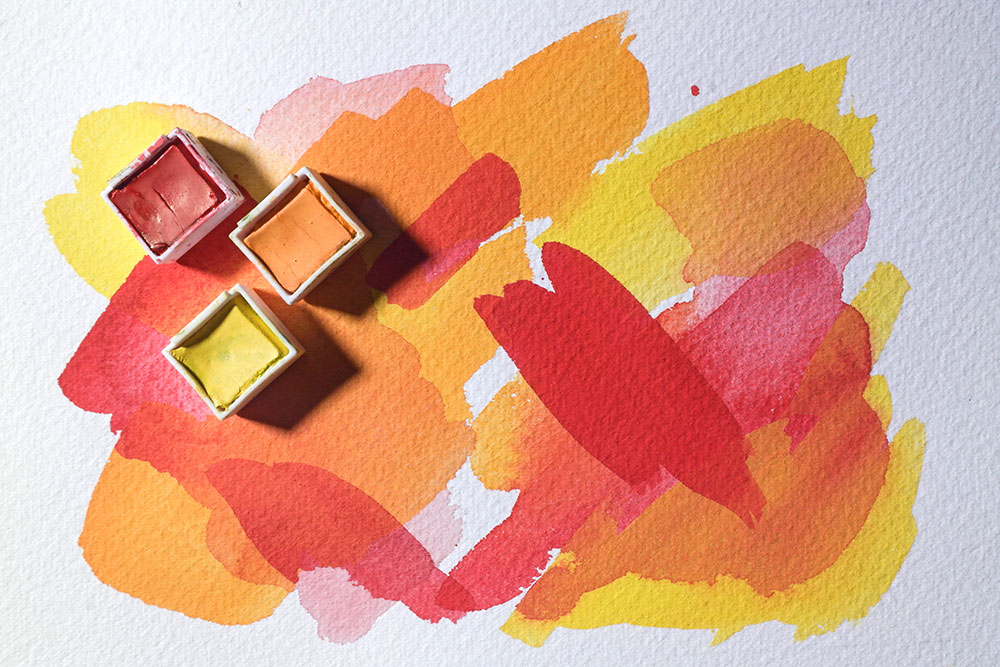 Unlike traditional watercolour, Inktense paints can be layered up without bleeding into the layers of colour underneath. To put this property to the test, lift some colour from your pans and paint a few strokes onto your paper. Let them dry thoroughly before adding some more strokes over the top. Providing your first layer of colour is dry, the second layer should sit on top without reactivating the colour below. Try layering colours with different translucencies to create vibrant, layered glazes.
Use concentrated colour for vibrant washes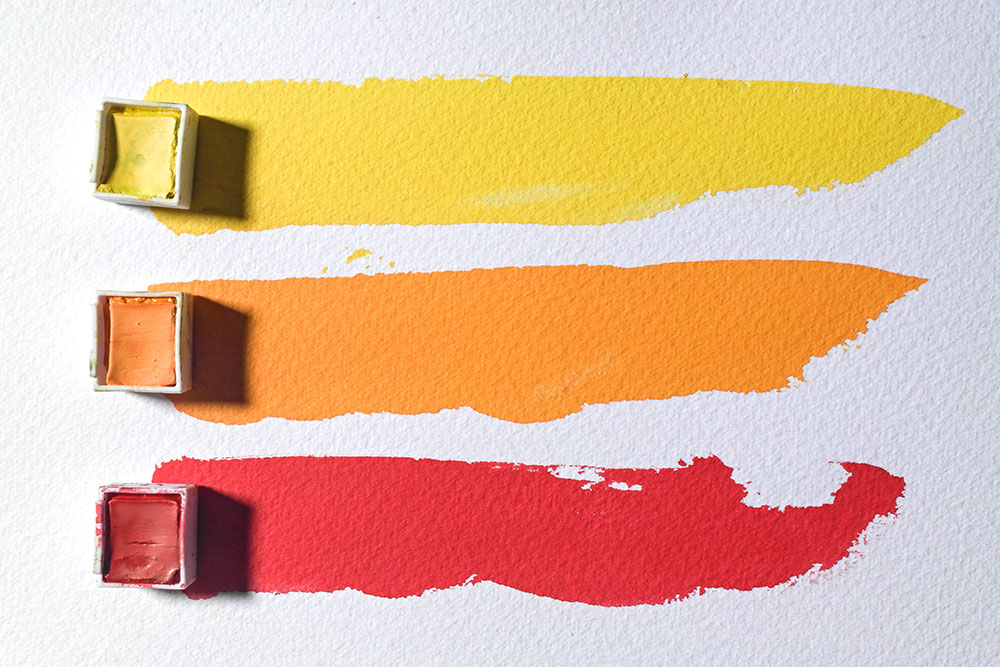 Inktense colours certainly pack a punch, especially when they're mixed with a minimal amount of water. Try activating an Inktense pan with a wet brush, using as little water as you can. Work your brush into the pan until the colour becomes thick. Apply this thicker paint mixture to your paper and see just how vibrant Inktense can be! Combine this thick, more intense colour with dilute, subtle washes for interesting contrasts.
Use Payne's Grey to mix interesting shades and tones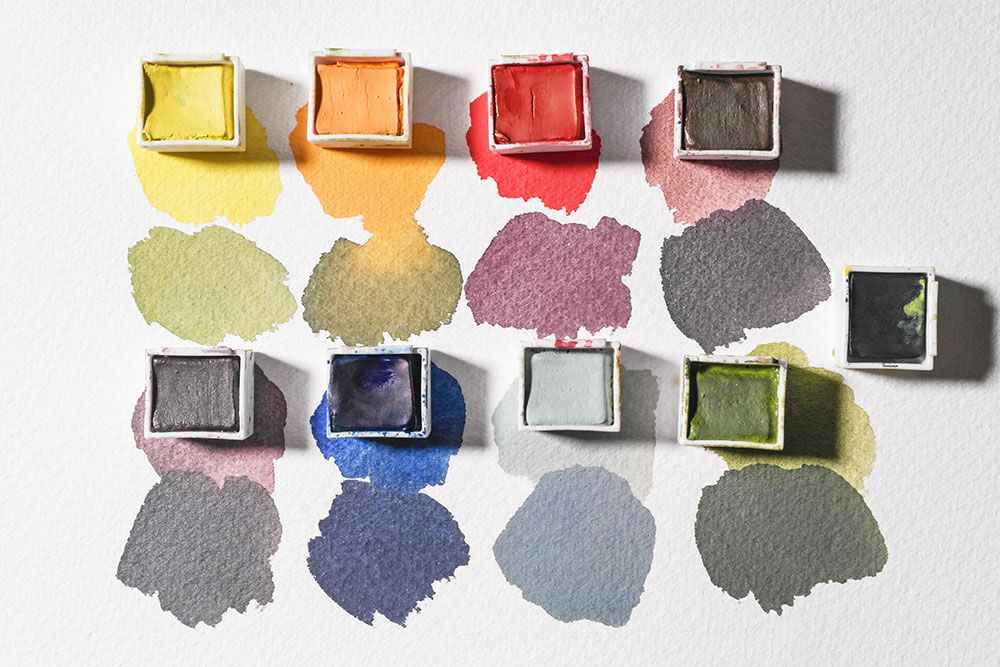 This set includes a pan of Inktense Payne's Grey. It is a dark, blue-grey colour that is perfect for mixing shades and tones. Many artists prefer its mixing capabilities over the more traditional Black. Use it to mix with the other colours in the set to create a range of shadowy tones. These shades and tones of colour are perfect for adding depth and life to your line and wash paintings.
Make the most of Graphitint's granulation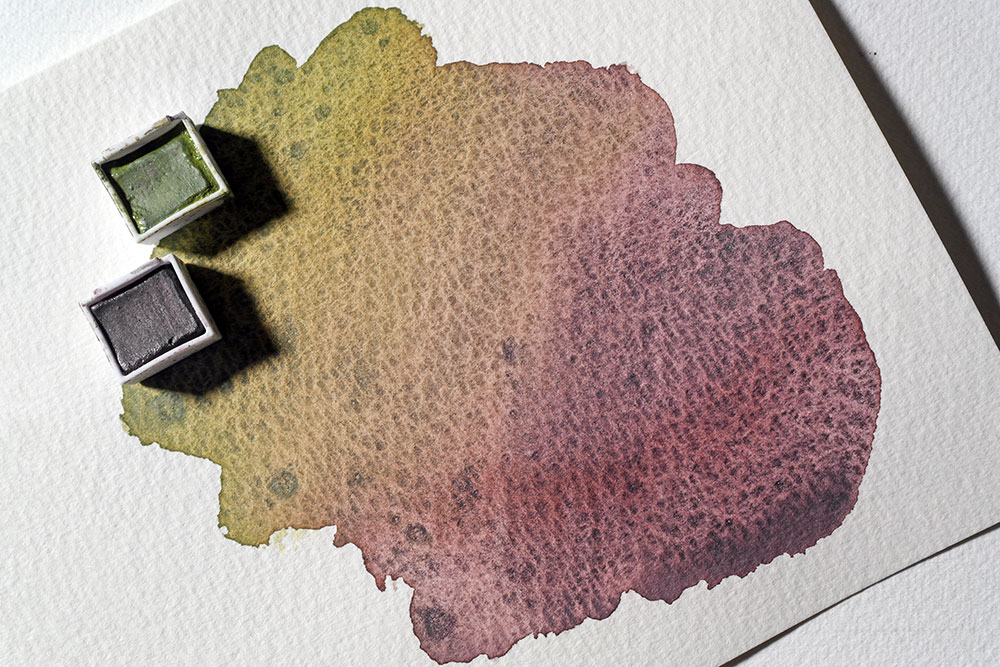 Graphitint Pans are made with a combination of graphite and subtle pigment, and offer fantastic granulating properties. Try them out on a Cold Press (NOT) or Rough textured watercolour paper to get the most out of their granulation. When you paint your wash you'll notice that the fine graphite particles in the paint will settle into the little pits in your watercolour paper. This creates some fantastic textures that can be useful in urban sketching or for painting landscapes and skies.
Let your paint dry, then erase to create texture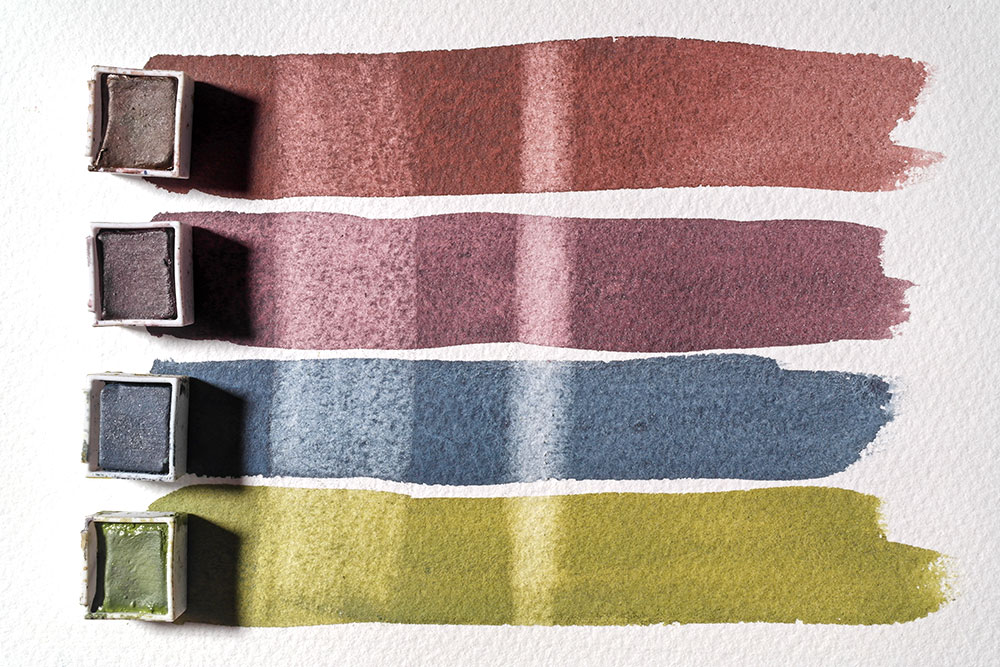 Because Graphitint pans contain graphite in their mixture, you can erase or lift the colour once it is dry. Test this out by painting out some washes of Graphitint colour. Leave them to dry before taking an eraser and gently lifting the colour. Try using the Technique Eraser from the Derwent Specialist Erasers pack or another soft eraser. A Kneadable Eraser can also be used to create interesting textures.
Create opaque details and milky washes with Pastel Shades
Derwent's Pastel Shades paint pans are opaque and handle similarly to a gouache paint. Mix them with a small amount of water to create a thick paint that is perfect for adding in opaque details and highlights. Dilute with plenty of water to create a milky wash. This thin wash is perfect for glazing over previous layers to lighten them.
Add a pop of colour to your Pastels and mix in Inktense
Love the qualities of Pastel Shades but want some colour with a bit more kick? Why not try mixing your Pastel Shades with a drop of Inktense. The Inktense paint will bring a pop of colour to the pastel shade, while still retaining its opacity.
Layer translucent colours to create paintings full of detail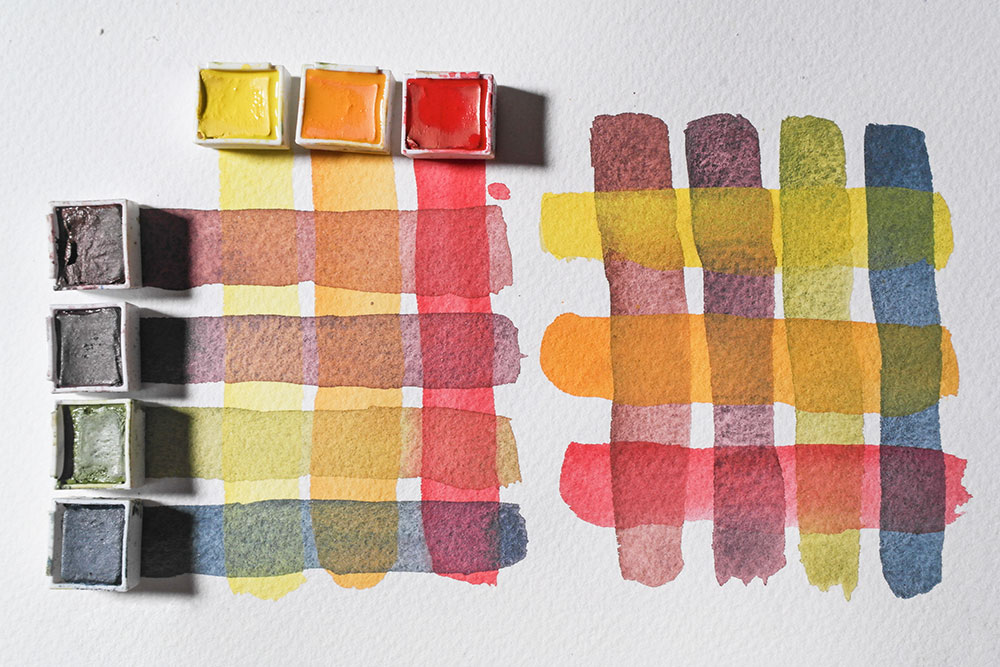 Both the Inktense and Graphitint pans included in this set have beautiful translucency. Use this to your advantage by layering them on top of one another in your painting. Start with a wash of Inktense, allow to dry fully, then layer a wash of Graphitint over the top. The colour from the Inktense wash should radiate through the translucent Graphitint wash. If you're working on textured paper the granulation from Graphitint will also make interesting effects.
Use the Line Maker fine liner pens to add detailed flourishes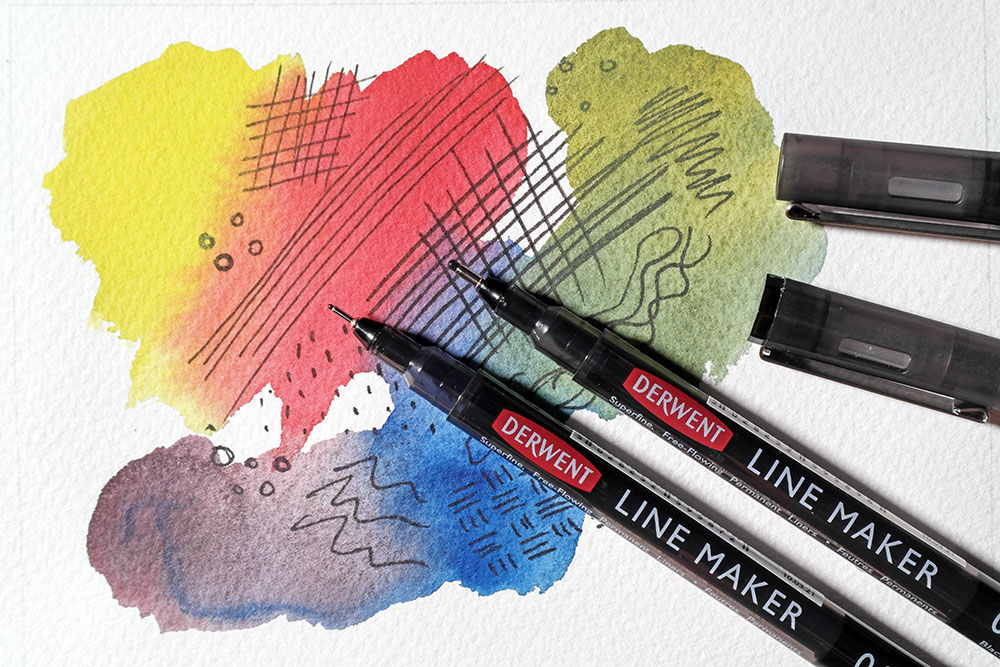 Derwent Line Maker Fine Liner Pens are perfect for adding in those final flourishes to your line and wash paintings. They are lightfast, pigment-based and are water-resistant once the ink has dried thoroughly. Lay down your linework first then layer with paint, or paint some washes then add some finishing details on top with the pen.
---
Buy your Derwent Line and Wash Paint Pan Set today, or browse the rest of our Derwent Paint Pan Sets.