Using the Derwent Pastel Shades Paint Pan Set – Our Top Tips
Derwent's Pastel Shades Paint Pan Set is filled with a beautiful selection of opaque paints in subtle pastel shades. Use these soft, refreshing paints to create washes of delicate colour or layer to build up intense hues. With accessories and a sturdy plastic palette to complete the set – you'll have everything you need to enjoy pastel hues on the go!
Open the Derwent Pastel Shades Paint Pan Set and you'll be greeted with a selection of punchy yet delicate colours reminiscent of a sweet shop. All you'll need is a wet brush to activate the pans to create everything from milky washes, to thick, opaque colour ideal for highlights. The set includes the following colours and accessories:
12 Pastel Shade Pans – Lemon, Peach, Coral Pink, Pink Flamingo, Orchid Pink, Lavender, Cornflower Blue, Turquoise, Mint, Artichoke, Storm Grey, Silver Blue
A small water brush
A small sponge
A sturdy plastic palette box with plenty of mixing space.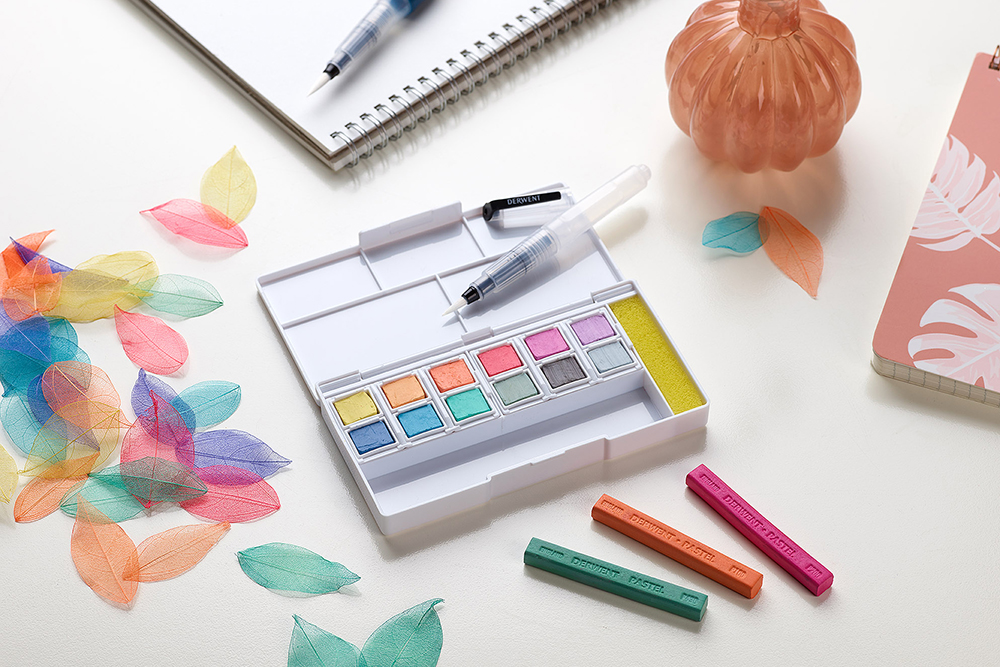 Maybe you're new to pastels? Or aren't familiar with gouache-like paints? Our top tips have some great exercises to help you get you on your way to mastering pastel shades.
Dilute colour to make delicate washes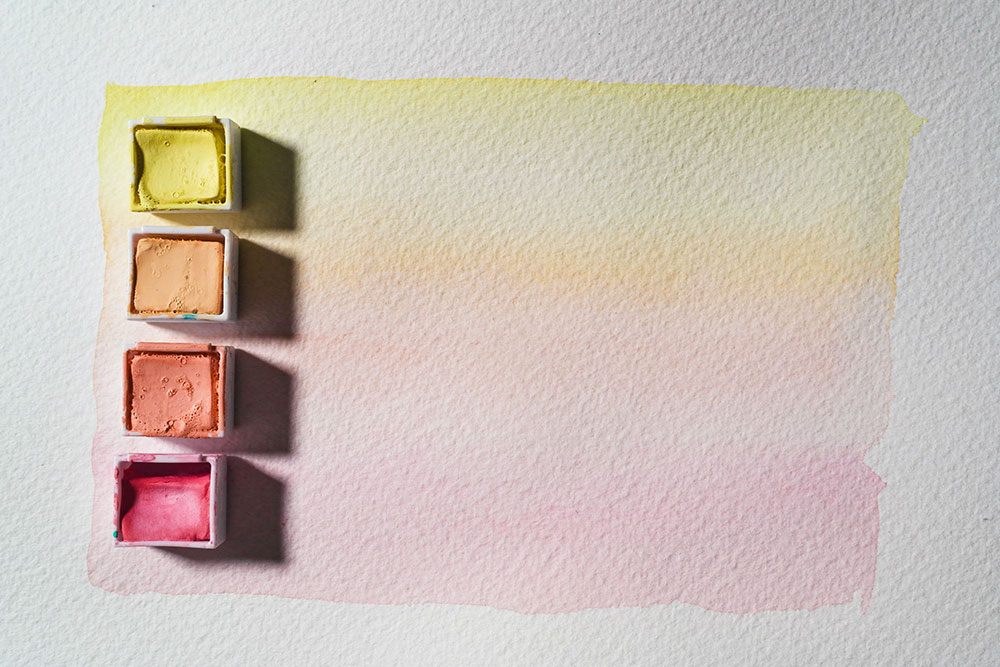 You can use Derwent's Pastel Shade pans similarly to a traditional watercolour paint. Just take a wet brush, swipe over the pan and you'll be able to easily lift the colour. Drop some colour from your loaded brush onto the palette and dilute it with a little water. Paint this out and you'll create a delicate wash of colour. Try adding more and more water to your mixture, and you'll be able to create washes that become paler and paler.
Mix with minimal water to create a gouache-like paint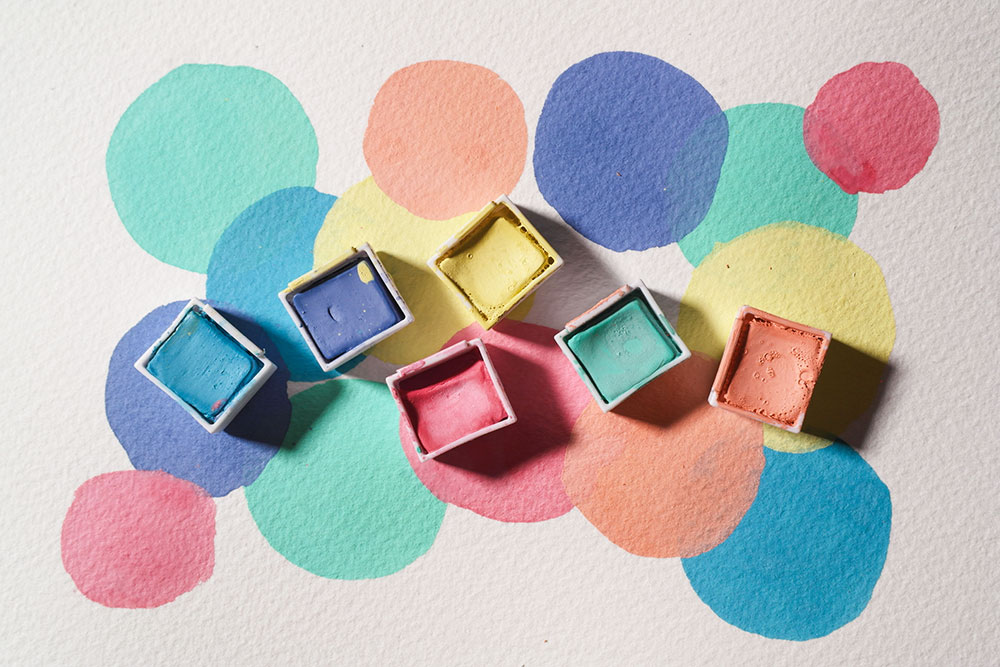 Try lifting colour like in the exercise above, but use only a little water to activate the colour. Run your brush over the pan a few times and you should notice a thick paint building up. Load your brush with this thick mixture and paint onto your paper. The colour will be much more bright and intense than the washes from the first exercise.
Layer washes to build up intense colour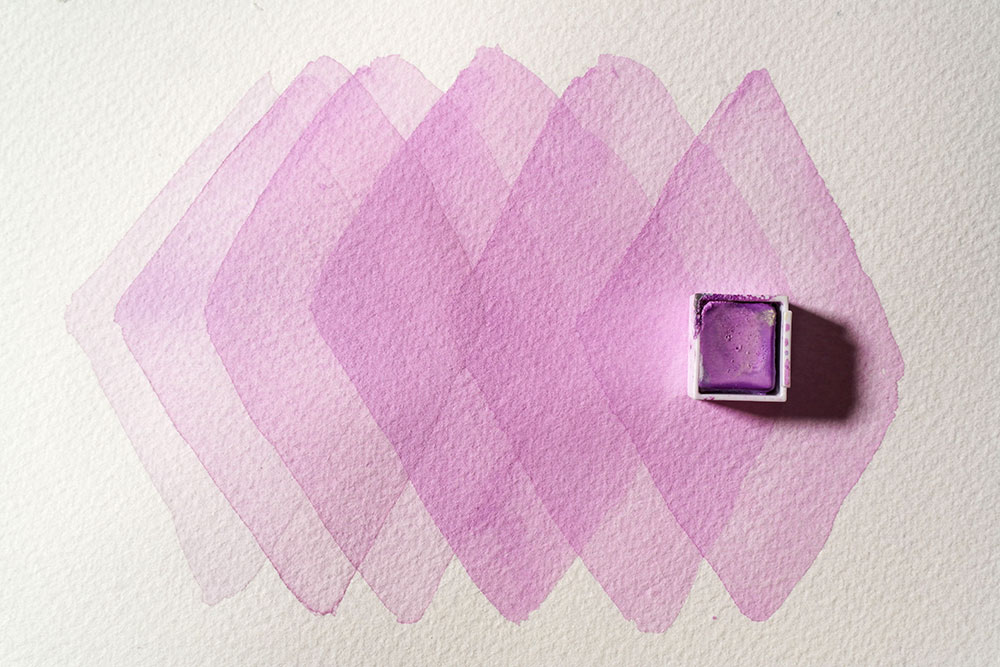 Using thick colour means you can apply bold colour in a single layer. But you can also create radiant washes built up from successive layers. Create a dilute wash, like in the first exercise, and paint your first layer onto paper. Let this dry before adding another layer on top. Repeat this process until you have a wash of vibrant colour.
Smooth out colour with a dilute wash
If you create a wash that looks a little patchy or needs evening out, don't worry! You can easily smooth them out by painting a dilute wash of the same colour over the top. All you'll need to do is lift a bit of colour with a wet brush, then dilute with water on the palette. Paint this watery wash over the top of the patchy areas. As it dries it should even out the brush strokes in your wash – much like gouache!
Don't worry if bubbles form in your mixes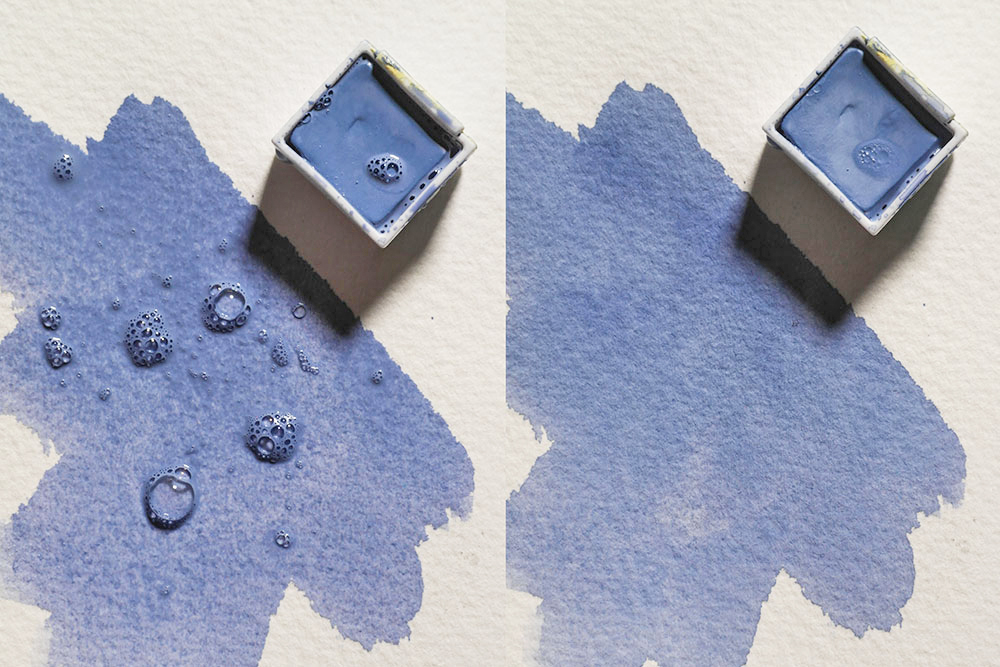 Sometimes when you're mixing colour or painting washes little bubbles can form in your mixes and washes. If you see any – don't worry! These bubbles will dissipate on their own and your paint will dry to a smooth finish.
Use greys to create a broad range of shades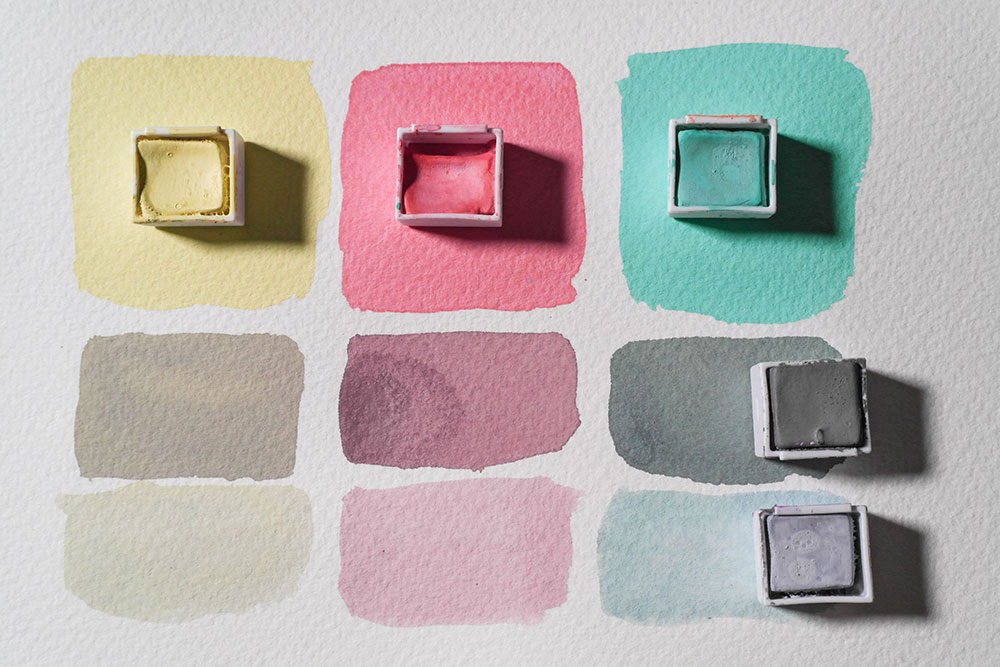 The Pastel Shades paint pan set includes two greys – Storm Grey and Silver Blue. Storm Grey is quite a warm grey, while Silver Blue is much cooler. Try out both these greys in each of your mixes to create shades and tones of other pastel shades in a variety of temperatures. This contrast in temperature will bring life to your paintings.
Lift colour with an eraser to create patterns and texture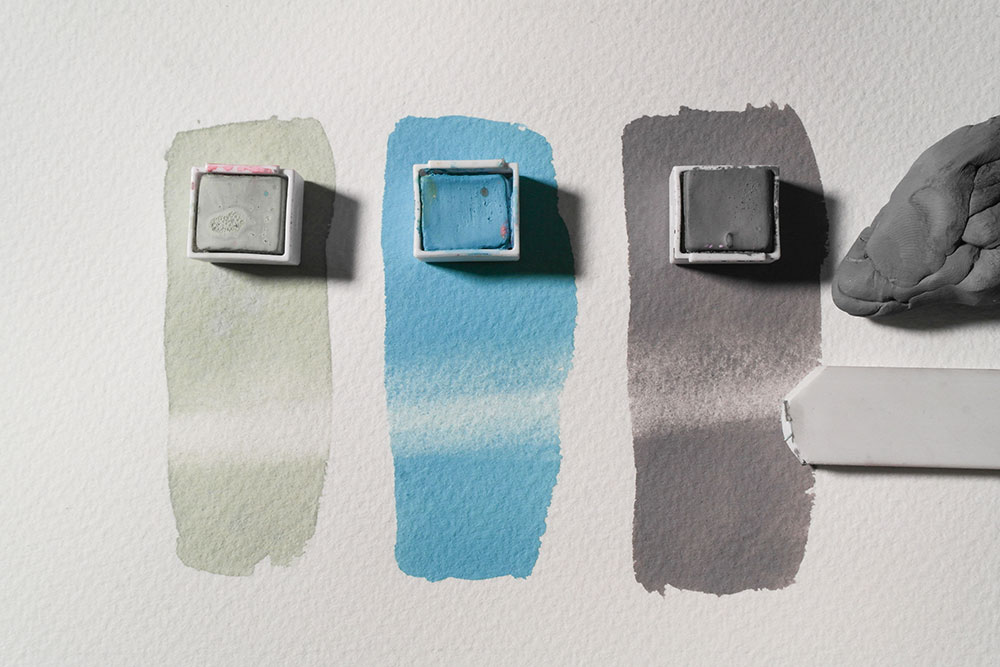 If you use your Pastel Shade paint pans on a smooth surface, you can erase the colour with a soft artists eraser to make interesting textures and patterns. Just leave your washes to dry completely (they must be 100% dry) then use a soft eraser – like the Technique Eraser from the Derwent Specialist Erasers pack – to gently lift colour. This can be a great way to quickly add texture into your paintings, and also offers a great way to add highlights or lighting effects.
Use thick colour to paint light over dark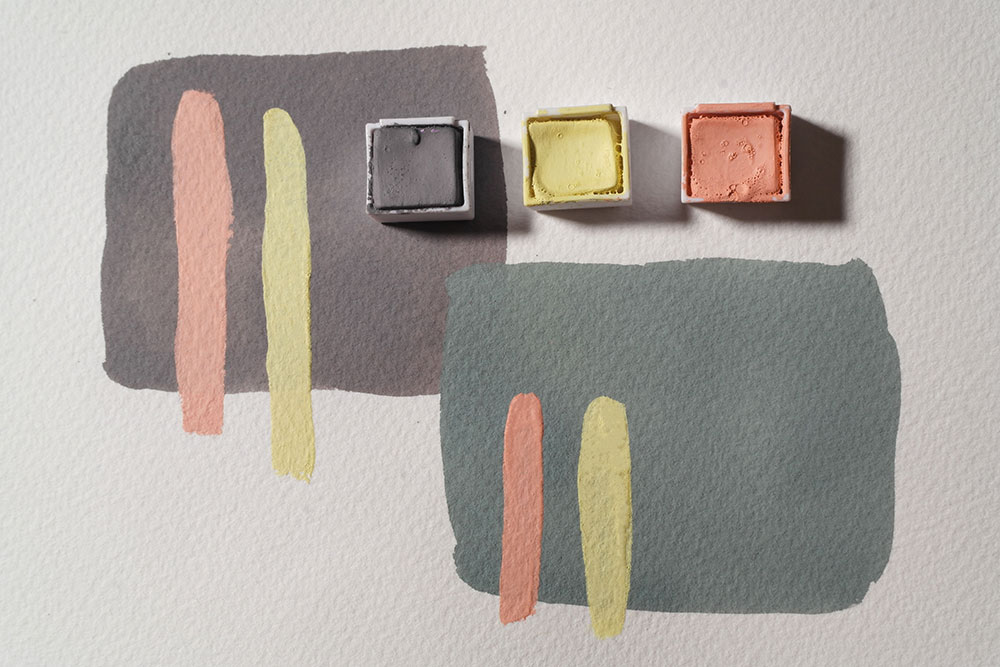 Because Pastel Paint pans have gouache-like qualities, they can be used to paint light over dark. To test this out you'll need to paint a patch of colour using one of the dark colours in the set. Make sure you leave this layer to dry completely! Once it's dry, pick a lighter colour and mix it thickly in the pan. Load your brush with this thick mixture and paint some details over your dark background. Pastel Shades are opaque, so when you use them in less dilute mixes you shouldn't see much, if any, of the dark background showing through.
Combine with Metallic Shades for a subtle shimmer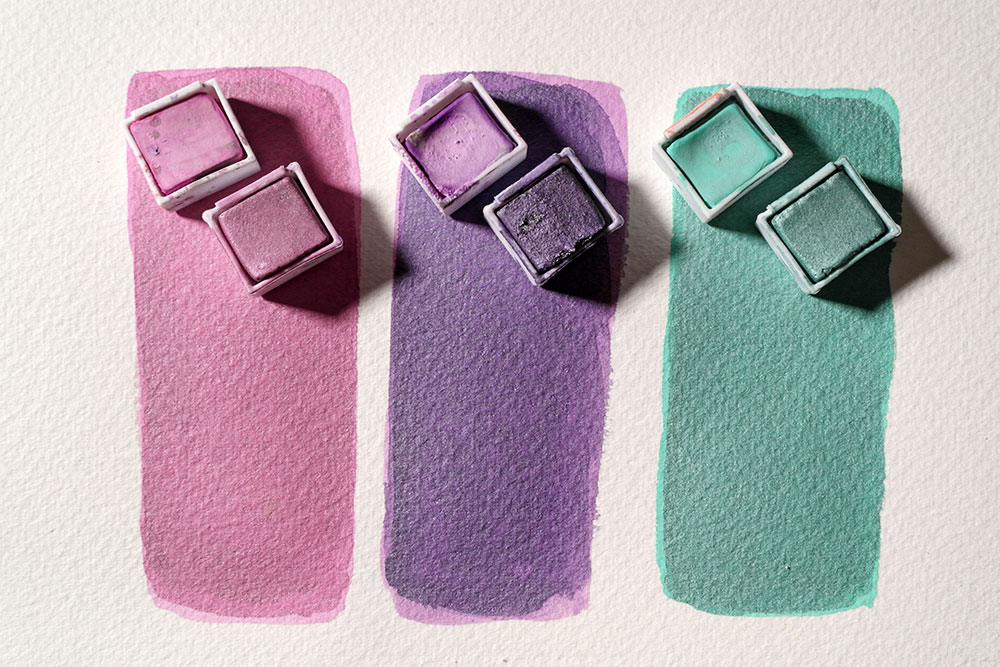 Derwent Pastel Shades mix beautifully with all other Derwent Paint Pans. You can create some particularly striking effects by combining them with the Derwent Metallic Paint 12 Pan Set. Metallic Shades can be mixed in with your pastel shades, or layered over the top to create colours with subtle shimmer. Colours can be infinitely layered without reactivating the layers below. Adding a little sparkle can be great for painting naturally iridescent subject like butterflies, fish and beetles and also makes an exciting addition to calligraphy projects.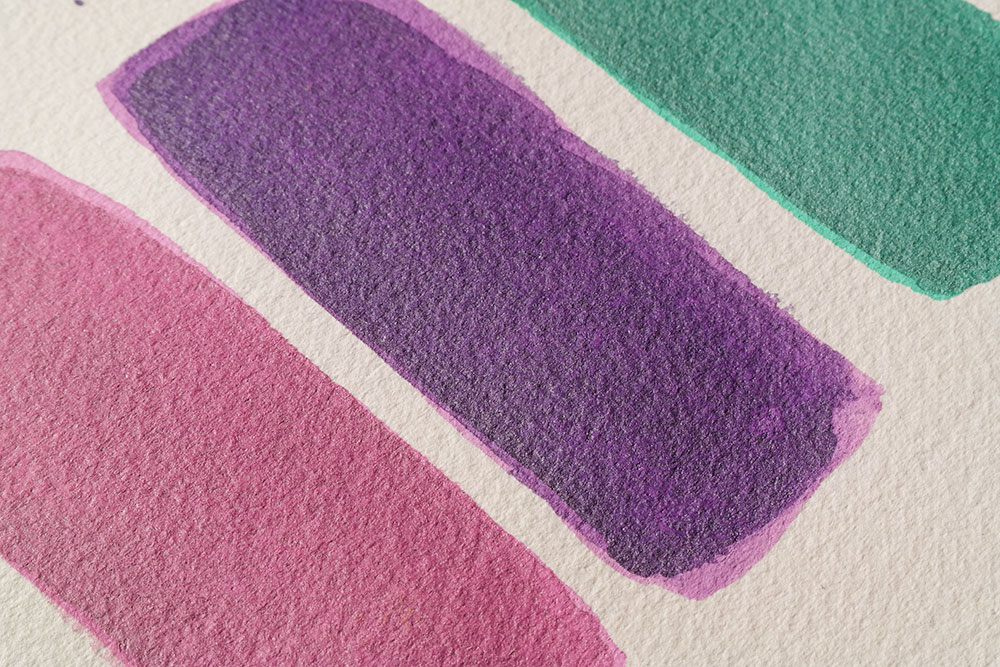 Use with Inktense for a pop of vibrant colour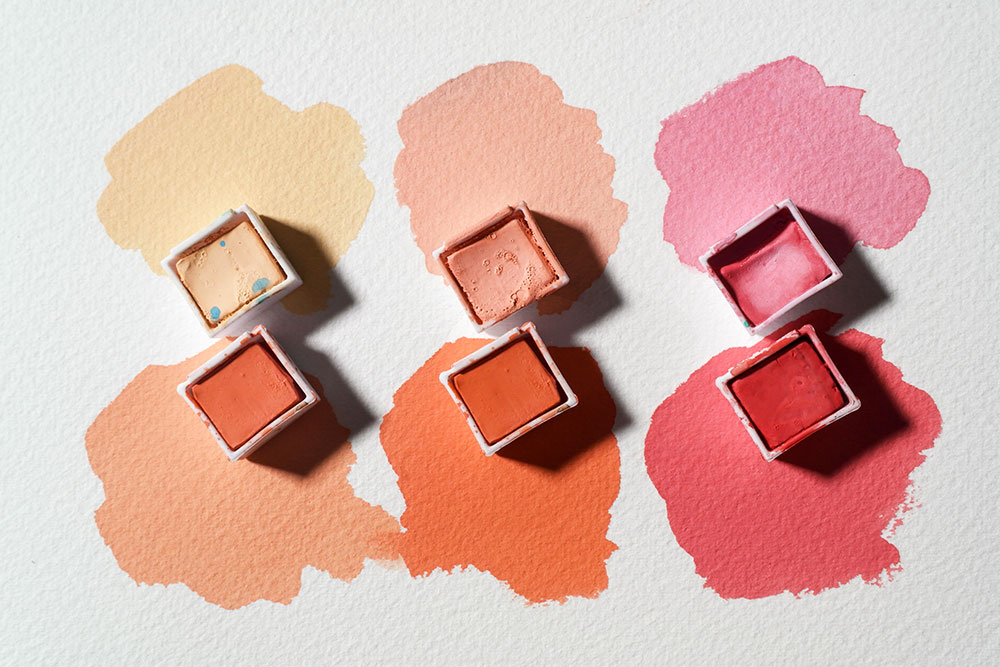 Love your Pastel Shades but occasionally need a colour with a little more oomph? No worries – the pastel shades are fully intermixable with all other Derwent Paint Pans – making it easy to give them a vibrant pop! Inktense Paint Pans are especially great for adding vibrancy quickly. Remember, a little Inktense goes a long way! Try taking a small dab of colour from your Inktense pans and add it to one of your Pastel Shade mixes. Not only can you mix these paints, you can also layer them. The colours complement each other beautifully. Try painting a vibrant Inktense background, then layer opaque pastel shade details on top!
---
Buy your Derwent Pastel Shades Paint Pan Set today, or browse the rest of our Derwent Paint Pan Sets.