Carry the brilliance of Inktense in your pocket with Derwent Inktense Paint Pan Travel Sets
Featuring Derwent's vibrant Inktense formula pressed into a pan, these sets contain everything you need to paint on the go – even a sponge and water brush! We put them to the test to see how they compare with the rest of the Inktense Range.
Derwent Inktense Paint Pan Travel Sets contain all the paints and accessories you will need to experience Inktense on the go. These sets can be used seamlessly with both Inktense Pencils and Inktense Blocks – as they are all made from the same formulation. The set includes a small sponge and water brush – these come in handy when painting out and about! Three sets are available – Inktense Travel Paint Pan Set #01 and #02 – and the Inktense Paint 24 Pan Travel Set.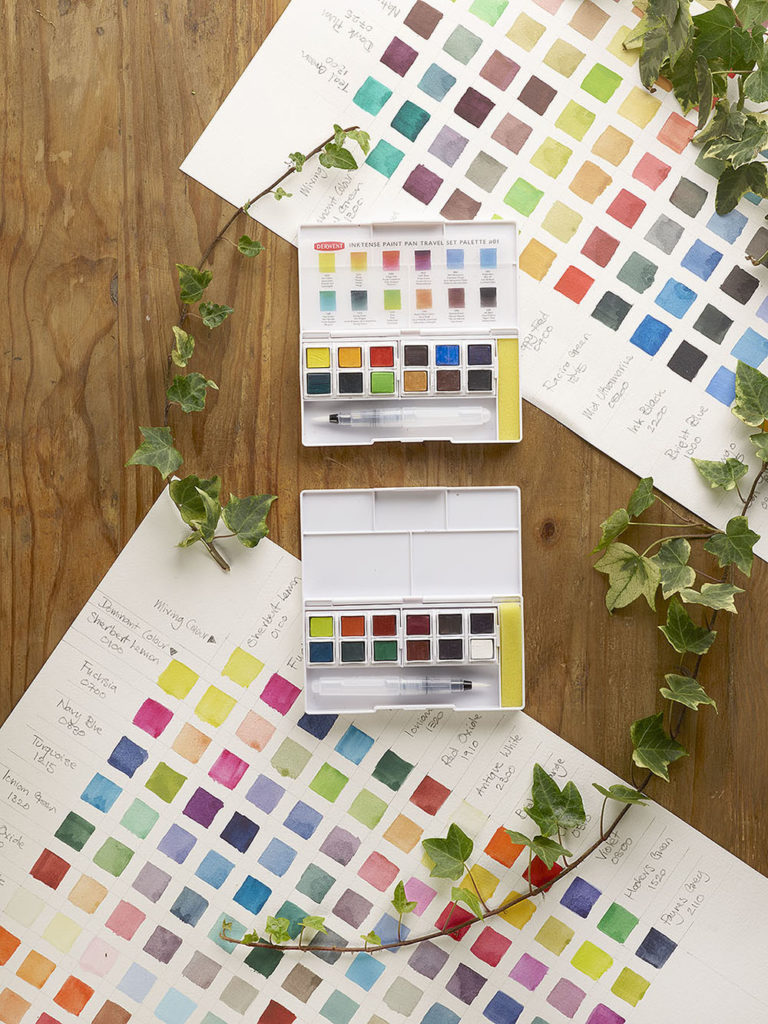 The pans are packed in a plastic box that is light enough to carry around without hassle. It is durable enough to provide protection for the paints inside. Each of the pans sits inside an inner cartridge, holding them firmly in place to prevent movement in transit. The lid is split into two large and three small mixing wells – which gives plenty of space for creating mixes on the go. The accessories are also a valuable addition to the set; although small, the sponge and water brush are perfectly big enough for small studies. The water brush included also has a removable stopper, so you can fill the brush before you embark upon your painting trip without worrying about it leaking.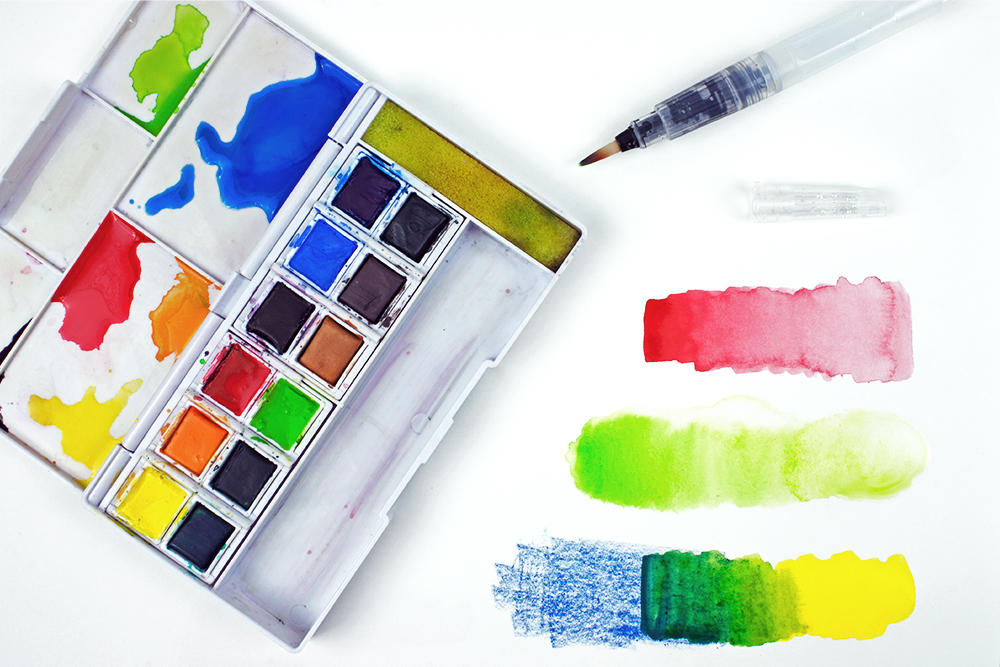 Colours in the Inktense Paint Pan Sets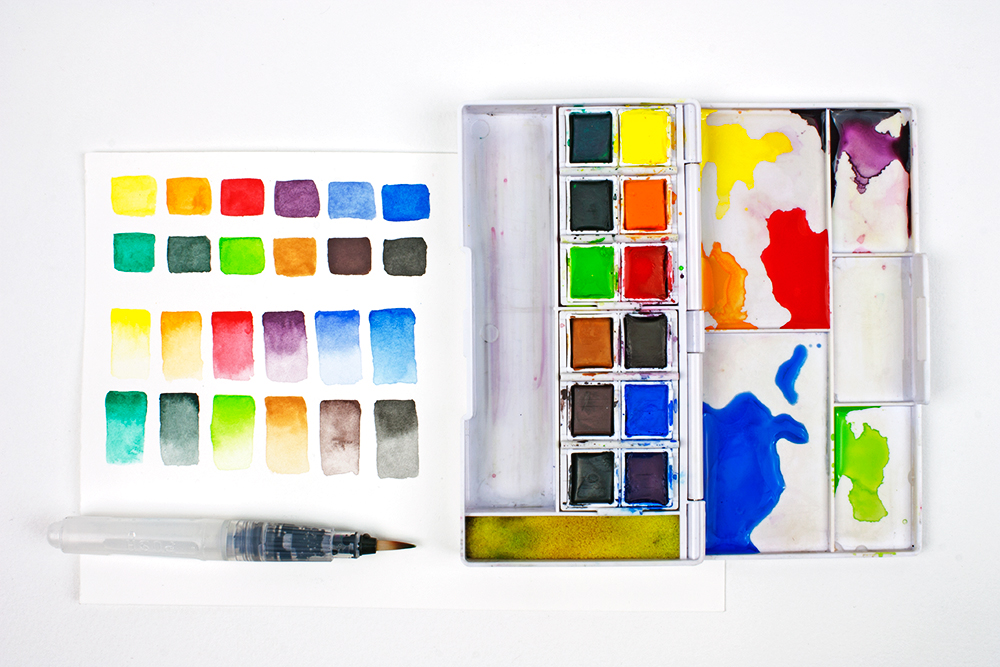 The #01 and #02 sets each contain an assorted selection of 12 paint pans. The 24 pan set combines colours from both sets into one more extensive colour palette.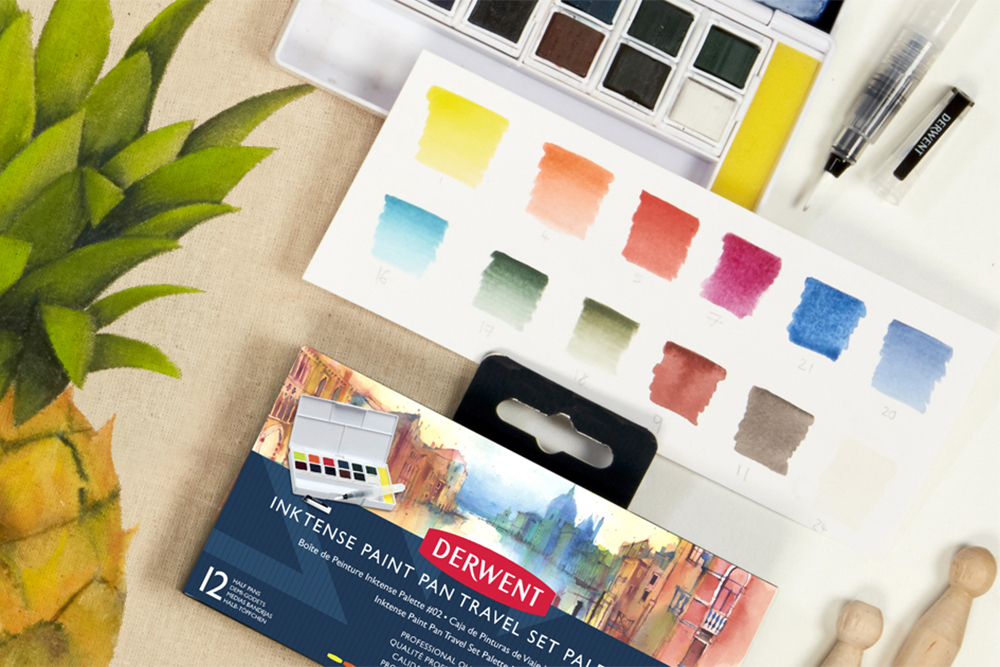 Colour Mixing & Lighfastness
These colours all boast good lightfastness ratings – 8 on the Blue Wool Scale – so will remain vibrant up to 100+ years under museum conditions. They work like a traditional pan watercolour; just lift the colour with a wet brush and apply to your painting surface. One notable difference between Inktense pans and Watercolour pans is that, once dry, your Inktense washes will be permanent. Applying subsequent layers should not disturb any dry colour underneath. Although similar to watercolour, it should be noted that these Inktense pans are not intended to be a direct swap. They do have slightly different working properties.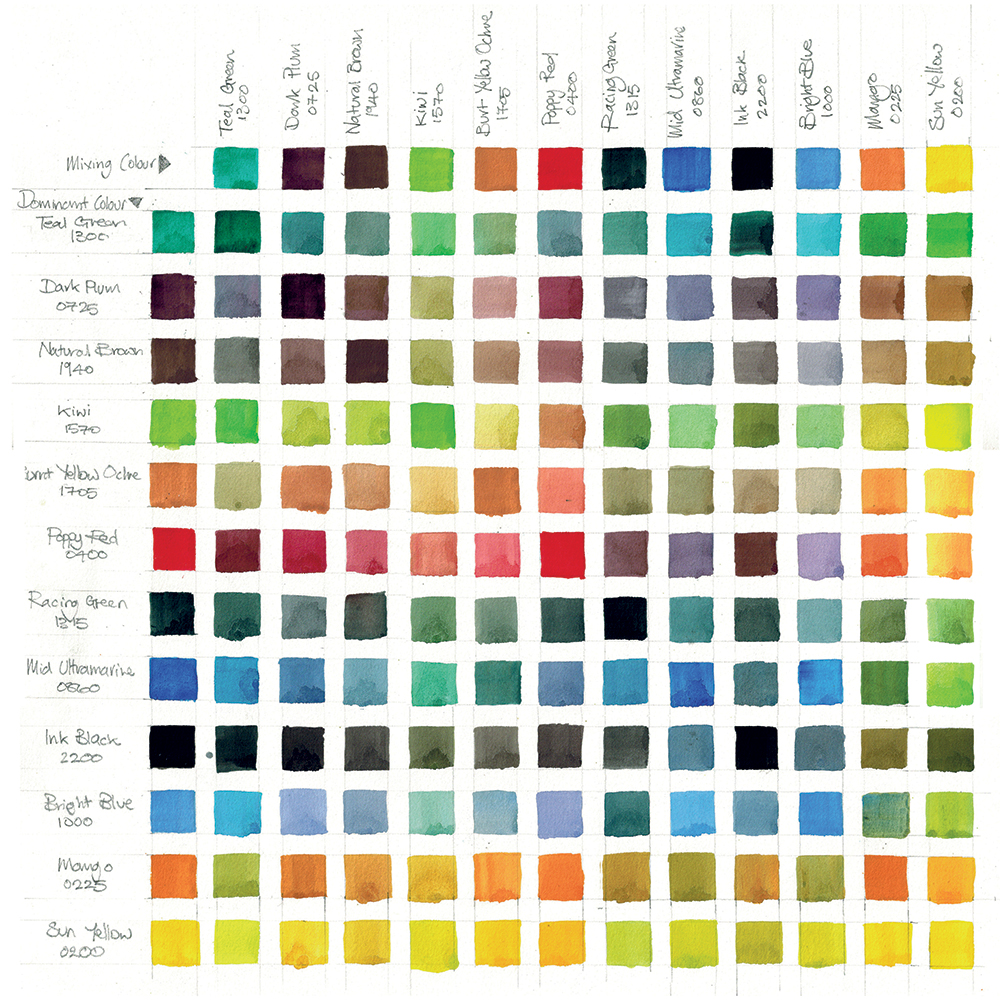 The Derwent Inktense Paint Pan Travel Set certainly lives up to the 'Inktense' name. The colours are beautifully vibrant and the colour selections are broad enough to create lots of interesting mixes. When glazing and layering colour it is best to allow your washes to dry completely before adding further colour. We found that if there is any dampness it can cause the colours to bleed.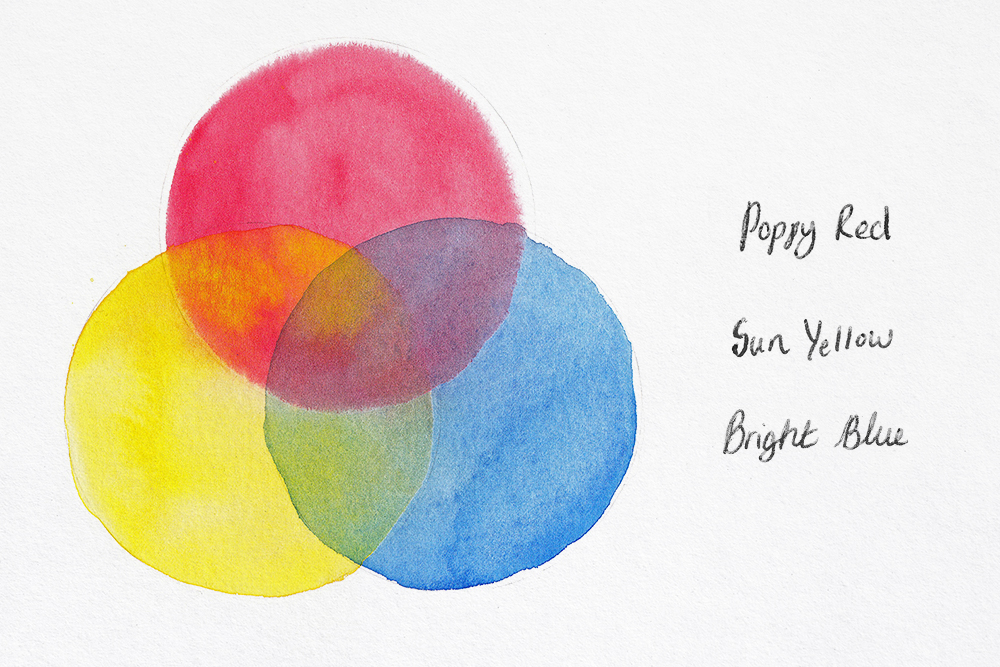 Use with other Derwent Accessories
Although this set contains more than enough to complete a small study when you're out and about, it is great to have a few more tools and accessories on hand if you are planning on creating larger or more ambitious work. The waterbrush included with the set is great for small paintings, but if you are working on anything larger it may be worth bringing along something more substantial. The new Derwent Push Button Waterbrushes are small enough to fit in a bag, but their large barrel is big enough to hold a considerable amount of water. It is probably still advisable to bring along some extra bottled water, but you will find these push button water brushes require less refilling.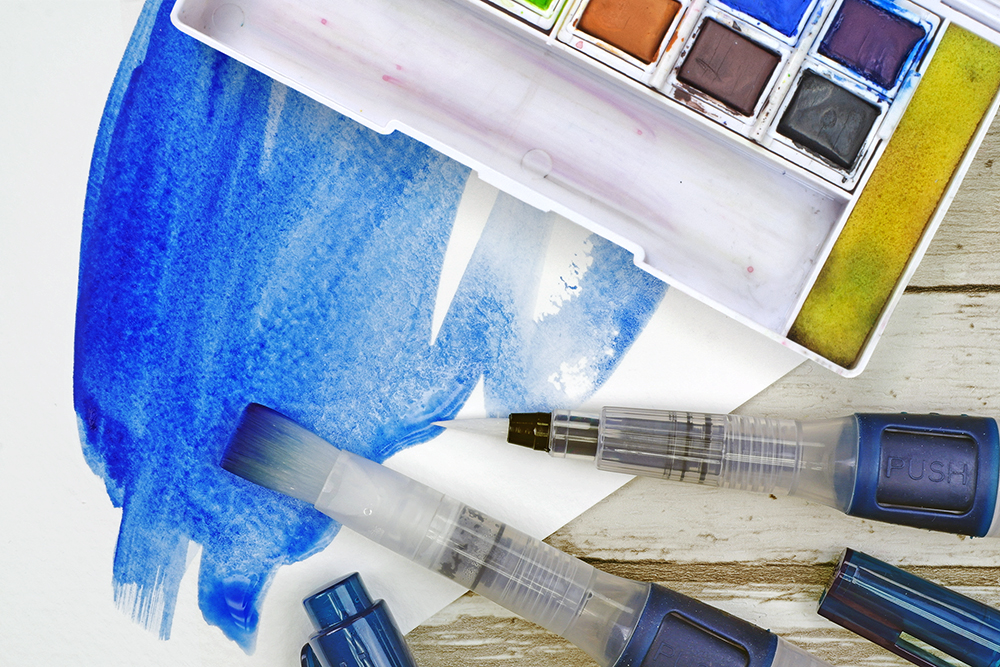 If you're looking for a bag to contain all your Derwent supplies when you're on the go then look no further than the Derwent Carry-All. This great storage solution can carry up to 132 pencils and a selection of accessories, so it's great if you want to bring along some pencils to complement your pan set. Don't need the space that the Carry All offers? Why not try the Derwent Pencil Wrap or the Derwent Art Pack instead?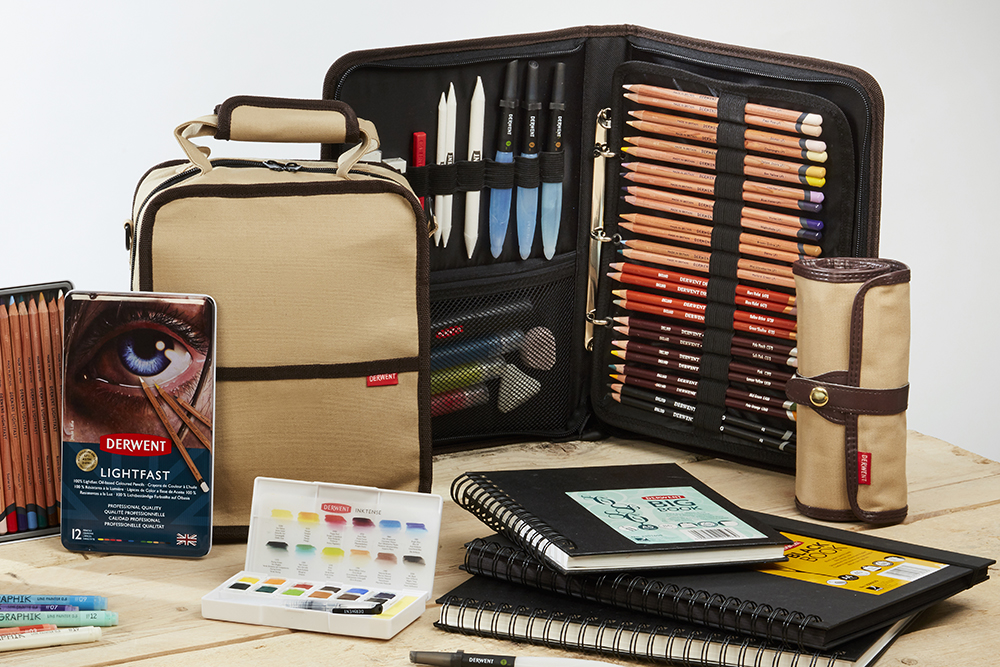 Pros and Cons of the Inktense Paint Pan Travel Set
Considering both the Inktense Pencil and Inktense Block range extend to 72 colours, you do feel a bit limited in colour choice with only 24 colours. All 24 of the pan colours are fully intermixable, so it does leave you with plenty of colour combinations and mixes at your fingertips. However Inktense fanatics might be disappointed if their favourite colours do not feature in any of the sets. There is the option to refill any empty pans with sliced sections of Inktense block. However this lacks the convenience of a pre-filled pan.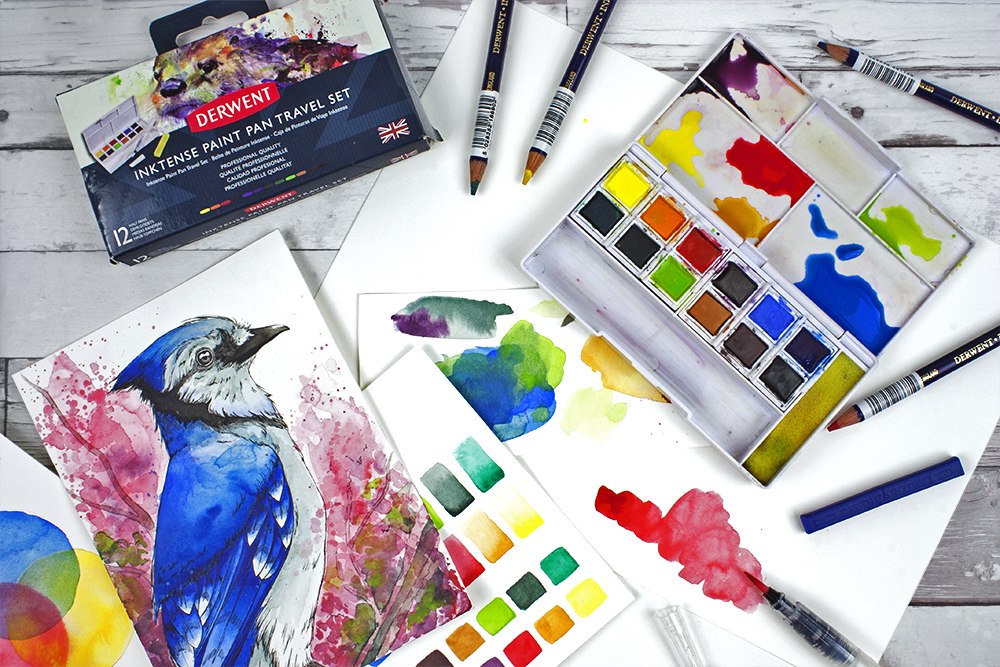 The box itself is a great selling point. It is small enough to fit in your bag, and provides enough protection for the contents without being too heavy or cumbersome. The water brush, although easy to use, does not have a very large reservoir. You will probably find that you need to carry a water bottle with you. Or have a water source nearby to replenish it.
Derwent Inktense Paint Pan Travel Sets are also vegan. So artists conscious of limiting or eliminating animal-derived products from their art supplies will be happy in the knowledge that these paints are completely cruelty free.
You can find the Derwent Inktense Paint Pan Travel Sets on our website by following the underlined link. We also stock the full range of individual Derwent Inktense Pencils, selected Inktense Pencil sets and Inktense Block Sets.