The most Googled artist in every country in the world
The COVID-19 pandemic is keeping many of us from the worlds museums and art galleries. In the UK the industry has been devastated yet again by the latest government announcement that they will have to remain closed until 17th May, 5 weeks after libraries and shops.
People are having to turn to the internet as the only way of viewing the work of so many world famous artists. With this in mind, we wanted to find out which artists were searched for the most in 2020 and who has been most popular in each country throughout the pandemic.

We've created a world map to show the world's most popular artists at a glance and also a breakdown of the winners in each continent.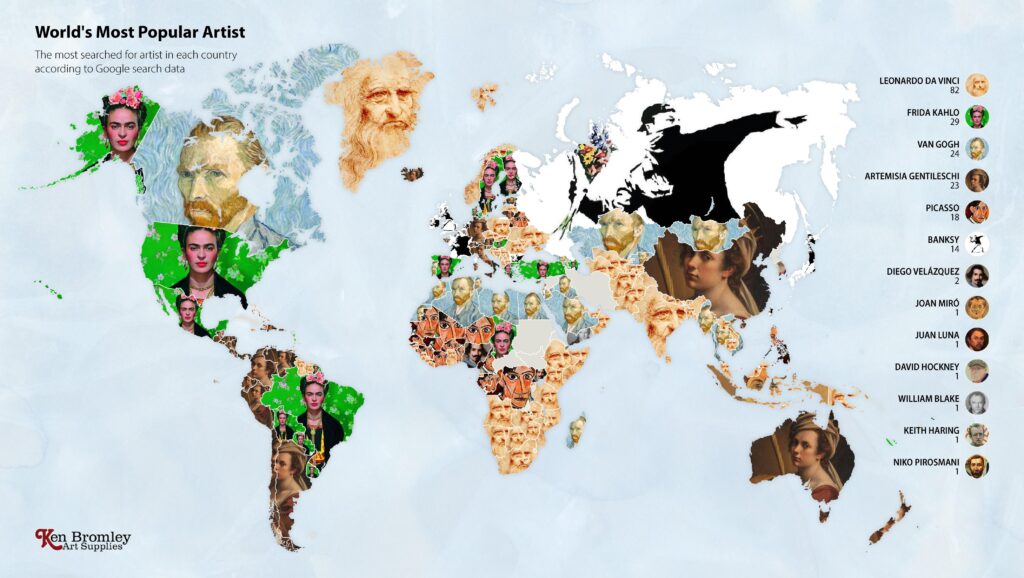 Who are the most popular artists worldwide?
The data is in and it has revealed that Leonardo da Vinci is the world's most popular artist, winning in a total of 82 countries. The top 7 winning artists can be seen in the table below.
| # | Artist | Countries won in |
| --- | --- | --- |
| 1 | Leonardo da Vinci | 82 |
| 2 | Frida Kahlo | 29 |
| 3 | Van Gogh | 24 |
| 4 | Artemisia Gentileschi | 23 |
| 5 | Picasso | 18 |
| 6 | Banksy | 14 |
| 7 | Diego Velázquez | 2 |
Leonardo da Vinci, best known for his Last Supper and Mona Lisa paintings, which can be found in the Santa Maria delle Grazie in Milan and the Louvre in Paris, won in 82 countries worldwide.
The iconic Mexican feminist painter Frida Kahlo came second winning in 29 countries, with Artemisia Gentileschi coming in forth, making these two the only female artists to make the winners list.
Dutch artist and tortured soul Vincent van Gogh third winning in 24 countries. Painted using oil paint, Van Gogh's famous Starry Night painting is housed at the Museum of Modern Art in New York.
However, here in the UK, our very own street artist Banksy came out on top… bucking the trend of Europe's overall preference for Da Vinci. Banksy also came out in sixth place globally showing that the artists' work is inspiring people all over the world.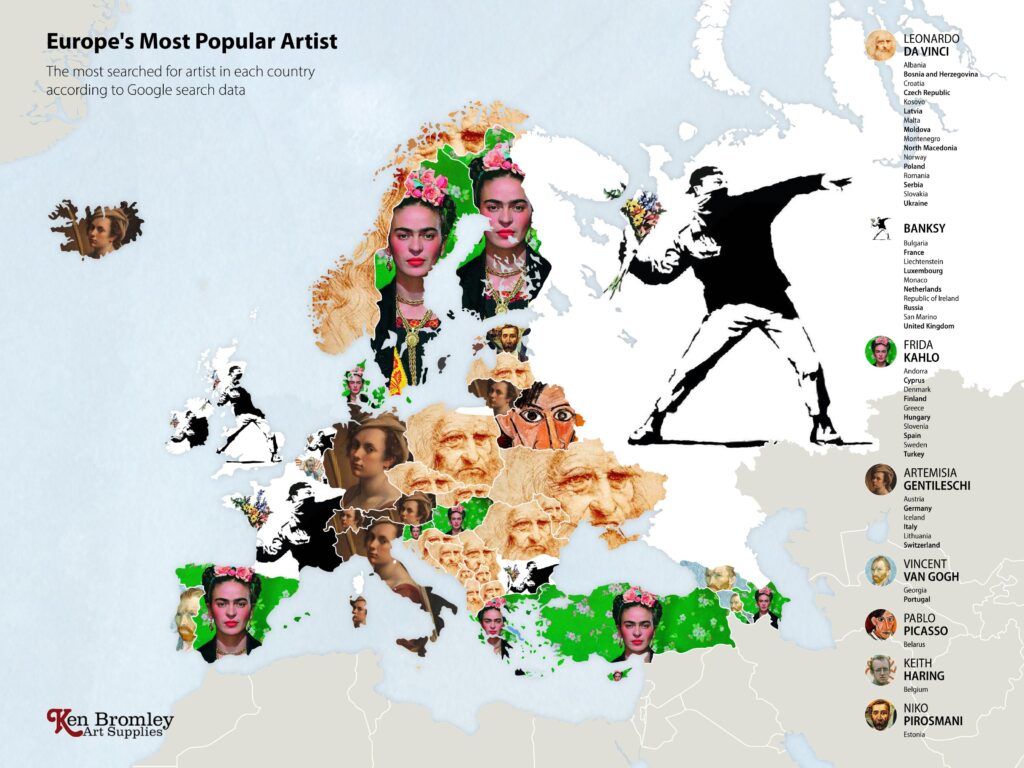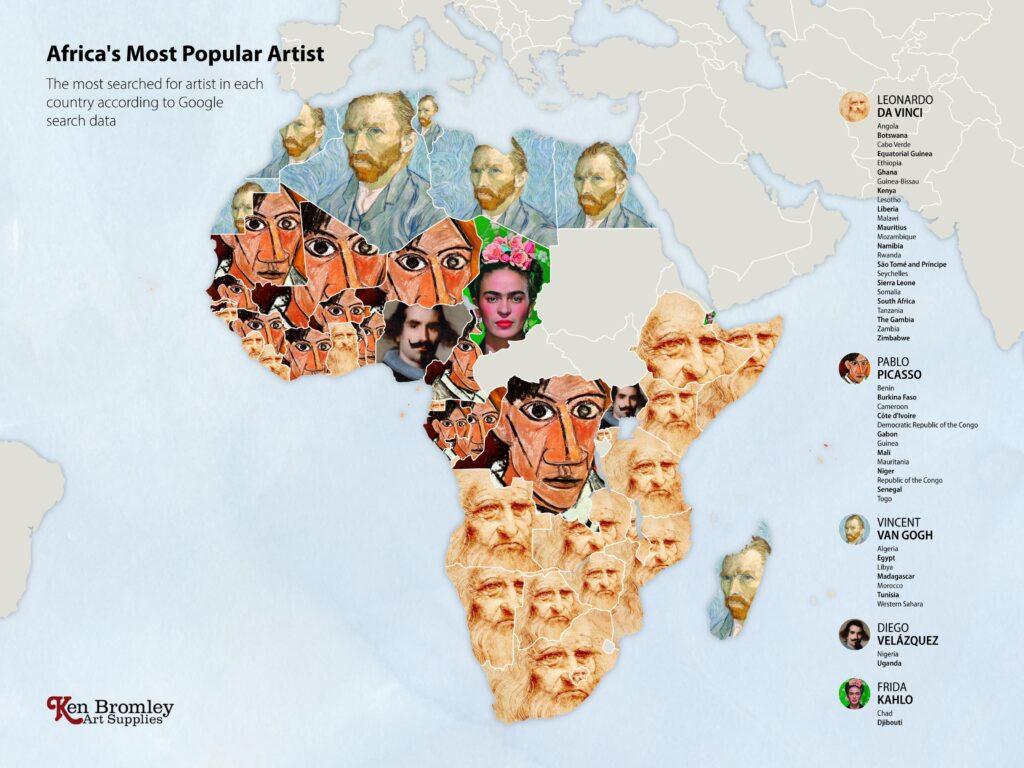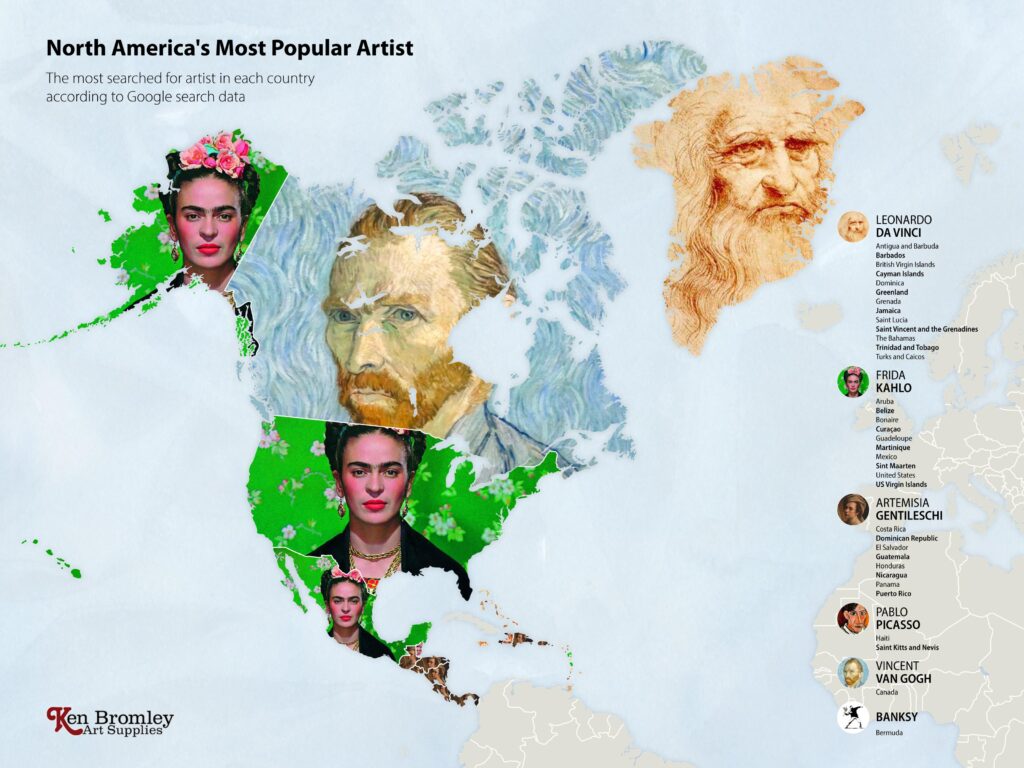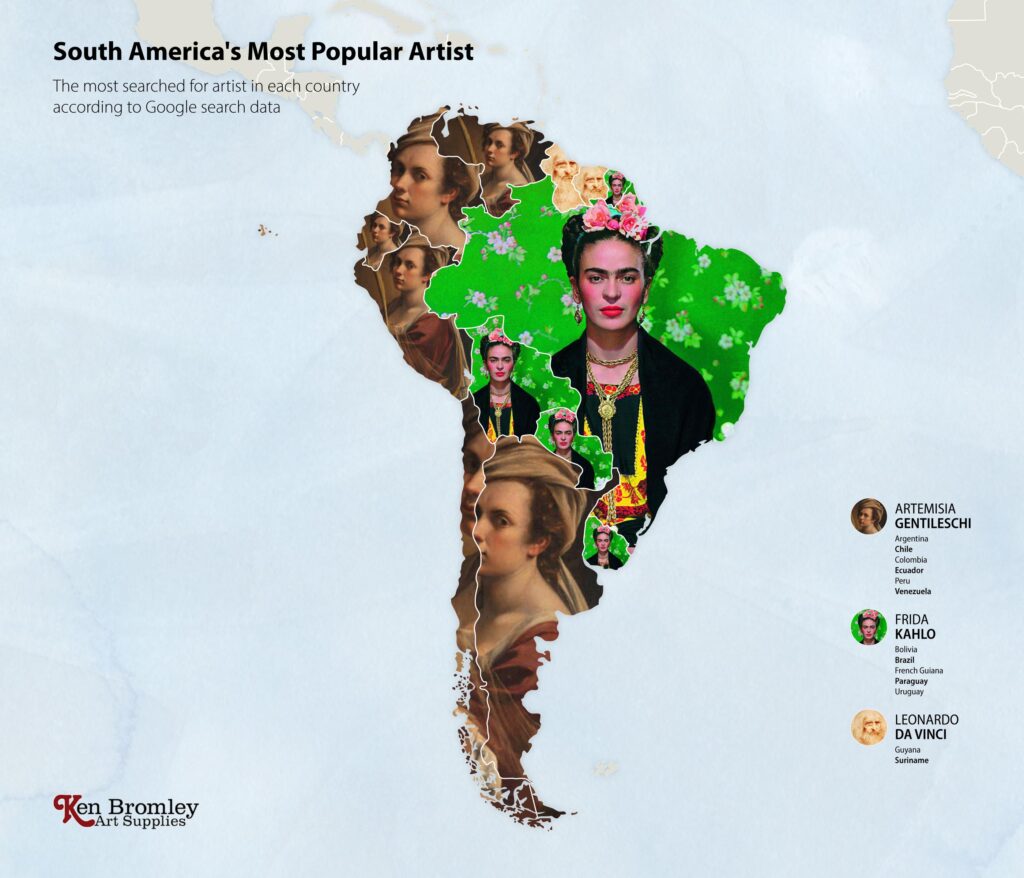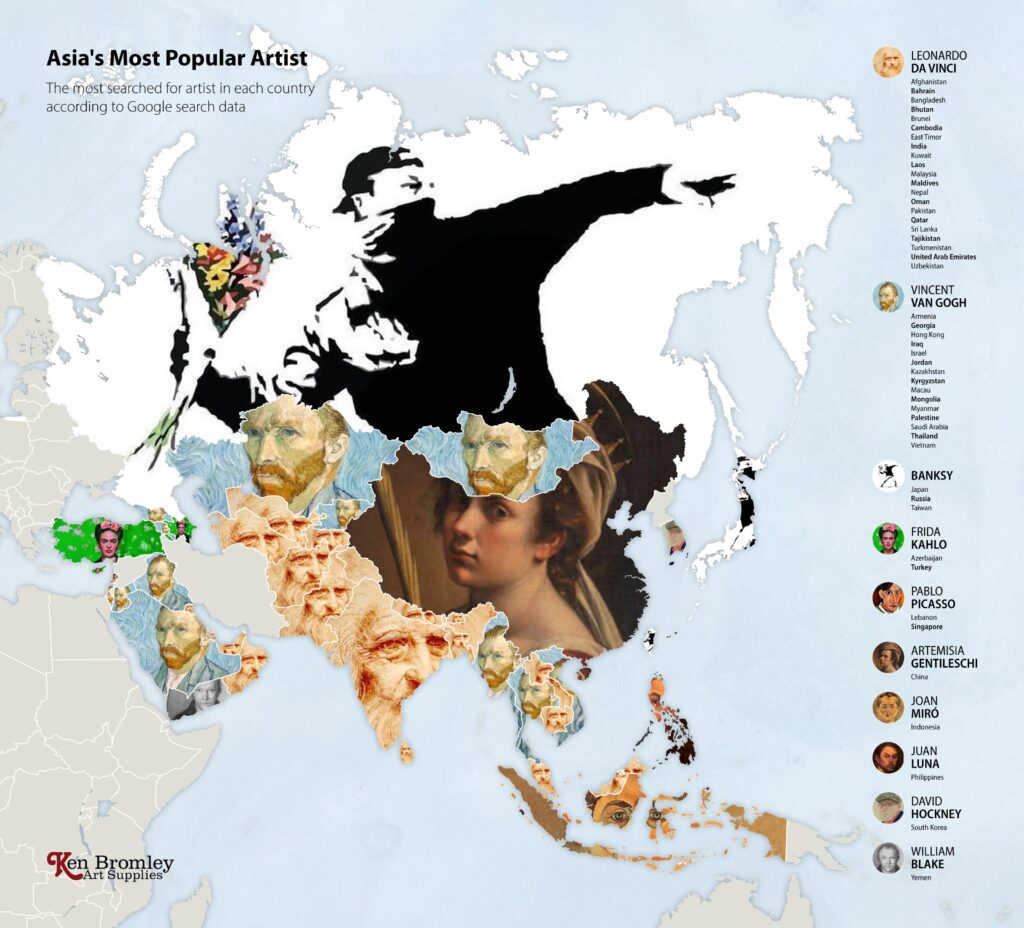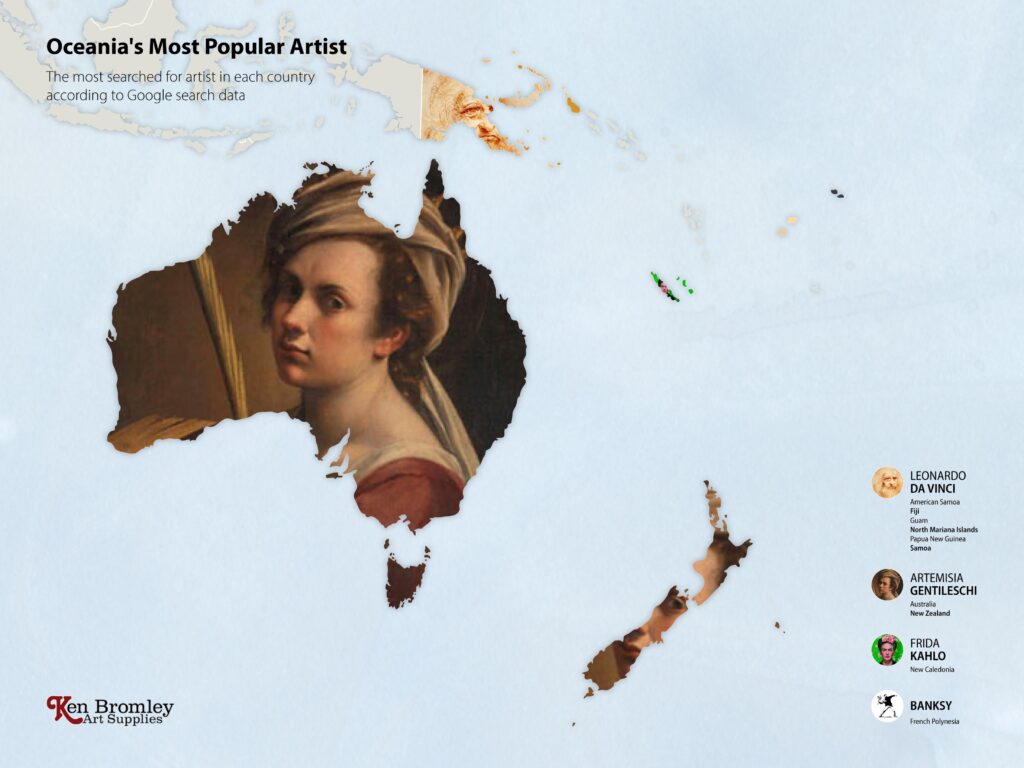 Methodology
Worldwide search data analysed by ArtSupplies.co.uk in February 2021 using Google Keyword planner. The top artist was found using search data for 2020 in each country for each artist.
Please note: Not all countries had enough data to be featured, so we have only included the countries with enough data to analyse.