Beginners Guide to Starting Out with Gold Leaf
History of gold leaf in art
Gold leaf has been used in art for centuries. In ancient times pure gold was beaten down into thin sheets of metal. This technique dates as far back to ancient Egyptian times seen in relics and artefacts from that period. Nothing compares to the rich warm glow of gold leaf shimmering through a painting or glistening gold accents drawing your eye into a painting.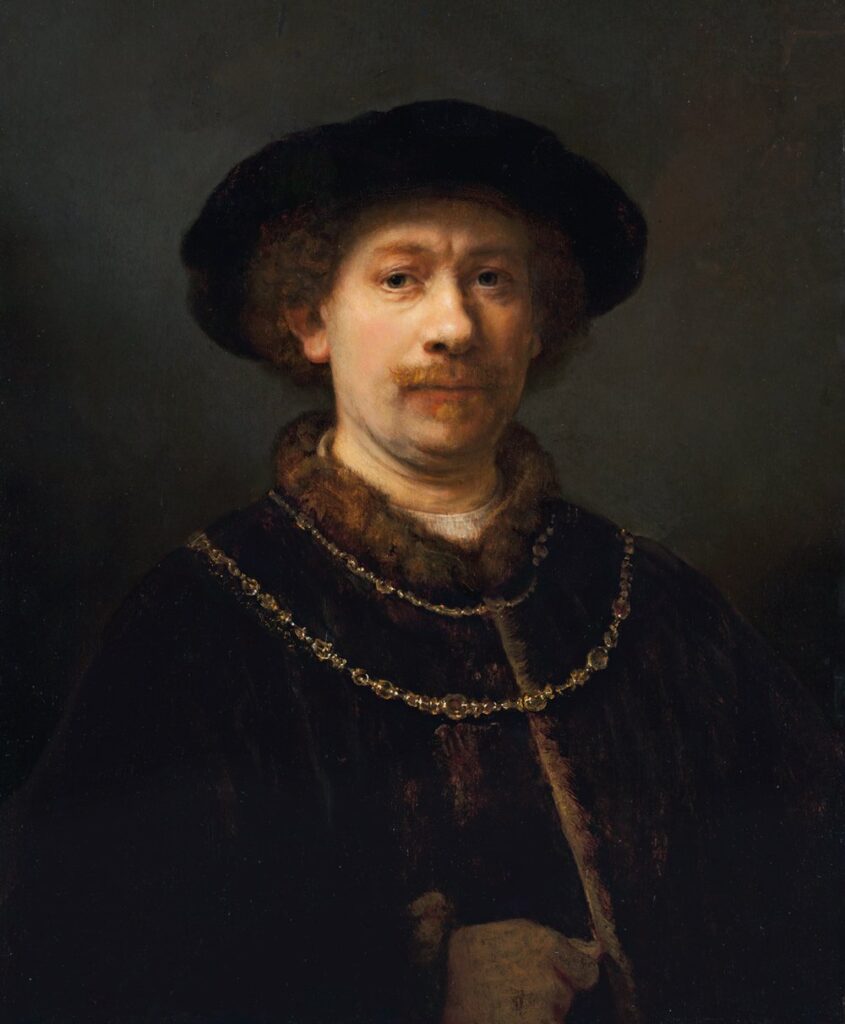 A couple of my favourite known old master artists who used gold leaf in their paintings are Rembrandt and Klimt. Rembrandt was known for applying gold leaf to the surface of a sheet of copper then painting in oils on top of the gilded surface. His paintings had a light and luminous quality and gold specks can be seen shining through in areas. Austrian artist Gustav Klimt is widely known for the beautiful glistening artwork he completed during his 'Golden Phase'.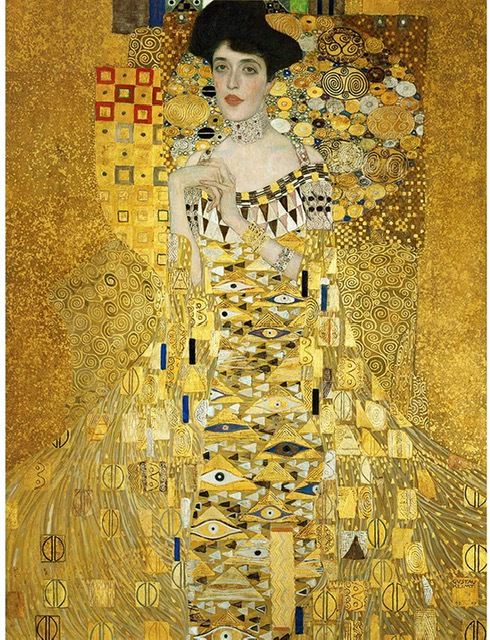 Real gold leaf versus imitation leaf
Genuine gold leaf is sheets of real gold hammered down very thinly to make a leaf that can be used for gilding purposes.
There are many other types of metal leaf, from real silver, copper and imitation gold. A wide variety of colours and patterns are also available, known as variegated leaf. Imitation gold leaf is made from copper and zinc.
Real precious metal leaf such as genuine pure silver and gold leaf tend to be more expensive and delicate than other metal leaf (copper, imitation gold and variegated leaf). Imitation gold is slightly thicker than real gold leaf, less expensive and you get a lot more for your money BUT it will tarnish if it's not sealed due to its high copper content. Genuine gold leaf with a higher rating of 22cts will not tarnish. Real silver leaf will tarnish unlike the cheaper aluminum leaf version.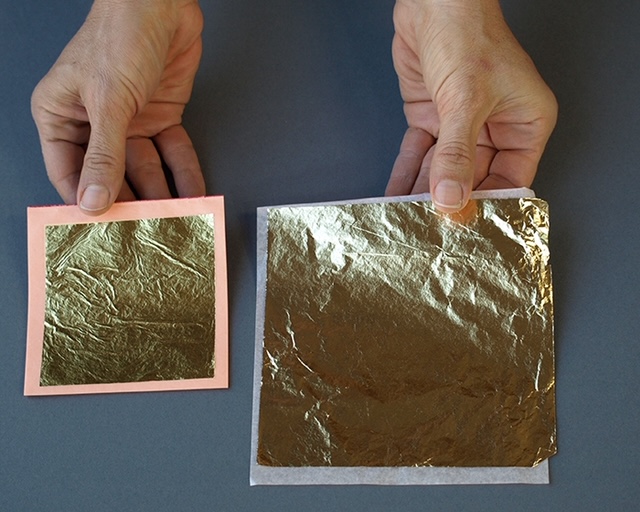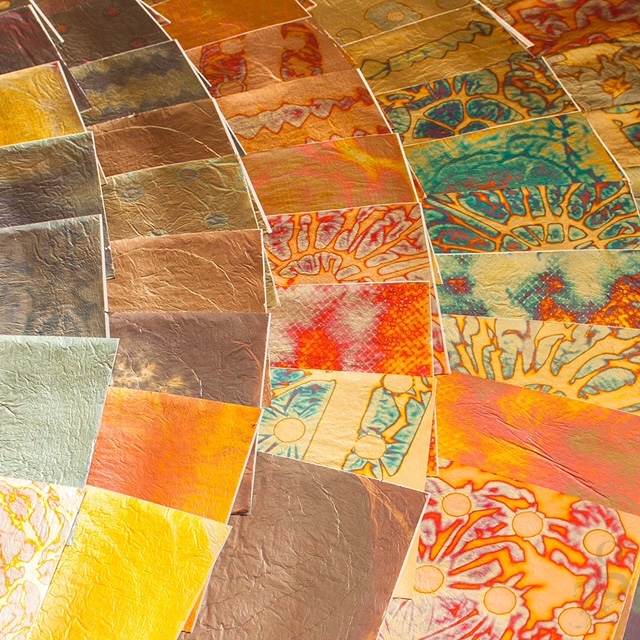 Gilding with adhesive or size
There are two types of gilding: water gilding and gilding using leaf size or adhesive. I have never tried water gilding, it's a more complicated process to do. I use a gold size for applying leaf, Pebeo gilding paste or Japanese gold size.
If gilding on top of dry oil paint I use Japanese gold size adhesive because it is oil based. For most other gilding purposes, I use Pebeo gilding paste (Acrylic Gold size is an alternative) which is water-based and suitable to apply on top of acrylic paints.
Varnishing/sealing
I always use a sealer/varnish when working with imitation gold leaf to slow down and help reduce the oxidation process and it will give additional overall protection. A varnish such as Goldens MSA with UVLs can be used. Avoid using oil paint on top of this varnish as it is removable for archival purposes and not recommended to be painted over. Some artists use shellac with good results.
I don't recommend painting in acrylics on top of unsealed imitation leaf as acrylic paint contains ammonia which can tarnish the leaf. You can outline the image to be painted and gild around it and then fill in the painting outline afterwards. If sealing leaf before or after painting, be careful because some water based acrylic varnish/sealers can tarnish unsealed metal leaf!
I personally tend to stick to solvent based varnishes. A method I have used frequently with success is to paint in oil paints on top of imitation gold leaf and varnish once the paint is dry. I use two coats leaving a week or so between coats.
You can seal gold leaf with a permanent varnish and then paint in oils. Or seal the leaf after you have painted in oils and the oil paint is dry (within 6 months). Although pure gold leaf will not tarnish, I would still recommend varnishing over pure gold leaf for added protection and durability purposes against accidental scratches/scuffing etc.
Top tips when using gold leaf
Real gold leaf will not tarnish. Varnish recommended but optional.
Imitation gold leaf will tarnish so varnish needed. Unless you are going for an antiquated look.
Acrylics on top of unsealed imitation leaf can tarnish the leaf.
Oil paints on top of unsealed imitation leaf will not tarnish the leaf.
Always use a gloss varnish and not a matt varnish to keep the glossy shine.
Be careful, some acrylic products including sealers/varnishes can tarnish the leaf you are trying to protect. If you do want acrylic products opt for a fast-drying acrylic medium.
You can choose to seal the leaf before painting with a permanent sealer and then after the painting process with a removable sealer (for archival purposes).
If gilding on top of oil paint use an oil or solvent based size.
If gilding on top of acrylic paint use a water-based leaf size/adhesive.
The application process with adhesive / size
SURFACE PEPARATION – if gilding on wood I lightly sand the surface first, apply gesso and when gesso is dry I paint a layer of acrylic paints onto the surface. If gilding on canvas I apply gesso followed by a layer of acrylic paints before gilding.
APPLYING ADHESIVE – I brush on a water-based adhesive when gilding over acrylic. If gilding over oil paints, you really need to make sure the paint is dry through and this can take several months! If you gild over oil paints that are not thoroughly dry, the leaf can adhere to areas where you don't want it to be. You must also use a solvent or oil-based adhesive when gilding over oil paints.
LEAF APPLICATION – lift loose leaf and carefully place it where you would like gilded, place wax paper over the top and rub gently to smooth it in place. Alternatively, you can place wax paper on top of the leaf and rub to create a static to lift and stick the leaf onto the paper. Then place the leaf in position over the adhesive and gently burnish with your hand. Transfer leaf is already attached to wax paper so you just place it on top of adhesive areas and gently rub until the leaf adheres.
CLEANING OFF EXCESS LEAF – use a soft brush to brush away excess leaf from the canvas or wood panel. You should now have a nice shiny gilded surface.
Examples of my work using gold leaf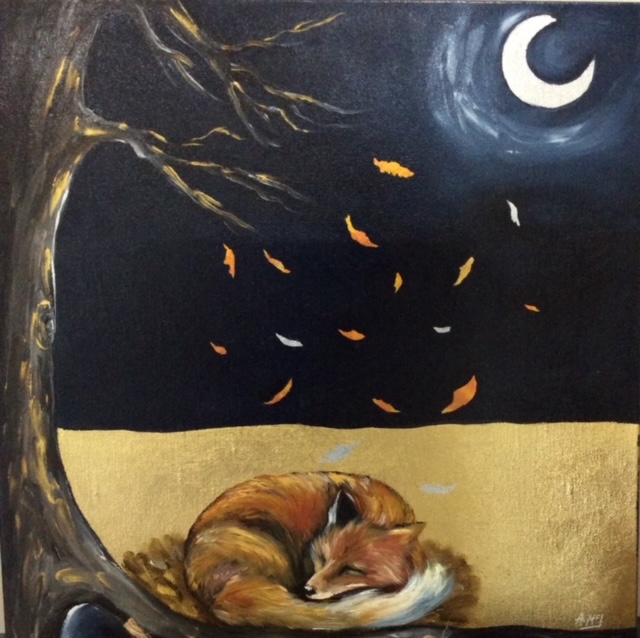 'Fox Under Moon' is example of my artwork. I have used imitation gold leaf, silver leaf and variegated leaf. A mixture of acrylic and oil paints have been used. Consideration regarding varnishes, sealing, drying times and how and when to apply the leaf had to taken for this piece.
---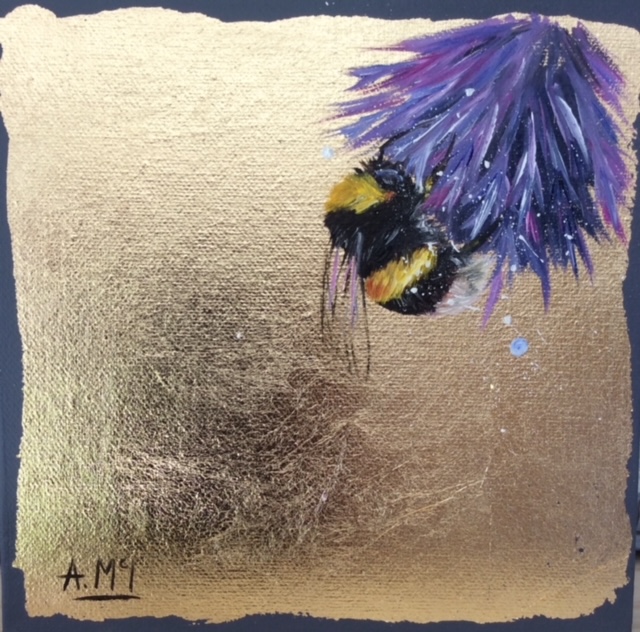 'Bumblebee' is an example of my artwork using imitation gold leaf. I applied a layer of gesso to the canvas and once dry I painted a coat of dark grey acrylic paint.
When acrylic paint was fully dry I covered the canvas with Pebeo gilding paste because I wanted the edging to be free of adhesive to give an aged torn look. When size was tacky and ready, I applied the leaf, painted my subject in oils, let dry and finally applied a removable varnish. I could have opted to seal the leaf with a permanent varnish before painting in oils for added protection.
---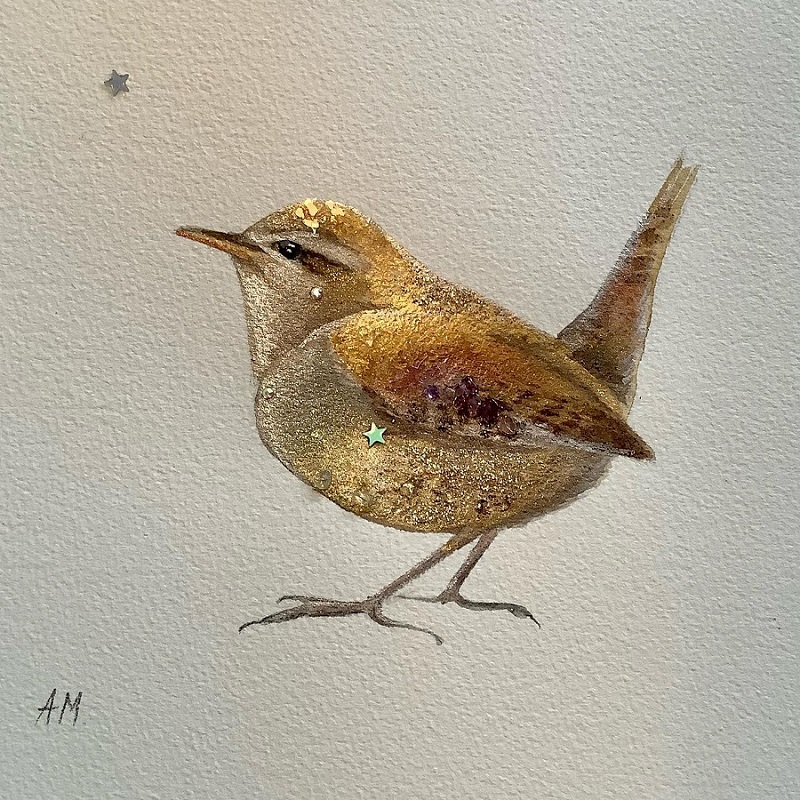 'Beautifully Made' is an example of my latest embellished work. This is a collection of embellished artworks shining a spotlight on our beautifully made natural world. I have incorporated genuine gold leaf touches in areas along with art glitters, handmade gouache paints, semi-precious gemstones and pearl ex.
---
Alison McIlkenny spent 10 years working as a Jewellery Designer and Maker after receiving an advanced Diploma in metal clay through Mid-Cornwall School of Jewellery. Recently she has returned to her first love, painting and drawing. She currently works in a variety of mediums from her studio in Moira, Northern Ireland.
Alison has decided to do an ongoing series of embellished works the 'Beautifully Made' series. Focusing on nature subjects and especially bees. She is intrigued by how intricately made every living thing is around us, noting the beauty in everything, when you look close enough. From the veins on a simple leaf to the amazing iridescent colours of an insect. Alison believes we are also intrinsically connected and we need to cherish and protect nature in order to maintain healthy ecosystems and balance.
You can find out more about Alison and her work on her website: www.alisonmcilkennyart.co.uk