Testing the Relaunched Frazer Price Watercolour Palette Box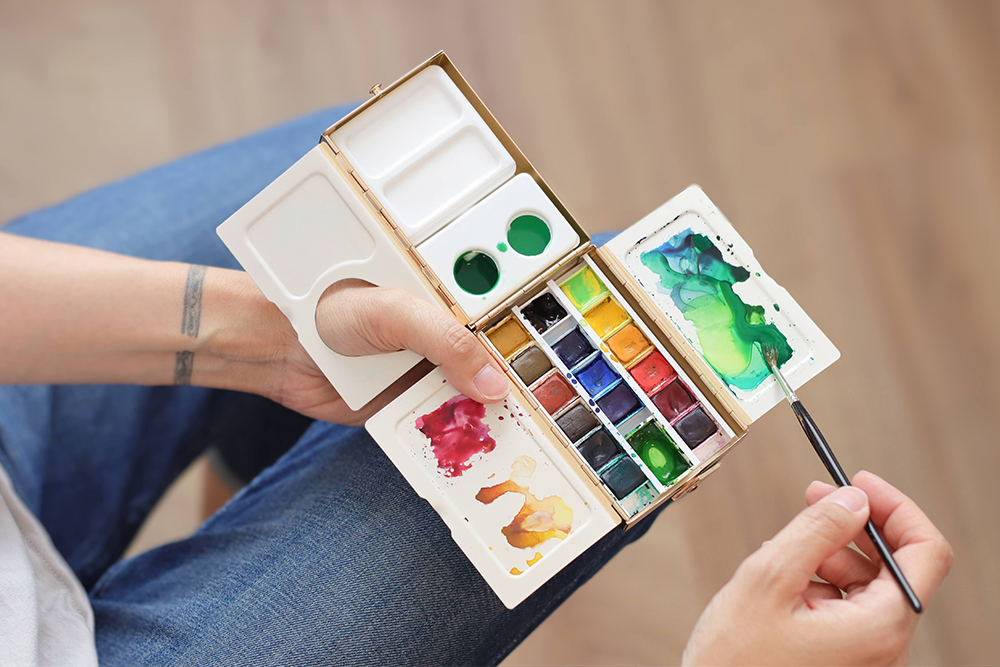 The Frazer Price Brass Watercolour Palette Box is designed by an artist for artists – and is back after a 30 year gap! This versatile hand-held palette is perfect for any watercolourist, whether you're in the studio or painting outdoors. Both beautiful and functional, this palette had a popular following during its original run – now a new generation of painters can experience it. We put it to the test to see why it ticks so many boxes for watercolour artists.
The Frazer Price Watercolour Palette Box was first available in the 1980s. The box was very popular during its initial run, but after a few years production stopped. Since then, artists looking to try out this elusive box have had to scour the web for a second-hand palette – where they often command a high price! The reintroduction of this box affords a new generation of artists the opportunity to experience this palette – and its not hard to see why the original was so popular!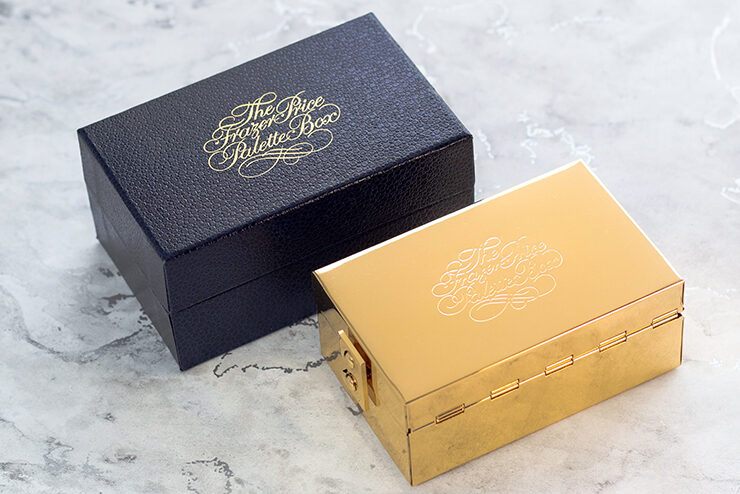 The new Frazer Price box boasts all the benefits of the original plus the brass box has the extra durability of an electroplated brass finish. Presented in a luxurious gold-foil stamped presentation box, this palette would make a beautiful gift for any watercolourist.
The History of the Frazer Price Watercolour Palette Box
The Frazer Price Watercolour Palette Box was the brainchild of artist Tony Frazer Price. During the 70s and 80s he was a travelling and working for Newsweek International. His job included lots of international travel and he made the most of every opportunity to sketch. He found that there was plenty of time waiting around on his global travels – time that he could use to paint. So he began trying to source a portable watercolour paint box ideal for the travelling watercolour artist. Nothing was available. There were plenty hand held held options for oil painters – an essential for painting en plein air – but no equivalent for watercolourists. Tony made the decision to fill this gap in the market himself. Beginning with just a cardboard mock up, the Frazer Price box evolved from there.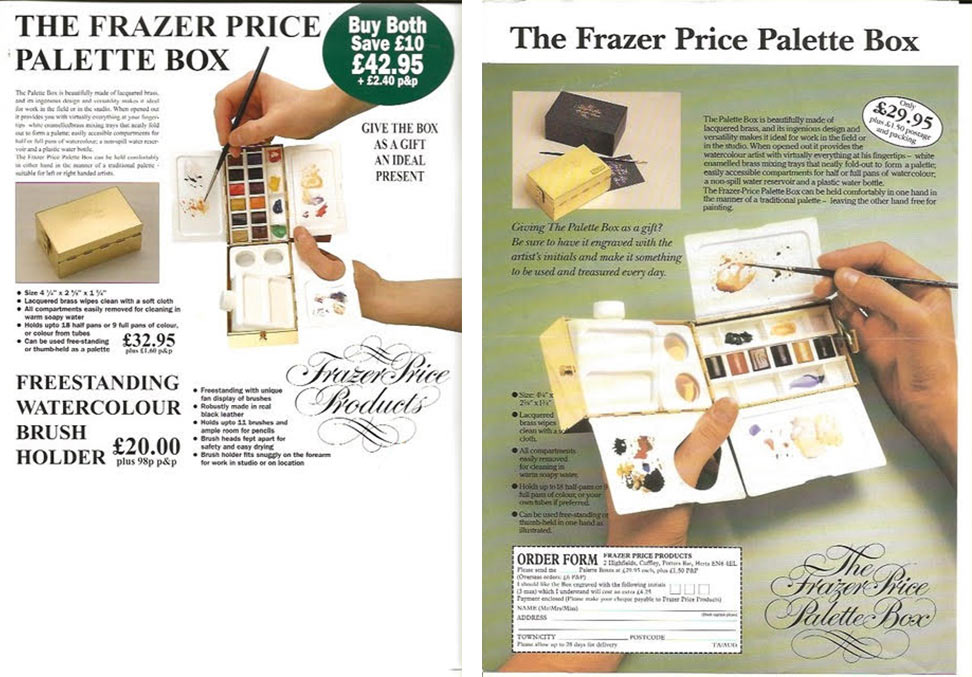 Tony found a company with skilled workers who were able to start making the intricate box components. Back then, with no online selling and marketing, it was up to Tony to promote the box and fulfil orders after a days work. He kept it up for a few years, but found the process tiring and eventually stopped production.
The New and Improved Frazer Price Watercolour Palette Box
The relaunch of the Frazer Price Watercolour Palette Box includes the charms of the original with some added benefits. One major change is that the box is no longer made from laminated brass. Instead, major improvements in manufacturing mean that the brass the box is made in now has a durable electroplated brass finish.
The palette is presented in a luxurious presentation box. An ornate Frazer Price logo embellishes both the box and the palette. A gold-colour foil logo appears on the box, and a logo stamp on the brass palette. When closed the palette measures 110mm x 68mm x 44mm.
The watercolour box is easy to open using the brass catch at the end. The two hinged compartments open to lie flat and with the catch rotated 180°, the box stands firm. The top section has a compartment to put your paint pans in, and has two flat palettes with shallow indentations to either side for mixing your paint.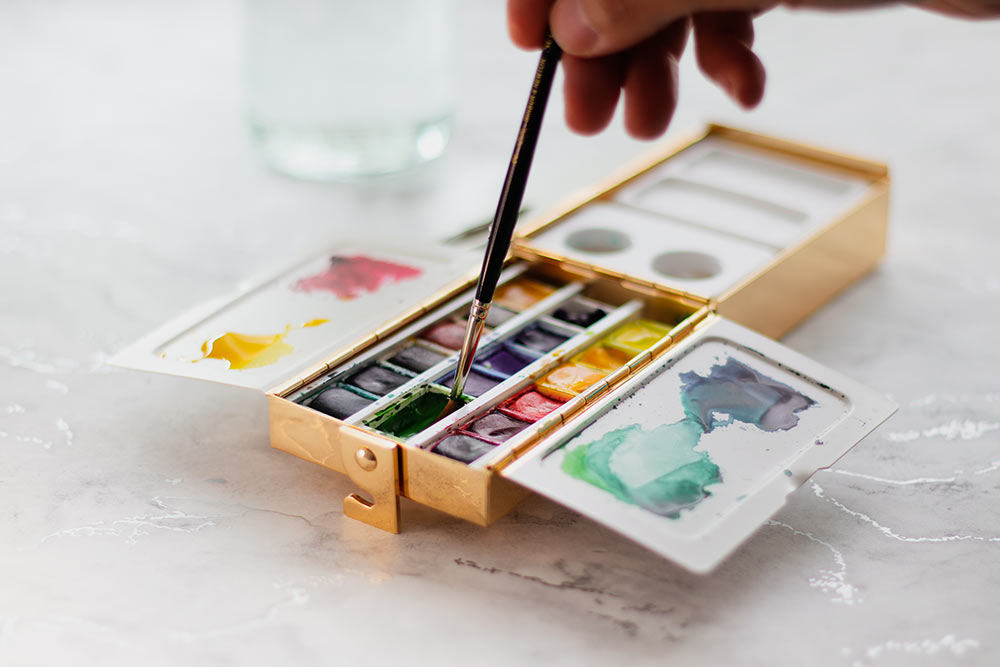 The box will take 18 half pans, 9 whole pans or a combination of the two. If you prefer, you can use empty pans and fill them with tube colour.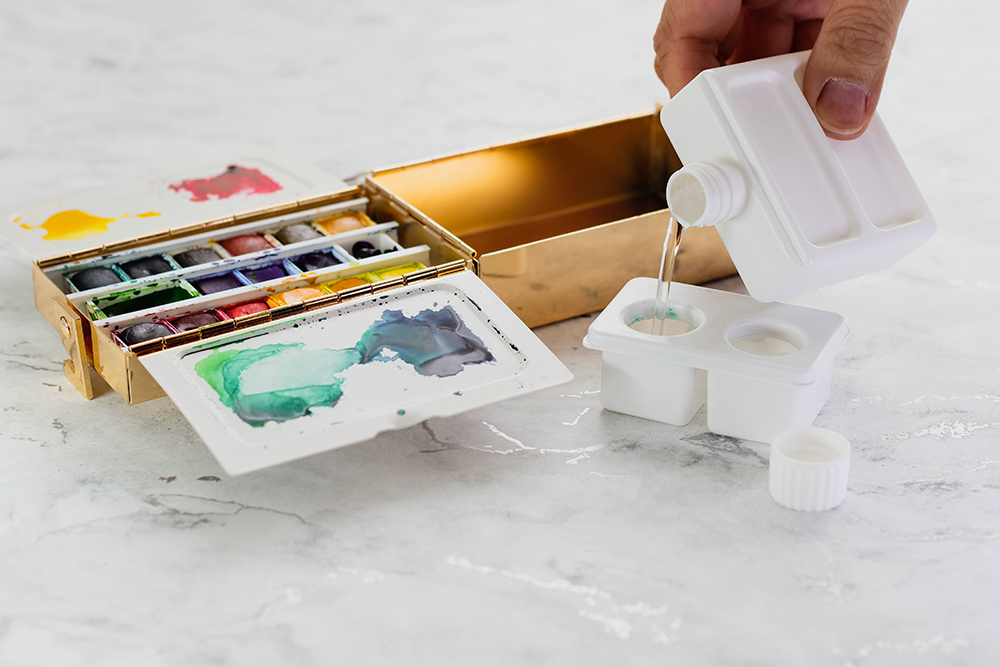 The bottom section holds a plastic water bottle and two water wells held in a plastic reservoir. There is also a single fold out area complete with a thumb hole. This plate also doubles up as an additional mixing area around the hole. The water bottle also offers extra mixing space with its flat side split into two shallow wells. The water wells offer a great space for storing clean and dirty water separately.
Testing the Frazer Price Palette Box
We put the Frazer Price Palette Box to the test to see why it is so popular with watercolour artists.
The Frazer Price Palette Box is remarkably compact when closed. It's the perfect size for popping in a bag and taking on your painting trips. It is more weighty than plastic paint boxes of a similar size. This weight, however, does make it feel much more substantial and durable.
Easy to assemble, comfortable to hold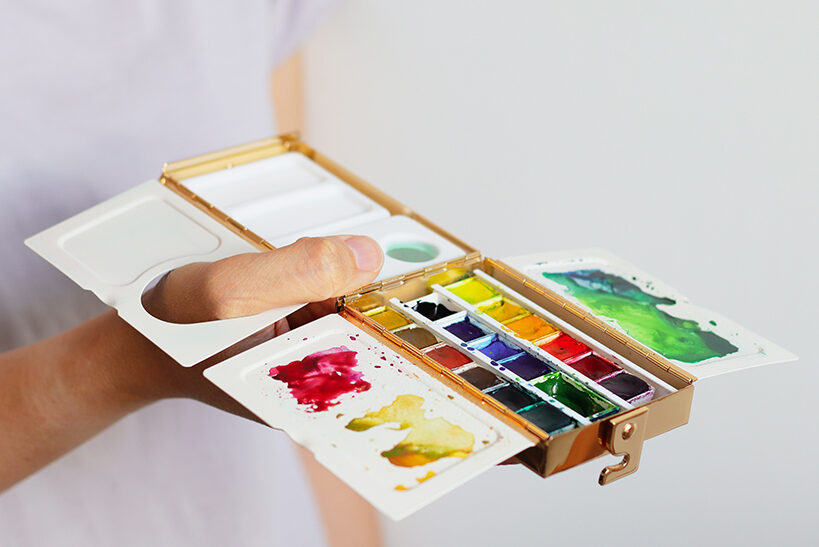 The compartments and surfaces of the Frazer Price box unfold easily, so it is quick to get out and put away. The brass catch also doubles up as a stabiliser if you are working with the palette resting on a flat surface in your studio. It's shape is also much more ergonomic than the usual ring and it accommodates the thumb much more comfortably allowing you to use your paint box like a palette. This makes it much easier to hold this palette over long periods. It is also suitable for both right and left handed artists. We believe there is nothing else like this watercolour box.
Easily add and swap colours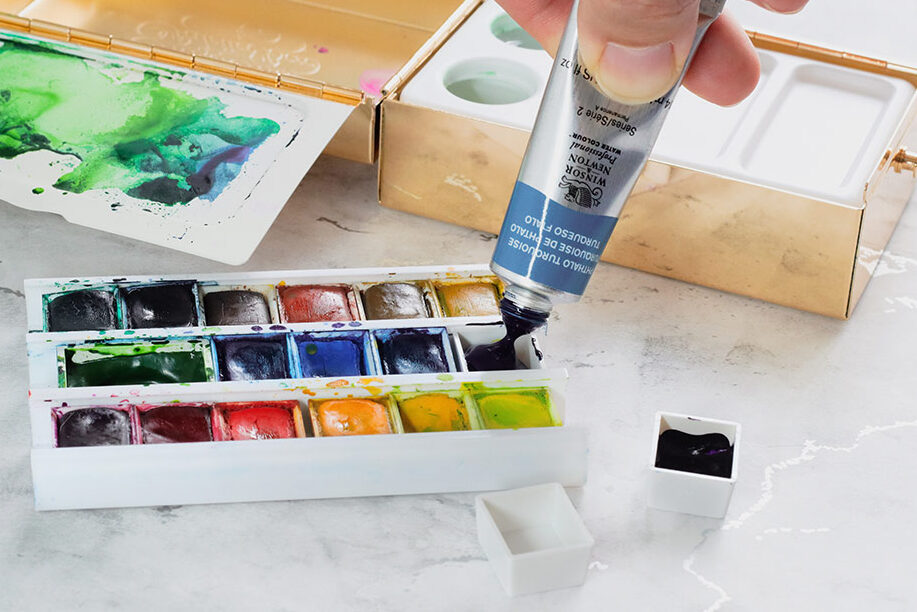 Artists can easily insert and remove pan colours from the paint compartment. The plastic cartridge makes sure that your paints will fit in securely. The box accommodates most of the pans we sell and also our empty pans and half pans. This allows you to customise your colour selection so you can get exactly the colours you want from the brands you prefer. Just remember, if you have freshly squeezed paint, either let it dry first, or cover it in the palette to prevent bleeding when the palette is closed.
Colour Mixing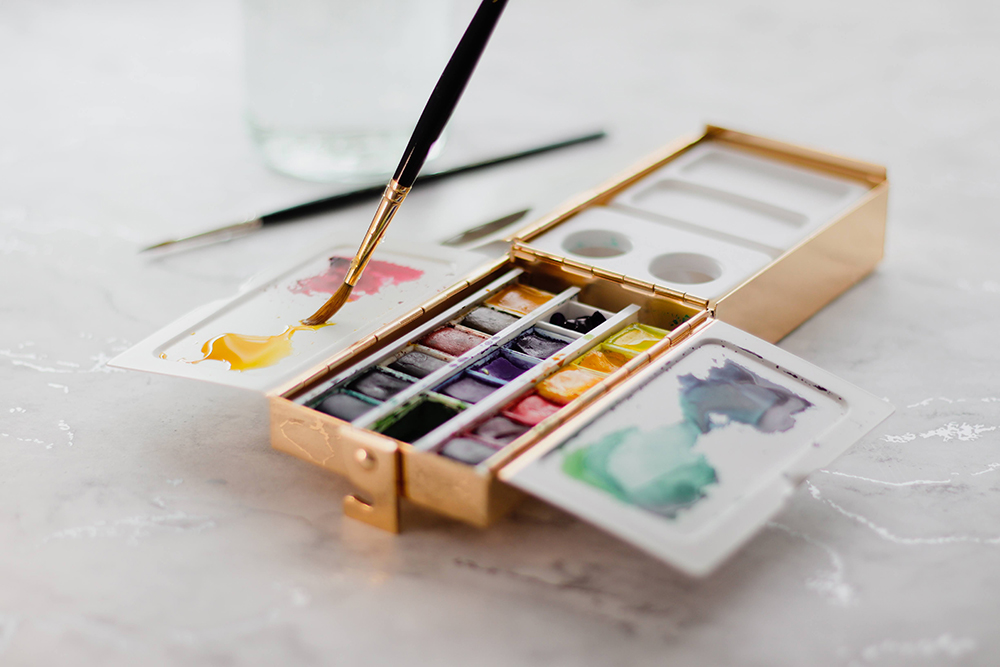 You can mix colour easily on the ample mixing surfaces available. As with any new palette, it can take a bit of use to stop your colour beading on the surface. After a few painting sessions you should notice that your mixes look clean and smooth against the mixing area.
Cleaning & Caring for the Frazer Price Box
Caring for and cleaning the Frazer Price Palette Box couldn't be easier. If you ever need to clean the brass surfaces you can easily wipe and polish them with a soft cloth. All the interior compartments – including the water wells, bottle and pan area – are removable for easy cleaning. The lightweight plastic will come clean with warm soapy water. As with all palettes, some heavily staining colours may be more difficult to remove and may still leave residual colour.
Summary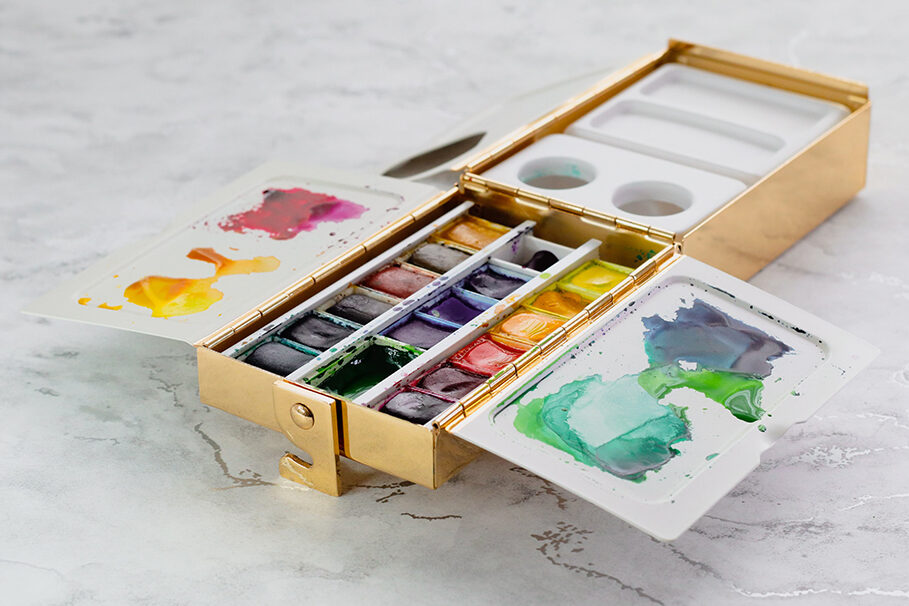 The Frazer Price Watercolour Palette box provides almost everything you need to enjoy watercolour painting whether you're working in the studio or outdoors. Just include a travel brush in your kit and you'll have all the tools needed for a successful watercolour painting. Not only is this palette highly functional, it is also incredibly tactile and great to look at. Its brass finish and presentation box certainly make this palette a luxurious painting accessory – one that's sure to be a talking point in your studio or on painting trips! It will surely become a tool you treasure, offering years of service given the right care. The presentation case also makes it a beautifully presented gift – one that would certainly go down well with any passionate watercolour artist!
Overall the Frazer Price Watercolour Palette box is beautifully made and will offer lasting value for any watercolour artist.
Buy your Frazer Price Watercolour Palette Box online.
Available empty or filled with a selection of 6 or 12 Winsor & Newton Professional Watercolour Half Pans.