Create striking metallic strokes on both light and dark surfaces with the Derwent Metallic Paint 12 Pan Set
The Derwent Metallic Paint 12 Pan Set contains 12 shimmering colours, perfect for adding a decorative flourish to your work. A wet brush is all you need to transform these solid blocks of colour into paint with a high metallic sheen. They're perfect for all kinds of art and craft projects!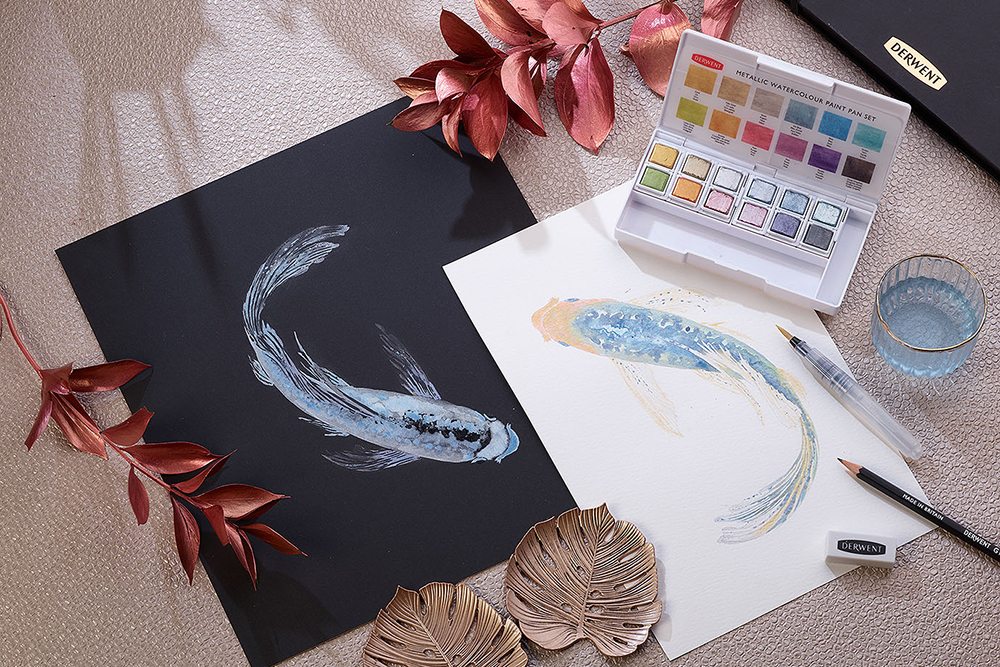 The Derwent Metallic Paint 12 Pan Set is an interesting addition to our range of Derwent Paint Pan Travel Sets. Read our reviews of both the Graphitint Paint Pan Set and the Derwent Inktense Paint Pan sets on our blog!
Filled with twelve pans of shimmering colour, this product boasts all the qualities of the Derwent's non-water-soluble Metallic pencil range but with the added versatility of a water-soluble pan. All you need to do is activate the paint with a wet brush and colour is ready to apply. Quite like a traditional watercolour pan! This paint is highly versatile and suitable for use on a variety of fine art and craft applications. Use them as part of your mixed media painting, or add a metallic flourish to your card-making or calligraphy projects. They're perfect for creating dramatic highly metallic washes or for adding a subtle pearlescent sheen.
Like our other Derwent Paint Pan Travel sets, this collection comes in a durable – yet lightweight – plastic palette box. Each of the pans is held within a cartridge, which stops your paints from moving about on the go. The set also includes a small sponge and water brush. They may be small but they're ample for creating small scale work. The lid of the set also provides plenty of space for mixing your colours.
Colours in the Metallic Paint 12 Pan Travel Set
The Derwent Metallic Paint 12 Pan Set contains a pan of each of these colours:
Silver
Deep Graphite
Gold
Pale Gold
Sunset
Red
Pink
Purple
Blue
Ice Blue
Lime Gold
Green
Each of the included paint pans is made from a super fine metallic pigment. They retain their iridescence even when dry.
All the colours in the set create a beautiful, dramatic shimmer on dark paper. Even the colour of the more subtle paints in the set jump out from the black surface. When used on a pale or white surface some of the colours do look a little more washed out. Especially when applied in thin washes. These less dramatic colours are great when used as a fine glaze over other paints. For example over Inktense they add a subtle transparent shimmer. This is great if you're painting slightly shimmering natural subjects. Like butterflies or insects – where you need only a hint of sparkle.
These paints are easily activated with water – although maybe a bit less so than their Inktense and Graphitint counterparts. If you want thick opaque colour then it does require a little more work. But with a little more effort it quickly creates a more creamy paint. Colour can always be added in subsequent layers to appear more opaque. If you're applying colour in delicate washes all it requires is a sweep of a wet brush and you're ready to go.
Colour Mixing and Lightfastness
All colours included in this set are mixable with one another. So although there are only 12 colours in the set, you can quickly mix plenty of new shades to paint with. They are also fully intermixable with other Derwent products – whether it be blocks, pencils or other pan colours.
Most of the colours are rated 8 (Excellent) on the Blue Wool Lightfastness scale. This means that they will remain rich and vibrant for up to 100+ years when kept under museum conditions. There is one colour, Pink, which has a rating of 2. Poor lightfastness means it would be best to avoid using this colour on any work intended for display. Sunset and Red both have a rating of 6 (Good) and Lime Gold has a rating of 7 (Very Good). A rating of 6 or above is generally considered highly lightfast.
Use with other Derwent Accessories
This set has more than enough to keep you painting if you're working on small scale work. If you are working on larger pieces on the go, you may find it handy to carry a few extra accessories. The water brush in the set is the perfect size for travel, and is great for creating small paintings and studies. It's fine point also makes it suitable for creating brush calligraphy. Carrying a few larger brushes, or a couple of our Derwent Push Button Waterbrushes, will allow you to create a more diverse range of marks. If you do plan on working on a bigger scale you will probably need to carry a bottle of water with you, or have a water source nearby. Although Derwent waterbrushes do have substantial barrels, they can run out quickly if you are painting a lot!
As stated previously, these paints are mixable with other Derwent products. The paler, more transparent colours in particular are great for adding a glaze of subtle shimmer over the top of another colour. If you plan on taking your Derwent collection out on your painting trips they supply a great range of packs and bags in various sizes to carry your materials. These include the Derwent Carry-All (great for large collections), the Derwent Pencil Wrap (holds up to 30 pencils), the Derwent Carry All A4 Folio (has room for an A4 sketchbook) or the Derwent Artpack (perfect for carrying a handful of pencils and a few accessories).
Pros and Cons of the Metallic Paint Pan Travel Set
Other Derwent Paint Pan Travel Sets can feel a little limited with a selection of only 12 colours, but it feels more substantial in the metallic range. These colours really shine when used in conjunction with other Derwent products, so you can get quite a range of effects even with a fairly limited colour range. Sometimes you do feel restricted to using them for decorative flourishes or shimmering details, rather than a full painting – as the shimmer can look a little overwhelming. They look fantastic when used for highlights or decorative illustrations. Hand lettering artists or calligraphers may also find them to be a valuable addition to their range of materials.
Like our other Derwent Paint Pan Travel sets, the plastic palette is a great selling point for this collection. They are small and lightweight – perfect for popping in your pocket or bag, ready for your painting travels.
The Derwent Metallic Paint Pan Travel Set is also vegan. So artists conscious of limiting or eliminating animal-derived products from their art supplies will be happy in the knowledge that these paints are completely cruelty free.
You can buy the Derwent Metallic 12 Paint Pan Travel Set on our website by following the underlined link.