Combine the drama of graphite and the beauty of subtle colour with the Derwent Graphitint Paint Pan Travel Set
Derwent Graphitint is a collection of 12 subtle water-soluble hues that combine hints of colour with the beauty of graphite. This range of colours is perfect for bringing out the drama of graphite while mixing it with soft shades. You can now experience these unique properties in paint pan form with the Derwent Graphitint Travel Paint Pan Set!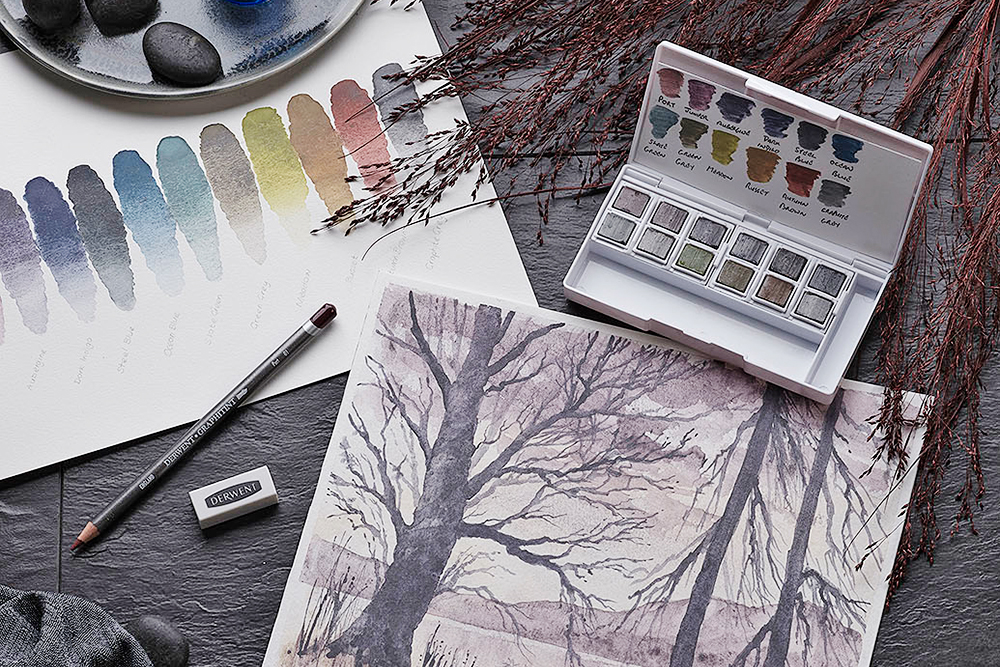 The Derwent Graphitint Travel Paint Pan Set is one of the newest additions to Derwent's growing range of paint sets. Along with the Inktense Travel Pan Sets – reviewed on our blog here – they make a great addition to any travelling artists toolkit. The set is remarkably light – weighing only 200g – and easy to transport in a small bag or pocket.
Like the Inktense Travel Pan Sets, this Graphitint paint collection is held in a durable plastic case. The case holds 12 pans of subtle colour, which are split into two groups of six. A cartridge holds each group of six. These two cartridges help hold the pans in place when the set is in transit. The box itself contains ample mixing space in the form of 3 small and 2 large wells. A small water brush and sponge are in the set – so you have everything you need to get started painting on location!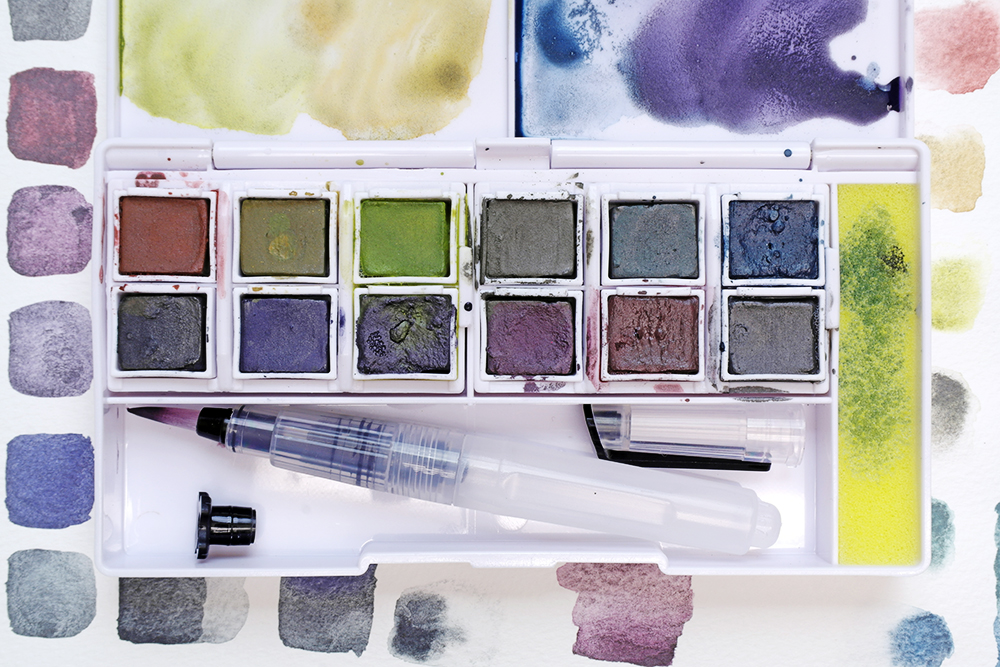 Although there are only 12 colours in the pan range, they are all intermixable so you can create a whole spectrum of subtle shades. The selection of colours would best suit artists capturing rural and urban landscapes, or wildlife – with mossy greens, earthy reds and concrete-like greys. Of course the colours are also suitable for other subjects – don't limit yourself to just painting landscapes!
Colour Selection and Lightfastness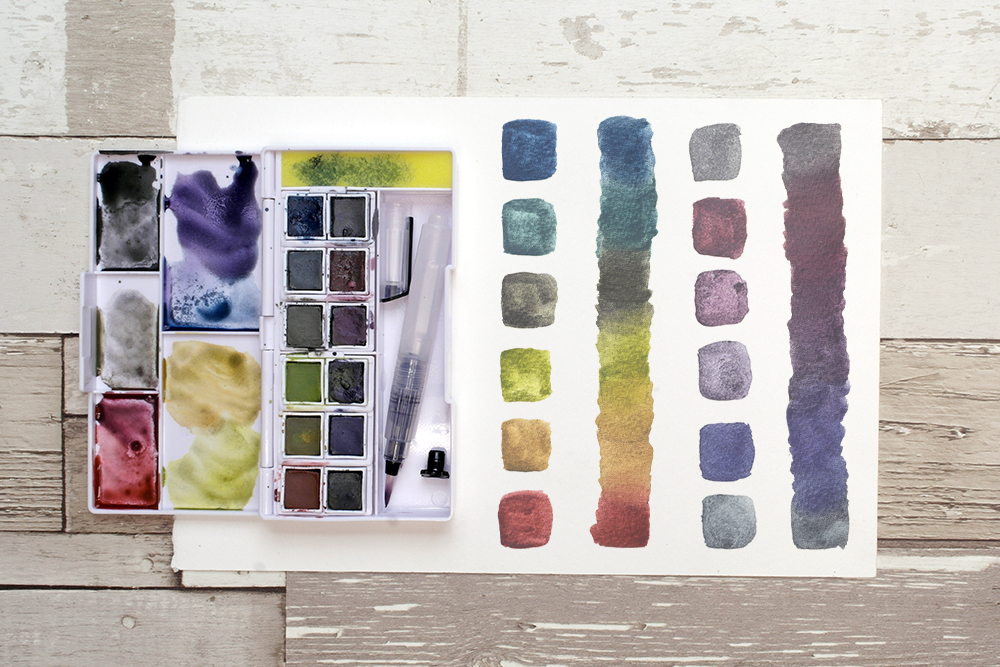 The colours have unique properties that set them apart from other colours in the Derwent range. Because these paints are a combination of graphite and colour, they retain a subtle sheen once dry. The finely ground graphite also creates beautiful granulation that brings out a range of tone and colour with each paint. To make the most of this property it is best to try them out on a NOT (Cold Pressed) or Rough watercolour paper. The small particles of graphite will settle into the texture of the paper and create some great patterns. This can be particularly useful for painting natural textures.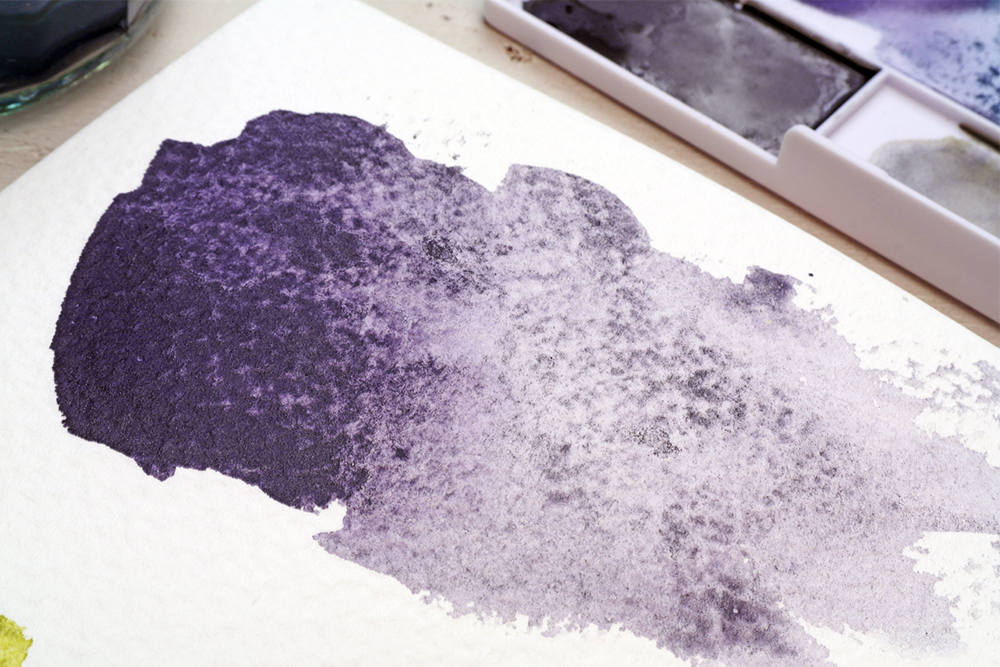 All the colours in this set rank at 6 (Good) or above on the Blue Wool lightfastness scale, with the exception of Russet (4) and Port (5). The majority of the colours rank at a 7 (very good) or 8 (excellent). They will remain as rich as the day they were painted for up to 100+ years under museum conditions.
Use with other Derwent Accessories
As with the Derwent Inktense Travel Paint Pan Sets, this collection contains more than enough to begin with. You might find it useful to carry a few more tools and accessories with you if you are working on medium sized pieces. If you need something more substantial than the included water brush, but don't want to lug around your best brushes, then one of our Derwent Push Button Waterbrushes could be the answer. These waterbrushes have a much larger water barrel and a push button mechanism to control paint flow. They are available in four sizes and are great for creating all kinds of strokes and marks. You will probably still need to carry a bottle of water if you are working on large pieces.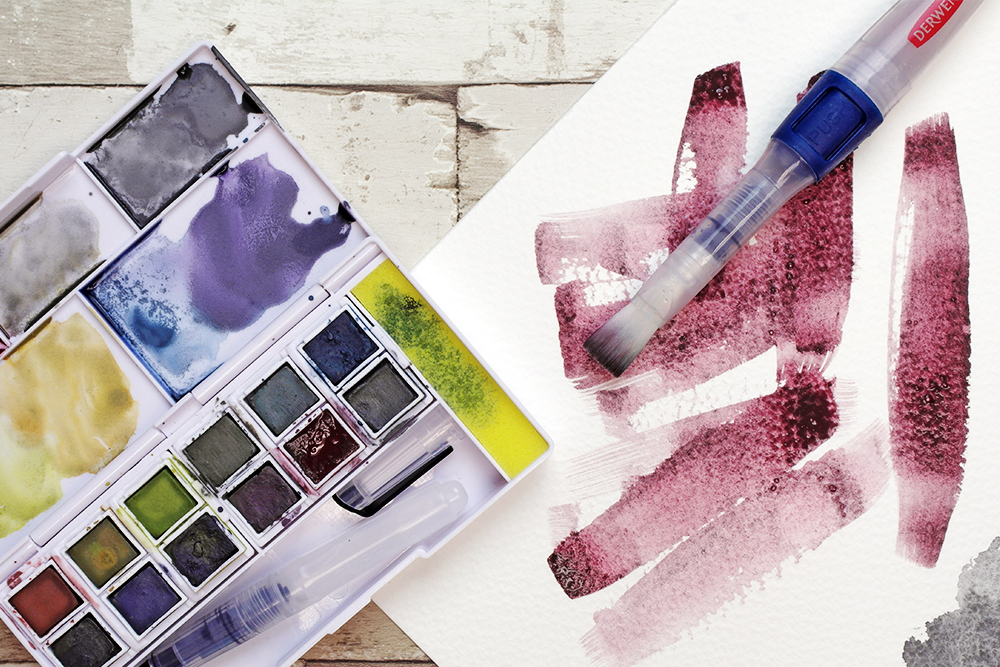 You can mix Derwent Graphitint Paint Pans with other pencils, pans and blocks from the Derwent range. There really is no limit to how they can be used! If you're looking to combine them with your other Derwent pencils and drawing accessories then the Derwent Carry-All, Pencil Wrap or Art Pack would be the perfect companion for your painting trips – depending on the size of your collection!
Pros and Cons of the Graphitint Travel Paint Pan Set
Much the same as the Inktense sets, the Graphitint Travel Paint Pan Set does have a fairly limited colour range. The twelve colours are more than enough to start with, but it may disappoint Graphitint fans that the set does not extend to the full range. Despite this, all twelve colours are intermixable – so there are plenty of mixing possibilities. They are also mixable with other Derwent ranges. Add in Graphitint Pencil colour or even add in a vibrant splash of Inktense.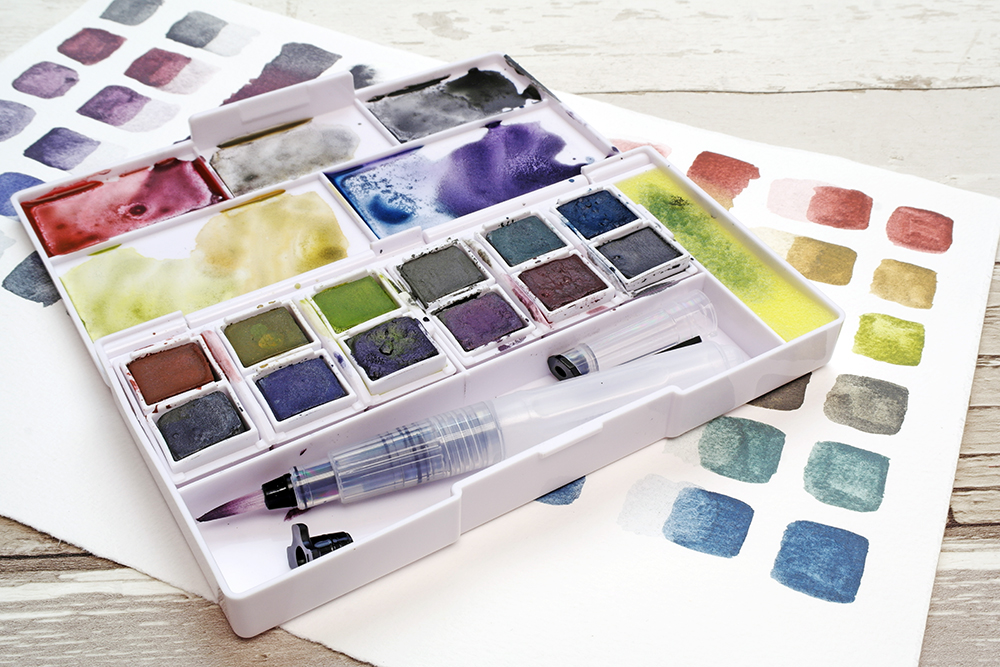 The plastic palette for all of Derwent's travel sets is definitely one of their selling points. They are robust, yet light enough to carry around on your painting trips. You won't need to worry about paints coming loose or waterbrushes leaking!
The Derwent Graphitint Paint Pan Travel Set is also vegan. So artists conscious of limiting or eliminating animal-derived products from their art supplies will be happy in the knowledge that these paints are completely cruelty free.
Click the link to buy your own Derwent Graphitint Travel Paint Pan Set, or view our full range of Derwent Paint Pan Travel Sets.