DANIEL SMITH currently offers 258 different watercolours, with more in the works every year. The sheer range of possibility they offer is endless and unparalleled in the industry.
117 of the most popular colours in the range are now available in 5ml tubes
NEW COLOURS
There are now 21 new 5ml colours available: Carmine, Cobalt Turquoise, Deep Scarlet, Hansa Yellow Deep, Indian Red, Monte Amiata Natural Sienna, Perylene Red, Van Dyck Brown, Cobalt Blue Violet, Pyrrol Crimson, Transparent Brown Oxide, Transparent Red Oxide, Frech Ochre, Goethite (Brown Ochre), Verditer Blue, Perylene Violet, Mayan Yellow, Mayan Orange, Cadmium Yellow Deep Hue, Burnt Sienna Light and Lavender.
Read more about the new colours on our blog.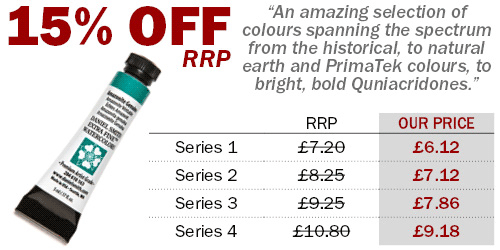 Show more
We have much more information about Daniel Smith Extra fine watercolours and detailed colour information on our info pages.
Show more