What is the Difference Between the Whites in Oil Painting?
When choosing a white oil paint to include on your palette you can be faced with more shades than you know what to do with. Although they may all seem similar on the surface, there are certain defining characteristics that set them apart from one another. Here we have compiled some useful information that should help you choose the perfect white for your palette.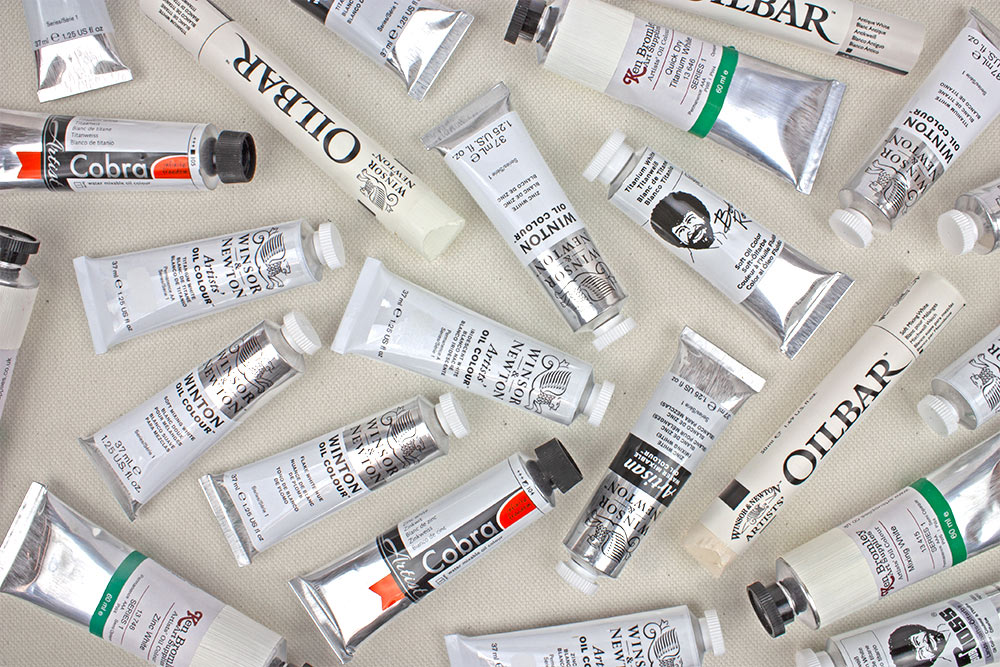 Discerning the difference between whites can be a little difficult if you are just beginning oil painting. Although they may look similar on the swatches on your paint tube, each white will bring different working properties to your practice. Choosing the correct white may be one of the most important choices that you make!
Oils artists are faced with an overwhelming array of whites. Watercolour purists will rely solely on the white of the paper to create contrast and tonal range, and acrylics artists will commonly only have two or three whites to choose from. As oil painting has a much longer history, a vast number of whites have been developed to meet different needs of oils artists.
A suitable white is a mainstay of any artists palette, and will account for a large portion of the paint that ends up on your canvas. Lots of artists, especially beginners, will pick up one tube of white and assume that it will do the same job as other whites on the market, which is simply not the case. Learning the difference between the properties of the different whites on the market will help you improve your painting and achieve the effects you desire. Below we have included an overview of whites throughout painting history and compared some of the whites that are available to contemporary painters today.
A History of White Oil Paint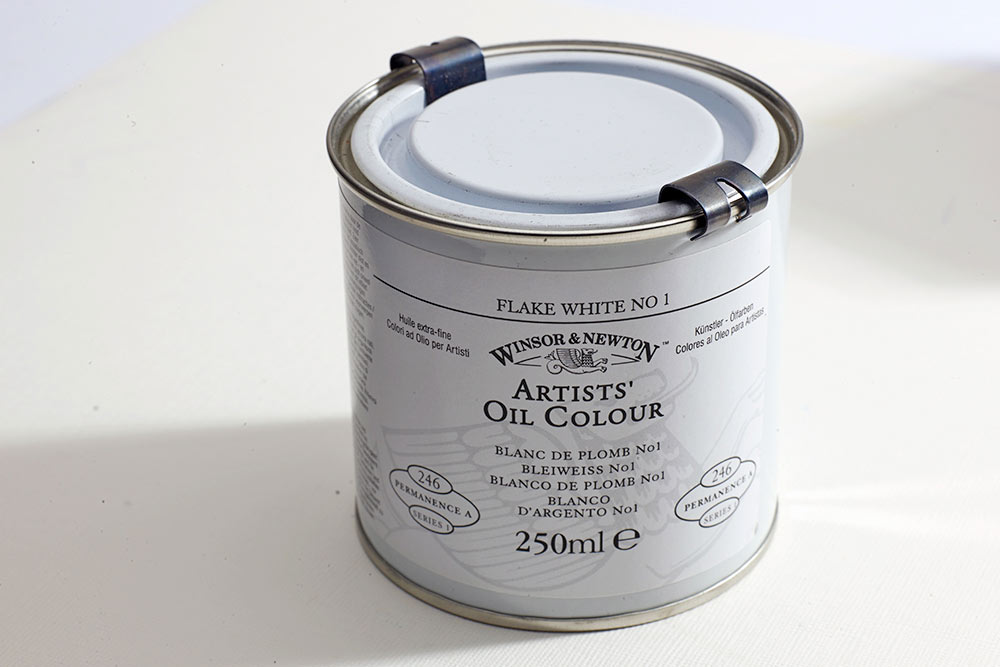 White was one of the very first pigments to be used by artists, and the very first lead based whites were first introduced in Ancient Greece; they are perhaps the worlds oldest manufactured pigment. Their usage became increasingly common during the Renaissance period and lead pigments became prevalent in most classical European paintings. Whites containing lead were flexible and durable, so artists did not have to worry about their paint cracking. The three original lead-based white oil paints were:
Flake White

Flake White is the traditional lead-based white. Flexible, durable and quick drying, this white was a favourite on many artists' palettes. Zinc was added to this white to improve its consistency, but overall it remains quite stiff. It is warmer than Titanium White and firmer in consistency.

Cremnitz White

Cremnitz White is also made from lead, although no zinc is added into the mix which has an impact on its consistency. This white is notably more stringy and was preferred by artists who would rather use a pure lead colour. It is similar to pigments that would have been used by the Old Masters. This white is also fast drying.

Foundation White

Foundation White is opaque, lightfast and permanent. Zinc was added to this white to improve its texture – more than in Flake White. It is ground with Linseed oil and is fast drying, so it was used for underpainting. It has a warm, yellowish temperature bias. This paint was replaced by a lead-free underpainting white.
Because of their rich artistic history lead based whites are still used by convervators and art restorers, however they have been phased out of many commercially available artists paints because of their toxic properties. As the insdustry became more aware of the damaging properties of lead, paint manufacturers began to formulate safer lead-free alternatives. Titanium based whites were first introduced in the early 1900s as a safer substitute.
Choosing a White Paint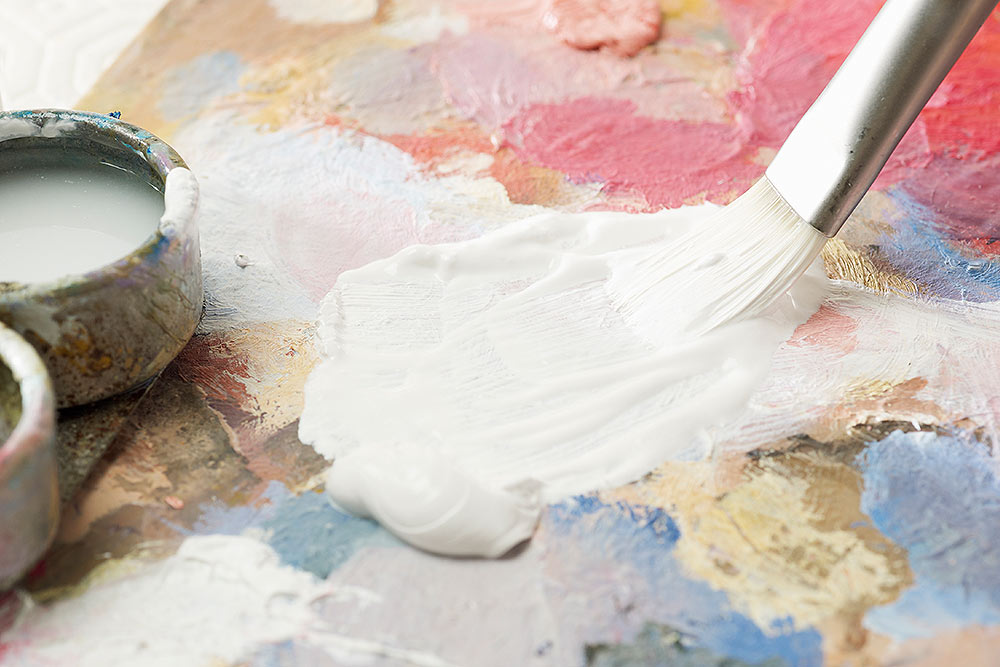 Before you choose a white paint to include on your palette it is important to ask yourself some questions. What do you want the white to bring to your work? Thinking about the properties that would be most vauable to your work will help you narrow down your choices considerably. Below is a summary of the main properties of an oil paint.
Texture

The consistency of your oil paint will be as important as its appearance on your palette. Oil whites can vary dramatically in their texture, from very stiff to soft. Stiffer whites will have a greater resistance under your brush or palette knife, and can be used to easily create impasto techniques. Softer whites are the most brushable straight from the tube and show little resistance to your brush or knife. Some whites occupy a middle ground, where they are workable straight from the tube but will also retain brush strokes and sculptural detail.

Temperature

Oil whites will all have subtly different shades and are generally classed as being warm, cool, or neutral in temperature. Assessing the temperature of white paints will not be an important consideration for many artists. However those that use continuous or expansive blocks of white, or use white as a pure colour in their work will need to bear this in mind. Some whites are also prone to yellowing with age, so that is another detail to factor into your choices. If you are looking for a white that will retain its original brightness, you are best sticking to those formulated with Safflower oil as this is less likely to yellow over time.

Tinting Strength

Different whites will have different tinting strengths, which will effect the way that your colour mixes appear in your artwork. Opaque whites, such as Titanium White have a high tinting strength. Although this is suitable for some applications, it can sometimes overpower mixes and would be unsuitable where transparency is needed. If you paint portraits you may find a less opaque white more suitable for capturing the translucency of skin tones. Similarly landscape artists that paint mists or fogs could find a low-tinting white useful. Whites with a low tinting strength are great for modifying light without completely whiting out layers below.

Drying Time

Traditional oils are known for their long drying times. While this may be suitable for some artists, there are certainly benefits to having a quick drying white in your collection. Quick drying oils are made with an alkyd resin, which speeds up their drying rates. Ideal for underpainting, these fast drying alternatives retain most of the properties of their traditional oil counterparts. They are also fully compatible with traditional oil colours, so using a fast drying white as a base for your mixes means that they will dry at a quicker rate overall. Traditional oil whites will vary in their drying rates; in general whites made with linseed oil will dry faster than those made with safflower or poppy oil.
A Summary of White Oil Paints
Below you will find a short description of some of the whites that will be available to you as an oil painter. Some of these whites may go under slightly different names from brand to brand, but most names will remain consistent.
Titanium White

Titanium White is the most popular white you will find on most oil painter's palettes. It's a brilliant all rounder and a good choice for blocking in. Titanium White reflects back a lot of light compared to other whites, which makes it appear much brighter. It can be used for mixing although you may find that it has a tendency to overpower some mixes. Applied straight from the tube, it will allow very little undertone to show through; so it is definitely not suited to creating transparent effects. It's consistency is a little softer than Flake White No. 1. It has a neutral bias, is slow drying and non yellowing and has no lead content.

Temperature Bias: Neutral

Opacity: Opaque

Drying Time: I

Available in Artists' Oil Colour, Winton, Artisan, Griffin, OilBar, Cobra, Bob Ross and Ken Bromley.

Zinc White

Zinc White is the least opaque white, making it an ideal choice for glazing and tints. It has a lower tinting strength than Titanium white and is great for lightening mixes without overpowering them. When applied straight from the tube it will allow some of the undertone to show through due to its transparency. This makes it a great white to use to create subtle tints and variations in tone without loosing the natural transparency of your pigments. Zinc white is the stiffest white in consistency and has a cool colour bias. Non-yellowing and containing no lead, this white is slow drying and is a great addition to most palettes. It is not advisable to use Zinc White as your primary white within a painting as its zinc content makes it brittle.

Temperature Bias: Cool

Opacity: Transparent

Drying Time: I

Available in Artists' Oil Colour, Artisan, Winton, Cobra and Ken Bromley.

Transparent White

Transparent White is a semi-transparent colour that is best suited for mixing tones and glazes. It has an extremely low tinting strength and will provide the palest glazes. Transparent white has a neutral bias, contains no lead and is non-yellowing.

Temperature Bias: Neutral

Opacity: Semi-Transparent

Drying Time: I

Available in Artists' Oil Colour.

Mixing White

Sometimes known as Soft Mixing White, this white is useful for making glazes and tints. Neutral and transparent , this white has the softest consistency and has a lower tinting strength than Titanium White. It is also known as 'Soft' mixing white in some oils ranges. It is comparatively quick drying and non-yellowing, and also contains no lead.

Temperature Bias: Neutral

Opacity: Transparent

Drying Time: III

Available in Griffin, Artisan, Winton, Oilbar and Ken Bromley.

Iridescent White

Iridescent White contains a mica based pigment that has a pearlescent shimmer. This shimmer is particularly enhanced when used with transparent pigments. It is useful for creating pearlised effects and is semi-opaque with a neutral bias. This white has a medium drying rate, is non-yellowing and contains no lead.

Temperature Bias: Neutral

Opacity: Semi-Opaque

Drying Time: II

Available in Artists' Oil Colour.

Antique White

Antique white can be found in some oil ranges, including the Winsor & Newton Oilbar. This white has a warm colour bias and creates much more mellow mixes than when using a harsh white, such as Titanium. These whites are non-yellowing and contain no lead.

Temperature Bias: Warm

Opacity: Opaque

Drying Time: I

Available in OilBar.

Flake White Hue

Flake White Hue has been specifically formulated to be a replacement for the lead-based Flake White No 1. It is completely Titanium Based and avoids lead based pigments altogether. It has a lower tinting strength than Titanium white and is slightly stiffer in it's consistency. This hue has a similar drying time to its lead based equivalent and has a warm colour bias.

Temperature Bias: Warm

Opacity: Opaque

Drying Time: II

Available in Artists' Oil Colour and Winton.

Fast Drying Whites

While many artists are attracted to oils due to their slow drying properties, it can certainly be handy to have a quick drying white on your palette. Fast drying whites are usually dry within 24 hours, so they certainly speed up your painting process. If you use fast drying whites in your mixes you will also find that it speeds up the overall drying time of your colours. We have fast drying whites available in the Griffin and Ken Bromley Oil ranges.