Acrylic Painting Ideas – 28 Curated Video Demonstrations & Tutorials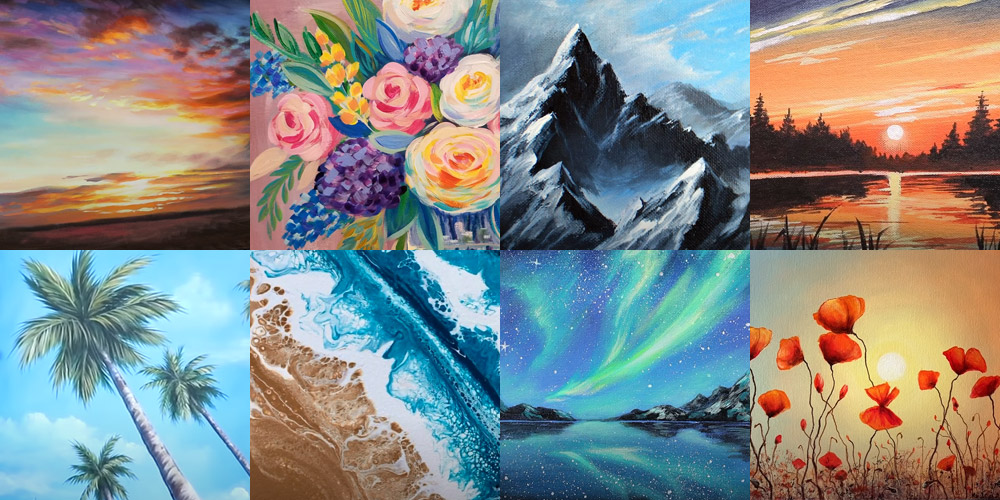 Acrylic painting is a favourite with both professionals and amateurs alike. However, deciding what to paint can be a stumbling block for many artists. You've got your canvas set up, acrylic paints and brushes are at the ready, and then it dawns on you that you can't think of anything that you want to paint and your mind has gone blank.
Don't worry, you're not alone, this happens to many artists and that's why we have decided to lend a hand! There are many talented creators on YouTube who have made video demonstrations and tutorials which are excellent for inspiring new ideas or learning new techniques. We have picked some of our favourites and split them into some popular subject matters so you don't have to spend your painting time looking through them all! The skill levels range from basic to more advanced techniques. We hope you enjoy watching the videos and also discovering new artists to follow.
Remember if you're looking for tips to get started with acrylics, we put published a blog post on that earlier in the year so have a read of that to help you decide which paints and products you need.
---
Sunsets
3 Easy Sunset Acrylic Painting | Sunset Easy Acrylic Painting For Beginners Step by Step by AhmadArt
This tutorial is great for beginners and shows you how to paint a sunset in three different ways. AhmadArt has lots of different sunset tutorials for beginners, so check out his channel for other ideas.
Painting a Realistic Sunset in Acrylics by Chuck Black Art
A full step by step tutorial in real time which includes a shot of the palette so you can see the colours being mixed. Chuck shows us how to paint clouds and recreate the glow from the sun.
Acrylic painting of Beautiful sunset landscape step by step by Paint with Shiba
Another one for beginners, this is a step by step demonstration of a sunset over a lake painted in acrylic paint.
Acrylic Painting : A Sunset in Acrylic Color || Simple Acrylic Sunset Painting For Beginners by Charvi Ashtekar
In this video tutorial artist Charvi Ashtekar shows how to blend acrylic paint to create this sunset with starry sky.
Sunset Over Ocean with Dock STEP by STEP Acrylic Painting by ColorByFeliks
This is a very detailed tutorial taking us through the whole painting process in real time with full instructions so you can paint along with it.
ACRYLIC blending for beginners EASY! "Sunset" how to paint landscape by PaintyKat
This tutorial not only teaches the basic acrylic techniques of wet blending, but also explains the basics of colour mixing.
---
Beaches and oceans
PAINTING TUTORIAL Acrylic Ocean for Beginners | Katie Jobling Art
Katie is a self taught artist and takes us through her process for painting an acrylic seascape
Easy Beach Acrylic Painting Tutorial for Beginners by JK Paint
This simple tutorial shows you how to mix the paint straight on the canvas to produce this beach scene.
DIY Beach Acrylic Pour Painting by Tamara Horne
This beautiful abstract beach is created using an Acrylic pouring technique. Watch this demonstration to see how it is created.
How to Paint a Tropical Beach Step by Step by Joni Young Art
Learn how to paint a sky, horizon and beautiful turquoise water along with lots of lovely palm trees.
---
Trees
Painting Trees With A Fan Brush – Step By Step Acrylic PaintingThis video takes you through the process of painting a basic tree.
This great tutorial shows you how to paint several different types of tree using a fan brush. It also demonstrates how to mix different greens for the foliage.
Deer Forest / Easy acrylic painting for beginners / PaintingTutorial
This demonstration uses acrylic paint on a mini canvas to create this beautiful forest scene.
Impressionist landscape with acrylic by Enrique Zaldivar
Watch artist Enrique Zaldivar take you though his process of creating this impressionist scene in this time lapse video.
HOW TO PAINT PALM TREES in acrylics | For Beginners with Debbie Avoux
This step by step tutorial shows us how to mix your own colours – the 3 primaries plus white and black, to paint these palm trees.
How to Paint Green Summer Trees with Acrylics by WilliampArtSchool
This is actually a very detailed 3 part lesson taking you through all the stages of painting this impressionist green Summer landscape of The Weir Gardens in Herefordshire.
---
Mountain Landscapes
Painting a Misty Mountain Landscape with Acrylics in 10 Minutes! with Ryan O'Rourke
Ryan O'Rourke shows us how to paint this misty mountain in only 10 minutes!
How to Paint a Galaxy Sky Scenery with Acrylic Paint with Makoccino
Here we learn how to paint a galaxy sky sunset & lake scenery with acrylic paint step by step including how to blend your acrylic paint for the gradient effect in the background.
How to Paint a Winter Scene with Acrylic Paints
If you are a fan of Bob Ross, but don't want to use oil paints, this acrylic tutorial shows you how to recreate a very similar style.
Acrylic Painting step by step | Beautiful Landscape | Acrylic Painting Tutorial For Beginners by Chloe Art
This tutorial shows you the stages for painting a mountains with a lake and trees in the foreground. More basic than the previous one, it is great for beginners.
Northern Lights Aurora / Easy acrylic painting for beginners
This tutorial shows us how to paint this beautiful scene of mountains beneath the Northern Lights including colour mixes.
Painting Distant Mountain Landscape with Correa Art
Using simple techniques you can recreate this distant mountain landscape scene by following this video demonstration.
---
Flowers
Easy Floral Impressionist Acrylic Painting Tutorial LIVE Beginner Step by Step Lesson
In this video Angela Anderson shows you how to paint this simple impressionist abstract floral vase. Easy to follow instructions will guide you step by step through creating your own beautiful canvas artwork.
Peony in Acrylic with Brush & Palette Knife | Painting Tutorial
This demonstration talks us through the importance of tonal value and uses only four colours to create this peony in acrylic paint using a brush and a palette knife for more texture.
Red Poppies STEP by STEP Acrylic Painting (ColorByFeliks)
Paint this beautiful field of poppies following the step by step instructions on this video.
How to Paint Flowers | Acrylic Painting Tutorial by Createful Art
This step by step tutorial with artist Ashley Krieger is great for beginner artists and shows you how to paint this loose floral painting.
Painting Peonies In Acrylic by Julie Marriott
In this tutorial artist Julie Marriott talks us through all the steps to paint this beautiful acrylic floral painting.
Heritage Acrylic Rose- Lost and Found Edges by David Jansen
A slightly more advanced technique here, artist David Jenson teaches us about mastering lost and found edges when painting roses.
Flower Painting Tutorial | Easy Acrylic Painting Tutorial | How to Paint a Daisy
In this very relaxing video, we are taken through a demonstration on how to paint these simple acrylic daises.
---
Painting with acrylics can be challenging so remember to have fun whilst you're painting. The final piece doesn't need to look exactly the same as the ideas above, they are just here to help spark your imagination.
We hope you found the acrylic painting ideas useful and if you decide to paint one of them make sure you share it with us on social media.
We stock a wide range of art supplies on our website and our selection of acrylic paints suit every level of artist whether you are just starting out or at a more professional level.