How to Choose the Right Watercolour Paper
The quality of your paper is of the greatest importance when it comes to watercolour painting. If you choose the right surface it can greatly enhance the appearance of your artwork. But with so many papers to choose from, how do you pick the right one for you?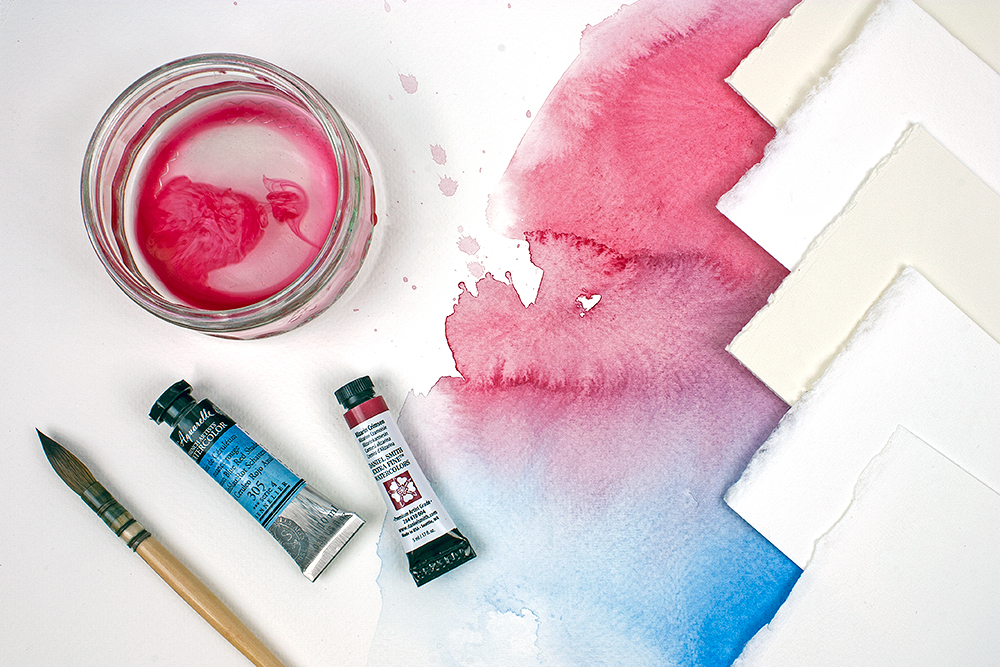 As a watercolour artist it is imperative that your chosen watercolour paper possesses certain qualities that will enhance your artwork. Your paper will need to be able to withstand multiple washes, be non-yellowing, sufficient in weight and consistent in its texture. When faced with such a massive amount of choice of papers, choosing just one can become a little overwhelming, especially for beginners. Here we have compiled a source of information for artists looking to learn a little more about watercolour papers to help them select the optimum surface.
Choosing your Watercolour Paper
Surface Types

Perhaps one of the first choices you will encounter when selecting a watercolour paper is choosing a surface type. Generally, watercolour papers are one of three different surface types; Hot Pressed (HP), Cold Pressed (NOT) and Rough. Hot pressed is the smoothest watercolour paper and is great for artists looking to render their subjects in fine detail. This paper is popular with illustrators and designers as it gives a flat finish good for reproduction. Cold Pressed paper has a medium textured surface favoured by beginners as it is compatible with a variety of techniques and applications. Rough, as suggested by the name, is the most textured watercolour paper. The deep pits in the paper are brilliant if you want to get the most out of the granulation of your watercolour paints. This heavily textured paper is well suited to those with a loose watercolour painting style.
> Find out more about Watercolour paper surfaces
Paper weights, materials and manufacturing methods
One choice you have will be the weight of paper you wish to paint on. Paper is usually measured in pounds (lbs) or grams per square metre (gsm). Lightweight papers will be cheaper but will require stretching before use (you can find out more about paper stretching below). Heavyweight papers will stand up well to multiple washes, and they shouldn't require stretching unless excessive amounts of water are being used. A general rule is that any paper under 200lb/425gsm will require stretching.
You will also have to choose which material you would prefer your paper to be made from. In general, watercolour papers are made from one of two materials; cotton or wood pulp. 100% cotton papers are professional quality, and are considered to offer the very best painting surface. Cotton gives incomparable stability and ensures that you work will stand the test of time. Wood pulp (also known as woodfree) paper is made using a chemically treated pulp with lignin (which gives wood its rigidity) removed. This paper is an inexpensive alternative to cotton paper and is a good choice for amateurs and beginners.
When browsing through our range you may also notice that some papers are described as being 'mould made'; this refers to papers made on a Cylinder Mould Machine. Mould made papers are desirable amongst artists as they are known for their heavier weights, impressive watermarks and superior surface stability. Other papers may be machine made; made in one continuous sheet on a wire belt. These types of papers are not as stable as mould made papers and do not have a deckled edge. The texture of machine made paper will also appear more uniform.
> Find out more about watercolour paper types
Paper Formats
Most watercolour papers are available to buy in multiple formats; so whether you want a portable pad for painting on the go or full imperial (30″x22″) paper for large format studio paintings, there will be a size and format suitable for you.
Loose Watercolour Paper Sheets are usually available in Full Imperial sizes in packs of 5 individual sheets. Some papers, such as Botanical Ultra Smooth and Fabriano 5 measure up a little smaller than full imperial, so it is worth double checking the exact size before you buy. A standard Full Imperial sheet will measure 30" x 22" (76cm x 56cm). We can cut paper into both ½ and ¼ imperial if you require a smaller size. Any paper packs cut to ½ imperial will measure 15" x 22" (56cm x 38cm) and will contain 10 sheets per pack. Any paper packs cut to ¼ imperial will measure 11" X 15" (38cm x 28cm) and will contain 20 sheets per pack. You can select which size you would like your paper when you go to add it to your cart on our website.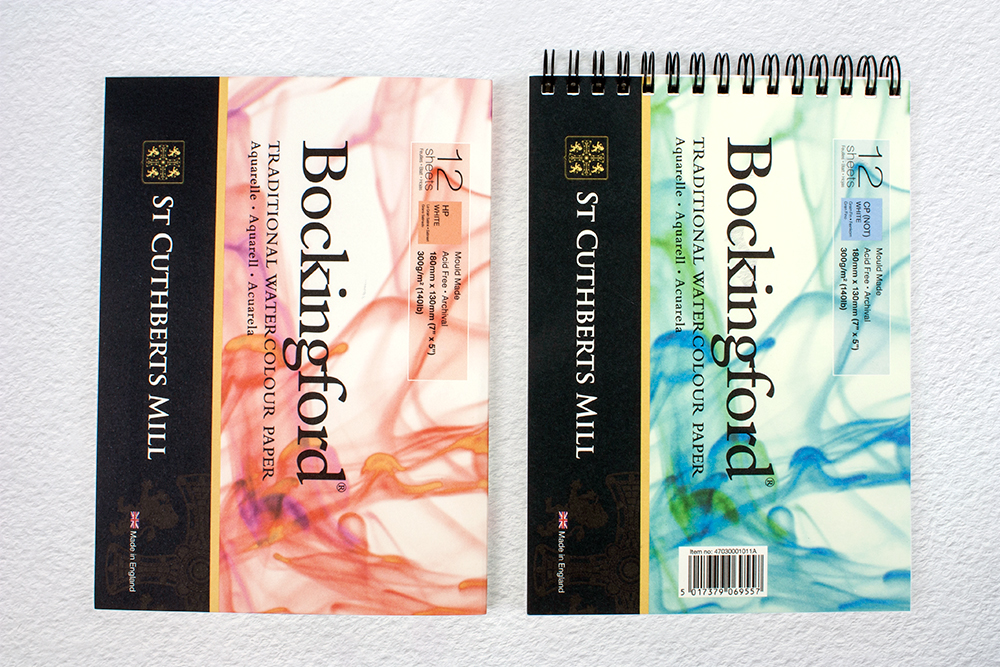 Watercolour Paper Pads contain multiple sheets of watercolour paper that are bound together, usually with a spiral or a gum strip. Pads offer a great way to keep your watercolour paper portable, so they are ideal for painting on the go. Individual sheets can be torn from gummed and spiral bound pads, so you can easily remove your artwork for framing or storage. Multiple pages can also be worked on at the same time. Watercolour pads are only bound at one end, in either a landscape or portrait format. The photo above shows two pads from the Bockingford range; a gummed Hot Pressed pad to the left and a spiral bound NOT pad to the right. The gummed strip on the HP pad runs along one of the longest sides. On the NOT pad the spiral binds the pad on its shortest side.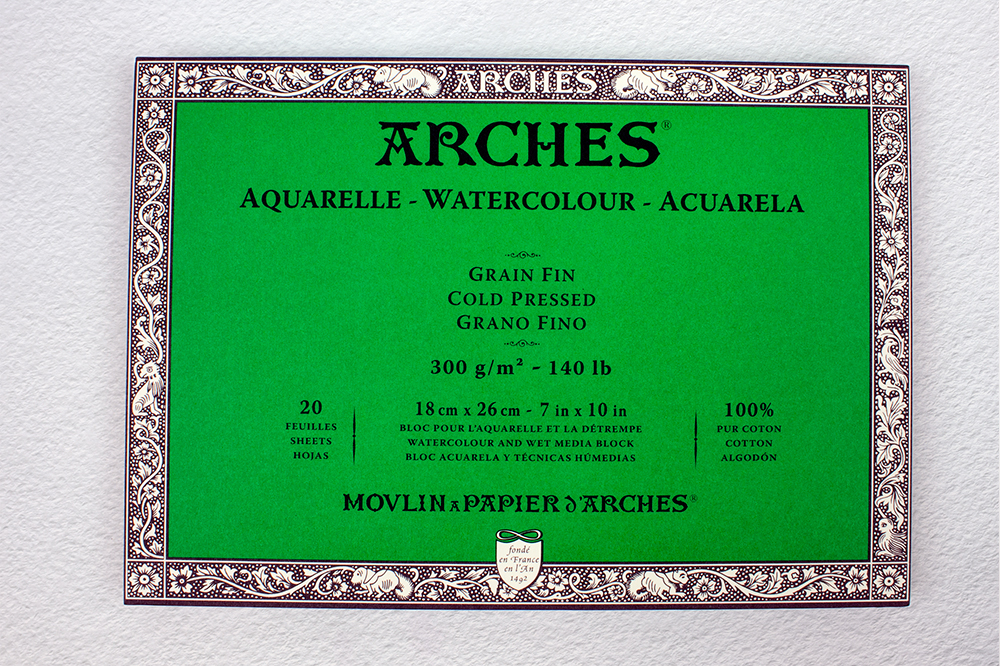 Watercolour Paper Blocks are a fantastic choice if you do not have the time or resources to stretch your watercolour paper. Blocks are glued on all four sides which makes the paper less likely to cockle when moderate amounts of water are applied. As these blocks are glued on all sides, the upper sheet of paper will need to be removed should you wish to start a new painting on the sheet underneath. Generally there will be a small gap in the adhesive on one of the longest sides of the block; a knife can be slipped into this gap and run around the edges of the paper to remove the top sheet.

On the first image above you can see that the block is glued on each edge. The middle photo shows the small gap in the glue; this is where you would insert a palette knife or blade to gently remove the top sheet of paper. You can just make out the gaps between each sheet. The last image shows a blade being inserted into the gap to remove the top sheet.
TIP – If using a sharp blade, be very careful to keep it flat so as not to cut into the sheet of paper you are removing, or the sheet below. To totally avoid this from happening use something sharp enough to cut through the glue, but not sharp enough to cut paper eg. a palette knife.
> Find out more about choosing your watercolour paper format
Soaking and Stretching
If you choose to paint on a lightweight watercolour paper it will most likely require stretching before use. If you use a painting technique that uses reasonable amounts of water and your paper is un-stretched then the application of water will cause your paper to expand unevenly and warp. This can be very unsightly in a finished painting, and you will find that your paint settles in the troughs that the cockling creates.

The stretching process involves soaking your paper to expand the fibres, attaching it to a rigid board and allowing it to dry flat to become taut. Begin by soaking your paper in a water bath; the weight of your paper will determine how long you should leave it soaking. For 140lb paper 8 minutes should be sufficient. Remove your paper, drain off any excess water and place the paper on your board. Lightly wet some Brown Gummed Tape and stick the tape along all four edges of your paper. Blot away any surface water with a clean towel and allow to dry flat overnight.
Alternatively you can simplify this process by using our Perfect Paper Stretcher to achieve a perfectly stretched surface each time!
For full stretching instructions click on the underlined link below.
> Click here for some paper stretching hints and tips
Our Watercolour Paper Range
At Ken Bromley Art Supplies we offer a great range of watercolour papers, with surfaces suitable for absolute beginners, seasoned professionals and all artistic abilities in between. Whether you prefer to work with a loose technique or in fine detail, we're sure to have a paper perfect for you! You can find out a little more about the different papers we stock below.
Bockingford
Hot Pressed, NOT, Rough
90lb, 140lb, 200lb, 250lb
This extremely forgiving watercolour paper is ideal for beginners and amateurs. Traditionally mould-made, this paper gains an excellent texture from the woollen felts used in its manufacture. Bockingford watercolour paper offers quality at an affordable price.

 

---

Saunders Waterford
Hot Pressed, NOT, Rough
90lb, 140lb, 200lb, 300lb
This exquisite, traditionally mould-made watercolour paper is superior quality and comes with an endorsement from the Royal Watercolour Society. 100% cotton this paper is of an archival standard and is buffered to prevent discolouration of your artwork.

 

---

Saunders Waterford High White
Hot Pressed, NOT, Rough
140lb, 200lb, 300lb
This version of Saunders Waterford is a whiter alternative to their Traditional White paper. This surface gives artists a brighter paper without compromising on archival qualities. Your colours will appear more vivid and will give your painting a more contemporary look.

 

---

Arches
Hot Pressed, NOT, Rough
90lb, 140lb, 300lb
100% cotton, this professional grade paper is made to the highest quality. Each sheet of paper is hand inspected at the mill to ensure consistency. Strong enough to withstand multiple washes, masking fluid and tape without damage, this paper is exceptionally durable.

 

---

Winsor & Newton Professional Watercolour Paper 
Hot Pressed, NOT, Rough
140lb, 300lb
100% cotton watercolour painting surface. Crafted in Italy by fine art paper making experts, this luxurious surface has optimal absorbency and extreme strength. 

 

---

Winsor & Newton Watercolour Paper
NOT
140lb
NEW Winsor & Newton Watercolour Paper is a great introductory watercolour painting surface for students, beginners and hobbyists. Made from 25% Cotton and high-quality cellulose wood pulp this paper offers an economical surface perfect for experimenting.

 

---

Canson Heritage
Hot Pressed, NOT, Rough
140lb
Canson Heritage is a 100% cotton watercolour paper range made to meet the most exacting standards of professional watercolourists. With a traditional hand made feel this paper captures true to life colour and allows for crisp rendering of detail.

 

---

Millford
NOT
140lb
Developed by St. Cuthbert's Mill as an alternative to the now discontinued Whatman paper, this new alternative was deliberately created to have a high resistance to water. Consequently its washes perform differently to traditional watercolour paper.

 

---

Hahnemuhle Leonardo
NOT, Rough
300lb
Loose Sheets
This natural white watercolour paper is acid free, lightfast and made from 100% cotton. The smooth surface of Leonardo watercolour paper allows for excellent colour flow, making it ideal for working wet in wet or creating glazes.

 

---

Fabriano 5
NOT
140lb
Loose Sheets
Available in NOT surface, Fabriano 5 is a mould-made 50% rag watercolour paper that is acid free, surface sized and watermarked. This paper offers excellent resistance to aging and good permanence of colour due to its acid-free nature.

 

---

Fabriano Artistico
Hot Pressed, NOT, Rough
90lb, 140lb, 300lb
Fabriano Artistico is a 100% Cotton mould-made, chlorine free and acid free watercolour paper, that offers guaranteed long conservation and inalterability over time. It offers optimum absorbency to satisfy the requirements of both amateurs and professionals.

 

---

Daler Rowney Langton
Rough, NOT
140lb
This watercolour paper from Daler Rowney offers good colour-stability and it is both mould-made and acid free. This paper will preserve the integrity of your artwork over time and prevent the deterioration of paint and colour.

 

---

Daler Rowney Langton Prestige
NOT, Rough
140lb
Langton Prestige is a superior quality alternative to regular Langton paper. Manufactured using 100% cotton this paper has a natural whiteness with a distinctive texture. It is acid-free to preserve your work and protects against discolouration.

 

---

Botanical Ultra Smooth
Hot Pressed
140lb
This paper was introduced as an alternative for Fabriano 5 HP paper, which has now changed its surface. The Botanical Ultra Smooth is very close in colour and texture to the HP Fabriano 5, made from 50% cotton and is a great choice for botanical artists.
---
Still Not Sure What to Choose?
The wide selection of watercolour paper can be daunting and no amount of reading about the paper, looking at it, or even feeling it can beat actually using a piece and testing it for yourself. This is why we have put together our watercolour paper mini starter pack. The pack contains a selection of different brands of watercolour papers, in different surfaces and weights allowing you to try them all before before committing to a whole pack, or pad of a particular paper.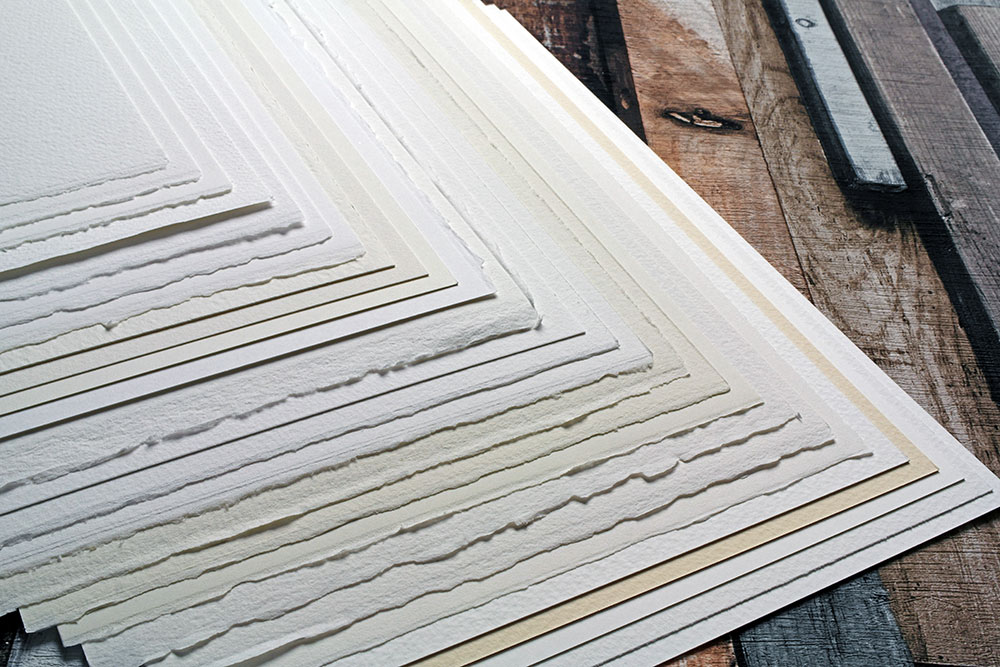 ---
Looking to learn even more about watercolour paper? We have an FAQ and Glossary that feature some of the most common watercolour paper terms and also a selection of the most frequently asked questions about watercolour paper.
> Read our Watercolour Paper FAQ