The 200ml tubes size range of Winsor & Newton Winton Oils, 55 individual colours of excellent quality.
Winton is a traditional range of oil colours, made from moderately priced pigments, formulated for student and amateur artists or more accomplished painters requiring large volumes of colour within moderate cost limits.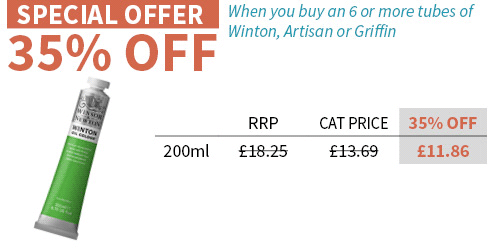 Show more
FORMULATION
As with Artists' Oil Colour, every colour in the Winton range is individually formulated to take advantage of the natural characteristics of each pigment and to ensure the stability of the colour.
COLOUR RANGE
Winton Oil Colours has been made from pigments, which offer as broad a palette as possible whilst retaining a moderate price. The spectrum has been selected to ensure that the largest number of colours can be mixed from the range. In addition, the Winton spectrum relates specifically to Artists' Oil Colours, providing clean colour mixing and helping artists to upgrade to the superior range of Artists' Oils when ready.
PIGMENT LOADING/TINTING STRENGTH
A high level of pigmentation provides good covering power and tinting strength. While it can't match the superior pigment load of Artists' Oil Colour, the Winton range is much stronger than many other artists' quality ranges. The economical cost has been achieved through the use of moderately priced pigments rather than lessening the pigment content to an unacceptable level. Winsor & Newton formulation, manufacture and quality control ensure a product of absolute excellence.
Show more