Watercolour Tutorial: Capture the Atmosphere and Light in a Street Scene
Street corner in Pézenas by Nicholas Poullis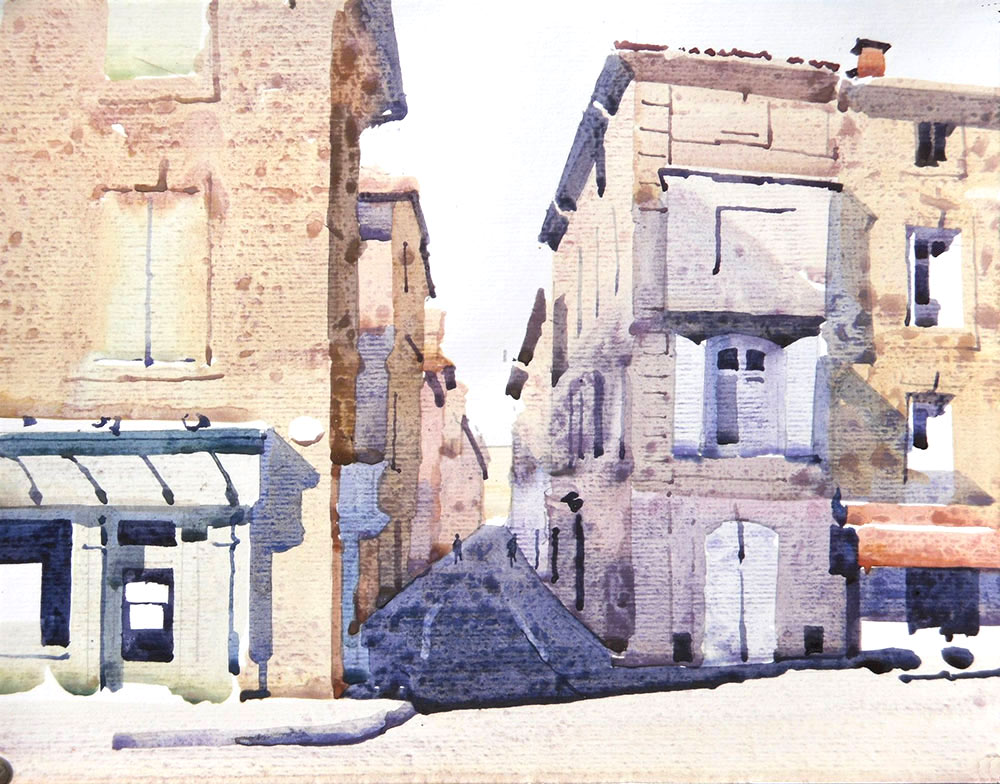 My philosophy towards painting is simple – I try and capture the subject that has inspired me, what identifies it, the atmosphere and light. While I do not impose myself on a subject I try to use selected elements of it to create a defining image of it. The technical picture making aspects – composition, colour, balance and detailing help me to achieve this and help me give the painting focus.
Every mark made in watercolour is definitive and watercolour works like no other medium. Freshness is crucial so the watercolour should sit on the surface of the paper and not be muddied by overworking. Water colour is in many ways counter intuitive in that it makes intuitive sense that if I do more work on a painting the better it gets – in fact in watercolour quite the opposite is usually true. It is crucial that each layer be put down well and correct and then not altered and tinkered with which then reduces freshness.
This painting demonstrated shows the whole process from choice of subject and then the technical application of paint from start to finish.
---
Step by step
With representational art, the choice of subject matter is very important. There are views that look nice but do not make good pictures and there are other subjects that are both attractive and interesting enough to hold your interest and have enough elements to them that make a good subject.
'Street corner Pezenas' is a good subject for a number of reasons. The view has depth, light direction giving from and contrasting architecture and interesting shapes.
I am using a variety of traditional techniques including the wash, the graduated wash and wet on dry.
Materials
---
Demonstration
Step 1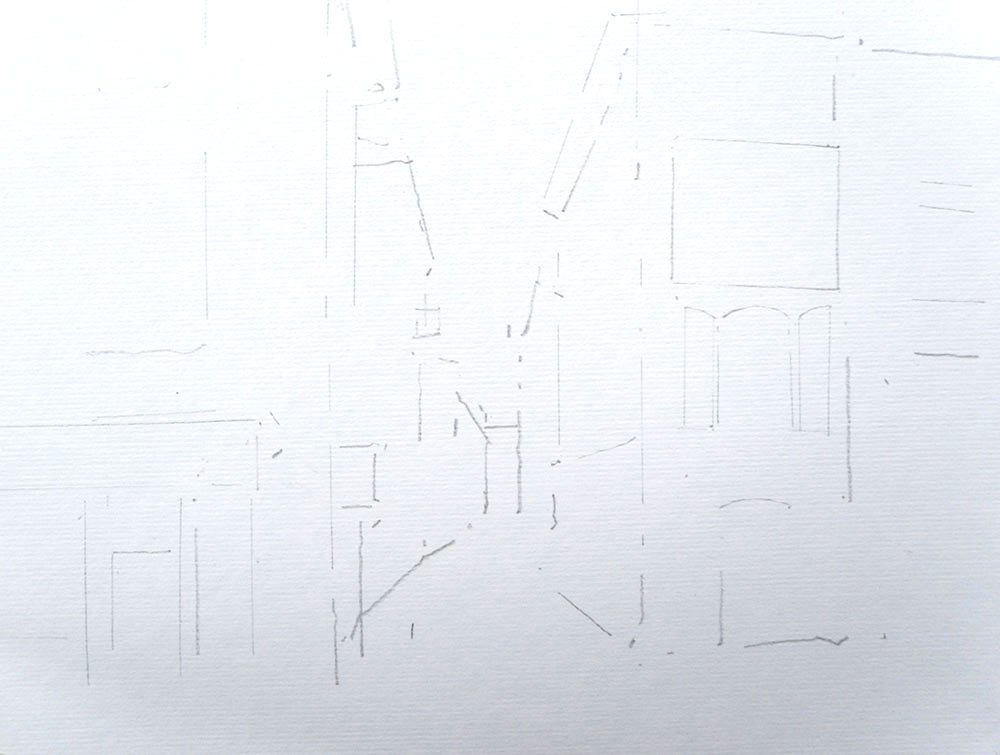 The drawing defines the structure and composition, proportions and perspective of the painting. The drawing is simple, I can draw in more if I need a particular shape, at a later stage.
Step 2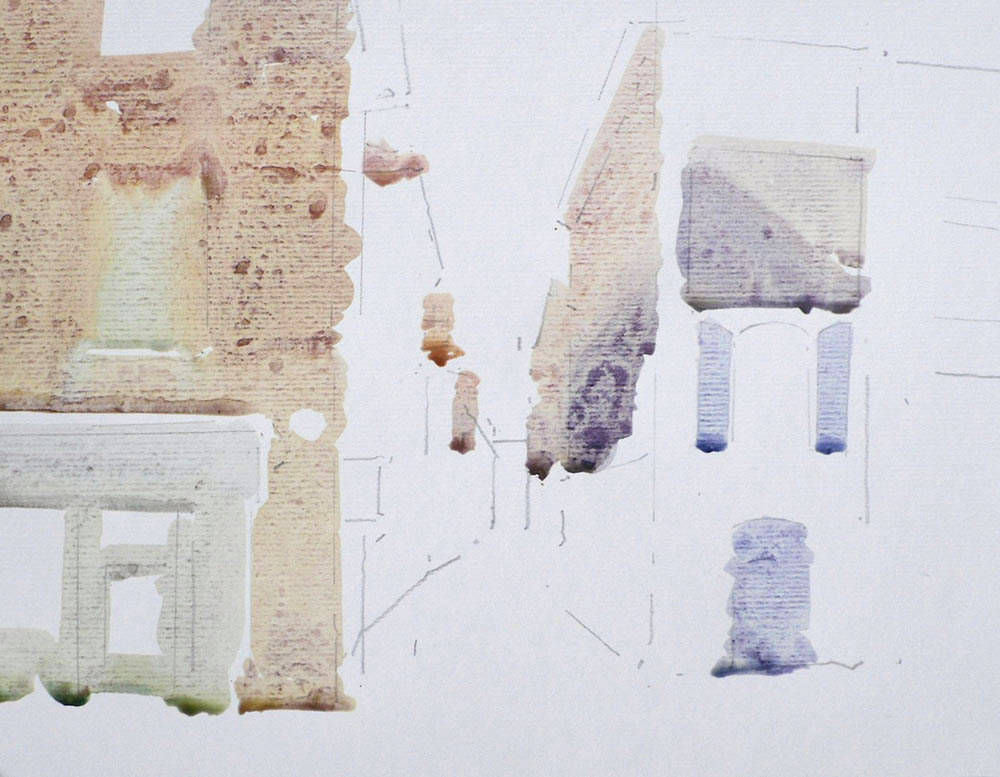 Working from light to dark I start putting in the shapes. Light shapes are defined by painting around with a darker tone. These have to dry completely before subsequent washes are put down to avoid bleeding.
Step 3
More light and slightly stronger tones are put down to try and define forms and define the subject.
Step 4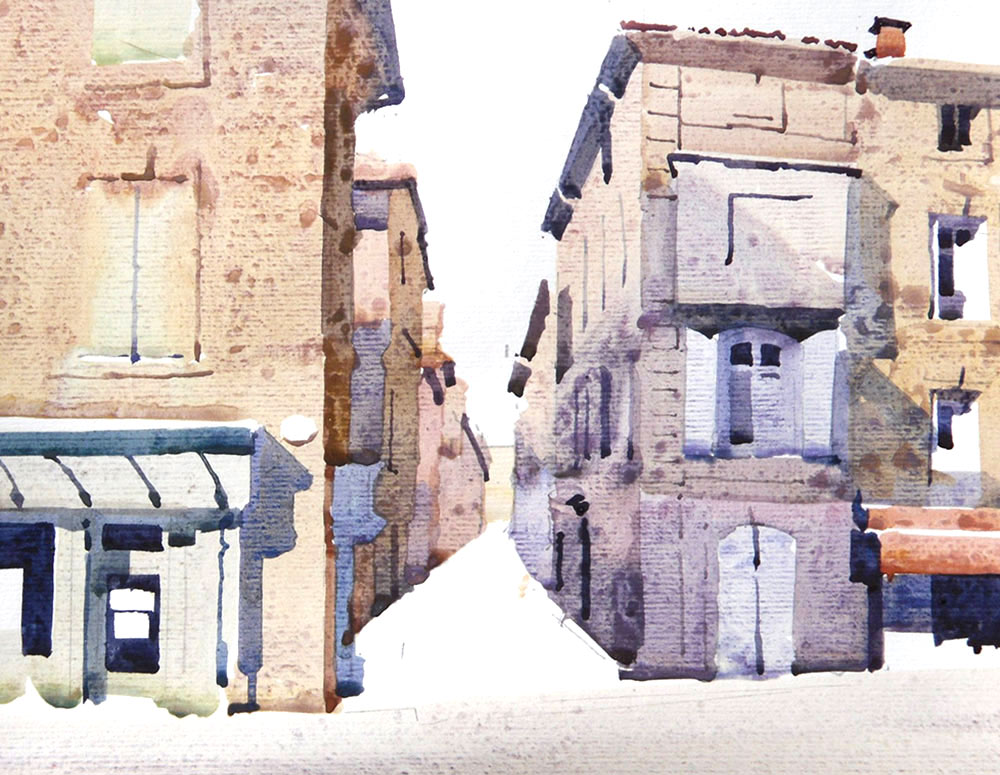 Darker tones and shadows are put down wet on dry that help create the lighting and gives form to the subject. Depth is created.
Step 5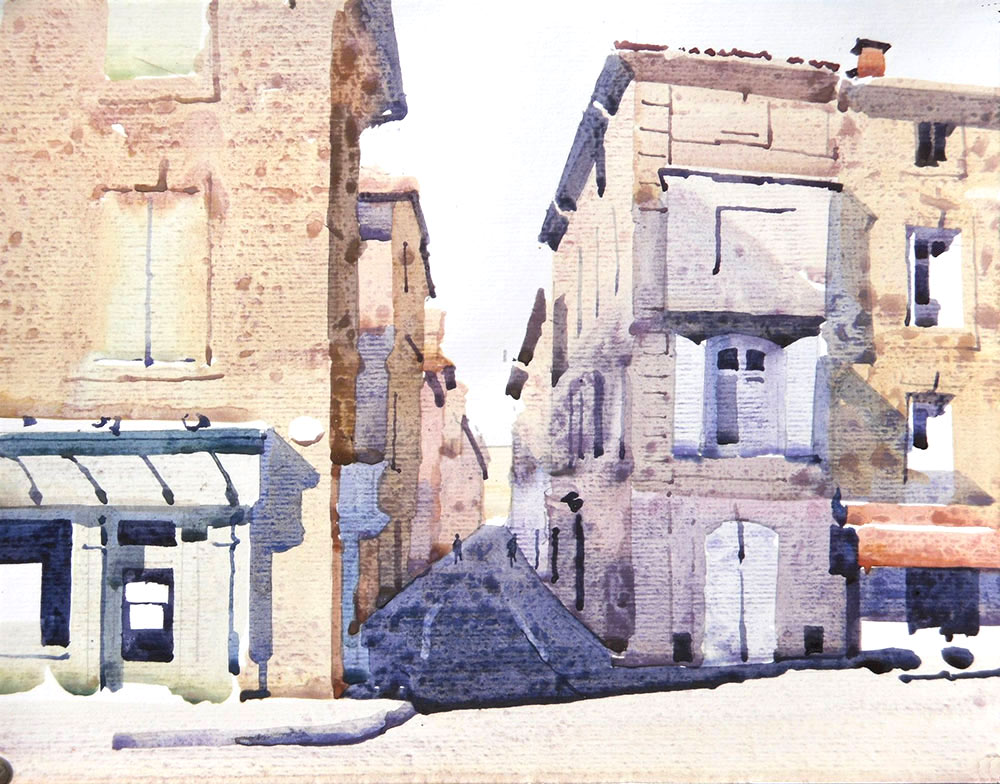 Details are added to create balance and the darker tones are added. You create light by painting darks. A couple of figures are added to give scale and a little activity – it was a quiet day.
---
My design and composition tactics
Without a good composition the painting is sunk before it begins. The usual rules can be followed. I prefer to go on what looks right.
Try to find natural compositions while choosing a subject. Most subject will have a view that lends itself to a composition in a picture – try to think in terms of areas of interest.
Place areas carefully on your paper. An area of interest is usually best placed towards the center of a painting. Avoid placing features too close to the edges, particularly the bottom edge.
Choose a subject with a light and dark side. A subject needs contrast – with poor lighting the subject can become flat and features that would be interesting with good lighting, can be lost.
---
About Nicholas Poullis
Nicholas is a previous Baker Tilly Award winner at the Royal Watercolour Society and an award-winning book illustrator. He has work in the collections of St Johns college, Cambridge University and the Royal Automobile Club. He has work in public collections in France and private collections worldwide. He has been a contributing author to the leading practical art magazine, the Artist, for over fifteen years. He has co-authored for Walter Foster and Winsor & Newton on various aspects of watercolour and working from life, which is his speciality. Nicholas is well established in the Languedoc (southern France) where he has previously been an Official Painter to the Office de Tourism Val d'Hérault and has published several popular illustrated books on the region. He will be running painting holidays in southern France later this year and in 2021 (fingers crossed)
For commercial and other enquiries he can be contacted directly by email: poullisnicholas@yahoo.fr
More information and images can be seen on his website.
www.nicholas-poullis.com and info about his painting holidays at www.vineyardpaintingexperience.com