Winsor & Newton Designers' Gouache in size 14ml tubes. Designers Gouache colours are a range of opaque watercolours, mainly used by designers, illustrators and commercial artists to create vibrant illustrations in solid colour.
Black and whites are available in larger 37ml tubes.
Winsor & Newton have been producing Designers Gouache since 1935 and to this day they continue to offer the finest artists' gouache range available.
Today the Designers Gouache range benefits from significant developments in technology and is smoother, flatter, more opaque and more brilliant than ever before.
Download the Winsor & Newton Designers' Gouache Colour Chart.
Due to W&N international agreements we are not able to ship this product to the USA.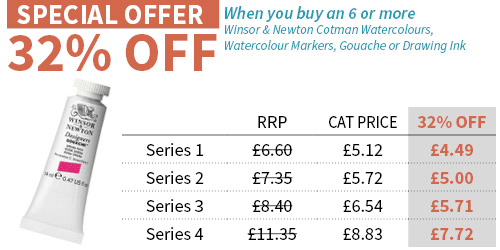 Show more