Q&A with the London Caricaturist Simon Ellinas
Simon Ellinas has been a professional cartoonist and caricaturist since the early Eighties. His work has been published in UK & International newspapers & magazines.
Have you always drawn? Can you tell us about your artistic background/and or education?
Yes, I was virtually born with a pencil in my hand and spent most of my childhood on the floor with a drawing book and pens/pencils. At schools and colleges I always drew the teachers and pupils and became involved in school/college magazines. I went on to art school (Harrow School of Art) but then dropped out to go straight into magazine design and publishing.
Your London Underground Caricatures project looks really interesting! Could you give us an overview of the project and let us know how it all began?
After I filled each day in a 2019 diary with a caricature of a person born on each date, I wanted to keep the momentum going for 2020, so I thought of the London Underground network and the numbers of celebrities who must have lived/worked nearby to each station. Then the Lockdown kicked in and the project became the perfect opportunity for the creative juices to flow.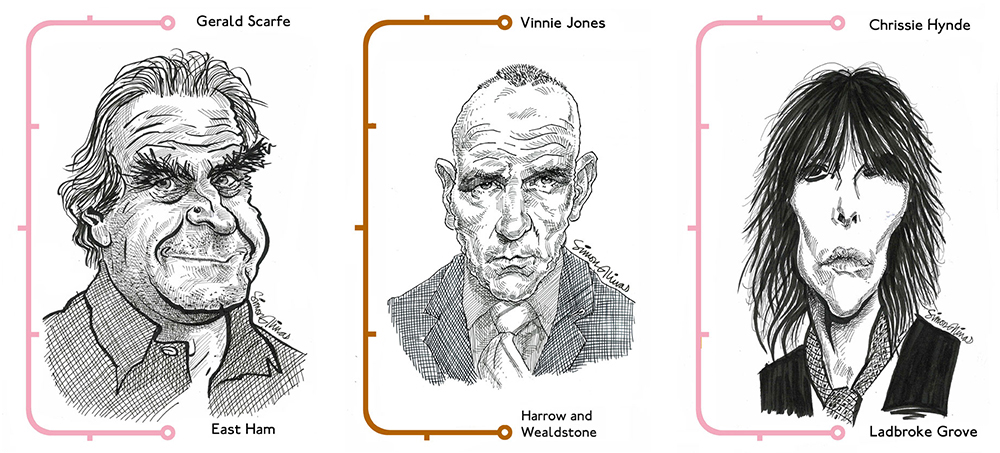 It's built on the success of your previous project illustrating a page a day diary throughout 2019 with a celebrity born on each day. One big event between the two projects has been the pandemic! Did you find that the pandemic had any effect on your creative flow or made you enjoy one project more than the other?
Yes – Lockdown gave me a lot of time to examine my real purpose. I had always started off in newspapers and magazines but, by the Nineties, had been distracted by the lucrative and plentiful source of income from entertaining at corporate parties by drawing caricatures live on the spot. I did my last one back in February 2020. Just as Lockdown was starting I got a call from the Daily Mail's City and Finance department to draw a cartoon about the Budget. I've been drawing for the Daily Mail ever since. I realise now that this is where I want to get back to. Newspapers and Magazines (and websites, of course.)
Looking at your work, you've collaborated with quite a few different companies and publications. Which has been your favourite project to work on?
Of course, I love the Daily Mail work, but I have a history of creating my own ventures. Ha! (Humorous Arts) Magazine was a publication which ran for five issues in the mid-Nineties and sold 40% of issues in independent newsagents around London.

Chattoon! The Chat Show with cartoons is a series of interviews with celebs while they are being drawn by various cartoonists including myself.
You mention on your website that you have created artwork using both traditional and digital mediums. Is there one that you favour over the other? If so, why?
I'll never tire of using pen/brush and ink. I always produce the black base artwork, on Frisk Bristol Board or hot pressed watercolour paper, this way and often finish off with watercolour paints. However, these days, for speed and ease of delivery (JPEGs/ PDFs), especially for publications, I scan in the black artwork and add colour in Photoshop or , more often these days, Procreate on my iPad Pro. I still prefer the challenge of producing a complete work of art but do appreciate that fantastic results are now possible digitally. But the end results are only prints and not originals.
How do you begin working on a caricature? Do you have a set method or does it vary from subject to subject?
I've always been obsessed with faces. And as faces vary, so does my method. A thin angular face needs a very different approach to a large round face. Conventionally good looking people are often the hardest to capture, particularly women!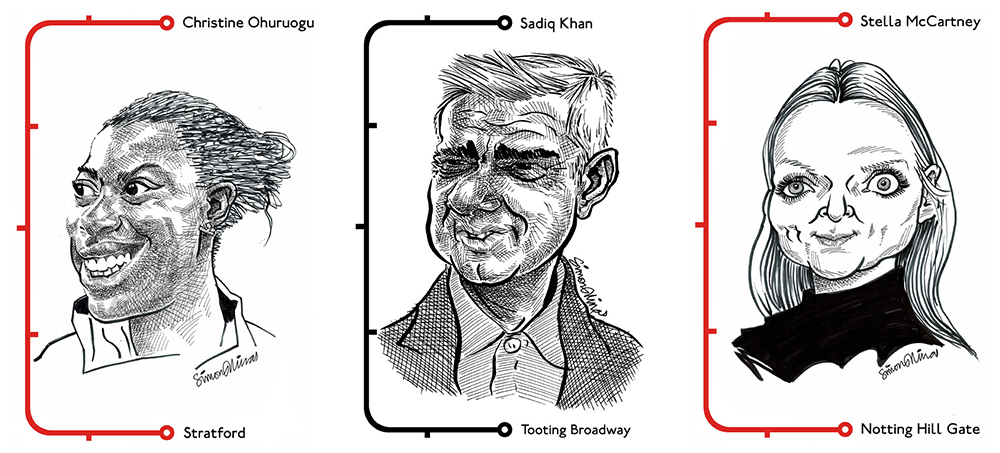 What are some essential art materials that we'd find in your studio?
8B pencils that don't break too easily. They seem to vary. At the moment I'm happy with Faber Castell pencils. The refillable Pentel Brush Pen for the broad strokes and outlines with varying thicknesses of line, The Platinum Carbon ink pen Medium and Extra fine for details and cross hatching and a UniPin Fine liner pens. Plus various dip pens and brushes and Winsor and Newton, Higgins and Noodlers inks. For colour, I use a variety of Winsor and Newton watercolour sets and some acrylic inks.
Any tips for capturing the character of a person without your illustration looking bland and uninteresting?
Finding your style is a nebulous concept. I still don't know if I have found mine. Find good, expressive photos to work from, ensuring that they actually look like the person. So often, bland, posed photos don't actually contain the person's true likeness. If you find the right selection of photos to work from, you're off to a good start.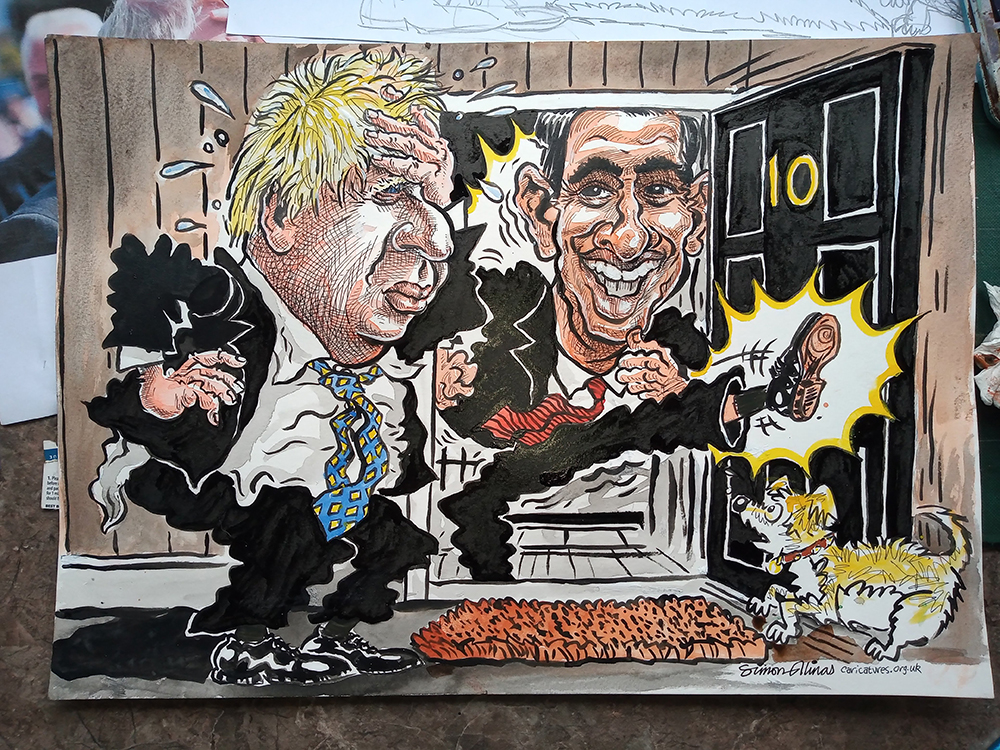 Do you have any advice for new artists looking to take up illustration or begin working on caricatures?
Always draw every day, keep a sketchbook and keep drawing your favourite celebrities. The more you do the more you'll find your style and find improvement.
You seem to keep yourself quite busy! Do you have any new projects in the pipelines?
The London Underground book is the main one – it's nearly finished and then I'll look at publishing options, including self-publishing. Recently I've started sketching out famous philosophers and I have already thought of drawing every single member of the House of Commons (665, I think!) But who knows where or when inspiration will strike next?
---
About Simon Ellinas
After a short stint at Harrow School of Art Simon worked in magazine publishing for companies including Marvel Comics UK. He has been published in Sunday Times, The Week, and News of the World and designed for Abbey National (now Santander), British Telecom and Pickfords Travel.
Simon has published his own magazine, Ha! Humorous Arts.
Simon is currently concentrating on cartoons & caricatures, regularly working for The Daily Mail, and private individuals commissioning caricatures from photos as gifts. Find out more on his websites below.
www.simonillustrations.com
Simon's entire collection of London Underground Caricatures is at www.londoncaricature.co.uk