Using the Derwent Tinted Charcoal Paint Pan Set – Our Top Tips
Enjoy all the qualities of charcoal, but with a water-soluble twist! The Derwent Tinted Charcoal Paint Pan Set includes 12 pans of deep, muted tones that you can easily activate with a wet brush. With all colours fully intermixable, this set offers a palette of colours ideal for dramatic landscapes, seascapes and more! Discover our top tips so you can get the most out of your sets.
The Derwent Tinted Charcoal Paint Pan Set includes a great selection of paints and painting accessories that allow you to enjoy painting with charcoal on the go. Using a hint of colour in a charcoal base, this set is ideal for creating atmospheric artwork. It includes the following products:
12 Tinted Charcoal Paint Pans – Dark Moss, Forest Pine, Driftwood, Mountain Blue, Ocean Deep, Thistle, Glowing Embers, Burnt Embers, Burnt Earth, Natural, Dark and White.
A small sponge
Small waterbrush
Sturdy plastic palette box with plenty of mixing space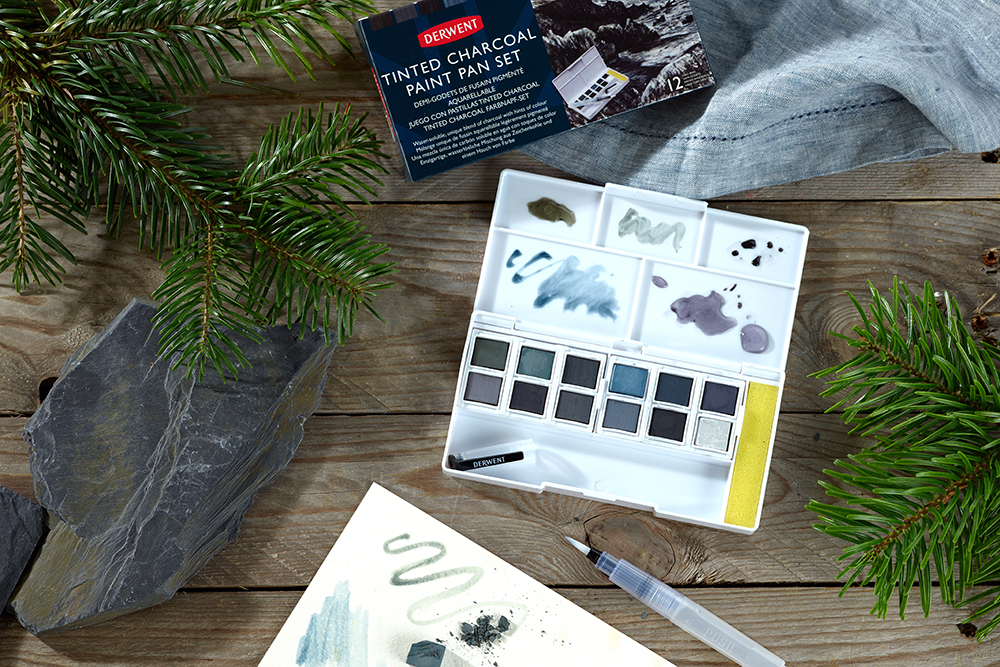 Each Tinted Charcoal Paint Pan dries to a matte, textured finish – all the properties you'd expect from working with traditional charcoal. New to using water-soluble charcoal? Or maybe you're looking for ways to incorporate this versatile medium into your practice. Read below to discover our top tips for using this set.
Layer colour to create dramatic darks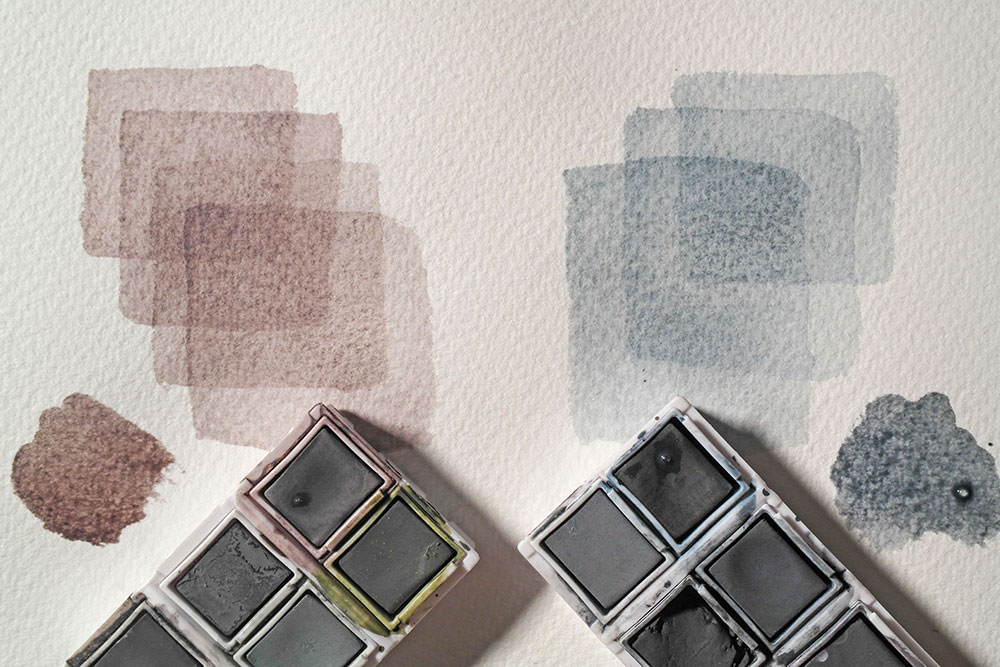 The subtle shades in the Derwent Tinted Charcoal set can be used to paint everything from the deepest shadows to the wispiest greys. To paint the faintest of tones try lifting a little colour with the waterbrush and dilute it with water on the palette. The more water you add, the paler the colour will become. Use less water in your mix to create deeper colour. Mix to a thick consistency using minimal water and you'll have an opaque paint that performs similarly to gouache. Use your paints on textured papers, like NOT (Cold Pressed) or Rough watercolour paper to enhance their texture.
Use in Landscape and Seascape paintings to create atmosphere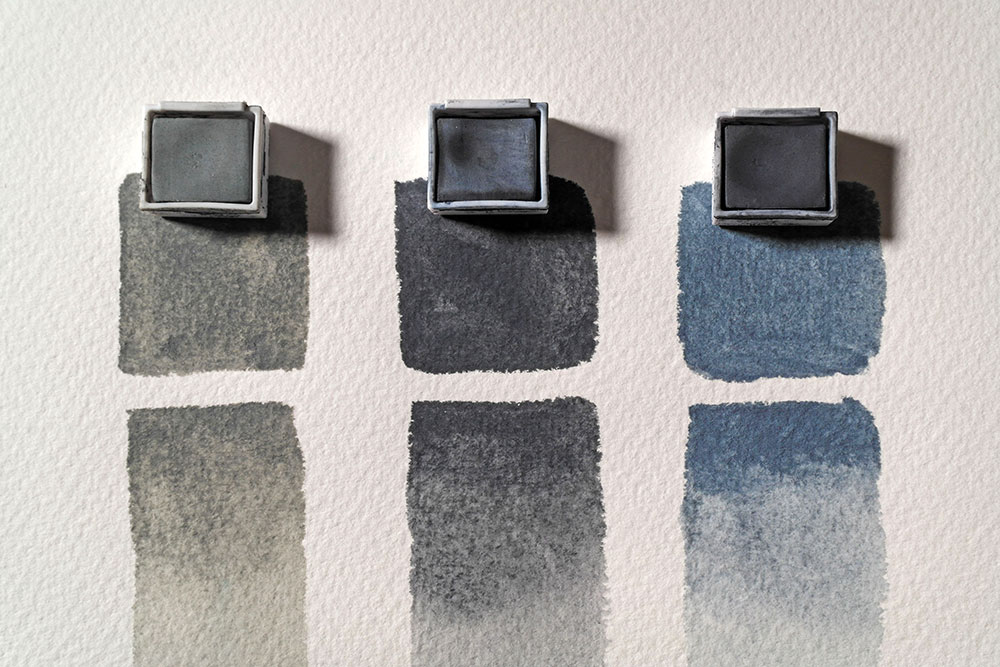 The palette of colours in this set is ideal for creating drama and atmosphere in both Landscape and Seascape paintings. Mountain Blue and Ocean Deep will really bring your seascapes to life, while Forest Green is the perfect colour for painting shadowy landscapes. Try using these colours in both concentrated and dilute mixes to build up tones and create contrasts.
Create dynamic shading from dark to light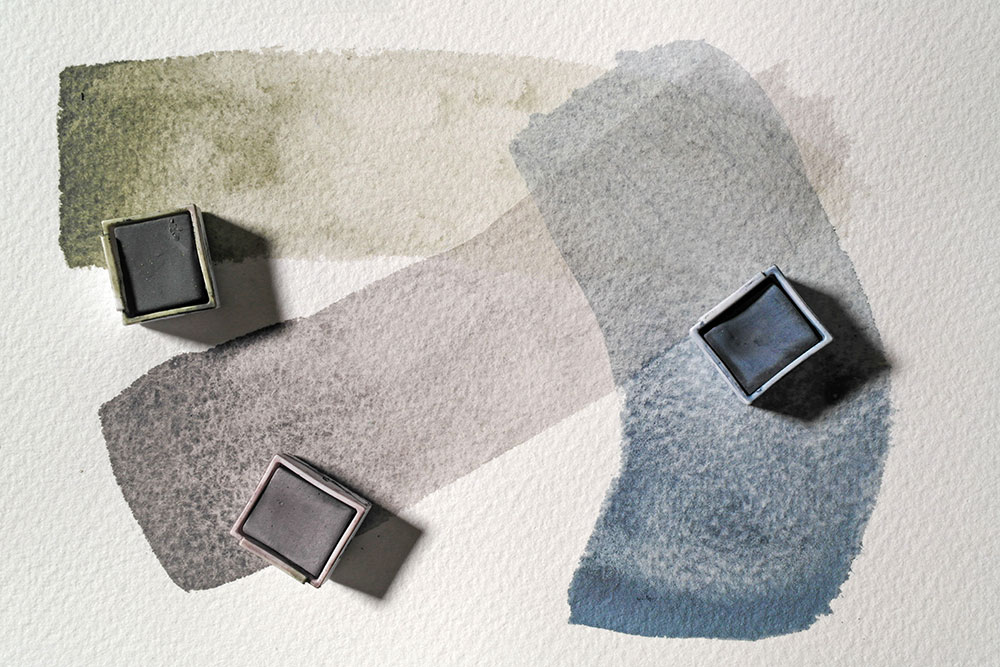 You can create dynamic shades of sweeping colour by pulling dark shades across your paper using a water brush. Apply a stroke of thicker colour mixed with only a little water to create a deep wash. Take your waterbrush, or a wet brush, and use it to drag colour across your paper in broad sweeps. The colour should become paler as you move it across your paper.
Paint subtle, smooth transitions of colour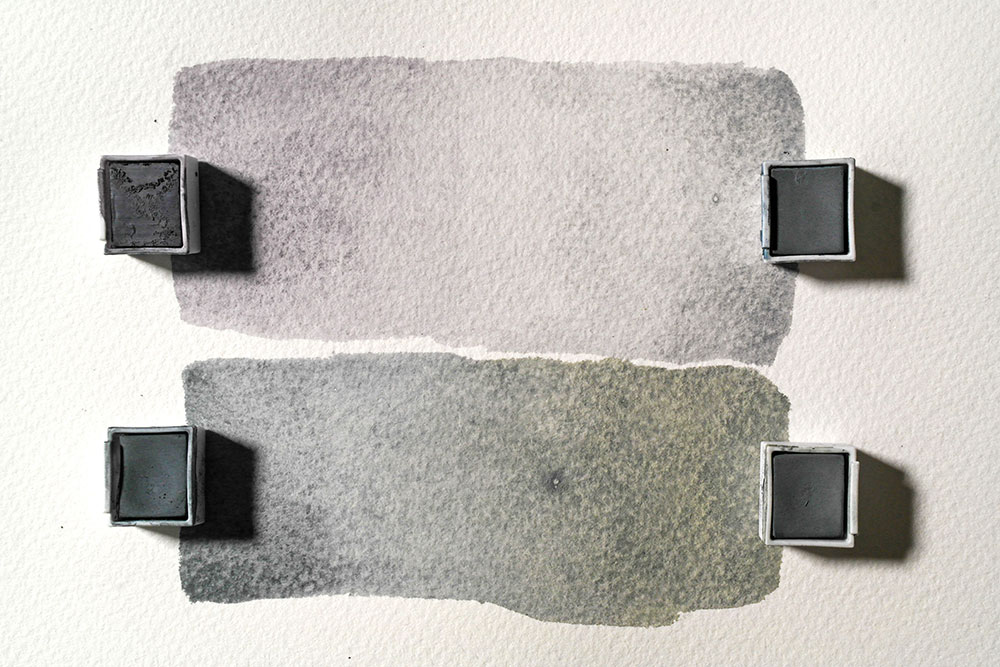 All colours in this set are completely intermixable – putting a broad palette at your fingertips. The best way to create subtle transitions of colour is by using dilute washes. Select two colours from the set and mix two separate dilute washes for each colour. Take one colour and paint out a swatch, before taking the second colour and painting another swatch with some overlap. Use the waterbrush to blend the middle between both colours and you will create a wash with seamless transition between the two colours. Using this method with thicker mixes can result in patchy washes.
Use Dark to create the deepest, darkest blacks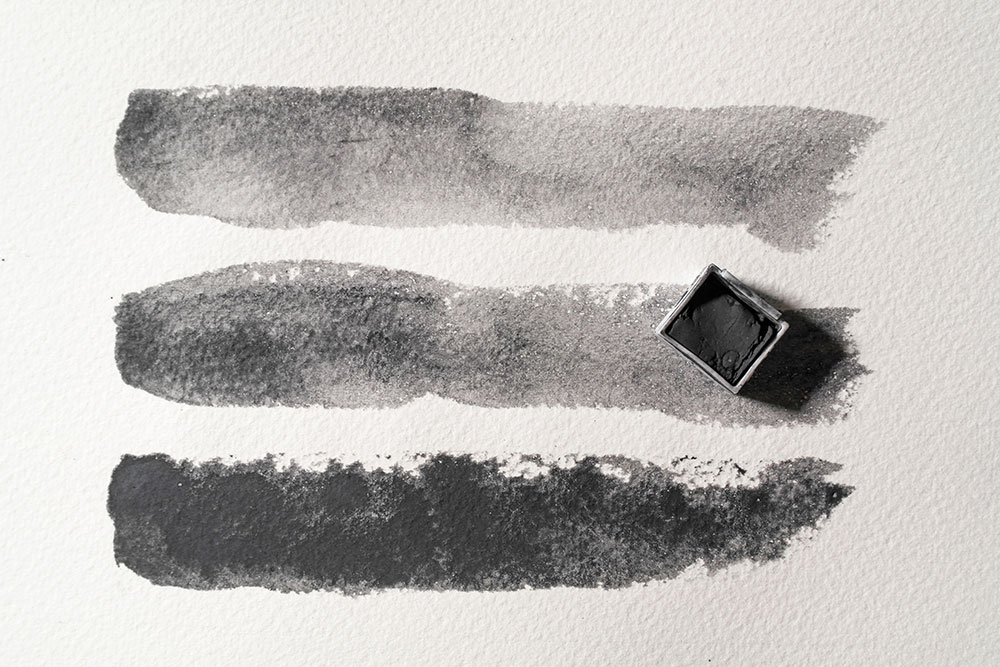 The Dark paint pan is pure, black charcoal and is perfect for painting dramatic, deep shades. Mix it up with the smallest amount of water and you'll create a thick paint that will paint the darkest black possible. These thick mixes are ideal for adding depth of tone in your paintings. Washes of dark will look slightly different depending on the type of paper you are using. Paint a thick swatch of it on NOT (Cold Pressed) or Rough watercolour paper and the wash will appear more even but less deep. This black looks its darkest on Hot Pressed (Smooth) paper, but washes can seem patchy.
Make subdued tones by mixing with White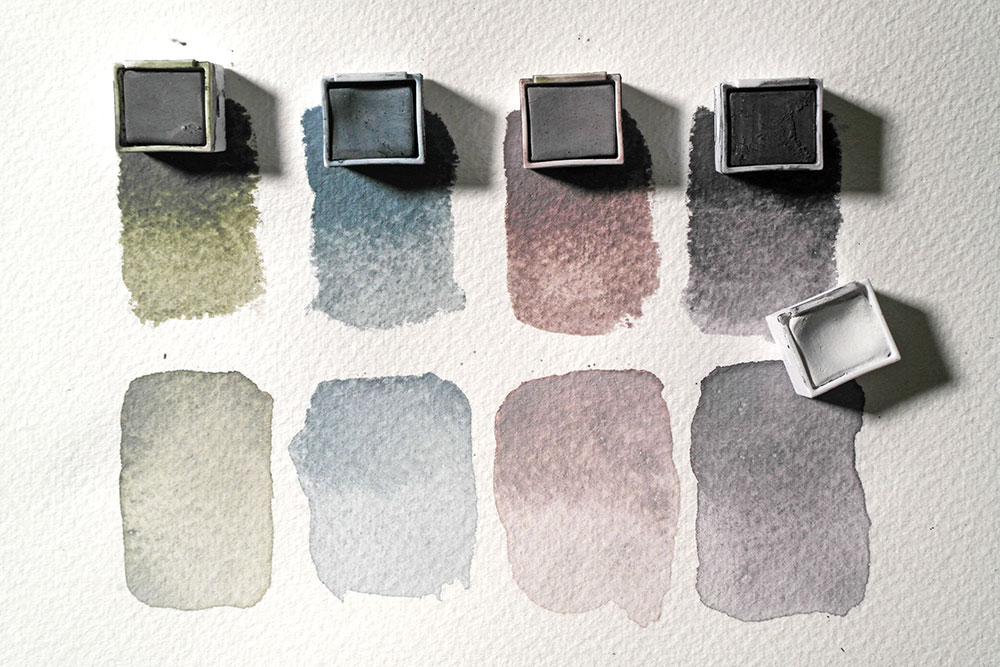 White tinted charcoal behaves similarly to a Derwent Pastel Shades pan. Use it in thick mixes and it will behave similarly to a gouache paint. This is great if you're looking to layer details onto a dark background. It's also versatile in mixes. Mix it with other colours in the Tinted Charcoal set to immediately subdue the colour and create paler shades.
Paint on textured paper to increase contrast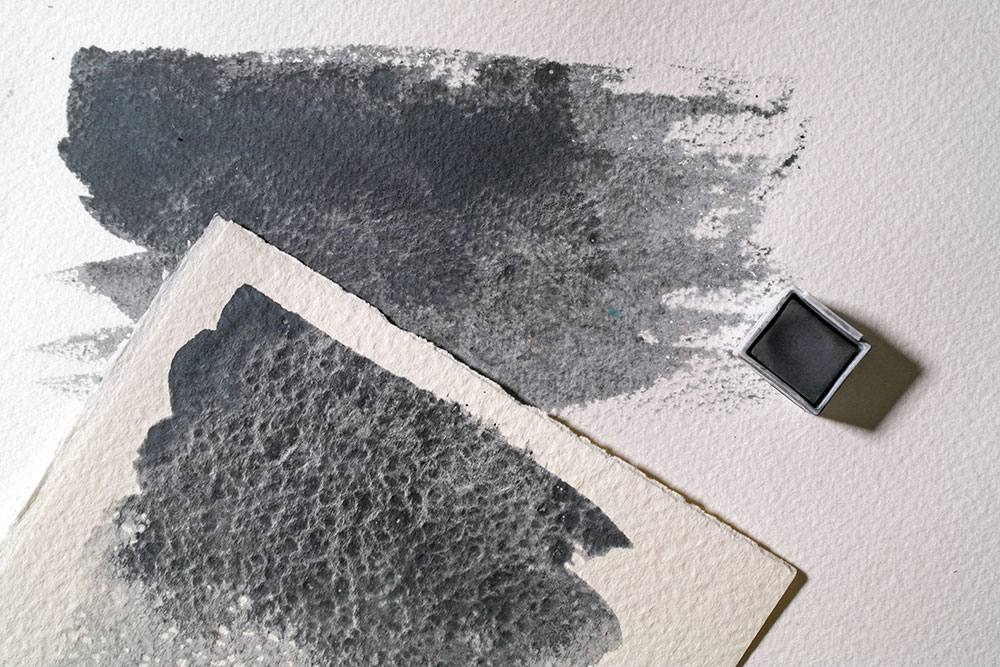 Papers with texture, like NOT (Cold Pressed) and Rough watercolour paper – really make these Tinted Charcoal Paint Pans pop. While they don't granulate quite like the Graphitint pans, the peaks and pits of the paper do give them a bit of extra texture. This extra texture introduces contrasting transitions in colour and is perfect for incorporating into landscape paintings.
Use blending tools to smudge colour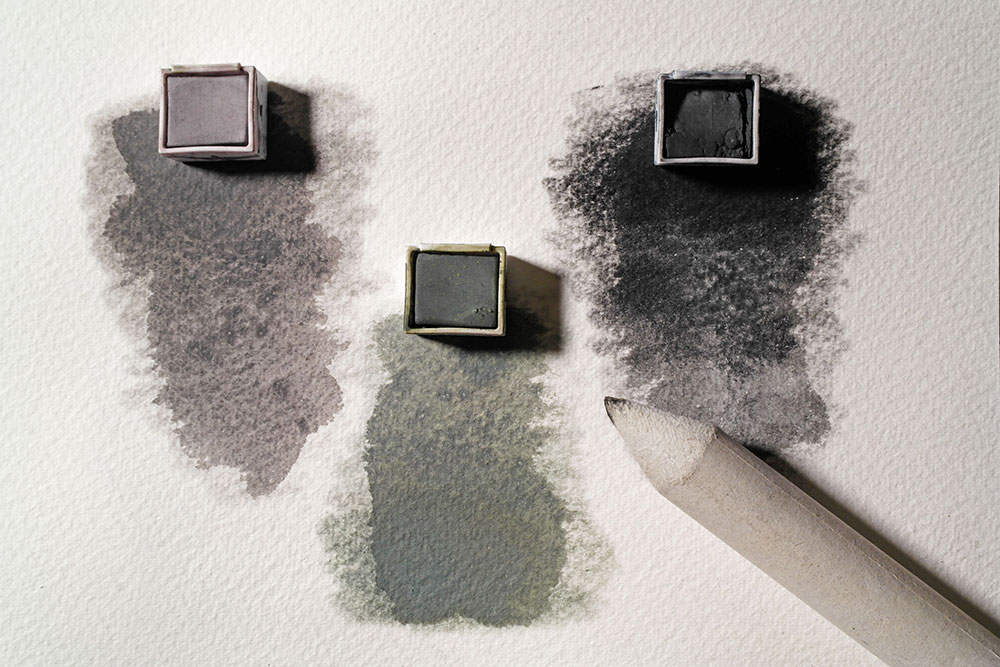 You can still manipulate washes of Tinted Charcoal even after they dry. Like traditional charcoal, you can use a finger or blending tool (like our Derwent Paper Stumps) to smudge the colour and push it around to create wispy shadows and blends.
Lift dry colour with an eraser to create pattern and texture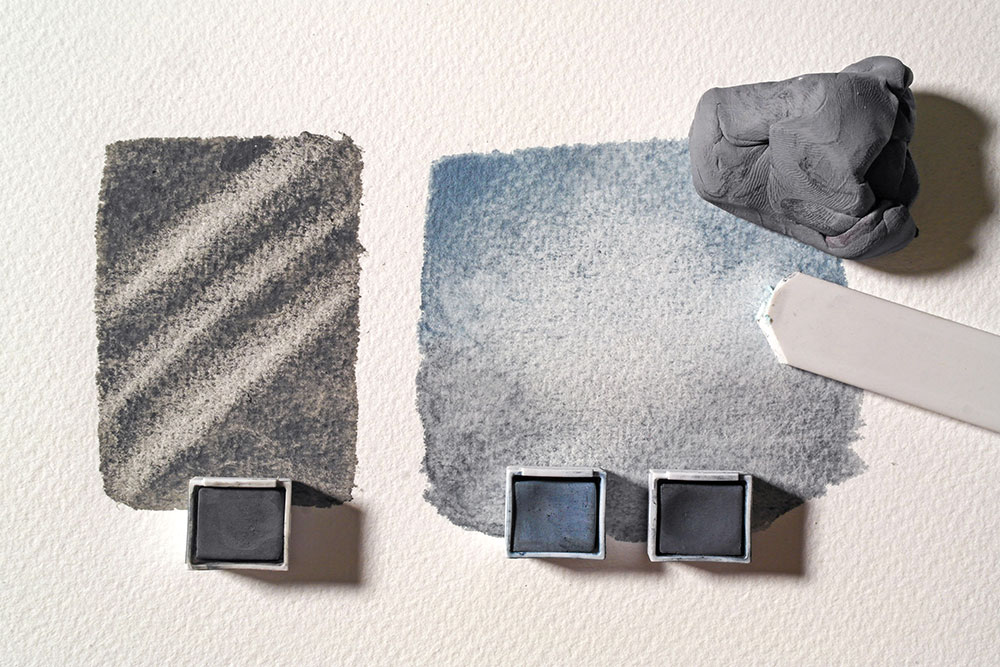 Not only can you smudge Tinted Charcoal once it is dry, you can also lift it with an eraser. Let your paints dry thoroughly before taking an eraser to gently remove colour. The Artist Eraser from the Derwent Specialist Eraser pack is ideal for this purpose. It is quite stiff making it perfect for removing dense areas of charcoal. This technique will work better the smoother your surface is.
Reactivate charcoal with water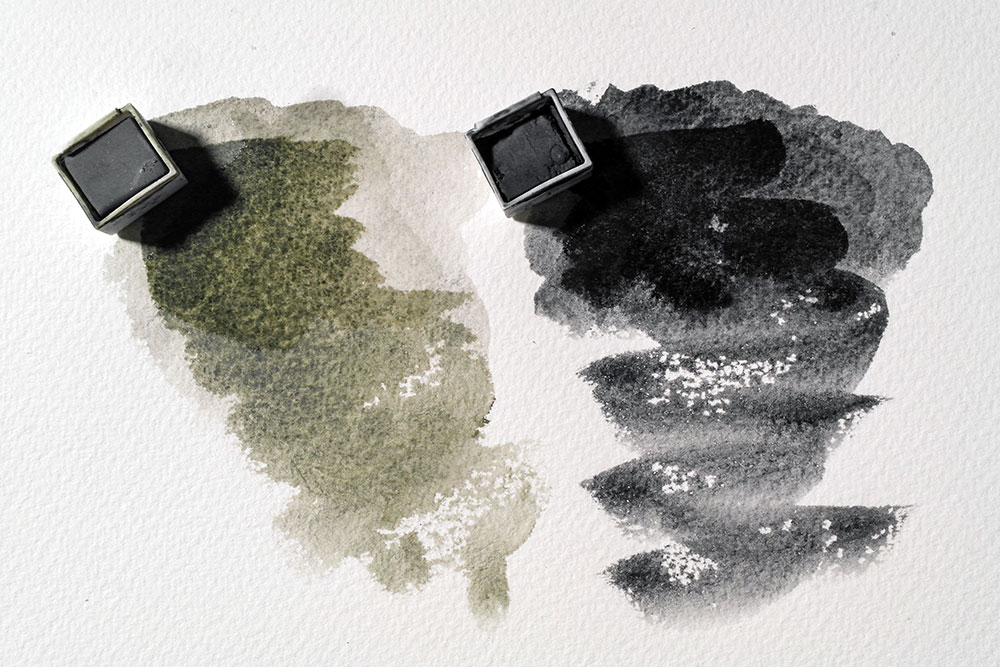 Once your Tinted Charcoal wash is dry, you can still reactivate the charcoal particles with water. While the pigment in the paint will stain the paper, you should be able to easily lift the particles of charcoal. Take the waterbrush and sweep it over a dry wash. You should be able to see speckles moving around in the water.
Mix thickly and apply light over dark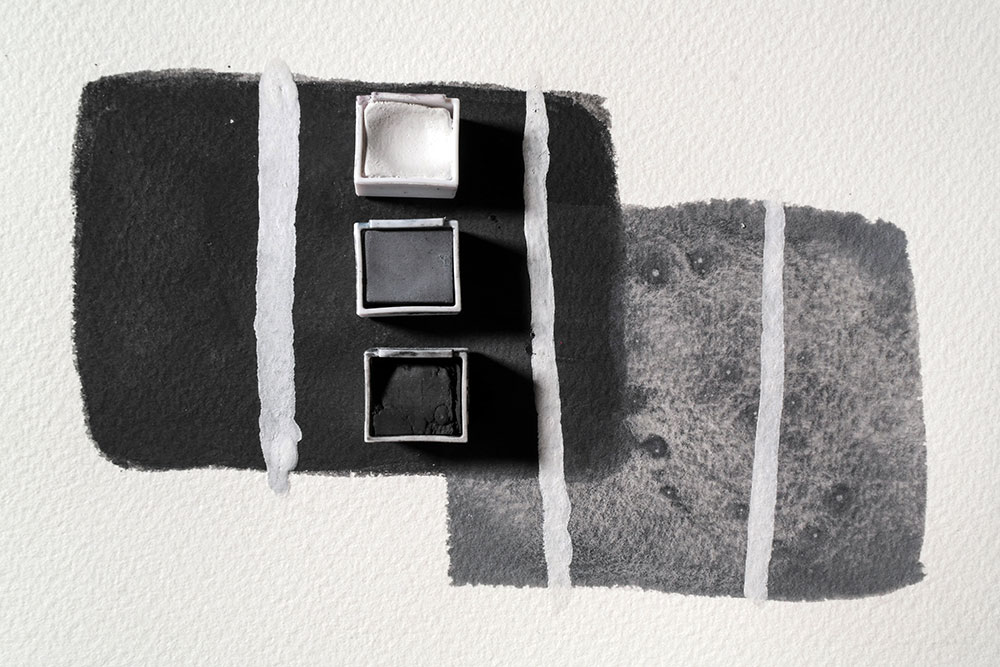 Use only small amounts of water to mix your Tinted Charcoal colours and you'll create a thick paint with great opacity. Because the colours are opaque, you'll be able to easily layer light over dark. Try taking White and use it to create a thick paint mixture. Apply this paint over swatches of the other colours in the set. You should find that it covers even the Dark black pan used at its thickest!
---
Buy your Derwent Tinted Charcoal Paint Pan Set today or browse the rest of our Derwent Paint Pan Sets.