Q&A with Artist Tom Voyce
Tom Voyce is an art teacher currently based in Burton on Trent in Staffordshire. In 2017 he won the Sky Arts Landscape Artist of the Year. He is currently in the process of building up a new body of works influenced by travels across Canada, the US, Fiji and New Zealand. We caught up with him for a Q&A session earlier this month.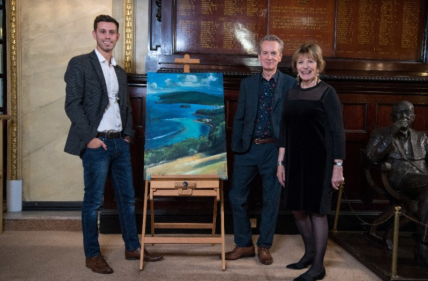 Tell us about which artists influenced your work and how you started as an artist.
I am massively influenced by mid-20th century American painting – particularly the work of Richard Diebenkorn and Edward Hopper – the latter whose powerful, atmospheric and cinematic scenes resonated massively with me. His work, void of people – and the strong focus on light and shadow, is something that I continue to attempt to bring into my work.
Richard Dienbenkorn's semi abstract landscapes – particular 'cityscape 1' have influenced my compositions and use of brushwork. The layering and use of 'borders' come from this artist. The boundary between abstraction and figuration is something that he went in and out of throughout his career – and for me I am always exploring this also.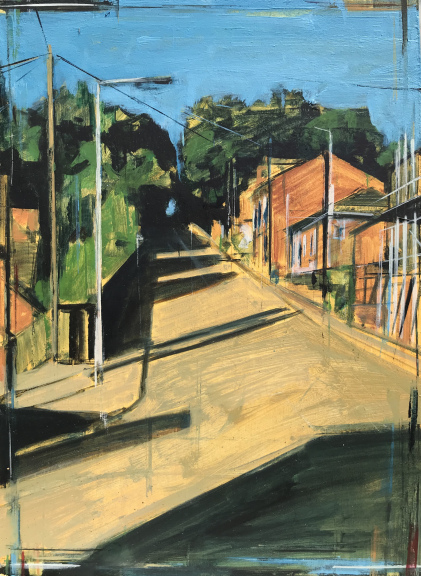 What is your favourite medium and why?
I work predominantly using oils on MDF boards that has been primed and sanded four times using gesso. This gives a smooth service that allows the paint to be put onto thinly with layers after putting down a coloured ground – usually a Naples yellow.
When I'm doing prep pieces I draw using pencils and a sketchbook – sometimes watercolours for colour notes.
I tried using acrylics before but I love how oils perform – allowing me to work on a number of boards at once – and being able to work back into them after a while. Being busy at work means that sometimes I can't always spend too much time painting, so to be able to pop in and out of it is useful for me.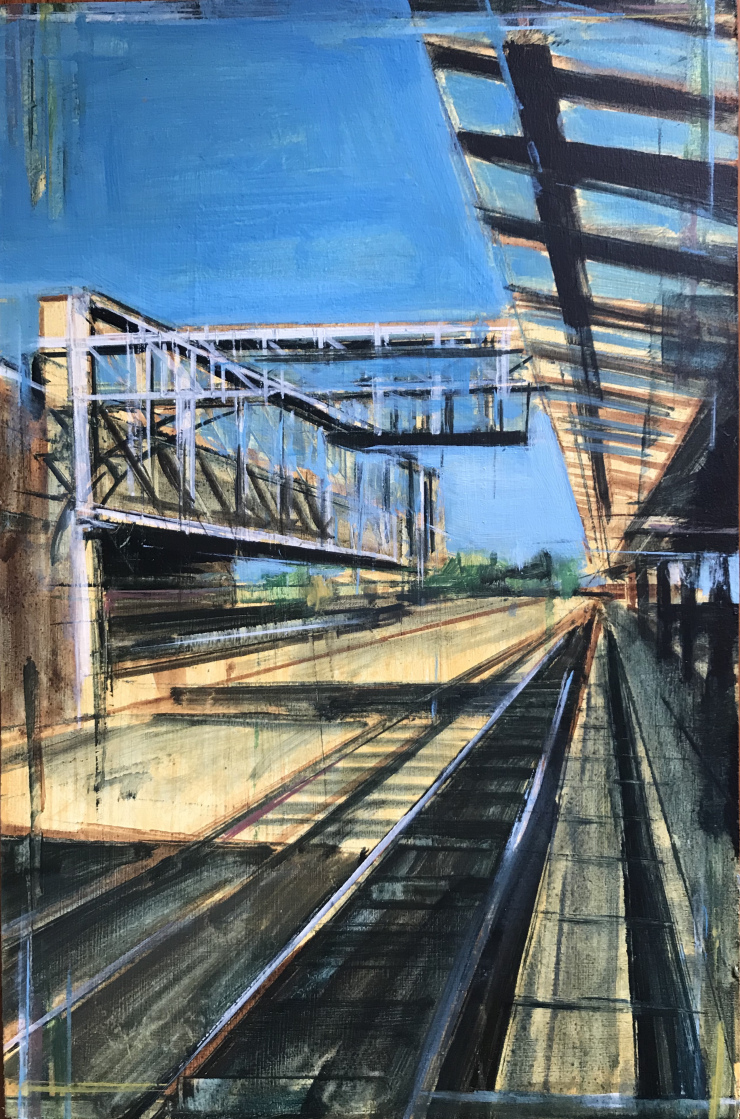 Do you have any advice or tips for artists who are trying to master landscape painting?
Focus on drawing. This is something that I don't do enough of, but it really helps me when creating a new painting or body of work. I firmly believe that you have to be able to draw first, to then be a painter second. It helps see things and plan things properly in a composition.
I'd also say that it's really important to find other artists whose work you appreciate and copy their styles and techniques. See their work in the flesh to appreciate the scale and details. Be aware of course that you are your own artist, and that if you persevere enough by bringing in other artists, you can develop your own style that is very much individual to you. Don't dwell too much on one artist as you just end up being a bad imitation!
What is a day in the life of a professional artist like?
Well, I'm still a full time art teacher, so I try and paint around this which is extremely hard! I'm taking the plunge soon however, when I embark on a number of residencies in New Zealand – here I will have the full time artist experience with a little bit of teaching, so I'm really excited! My aims to produce a new body of work to hopefully show on my return next summer.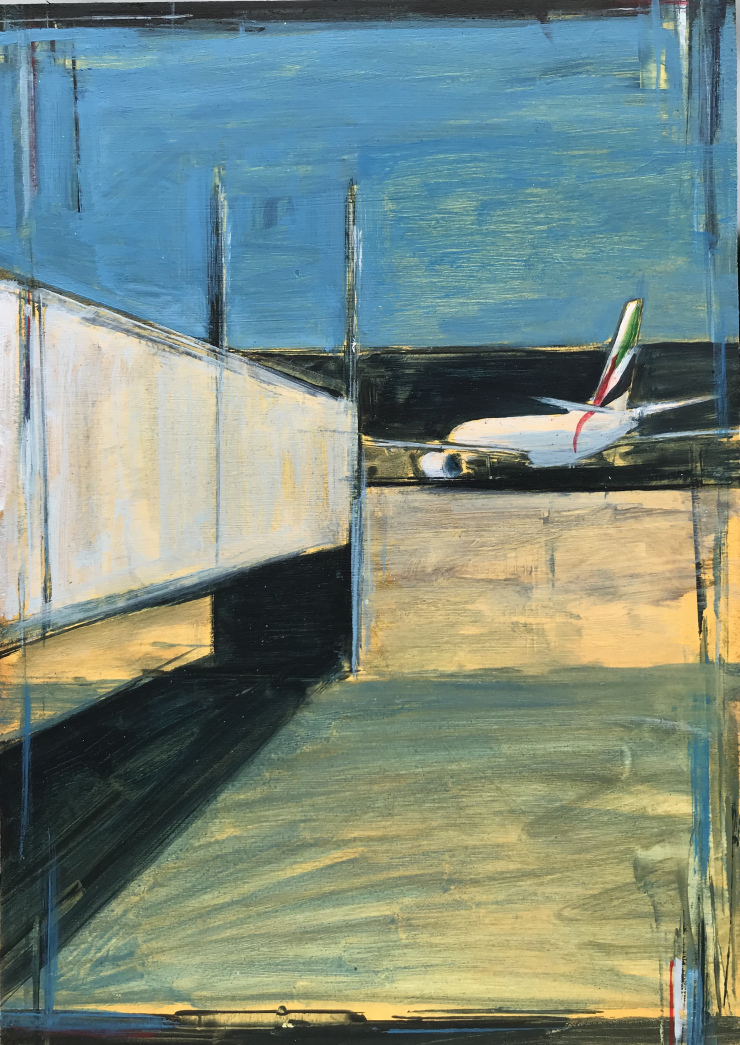 How do you begin your paintings? Do you have a set method or does your technique vary from painting to painting?
I tend to work in a similar way on every painting. I might spend an afternoon cutting and prepping boards – 5mm MDF, cut to various sizes (often quiet small, but some larger) and then they are gesso'd and sanded. I then prime them using Naples yellow for a light base to begin from. Then I start by 'drawing out' the composition thinly using burnt umber or yellow ochre using a thin brush (filbert size 3/5) and my 'pebble' (a painting wedge) which helps me obtain straight edges and a point of perspective that I often aim for in a composition.
Working on numerous boards at once allows for a relationship to develop between each series. I also like to work thinly allowing for a history to be seen through its development – marks and textures. Diebenkorns work has strong features that include such as a frame. This frame helps with my composition but is also a reference point for the colour pallet that I use.
Do you have any formal training or are you self-taught?
I have always drawn, and when I finished school I completed a foundation course at my local college, then art school at Aberystwyth University. This was a fairly traditional degree – in that it was heavily focused on life drawing, with modules in painting techniques, portraiture and landscapes, and printmaking. I was fortunate enough to stay on and compete a Masters funded by a job I had as a technician. This was a part time MA over two years, so I was really able to focus on my work and its development. With 24hr access to the studio and the opportunity to travel by teaching abroad for the university- I was able to begin to create the body of work which I do today.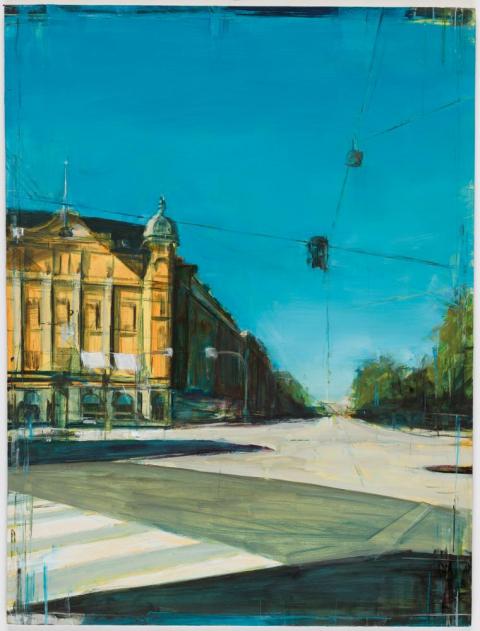 How long do you spend on an average landscape painting?/What is the longest that you have ever spent on a painting?
Because I work on a series of boards as opposed to only one at once, I often find this question hard to answer. Being oils as well, they often are hard to complete in a single session due to the drying time. I'd say on average each board, depending on size could take 4- 6 hours in all. This could be over the course of days, weeks or sometimes months. It's important to be able to step back from painting to think about its process and development. I'm never happy, but there has to be a moment where I stop and leave it. One of my biggest fears is overworking a painting, to the point where it is too refined. Here, it can lose its energy and vibrancy.
The painting that took me the longest to complete was probably the final commission piece that I had to create when I returned back from Jamaica on SkyArts landscape artist of the year. I had four weeks to make the artwork, and it was far bigger than anything I'd done before. I tried working on two boards at once with slightly different compositions so that they could bounce off of one another. With working full time I only had evenings, but I'd try and fit in 3/4 hours a night. It wasn't the most ideal of processes to be honest, but it taught me a lot about myself, my choice of imagery and about the fact that I could work larger if I wanted too.
We were also of course on time limited throughout the landscape artist of the year program. Four hours was the given time and this worked well for me.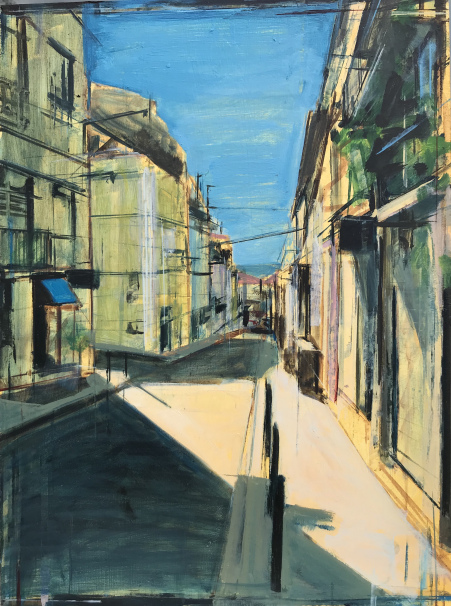 Which painting of yours are you most proud of, or consider a particular favourite?/What achievement are you most proud of?
I'm never 100% happy with a painting, and I can always pick faults in some part of it. I do have particular favourites that I always look for in a composition and if all of these are featured then it tends to keep me mostly happy in what I produce. I did some challenging stuff of LAOTY, my favourite one of those was on the semi-final with the lavender fields. This had everything, perspective, structure, sharp contracts, and a beautiful segmented landscape. Tai Shan Shirenberg, one of the judges said to me that this was almost made for my style – which was encouraging!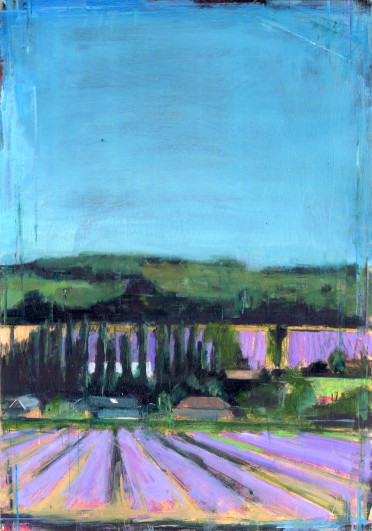 I also produced a few pieces that I liked after visiting Jamaica, the Kingston series. In terms of what I see as my greatest, then I think that has to be winning SkyArts landscape artist of the year. It was an amazing, rewarding experience that most of all – it was extremely fun! I met lots of amazing artists, spoke about our styles and techniques, and challenged ourselves to see how we could adapt our styles to each situation. I found that I was able to be a lot more flexible that I previously thought possible – so this gave me a lot of confidence in myself. They have three renowned judges, one of them being one of my favourite artists of all time in Tai. Having them judge your work and be so positive about it was fantastic. And since then I have gone on to show my work all over the place, and it's now selling really well too. It's certainly opened a lot of doors. I'm extremely lucky for that.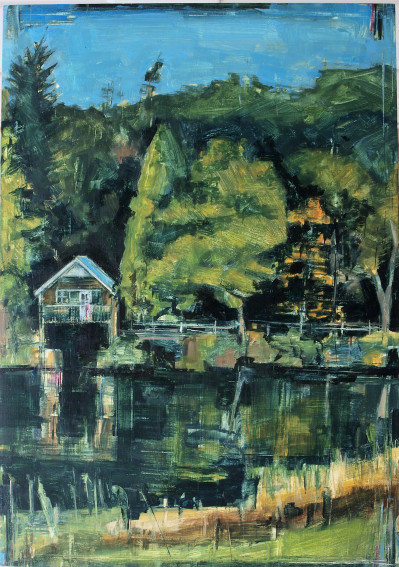 Who are your favourite contemporary and historical influences?
As mentioned before, my favourite influences have mostly been mid-20th century American painting- Hopper, Diebenkorn, Rothko, Thiebauld, de Kooning. More contemporary artists have been the American painter, Ben Aronson, one of my old tutors June Forster and Tai Shan Shirenberg.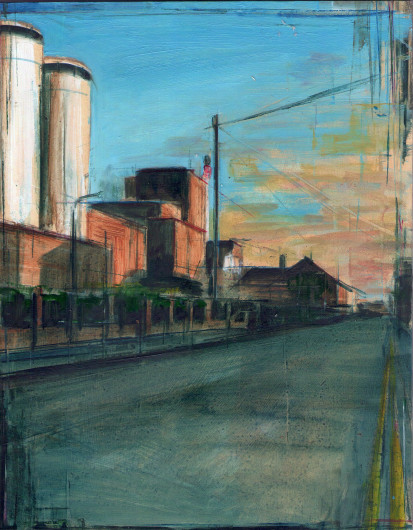 Which elements of landscape painting do you find the most tricky? Are there any elements that you feel you have yet to master?
I find keeping an energy one of the most important parts of creating a landscape painting. Finding and exploring the boundary between figurative and abstract landscape is something that I enjoy and aim to do. Becoming too figurative is something that I want to avoid. Landscape painting comes in all shapes and sizes and I most definitely have my preferred choices. The energy that I mention comes through brush stokes, and I find this much harder to capture when I go larger. When you make bigger work, everything must go bigger – from brushes, to strokes, and of course the amount of paint used! Bigger work is definitely something that I'd like to start doing at some point.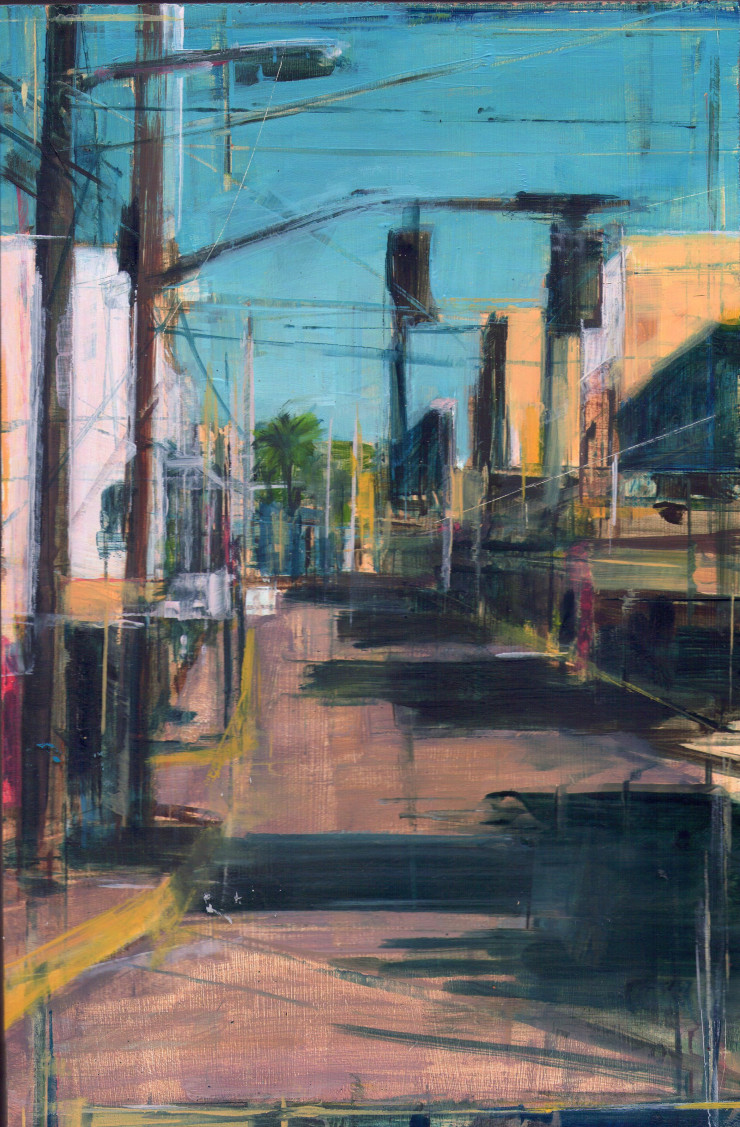 When you are painting landscapes do you prefer to capture fine detail or work in a more abstract manner?
Abstract without doubt. I class my work as exploring the boundary between both figuration landscape, and abstraction – "semi abstract'. For me, I enjoy finding an essence of a place, and the artists own expressive imprint on a painting. If a painting is too realistic, people will always judge it on its link to the photograph. I like to have freedom and expression. For me this shows enjoyment and an artistic licence.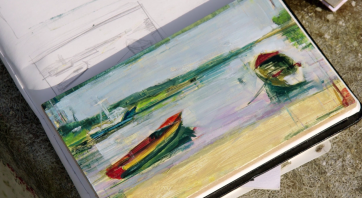 What's your favourite place that you have painted? Why?
Making work on location in Jamaica was amazing – but hot! I'm currently in the process of building up a new body of works influenced by travels across Canada, the US, Fiji and New Zealand – so I'm really looking forward to this!
To see more of Tom Voyce's work visit his website: tom-voyce.com.