The Large Pans for artists who like to work on a large scale with pans are now being discontinued by Winsor & Newton.
This popular format will not be available once our current stock has sold out. If you use large pans, We suggest that you purchase what you can while they are on the web site. A number of colours have already sold out.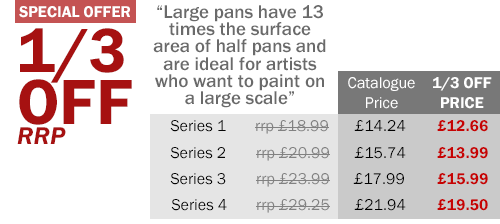 Show more
Perfect with Larger Brushes
These Large Pans are perfect with larger sized brushes, to create broad, flowing washes. For generous areas of colour, like skies, this gives a real immediacy and speed which has not been possible with the smaller pans.
60 x 40mm Surface Area
These Large Pans measure 60 x 40mm and have a surface area have 13 times that of a Half Pan, and 6 times that of a Whole Pan. As a result of their size there is also less contamination between one pan and the next which can happen with half pan boxes.
Show more