A solid well designed easel ideal for studio and college use. The lower canvas rest features a shelf to hold brushes and tubes of paint etc. and can be adjusted in height with the use of a ratchet mechanism. The painting angle has a wide angle of adjustment and the easel can be folded flat for storage.
Easel Height: 73.5" (187cm)
Maximum Canvas Height: 53" (135.5cm)
Weight: 6.85Kg
For assembly instructions please watch the video on the Shannon Studio Easel 7006130, it is assembled in the same manner.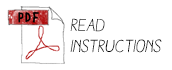 Show more