These beautiful pencil cases are available in soft top grain leather or finely woven 16oz canvas. Durable, compact and sturdy, these pencil cases are a perfect storage option of artists on the go.
Each case has a zip closing and opens like a book to lay flat on the table. The zipper fastens down to keep the pencil case securley closed whilst travelling. Inside are elastic holders which can hold up to 4 pencils securley in each loop.
Please note: with the average size pencil 3 will fit in each loop. The capicity stated for each pencil case is based on 4 pencils per loop.
Leather cases are available in Saddle Brown or Black. They are packaged in a clear plastic box that indicates the pencil capacity.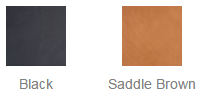 Canvas cases are available in 4 colours with contrast stitching: Sage, Rose. Steel Blue and Black. They are packaged with a clear plastic sleeve to indicate the pencil capacity.


Any pencils shown in pictures are NOT included.
Show more