These beautiful pencil cases are available in soft top grain leather or finely woven 16oz canvas. Durable, compact and sturdy, these pencil cases are a perfect storage option of artists on the go.
Each case has a zip closing and opens like a book to lay flat on the table. The zipper fastens down to keep the pencil case securley closed whilst travelling. Inside are elastic holders which can hold up to 4 pencils securley in each loop.
Please note: The capacity of the pencil cases will vary dependant on the size of the pencil you wish to store in it. See the table below for an idea of how many pencils will fit in. We would consider pencils like the Caran d'Ache Luminance and Derwent Lightfast as 'larger pencils'
Pencil Case
Max Capacity
Smaller Pencil
Pencils per loop
Larger Pencil
Pencils per loop
24
4 (total capacity 24)
3 (total capacity 18)
48
4 (total capacity 48)
3 (total capacity 36)
72
3 (total capacity 72)
2 (total capacity 48)
120
3 (total capacity 120)
2 (total capacity 80)
Show more
Leather cases are available in Saddle Brown or Black. They are packaged in a clear plastic box that indicates the pencil capacity.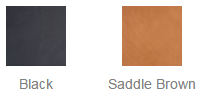 Canvas cases are available in 4 colours with contrast stitching: Sage, Rose. Steel Blue and Black. They are packaged with a clear plastic sleeve to indicate the pencil capacity.


Any pencils shown in pictures are NOT included.
Show more