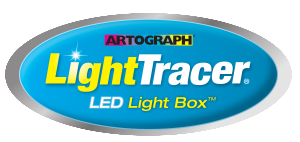 The Artograph LightTracer LED Light Box offers artists a comfortably slanted light box surface for tracing designs, patterns, photos and lettering and even includes a recess to store your art materials.
The LightTracer's recessed section can be used to store your favourite tracing materials. The recess will fit standard sized tools and accessories such as pens, pencils, chalk, crayons and charcoal so they are ready to use as soon as your creativity strikes!
The light box surface is illuminated by maintenance-free, cool, bright LED bulbs that require no replacement and will shine through most papers. The slanted surface illuminates from 14,000 to 5,000 lux down the gradient and offers a working space of 10" x 12" (254mm x 305mm). Also included is a 12 volt power adaptor.
This accessory can be used for many techniques including; fine art, embossing, card making, quilting, sewing, scrapbooking, animation, stencilling, sign writing and more!

NOW 71% OFF
RRP of £110.00!
Show more
All LightTracers are made in Artograph's USA factory, based in Delano, Minnesota. Parts are sourced from other Midwest companies to not only keep the quality of their products as high as possible, but also to make the manufacturing process more green and efficient. Even the cartons that the light boxes are packed in are made locally from 100% recycled materials.
Show more