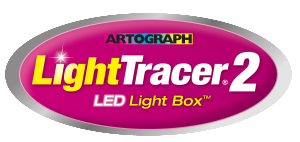 The Artograph LightTracer 2 LED Light Box is ideal for large and complex tracing projects. With a slanted working area of 12" x 18" (304.8 mm x 457.2 mm), this light box allows you to complete your tracing in comfort. The LightTracer 2 even features a recessed tray that can be used to store your pencils, pens, charcoal and other drawing and sketching materials.
The slanted surface of this Light Box allows you to work comfortably and is illuminated by maintenance-free, cool and bright LED light bulbs. These bulbs require no replacement and will shine through most artist papers. The working surface illuminates from 14,000 to 5,000 lux down the slant of the gradient.
This larger LightTracer light box has a workable area of 12" x 18" (304.8 mm x 457.2 mm). Also included is a 12 volt power adaptor.
Use the LightTracer for a whole range of drawing, sketching and craft techniques including; stencilling, sign writing, card making, fine art, embossing, quilting, sewing, scrapbooking, animation and more!
The smaller Artograph LightTracer LED Light Box is also available.
The LightTracer has an RRP of £134.00 and it is now available for only £45.50 while stocks last!! OFFER ENDS 31ST OCTOBER
Show more
Artograph LightTracers are made in the Artograph factory based in Delano, Minnesota, USA. To keep their environmental impact low and efficiency as high as possible, all parts are sources from other Midwest companies. This also results in a superior quality product. Even the cartons that the light boxes are packed in are made locally from 100% recycled materials.
Show more