UP TO 65% OFF RRP!!
LightPad® 930 LX™ – 9″ x 12″ / 229mm x 305mm
LightPad® 940 LX™ – 12″ x 17″ / 305 mm x 432mm SOLD OUT

The popular LightPad® light box by Artograph is made in the USA, and is brighter and better than ever!
The LightPad® LX series light box keeps the same aluminum frame construction, with the cool, bright, evenly illuminated surface you've come to expect. The new LightPad® LX adds adjustable brightness so you can dim or brighten the maintenance-free LED lights to suit your project.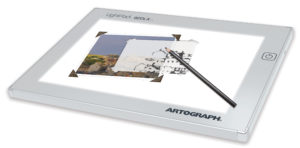 Show more