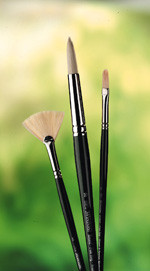 Winton Hog Brushes have been developed for use with Winton Oil Colour and can also be used with all other oils, alkyds and acrylic colours.
Using the skills and knowledge of over 150 years of brush making, the Winton Hog Brush range offers excellent quality at an affordable price.
Winton brushes are made from good quality Chinese hog bristles and are hand-set into seamless corrosion-resistant ferrules. The natural curve of the hog bristle produces a resilient brush which retains its 'turned in' shape even after heavy use, allowing the artist more control and accuracy, whether painting with oils, alkyds or acrylics.
The solid wood handles have a green stained finish with five coats of lacquer which provide protection along with a smooth finish for ease of use.
Quick Reference Table
| | | |
| --- | --- | --- |
| Usage | Oil Colour | Best suited for oil. Also suitable for acrylic colour. |
| Material | Natural Bristle | Durable & stiff hog. |
| Properties | Stiff | Stiff bristle for control of full-bodied colour. |
| Range | Student or Professional | Fine quality. Versatile & affordable. Interlocked bristle for control & durability. |
| Handle | Long Handled | Long Handled most popular for oil colour. |
Brushes in the Range
A short flat head. Creates sharp edges with control.
The most popular hog brush shape produces the bold, defined marks expected from a flat brush. The shorter bristle length of this style gives greater control of thicker colour or when using large amounts of colour.
A long flat head. Good for blending, glazing or covering large areas.
This brush is made to the same specifications as the Short Flat/ Bright but with a longer bristle length for greater spring and freer marks. This brush style is often used with more fluid colour.
Round - Long Handle
For fine detail, lines & glazes.
The Round is the oldest brush shape, in smaller sizes they are indispensable for detail lines and highlights. Many artists prefer the linear mark of the larger rounds compared to the flat mark of Short Flats.
Flat with oval tip. Creates a broad mark with a soft edge.
The Filbert is a flat brush with an oval edge, which combines the control of the Short Flat/ Bright with the softer edges of the Round.
Brush Care & Cleaning
Care of Brushes
To ensure the best possible performance and longest life for your Winton Hog Brushes, follow these simple rules:
Always clean brushes immediately after use, see below.
Never leave brushes resting on their bristles.
Shape up bristles with your fingers after cleaning.
If you are storing Winton Hog Brushes for any length of time, make sure they are clean and perfectly dry and keep them in a box with a tight fitting lid to avoid moth damage. If the brushes are not absolutely dry they may develop mildew.
Paint should never be allowed to dry on any brush. Should this happen household paint stripper could be used to soften it, however, the brush is unlikely to return to its original shape afterwards.
Cleaning Brushes
Wipe excess colour from the brush using a rag or Winsor & Newton Artwipes. Rinse remaining colour from brush using Artists' White Spirit or Sansodor for oils and alkyds and warm running water for acrylics.
Next, clean the bristle with Winsor & Newton Artgel or household soap (not detergent), working up a lather and rinsing the brush under warm (not hot) water. Repeat this until there is no trace of colour. Ensure all traces of soap
are removed. Shape up the brush and rest it bristles uppermost in a pot or jar, to dry.