Inktense Pencils
Pen and ink offers a strong, intense colour combined with a translucent effect. With the Inktense range you can now enjoy the distinctive qualities of a pen and ink work, but in an easy to use pencil form. The Inktense pencil has a firm, blendable texture and comes in a range of 71 beautifully vibrant colours. Also included in this range is a non-soluble outliner, which allows you to create outlines that remain permanent. The colours in the Inktense range are al blendable and intermixable which means that you have an infinite palette of colour right at your fingertips!
Inktense pencils can be used both wet and dry. If used dry the pencils create a lovely, bright colour and are usable as a regular colouring pencil. However, once water is applied to the pencil the colour transforms into a stunning, translucent ink-like paint! The dry pencil can be manipulated with a wet brush or even a spritzer to create an infinite range of beautiful visual effects.
If the colour has been fully dissolved in the water it will be fully permanent once dry. Once dry the colour can be worked over in layers. As the pigment is permanent it is fantastic for using as a dye on silk and cotton.
These pencils are an incredibly versatile medium, and can be used to create a diverse range of art from Japanese Manga to vibrant silk painting; traditional watercolours to stunning botanical illustrations!
Inktense pencils are available individually, and in tins of 12, 24, 36 and 72. Wooden boxed sets of 48 and 72 pencils are also available.
Inktense Blocks
Inktense blocks combine the brilliant colours of the Inktense pencils with the freedom of a block of colour. These blocks are great for covering large areas really quickly. Like the pencil, the blocks can be used as both a wet or dry medium. The addition of water to the pigment will create beautifully deep, intense washes of colour. Inktense blocks are excellent for creating bold, expressive strokes in your drawings and paintings.
The blocks are extremely versatile and can be used for a wide range of creative effects. You can use them like pans of paint. Dip them in water and apply colour directly to the paper, use dry on their side or apply directly to wet paper for instant intense colour.
The blocks complement the Inktense range perfectly opening up an exciting world of endless possibilities. They can also be used on fabric to create stunning silk paintings and quilts.
Inktense blocks are available in tins of 12, 24, 36 and 72.
Watch the Videos
In this clip professional artist Fiona Peart demonstrates the unique qualities of the inktense pencils in her drawing of some chickens. During the clip Fiona shows various techniques including using the non-soluble outliner and the side of the pencil, and adding water to dry colour.
You can also download a project sheet where Fiona will guide you through the process of creating drawing of a family holiday scene.
A short video giving you quick and easy tips on how to use Inktense Blocks. The video covers using the block on it's side to cover large areas, using the side of the block as a pan of paint, splattering, using paint from the Grate 'n' Shake and other great techniques.
You can also download a project sheet where Glyn Macey will guide you through the process of creating drawing of a beautiful still life.
Benefits & Techniques
Inktense wash out like ink.
Bright, vibrant shades are not opaque.
The clarity and transparency of the wash is excellent.
Very little water is needed to make the colour go a long way.
Can be used in conjunction with Watercolour pencils.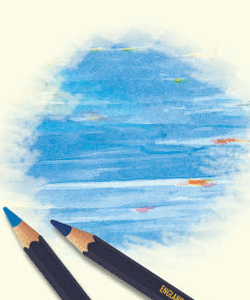 1. Add water to dry pencil to create a strong, clear colour wash.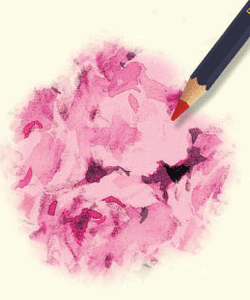 2. Once dry, the colour wash is permanent and can be worked over with other media, wet or dry.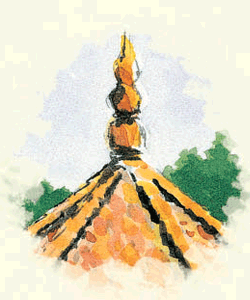 3. Create an outline with non-soluble pencil, add colour using Inktense then apply a light wash.