Winsor & Newton are dedicated to providing artists with new ways to explore their creativity. Combining colour vibrancy with versatility, Watercolour Sticks offer you the opportunity to experiment with waterclour like never before. They are the most recent addition to Winsor & Newton's watercolour family, and are the ultimate drawing tool; allowing you to move effortlessly between drawing and painting, pushing your creative boundaries working with both wet and dry media. They add an extra dimension to traditional painting; the colour can be applied dry like a pencil, and then wet with a brush to create beautifully soft washes which can be blended with ease. Colour can also be lifted directly from the block by using a wet brush. You can mix both methods to achieve a myriad of wonderful effects! New layers of colour can be added, even years after you have completed the original painting.
Innovation is an important aspect of Winsor & Newton's work, which is really expressed in this brilliant new creation. They offer all the excellence of Professional Watercolours but with the ease and precision of a stick form, making them both versatile and highly convenient. Tried and tested by professional artists, the watercolour sticks open up an array of new creative possibilities, allowing you to explore the boundaries of your artistic freedom. The sticks also perform much better than their competitors when it comes to blendability, as demonstrated in the charts below, therefore making it much easier to achieve smooth, vibrant washes of colour.
Winsor & Newton Watercolour Sticks Blendability:
Competitors' Blendability:
Professional Watercolour Sticks can be used seamlessly with the Professional Watercolour range, and with regular watercolour brushes in a studio environment, for plein air painting and also for quick sketches and studies on the go. They use the same professional grade pigments as the Professional Watercolour tubes and pans, and so create beautifully vibrant colours both wet and dry. The pigments are also lightfast, which makes the colour in these sticks far superior to any dye-based equivalent. They can also be used in conjunction with other forms of dry colour and with all Winsor & Newton Watercolour mediums, making them an excellent complement to various artistic techniques.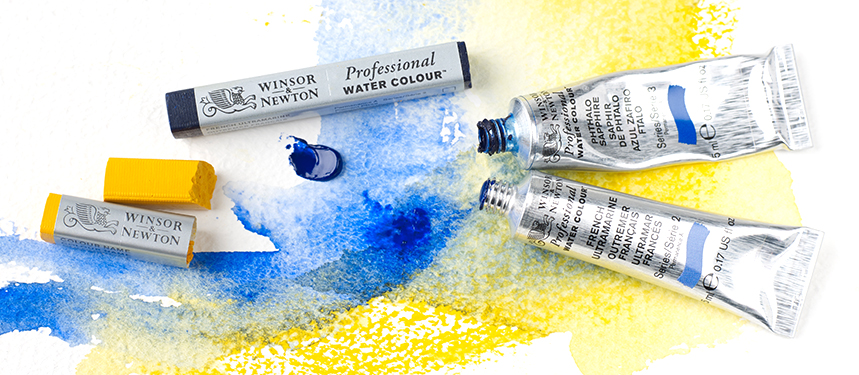 Watercolour Sticks are fully intermixable with other products in the Professional Watercolour Range.
Want to know more about the Professional Watercolour Sticks? Why not read the FAQ to find out the answers to some of the most frequently asked questions.
Winsor & Newton Professional Watercolour Sticks are avaiable loose in 47 stunning colours, or as a tin of 10.