First created in 1955, Liquitex Acrylic paints were formulated to satisfy the needs of mural painters. As the first Acrylic pioneer, Liquitex have since strived to continue their tradition of innovation and constantly work to produce artists materials that not only satisfy, but stretch the creativity of the artists' imagination. Since their incarnation, Liquitex have been put to the test with a number of different techniques, which include but aren't limited to the following:

Liquitex Acrylics will be effective on almost all porous surfaces offering diversity for a wide range of techniques; create an unlimited range of special effects from thick sculptural applications to thin permanent watercolours and everything in between.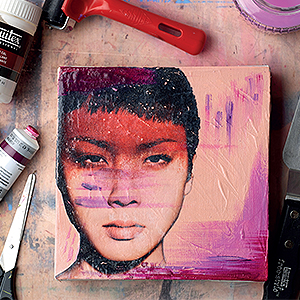 Your creative vision will be limitless in the knowledge that all Liquitex Professional Acrylic paints and mediums are fully intermixable. All Liquitex Acrylic products have been specially formulated with a compatible acrylic binder which means that aids intermixability and ensures maximum versatility whilst preserving the paint's archival qualities. Whether you're a fan of Soft Body, Heavy Body, Paint Markers, Inks or Mediums, you can mix, match and combine them in any way that you like to meet your artistic needs.
Discover new techniques or go your own way and develop your own techniques - really put intermixability to the test! This is artistic creativity without limits.
Select a sub-topic below to read more about the techniques you can use with your Liquitex Professional Acrylic Paints and Liquitex Acrylic Mediums.