Ken Bromley Art Supplies have been successfully retailing online since the 1990s. As such, we are well aware of the need for completely secure transactions, as well as secure storage of any personal information.

This website was developed specifically with customer security in mind. All sensitive personal data is sent via industry-standard Secure Socket Layers, which means it is encrypted and unreadable even if intercepted in transit. You can verify this by noticing the padlock icon which appears when you enter a secure area, such as the checkout area or your account area. By double-clicking this icon, you can see details of our security certificate.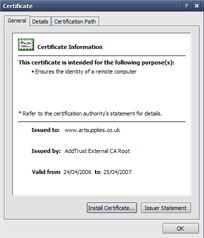 Once received, the data is secured using a number of extremely robust data encryption methods. The most sensitive data is unreadable, even if the server is maliciously compromised (which in itself is highly unlikely)
We have recently signed up with McAfee who are a well known internet security company.
Our site is scanned daily to ensure that it is safe, and the McAfee certificate at the bottom of our web site page is displayed to confirm the site is secure.
| | |
| --- | --- |
| WEBSITE: | www.artsupplies.co.uk |
| | This site is tested and certified daily to pass the "McAfee Secure" Security Scan. To help address concerns about possible hacker access to your confidential data, and the safety of visiting this site, the "live" McAfee Secure mark appears only when this site passes the daily McAfee Secure tests. |