Water-based, lightfast, permanent colours with precision nibs for ultimate control
Spectrum

:
50 Colours
Properties:
Highly Pigmented, Water-based Acrylic
Finish:
Satin
Nibs:
2mm Chisel nib (line width 2-4mm)
15mm nib (line width 8-15mm)
Liquitex Professional Paint Markers are an outstanding range of professional water-based acrylic markers for artists. Lightfast and permanent, Liquitex Professional Paint Markers offer the widest selection of brilliant colours and a choice of sizes with precision nibs for ultimate control. By using Liquitex Paint Markers you will bring a variety of features to your work, including:
Colour brilliance
Water-based acrylic
Lightfastness
Durability and permanence
Professional Quality
Matching with the Liquitex colour spectrum
Optimized design
Versatility
Useable on multiple surfaces
Liquitex Professional Paint Markers are compatible for a wide variety of techniques, and are fully intermixable with other Liquitex acrylics and mediums. Suitable for both large-scale work and fine details, these paint markers are an invaluable and versatile tool!
Available individually in both fine and wide nibbed variants, or as a pack of 6 of either the wide or fine pens. Replacement nibs are also available.
Colour Brilliance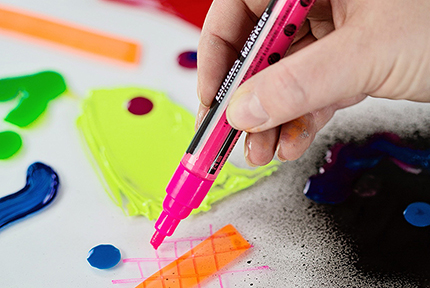 With a colour offering that rivals all others, Liquitex Professional Paint Markers are available in a spectrum of 50 vibrant hues versatile enough to stand up and be counted on almost any surface. Each of these 50 colours is matched to its equivalent in the Heavy Body, Soft Body and Acrylic Ink ranges. Using only the highest artist grade pigments to ensure maximum lightfastness and permanence, this broad spectrum includes the opaque colous demanded in paint markers as well transparents, fluorescents and iridescents to offer limitless creative possibilities.
As colours are matched across ranges, Liquitex allows you to use your favourite palette whatever your choice of medium. The high grade pigments with maximum lightfastness and permanence mean that your paintings will be sure to stand the test of time. Artists are free to experiment to their heart's content, in the knowledge that all Liquitex Professional products have been developed with maximum compatability and versatility in mind. They are uniquely intermixable, allowing you to layer tube colour, paint makers, spray paint and ink or work wet into wet with mediums for limitless effects. You are free to go ahead and do your thing!
Maximum Versatility
With a water-based acrylic formulation Liquitex Professional Paint Markers have been specifically developed for maximum compatibility with other Liquitex Products. Versatile enough for use on almost any surface, use together with Liquitex Heavy Body or Soft Body and finish with a Liquitex varnish for a bleed-proof finish which is both permanent and durable.
Inside Intermixability with Evy Jokhova
Optimized Design for Ultimate control
Liquitex Professional Markers use a proven ball and pump valve system to optimize paint mixing and flow. Available in a choice of 2mm and 15mm sizes, the nib shape provides the flexibility to achieve multiple line thicknesses and the high quality replaceable nibs ensure precision control on application.
Durability & Varnishing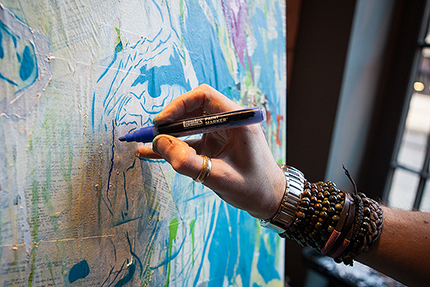 The new Liquitex Paint Markers are versatile enough that they can be used on almost any surface, indoors and outdoors, from sketchbooks and canvas to brick, glass, mirrors and even plastic.
For ultimate permanence and durability, artwork created using the Liquitex Professional Paint Markers can be finished with Liquitex varnish, without the paint bleeding or moving. If varnish is applied with a brush you may notice minimal bleeding with the Fluorescent colours. To avoid this bleeding we recommend varnishing with a water-based spray varnish.
Uses and Techniques
Liquitex Professional Paint Markers offer limitless possibilities including sketching, outlining, large scale work, fine detail, underpainting and mixed media applications. The markers are also low-odor, meaning they can be worked with for longer as you don't need to worry about fumes. The precision nibs of the markers make them ideal for sketching out ideas, and the added ease of using a professional level paint with the convenience of the pen barrel means that sketches can be made quickly and with minimum fuss.
The larger 15mm nib is excellent for creating bold, sweeping strokes and also for block-colouring large areas. A large stroke of the 15mm is great for creating bold geometric shapes, particularly useful if you paint abstract forms. Ideal for creating thick strokes of colour, and with a flick of the wrist you can taper the edge to a fine point, making them very versatile for illustration.
You can use the finer 2mm chisel nib to add in fine details. They're great for adding outlines, accents and highlights to your finished image.
Products in the Liquitex Professional Acrylic system can be used for a wide range of different applications and techniques. For a comprehensive list of the various methods and techniques, please click here.
Liquitex Intermixability with Dan Kitchener