Definition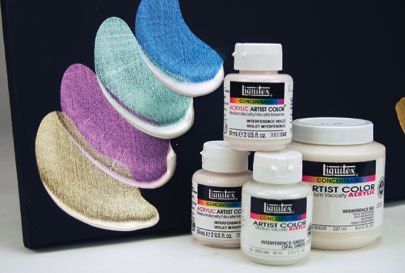 Liquitex® Interference Colours are colourless, transparent paints made from titanium coated mica flakes rather than traditional pigments. They are also known as "Opalescent Colours." They change their colour (exhibiting a metallic look and colour shift) depending upon the viewing angle.
As the light hits the mica flakes, it either bounces off directly, reflecting the labelled colour, or passes through to another layer and bounces out at a different refractive index displaying the complimentary colour.
The effect is visually similar to a thin coat of oil floating on water.
Application
Use in any technique or surface suitable for any acrylic paint or medium.
Apply straight from container, thinned with water or mixed with any Liquitex Acrylic Colour, Iridescent Colour, Fluid or Gel Medium to produce an endless variety of colours and effects.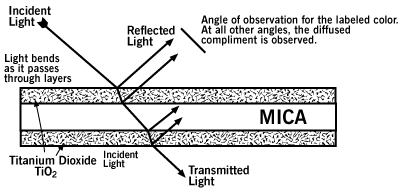 Apply thin layers rather than one thick one.
Thin applications in a wash or glaze increase the visual interference effects.
To achieve a visually opaque coat, apply a base colour that matches the "flip" or complement of the interference colour, before applying the interference colour. (i.e. Napthol Crimson underneath Interference Green).
To increase interference colour effect, add 1% Mars Black to interference colour.
To create iridescent grays, add 2-5% Mars Black to interference color.
Applied over white surfaces or light colours, they are translucent.
Applied over black or dark surfaces, they are seen as brilliant pastel colors.
Applied on transparent and translucent surfaces, they create unusual visual effects.
Mixed with Liquitex Mediums to create luminescent fluid glazes.
Liquitex INTERFERENCE GLAZE MIXING GUIDE
Approximate Mixes for Interesting Glazing
Thick Interference Glaze
85-90%
Gel Medium or Heavy Gel Medium
10-15%
Interference Colour
1%
Liquitex Soft Body Concentrated Artist Color*
Fluid Interference Glaze
85-90%
Gloss Medium & Varnish
10-15%
Interference Colour
1%
Liquitex Soft Body Concentrated Artist Colour*
* = Use a transparent colour