Digital Art Projector LED500
Designed for the creative artist and designer!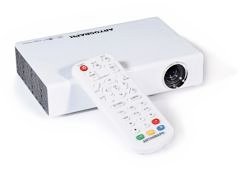 The LED500 is the newest digital art projector from Artograph. The LED500 is brighter, and has a greater contrast ratio, while the super bright, maintenance-free 500 lumen LED lamp provides vivid and accurate illumination and lasts up to 30,000 hours. Image controls allow you to rotate, resize, and reverse your picture at the touch of a button, and includes a new feature which automatically adjusts the projected image to be square when being projected higher or lower than the projector.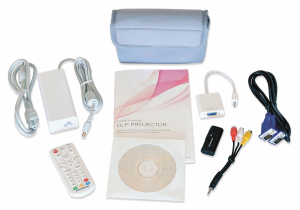 The keystoning adjustment lets you easily adjust angles and perspective to suit your design. The LED500 projector has the ability to display digital images from virtually any source, including SD cards, thumb drives, digital cameras, computers, iPads*, and smartphones*.
*May require additional adapter. Please see the Mobile Device Connections chart for further information.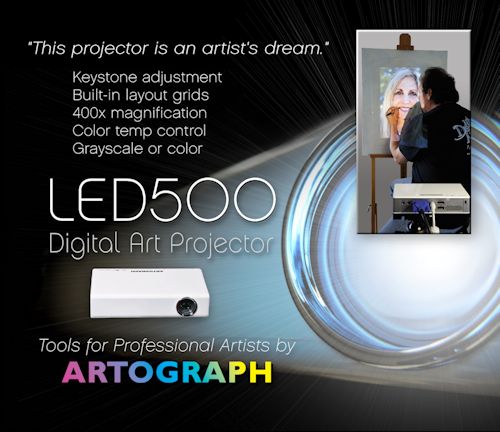 Features:
New increased contrast ratio of 15,000:1
Aspect ratios of both 4:3 and 16:9
Weighs only 1 lb
Only 60w of power consumption
HDMI Outlet for high-definition output
Up to 1080p resolution
500 Lumens bright
New Rule-Of-Thirds Grid
Artist Michael Bayouth demonstrates the Artograph LED500 Digital Art Projector
Technical Specifications
Projection System: DLP
Native Resolution: WXGA (1280×800)
Brightness (ANSI-Lumens): 500
LED Lamp life: 30,000 Hrs
Contrast Ratio: 15,000:1
Focus: Manual
Zoom: Fixed/software adjustable (USB)
Aspect Ratio Correction: Native 4:3,Just Scan/Set By Program/16:9/Zoom/Cinema Zoom/Full
Sound – Speakers: 1W+1W stereo
Dimension (WxHxD, mm): 6.22 x 4.06 x 1.30 in. (158 x 103 x 33 mm)
Weight: 1 lb/440g
Power Consumption: 60W
Stand by Power: <1W
Power Supply: AC DC Adaptor (100~240 free voltage), 50/60Hz
Input Signal Compatibility
Digital (HDMI): 1080p/1080i/720p/576p/480p
RGB: Up to WSXGA+(1680×1050@60Hz)
Component Video: 1080p/1080i/720p480p/480i
INPUT/OUTPUT Terminals
RGB in: 1
RGB (PC) Audio in: 1
Audio out: 1 (mini Jack)
HDMI: 1
USB: 1 (Type A)
Special Features
Built in Projection Grids: 19 (New "Rule of Thirds" Grid)
Grid Access Button on Remote: Y
Color to Black/White: Y
Iphone/Ipad/Smart Phone/Pads Compatible: Y (Current Versions, cable adapter required)
Digital Keystone Correction: Automatic/Manual/Vertical
Picture Still: Y
Auto Source Detection: Y
Quick Power on/off: Y
Auto Sleep: Y
Blank Screen: White/Artograph Logo
Image Flip/Reverse/Rotate: Y
Color Temperature Control: Y
Twin XD Image Processors: Y
Image Control USB: y
Edge Enhancer: Y (USB)
Black Level Control: Y
Expert Control: Y
Image Control on Screen: Y
Closed Caption: Y
Download instructions for the LED500