NEW Winsor & Newton Canvas. Stretched to Perfection
It's the ultimate painting surface, expertly stretched by hand. Primed with highly pigmented Gesso and beautifully responsive to every brushstroke. And the unique new Winsor & Newton pro-stretcher™ creates precision tension that you can control. No other surface comes close.
Since 1832, Winsor & Newton has worked tirelessly to help artists produce their finest work. Like all their art materials, this new range of canvases have been prepared to the highest quality, so that they perform to the standards of the professional artist. That is why the world's finest choose Winsor & Newton.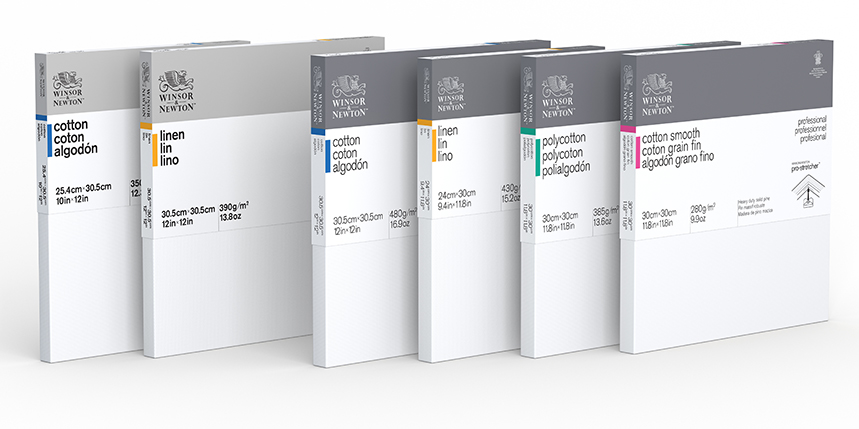 The launch of the new Winsor & Newton canvas sees the introduction of two ranges of hand stretched canvas, expertly prepared with the highest quality finishes. The professional range includes the innovative Winsor & Newton pro-stretcher™ device and offers the greatest selction of cloth types and warp-resistant solid pine stretcher bars. The Classic range offers a refined selection of cotton and linen canvases.
The Ultimate Surface
Every canvas is made from faultless, finest grade cloth, painstakingly hand-stretched for outstanding tension, with expertly tailored corners.
Pioneering Tension Technology
The introduction of the new Winsor & Newton pro-stretcher™ means achieving the perfect tension is easy. Strong and compact, it allows you to create an immaculate bespoke surface, stretched exactly as you want it.*
Built For Endurance
The professionally constructed frames are crafted from kiln-dried solid wood stretcher bars and rigorously tested for warp-resistance.
Crafted Without Compromise
Pigment rich Gesso primer makes the acid-free, archvial cloths beautifully responsive to every brushstroke. Balanced absorbency and tooth gives improved adhesion and uncompromised colour vitality.
Made to Meet Every Need
There's a canvas to suit every style, whether it demands the versatility of cotton, the longevity of linen, the strength of polycotton or the fine weave of cotton smooth.†
Special Finishing Touches
And each one is flawlessly finished, with back stapling and folded, uncu corners for extra cloth if needed. The final personal touch is an archiving label to record key details of your work. ‡
* Only included with the Professional range - except smallest sizes
† Classic range offers cotton and linen cloths. Professional range offers cotton and cotton smooth, polycotton and linen cloth variations.
‡ Only available in the Professional range
Choose from 2 Tiers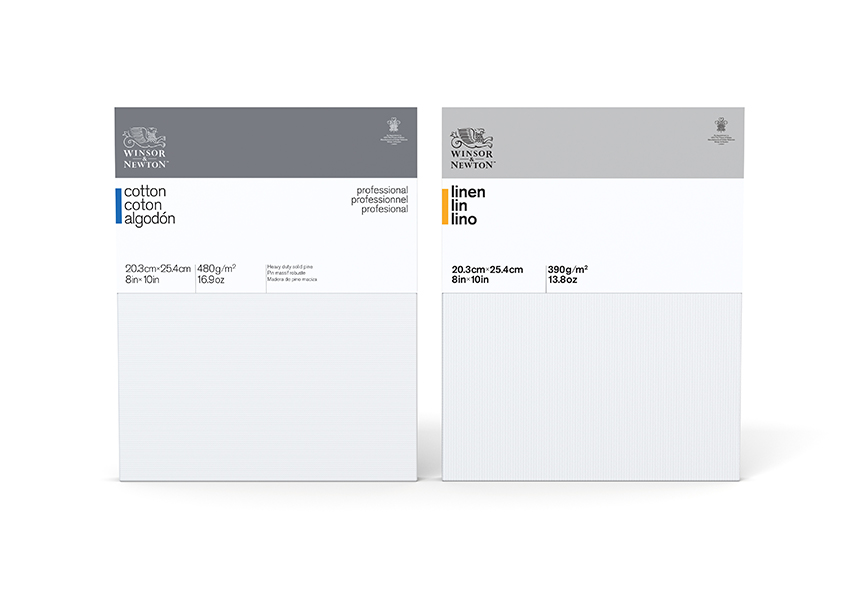 PROFESSIONAL

CLASSIC

Greater range of cloth types, including: Cotton, Linen, Polycotton and Cotton Smooth.
Heavy-duty solid pine frames
Pro-stretcher™ included
Heavier finished weights

Available in Cloth and Linen variations
Strong but lightweight Spruce Fir and Paulownia frames
Wood Keys included
Lighter finished weights
Available in different surfaces
The new Winsor & Newton canvases come in 4 different surfaces.
Cotton
Versatile with a medium texture
Linen
Superior, long-lasting quality
Polycotton
Strong, durable cotton and polyester blend
Cotton Smooth
Very fine weave, ideal for fine detail and portrait painting.
To find out more about the canvases in this range, please select from one of the subtopics below.