Shipping charges for orders going outside the UK Mainland are calculated automatically in your shopping cart. This enables you to see instantly how much you will be charged and gives you the opportunity to edit your cart to get the most from your shipping charge. Shipping to UK Highlands and Islands is calculated by weight, size and value of order, and there is only an extra charge if the order has to be sent by courier rather than Royal Mail. All orders going outside the UK are charged at cost taking into account the weight and size of the items you order and with an allowance for the packaging. For a full list of shipping price bands for all countries, please see our shipping info pages.
Once you have added the items you want, go to your Cart. Here you will see everything you have ordered and the price.
If you are logged in, the correct country should already be filled out. If you are not logged in yet, either log in, or select the your country from the drop down list and press 'Update Cart' (the 'Proceed to Secure Checkout' button will turn to a blue 'Update Cart' button when you make a change to your cart).
You will then be able to see the shipping charge for those items to your country. If you are outside the EU, the VAT will also be deducted from the prices. In the example below the shipping charge for some a paint set and a tube of paint going to Canada is £7.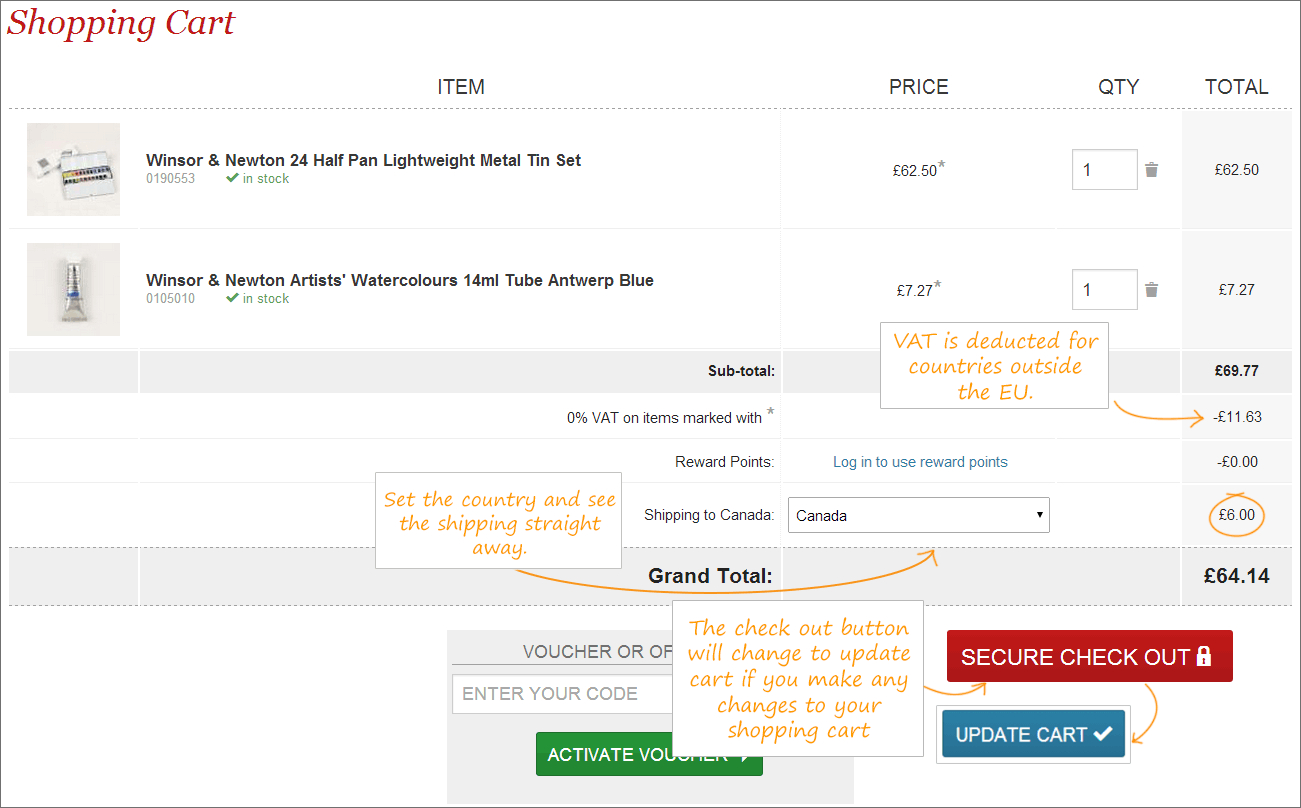 As all shipping is calculated by the size and weight of the parcel, you can add and remove things to alter the shipping charge. If you want to try to reduce the shipping charge you are paying, you can try removing things from your basket and see how that affects your shipping charge, once you have gone into the next price bracket, you can try adding more items which can be sent for the same price.
Once you are happy with the shipping price, you can even see if you can add any more items for the same price. Just try adding and removing items until you are happy with your order.
If what you add is to large or heavy it could tip the shipping charge into the next band. If this happens, simply delete the item from your cart by pressing the delete icon.
Once you are happy with your order you can click on the 'Secure Checkout' button to place your order.

Prohibited Items
For some items, it is not possible for us to ship them outside of the UK. This applies to very large items and also some flamable items which we can not send by air. If this is the case you will see a notice to let you know. You will not be able to go to the check out until you remove the prohibited items from your cart..