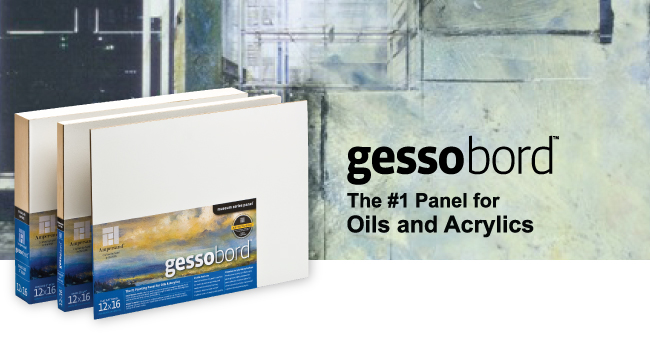 Product Highlights:

Museum Series Gessobord™
• 88% thicker acrylic gesso than other brands
• Consistently even, bright white finish
• Right level of absorbency, will not dull colors

Many Fine Art Uses:
• Great for oils, acrylics and mixed media
• Excellent for both fine brushwork and palette knife painting
• Ideal for thin glazes, alla prima and even impasto

It's true. Museum Series Gessobord™ is the most trusted pre-gessoed wood panel by artists for their work. The superior quality acrylic gesso ground does not dull colors and the wonderful lightly sanded surface provides exceptional brush control. Made with Ampersand's 1/8" True Artist Hardboard™ and Archiva-Seal™ technology, the surface is acid-free, non-yellowing, and archival. Perfect for all painting styles with oil paints, acrylics and mixed media. Only Ampersand builds their cradles by hand with premium grade 13-ply birch plywood for maximum stability and a clean, finished look from edge to edge. Choose from 3/4", 1.5" and 2" Deep, all made in the USA.

Why Choose Ampersand™?
No other panel on the market protects an artist's work like an Ampersand™ panel. Every Gessobord™ panel is protected by our proprietary Archival-Seal™ barrier technology, the most advanced formula for sealing wood that prevents support induced discoloration. Only Ampersand™ uses true high-density hardboard made from US-grown and renewable Aspen wood fibers. Gessobord is archival, eco-friendly and formaldehyde-free. Read more about the hardboard we use and why we've found it to be a better substrate.